The 1MORE brand is fairly new in South Africa. They make a range of headphones, earphones and other music equipment including gaming headphones too. I currently have the Spearhead H1005 Spearhead gaming headset I am also reviewing too so stay tuned for that in the coming days. First, I wanted to tackle this little beauty. The 1MORE Triple Driver E1001 In-Ear Headphones which absolutely blew me away.
Check out our full 1MORE Triple Driver BT In-Ear Headphones video review of this headset down below
[su_youtube url="https://youtu.be/Erld5eaKhdo" width="900″]
This pair of versatile earphones took me by surprise with its sleek design, fantastic audio and little hidden features which I had no idea existed until I dived into the various operation and control options available. They are lightweight, deliver some high-end sound and make for a pretty decent pair of earphones. This coming from someone who is stuck using AirPods and almost bought the new AirPods Pro. Which I have decided not to buy now because of this headset.
1MORE Triple Driver BT In-Ear Headphones E1001BT Tech Specs
Speakers: 1 Dynamic Driver + 2 Balanced Armatures
Ear Coupling:  In-Ear
BlueTooth Support: HFP, A2DP, AVRCP, V4.2
Sound: Hi-Res LDAC Bluetooth Codec
Noise Cancellation: Yes
Battery Life: 7-8 hours / Quick Charge – 10 minutes = 3 hours of playback
Sound: Hi-Red LDAC BlueTooth Codec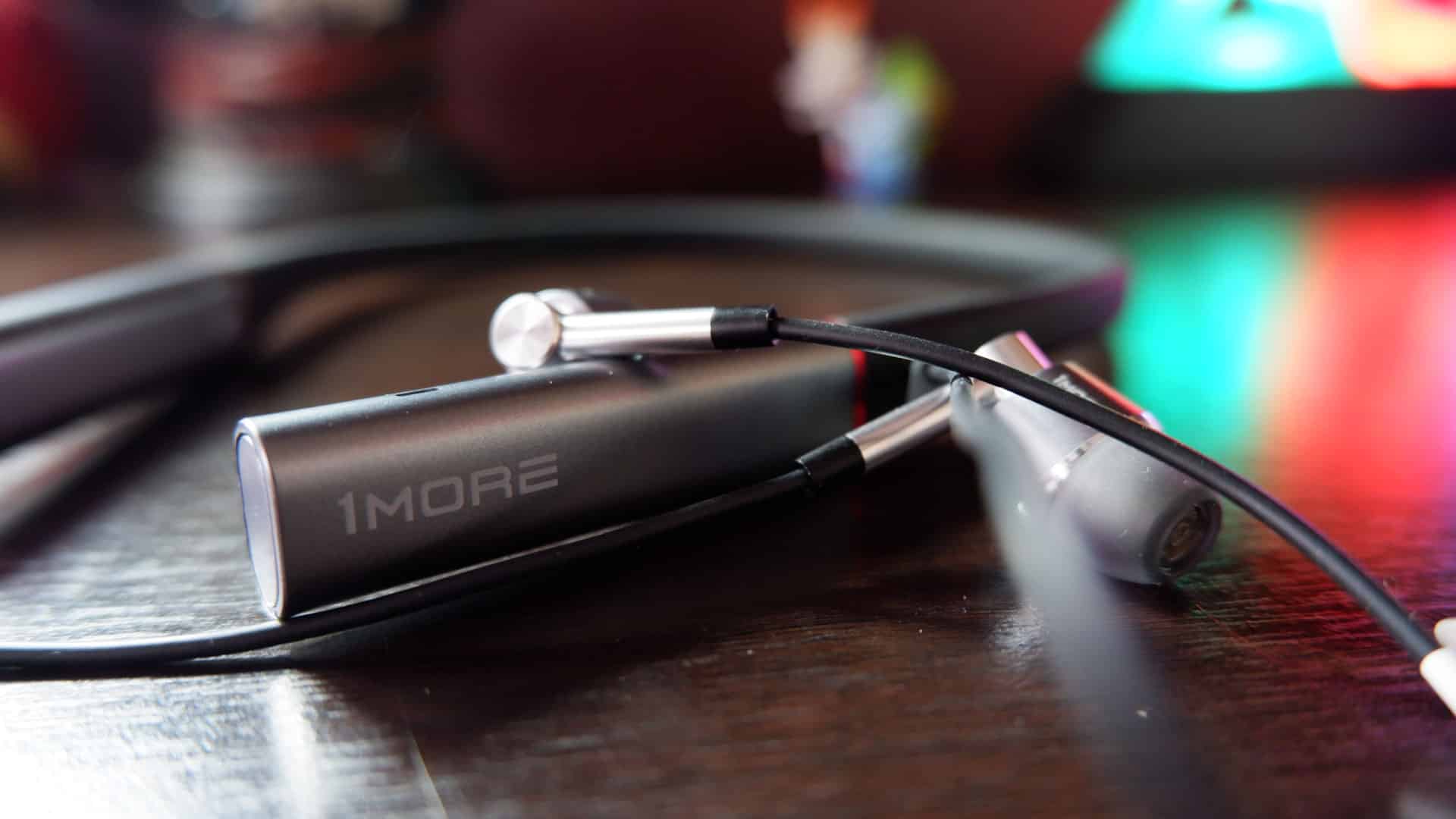 Design
One thing I have come to respect is packaging. It is a vital part of any consumer experience and for me, it can even determine whether or not I purchase a product or not. 1MORE could have some of the best packagings I have seen from a tech brand to date, next to Apple of course. Upon opening up the 1MORE Triple Drive In-Ears, you are treated to a fantastic experience welcoming you to the device. The headset is easy to remove from the box and underneath it is a range of extra earcups, the charging box and all the information you need.
One thing I loved was how it is all delivered. The metal clasp on the side makes your first impression of the device feel premium and the way the extras are all placed gives you freedom to explore the product at your will. The design sketches on the inside of the box are also a nice touch.
In the box, you will find eight sets of various sized earcups, a carry bag, a USB-Type C charging cable, information booklet, a cool sticker and a QR code to download the app.
In all honesty, I have never been a fan of a neckband headphone. If I had to choose between just a pair of headphones, wireless earphones or a neckband, I would take the other two. However, I embraced the 1MORE E1001BT for the sake of this review and I warmed up to having something wrapped around my neck more than I thought I would.
The band is made from a soft silicone material and the overall weight of the device is light meaning you don't even feel it after a while. The neckband sits on the back of your neck and the earphones come out of both the left and the right-hand side of the device. If you have seen or tried on a neckband headset in the past five years, there is nothing groundbreaking here.
The earbuds are made from a metal alloy and feel great. They are light and sturdy at the same time making them comfortable for long listening periods.
The ends of the neckband are made from a plastic material and the left-hand side is where you will find all the controls you need for operating the device. On the left tip, there is also a compartment flap that hides the USB Type-C charger. The power button is situated on the top and is easily accessible with your thumb and the play/stop and volume up and down rocker can easily be pressed by holding the device with your thumb and using your index finger to press the buttons.
Whichever way I attempted to operate the device, it worked pretty well. Be it laying down on the couch and using my right hand instead of my left hand or working in the kitchen and needing quickly press the power button to ask Siri a question. If you have used any headset with a set of operation or control buttons you will feel right at home with the 1MORE E1001BT headset. Double pressing play skipped to the next song, pressing it once paused it and pressing it three times went back to the start or the track before.
As for the fit, the earphones are great. There's a load of different sized earcups that can fit any ear you can think of and once they are inserted into your ear, they stay in place and create a sort of suction seal blocking out sound. This, added with the noise cancellation makes for a comfortable listening experience.
Performance and Sound
The 1MORE Triple Driver in-ears boast some great sound but before we get to that we need to address the elephant in the room. While the headphones are almost perfect in every way, latency is present in almost everything I did. Be it turning up the volume, starting a video or just pressing pause. The issue is quite predominant when listening to music as pausing the track on either my iPhone or the headphones resulted in a 500ms delay before it actually stopped.
It is not a product breaking issue as even my AirPods suffer from this problem every now and then. It also helps that it never happened all the time but more often than I would have liked.
When it comes to sound and performance, the 1MORE Triple Driver in-ears really do deliver some superb quality. Punchy mid-bass and deep sub-bass made sure to deliver a well-balanced listening experience. There's no crazy over bass that muzzles out the sound as all its lower frequencies sound clear and are well-balanced. Even adjusting the dials using the 1MORE sound app resulted in an increased sub-bass output but nothing that destroyed the balance of the music.
It all also depends on how snug the earphone is in your ear. I prefer to create a seal and it works well. Voices are clear and higher mids are full-bodied. As for sound leaks, they handle this quite well, especially if using the correct earcup. Even on max volume, and someone sitting next to me with the earphones in, I could not hear much. You everyday noise will block out whatever sound does leak through them.
The App
The 1MORE In-Ears use an app that can burn in the speakers, change the equalizer and upgrade the firmware. The app may look a little outdated but it works for the most part. You'll probably download it and fiddle with it once and never go back. But it is there for those who need it.
Verdict
Overall, I loved the 1MORE Triple Driver In-Ear BT Earphones. The sound quality, comfort and general consumer experience really came as a surprise to me. They retail for R1,499 which is not bad at all. Could they do with a bit less latency and better battery life? Yes, but everything else about them is almost perfection
This 1MORE Triple Driver In-Ear BT Earphones Review was based on a review unit sent to us by Syntech. The earphones are now available in SA for the retail price of R1,499 currently.