From the much-anticipated return of I Hate Fairyland to Behold, Behemoth, a new Boom! Studios comic run and even Murderworld: Avengers – November has it all. But before we go into the list of comics releasing this month, here is our article on everything you can watch on Netflix when you take a break from reading comics and here are the game releases for the month. Now without further ado, here are the comic book releases for November 2022.
New Image Comics Releasing in November 2022
I Hate Fairyland (2022) #1
Release Date: 16 November 2022

By: Skottie Young; Brett Bean
Everyone's favourite green-haired, axecrazed maniac returns in this Deadpool meets Alice In Wonderland adventure! Gert is all grown up and living in the real world. Times are tough, and the only job she's qualified for has her trying to find her way back to the place she hates the most…Fairyland.
Gospel #1
Release Date: 9 November 2022

By: Will Morris; Ver
When opportunity refuses to knock for restless hero Matilde, the devil comes knocking instead. Thrust into action by the hellish arrival, Matilde and storyteller Pitt will quest for answers – answers that threaten to tear them apart and trigger the toughest question of all: "Who am I?"
Hell To Pay #1
Release Date: 2 November 2022

By: Charles Soule; Will Sliney
The Shrouded College will give you magic… but you'll incur a debt. Until it's paid, you belong to them. Married couple Maia and Sebastian Stone took that deal. They have worked for the College ever since, using their new abilities to track down 666 cursed coins: qurrakh… aka, the Devil's Dollar. Only a few remain. The Stones are almost free… but the devil's in the details.
Other Image Comics November 2022 Comic Book Releases
Above Snakes #5

Adventureman, Vol. 2: A Fairy Tale Of New York HC

Antioch #2

A Righteous Thirst For Vengeance, Vol. 2 TP

Blood Stained Teeth #6

Bone Orchard: Ten Thousand Black Feathers #3

Copra Master Collection Book 1

Cover Girls, Vol. 1 / 2 TP

Creepshow #3

Dark Ride #2

Deadly Class, Vol. 12: A Fond Farewell, Part Two TP

Die

Do A Powerbomb #6

Eight Billion Genies #6

Fire Power by Kirkman & Samnee, Vol. 5 TP

Gideon Falls Deluxe Edition, Book Two

Golden Rage #4

Gunslinger Spawn #14

Hitomi #2

Ice Cream Man, Vol. 8: Subjects & Objects

I Hate This Place, Vol. 1 TP

Image! #8

It's Lonely at The Centre Of The Earth TP

Junkyard Joe #2

Kaya #2

Killadelphia Book One

King Spawn #16

Kroma by De Felici #1

Lastman Vol. 1

Lego Ninjango: Garmadon, Vol. 1 TP

Little Monsters #7

Love Everlasting #4

Metal Society TP

Mr. Lovenstein Presents: Failure

Nita Hawes' Nightmare Blog #10

Old Dog #2

Prodigy: The Icarus Society #5

Radiant Black #19

Revolvers #2

Savage Dragon #263

Seven Sons #6

Shirtless Bear-Fighter! 2 #4

Soldier Stories (One-Shot)

Spawn #335

Starhenge Book One: The Dragon & The Boar #5

Sunburn TP

Skullkickers Super Special #1

Skybound Presents: Afterschool #4

That Texas Blood #19

The Deadliest Bouquet #4

The Department Of Truth #22

The Knight & Lady Of Play (One-Shot)

The Least We Can Do #3

The Magic Order 3 #5

The Scorched #12

The Scorched Vol. 1

The Silver Coin, Vol. 3 TP

The Walking Dead Deluxe #50; #51

Time Before Time #18

Time Before Time, Vol. 3 TP

Twig Vol. 1

Two Graves #1

Unnatural: Blue Blood #4

Vanish #3

Voyagis #1

What's The Furthest Place From Here #5; #7 Deluxe Edition

What's The Furthest Place From Here #8; #11

3Keys #2
New Boom! Studios Comics Releasing in November 2022
Behold, Behemoth #1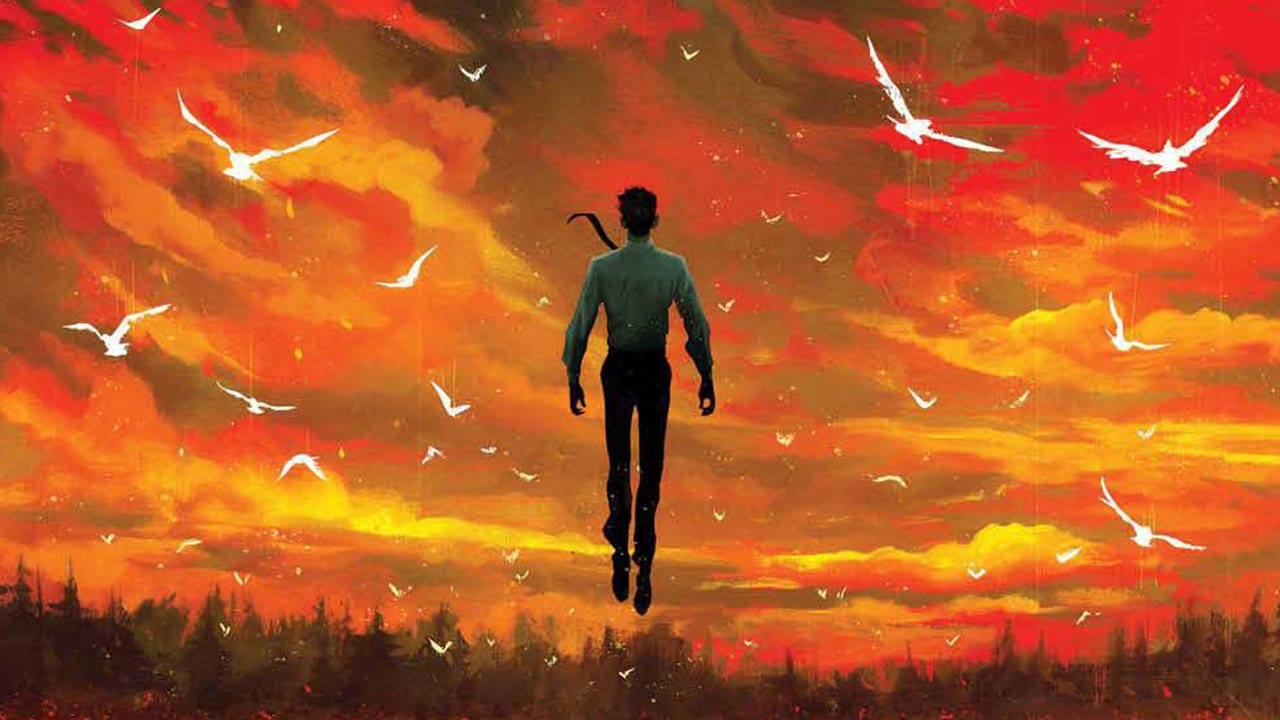 Release Date: 2 November 2022

By: Tate Brombal; Nick Robles
Greyson's world is crumbling following his brother's sudden and mysterious death. His sleepless nights are haunted by vivid nightmares of a terrifying monster, pushing him to the brink of losing both his sanity and his job as a social worker. But he's truly shaken to the core when his newest case-a young orphaned girl named Wren—is found at the scene of a brutal murder, just hours after first meeting Greyson.
Magic: Nahiri The Lithomancer #1
Release Date: 30 November 2022

By: Seanan McGuire; Fabiana Mascolo
Nahiri-also known as The Harbinger-has protected her home plane of Zendikar for centuries, her ruthlessness and terrible deeds kept in check by a strong sense of justice. But her fate is far from decided, and a new challenge awaits that may change the way the entire Multiverse perceives her…
Other Boom! Studios November 2022 Comic Book Releases
All-New Firefly #10

Angel, Vol. 2 TP

BRZRKR Immortal Pack #1

Damn Them All #2

Eve: Children Of The Moon #2

Firefly: Keep Flying #1

Grim Vol. 1

Magic #20

Magic: The Hidden Planeswalker HC

Mighty Morphin Power Rangers #102

Once Upon A Time At The End Of The World #1

ORCS!: The Curse #4

Something Is Killing The Children #26

Specs #1

Stuff Of Nightmares #3

The Approach #2

The Vampire Slayer #8

The Vampire Slayer, Vol. 1 TP

We Only Find Them When They're Dead #15

Wynd Throne In The Sky #4
New DC Comics releasing in November 2022
Waller Vs. Wildstorm #1
Release Date: 29 November 2022

By: Evan Narcisse; Spencer Ackerman
In the early 1980s, as the Cold War stubbornly refuses to thaw, a new battle heats up…for the soul of the intelligence agency Checkmate. As the agency's super-heroic public face, Jackson King—a.k.a. the armoured Battalion, former leader of Stormwatch and the symbol of America might-has long suspected that Adeline Kane is up to dirty tricks overseas, engineering horrors that betray everything he believes about service to one's country. But King doesn't know that Kane has a clever new ally-an ambitious young woman named Amanda Waller.
Blue Beetle: Graduation Day #1
Release Date: 29 November 2022

By: John Trujillo; Adrian Gutierrez
Jaime Reyes has a lot to juggle. Whether it's his finals for a senior year or a new villain tearing up El Paso, Jaime is always torn between two worlds. But when his worlds come crashing together at his high school graduation, nothing will ever be the same. A message from the Reach bombards Jaime's scarab, Khaji Da, and it starts throwing off his connection to the device. And as if that wasn't enough, Jaime's parents and friends are pressuring him about his next steps in life.
Stargirl: The Lost Children #1
Release Date: 15 November 2022

By: Geoff Johns; Todd Nauck
An epic teenage DC hero event brought to you by Teen Titans writer Geoff Johns and iconic Young Justice illustrator Todd Nauck! When Stargirl of the Justice Society and Green Arrow's ally Red Arrow discover a tragic teenage hero from the past has gone missing, they set out to find him…only to discover he's not the first teenage hero of the Golden Age to have vanished without a trace. But where have they gone? Who are they? And what does the Childminder want with them?
Other DC Comics November 2022 Comic Book Releases
Action Comics #1049

Batman #129; #130

Batman: Fortress #7

Batman & The Joker: The Deadly Duo #1; #2

Batgirls #12

Batman: Gotham Knights – Gilded City #2

Batman Incorporated #2

Batman: Knightwatch #3; #4

Batman – One Bad Day: Mr. Freeze

Batman/Catwoman TP

Batman: Killing Time TP

Batman/Spawn: The Classic Collection

Batman/Superman: World's Finest #9

Batman: The Audio Adventures #3

Batman: Urban Legends #21; #22

Batman VS. Robin #3

Black Adam #6

Catwoman #49

Dark Crisis On Infinite Earths #6

Dark Crisis: The Dark Army #1

Dark Crisis: War Zone #1

Dark Crisis: Worlds Without A Justice League – Batman #1

Dark Crisis: Young Justice #6

Dark Knights Of Steel #8

Dark Nights: Metal Omnibus

DC'S Grifter Got Run Over By A Reindeer #1

DC Horror Presents: SGT. Rock VS. The Army Of The Dead #3

Dceased: War Of The Undead Gods #4; #5

DC: Mech #5

DC VS. Vampires #11

DC VS. Vampires: All-Out War #5

Deathstroke Inc. #15

Detective Comics #1066

Fables #157

GCPD: The Blue Wall #2

Gotham City: Year One #2; #3

Harley Quinn #24

Harley Quinn: The Animated Series: Legion Of Bats! #2

House Of El Book Three: The Treacherous Hope

I Am Batman #15

John Stewart: The Emerald Knight #1

Justice Society Of America #1

Looney Tunes #269

Mad Magazine #29

Monkey Prince #8; #9

Multiversity: Teen Justice #6

Nightwing #98

Poison Ivy #6; #7

Punchline: The Gotham Game #2

Rorschach TP

Static: Shadows Of Dakota #2; #3

Strange Adventures TP

Superman: Son Of Kal-El #17

Superman: Space Age #3

Superman: Kal-El Returns Special #1

Sword Of Azrael #4; #5

The Batman & Scooby-Doo Mysteries #2

The Flash #788

The Flash: The Fastest Man Alive #3

The Human Target #9

The Joker: The Man Who Stopped Laughing #2; #3

The New Champion Of Shazam! #4

The New Golden Age #1

The Nice House On The Lake #12

Tim Drake: Robin #3

Titans United: Bloodpact #3

WILDC.A.T.s #1

Wildstorm 30th Anniversary Special #1

Wonder Woman #793

Young Justice: Targets #5
New Marvel Comics Releasing in November 2022
Gold Goblin #1
Release Date: 16 November 2022

By: Christopher Cantwell; Lan Medina
Norman Osborn's sins may have been cleansed, but his memories weren't and he's done plenty of horrific things to remember. Norman's worked hard to avoid all things "Goblin" and to stay on the straight and narrow. Consequences in Amazing Spider-Man pushed him to try super-heroing, and he liked it. But when the media dub him the Gold Goblin, he has to start wondering-can he ever gets away from the Goblin inside?
Murderworld: Avengers #1
Release Date:16 November 2022

By: Jim Zub; Ray Fawkes; Jethro Moralees
Hundreds are killed every year in an elaborate secret tournament run by a sadistic man with nearly limitless resources at his fingertips. It's not an urban legend. It's not a myth, Murderworld is real! It's online, and the gruesome truth has been hidden from everyone except its victims, until now. Meet Paul Pastor, the extraordinary young documentarian who's going to expose it all…with some super-powered help. The Black Widow has a personal grudge to settle with Murderworld mastermind Arcad-but can she stop this game before it kills again?
Planet Hulk: Worldbreaker #1
Release Date: 30 November 2022

By: Greg Pak; Manuel Garcia
A thousand years from now, on the planet Sakaar, a young woman with green skin searches for the legendary Green Scar to help save her brother from a group of apocalyptic cultists. But which Hulk will she find? And after all these years, is he truly the Sakaarson, who will save us all-or the Worldbreaker, who will destroy us?
Other Marvel Comics November 2022 Comic Book Releases
Alien #3

All-Out Avengers #3

Amazing Spider-Man #13; #14

Avengers #62

Avengers Assemble Alpha #1

Avengers Forever #11

A.X.E.: Judgment Day Omega #1

Black Panther #11

Black Panther: Unconquered #1

Blade: Vampire Nation #1

Captain America: Sentinel of Liberty #6

Captain America: Symbol of Truth #7

Captain America & The Winder Soldier Special #1

Captain Marvel #43

Carnage #8

Crossgen Tales #1

Damage Control #4

Daredevil #5

Deadly Neighborhood Spider-Man #2

Deadpool #1

Defenders: Beyond #5

Demon Wars: Shield OfJustice #1

Doctor Strange: Fall Sunrise #1

Fantastic Four #1

Fantastic Four #52 Facsimile Edition

Gambit #5

Genis-Vell: Captain Marvel #5

Ghost Rider #8

Ghost Rider: Danny Ketch – Marvel Tales #1

Hulk #10

Immortal X-Men #8

Iron Man #25

Legion of X #7

Marauders #8

Midnight Suns #3

Miracleman #0

Miracleman: The Silver Age #2

Moon Knight #17

Namor: Conquered Shores #2

New Mutants #32

New Mutants #98 Facsimile Edition

Peter Parker & Miles Morales: Spider-Men Double Trouble #1

Predator #4

Punisher #7

Sabretooth &The Exiles #1

Savage Avengers #7

Secret Invasion #1

Shang-Chi And The Ten Rings #5

She-Hulk #8

Spider-Man #2

Spider-Man: The Lost Hunt #1

Star Wars #29

Star Wars: Bounty Hunters #28

Star Wars: Darth Vader #29

Star Wars: Doctor Aphra #26

Star Wars: Han Solo & Chewbacca #7

Star Wars: Hidden Empire #1

Star Wars: Revelations #1

Star Wars: The High Republic – The Blade #1; #2

Star Wars: The Mandalorian #5

Star Wars: Yoda #1

Strange #8

Strange Academy: Finals #2

Thanos: Death Notes #1

Thunderbolts #4

Tiger Division #1

Ultraman: The Mystery of UltraSeven #4

Venom #13

Wakanda #2

Wolverine #27

X-Men #17

X-Men Legends #4

X-Men Red #8

X-Force #34

X-Terminators #3

X-Treme X-Men #1
So far, we've been having a cold and rainy November and thanks to load-shedding, we've also been having an offline one. But as with everything in life, there is almost always a silver lining and this month, that lining is having time to catch up on comics.
If, like me, you plan on stockpiling some favourites and binge-reading your troubles away, then remember to head n over to Critters and Comics to pick them up.