Assassin's Creed Mirage is this year's worst-kept secret. The game has been the highlight of news reports and rumours for months now and over the past few weeks, we have seen leaked artwork and even details regarding the upcoming project. Thankfully, we can all rest easy now that Ubisoft has officially announced it but most importantly, we can rest assured knowing that the developer is taking the series back to its roots in the new game.
That's right, Assassin's Creed Mirage is tossing out the giant open-world approach for a more streamlined, narrative-driven action-adventure experience and if you've been begging for it as much I have, this is good news.
Don't get me wrong, I have enjoyed the previous Assassin's Creed games but after exploring ancient Greece for hundreds of hours and raiding villages with my band of Vikings, I can't help but feel like the series has gone off the beaten path. In short, the most recent Assassin's Creed games have been the least 'Assassin's Creedy' as ever and it is about damn time we throw away the open-world RPG and get back to stealth killing.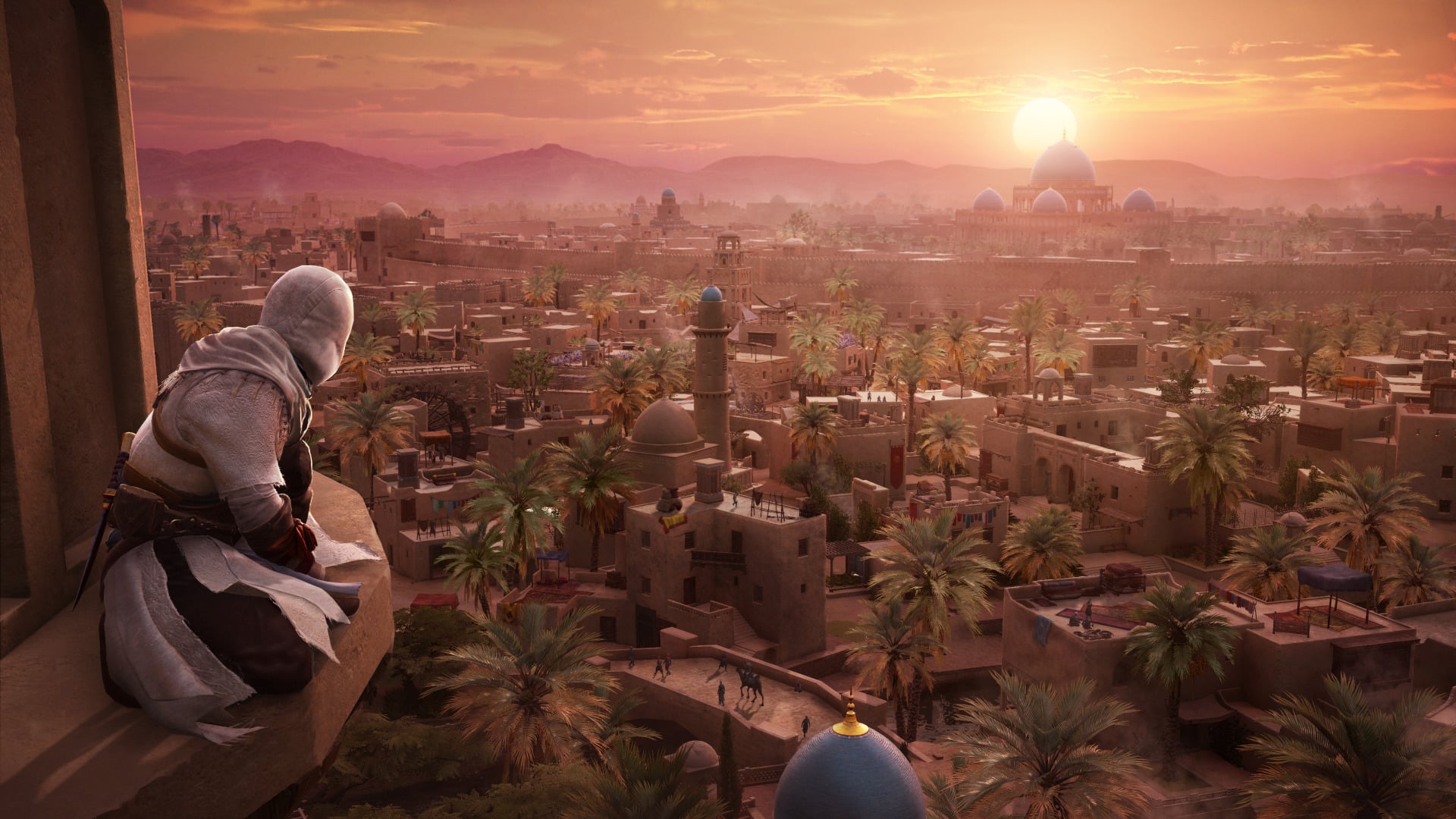 That's exactly what Assassin's Creed Mirage aims to do. Think of it as a combination of the original Assassin's Creed and a sprinkle of Revelations. It follows the story of Basim and is set 20 years before the events of Assassin's Creed Valhalla. Assassin's Creed Mirage takes place in the vibrant city of Baghdad and brings back the three main pillars of the series – stealth, assassinations and parkour.
Ubisoft says that Assassin's Creed Mirage also introduces players to a younger Basim as we meet him as a simple street thief and play him through his journey to become a fully-fledged assassin of the Hidden Ones. Players will also be introduced to a new Assassin named Roshan. She is Basim's mentor. Roshan is being played by the legendary Emmy Award winner Shohreh Aghdashloo.
Shohreh has been the iconic voice of many video game characters and appeared in multiple roles. She voiced characters for Mass Effect, and Destiny 2 and recently worked on Arcane and Expanse.
Assassin's Creed Mirage is being built by Ubisoft Bordeaux. The studio says they have created Mirage with a little bit of every Assassin's Creed in mind. An important thing to note here is the game's early setting in the Middle East. It ties into the original game and how the Templars and the Hidden ones came to be. If anything, Mirage is a tribute to the early games and its 861 setting will bring back a lot of nostalgia from playing Assassin's Creed One. 
Ubisoft says they have built the cities of Baghdad to be denser than any project the studio has worked on before. The game is divided into four main hubs and each will have its own unique look and feel. Instead of spreading cities across a large open world, Mirage seems to have squashed it all together to give players the feeling of a bustling, crowded city with more opportunities to sneak around, escape enemies and take down their targets. Examples of these hubs include the industrial area of Karkh and the lush gardens of the Round City.
When it comes to Basim, he starts out as a basic street thief in Mirage and players will uncover his past as he grows into the Master Assassin. If you haven't played Valhalla, Basim plays a major role in the game's story and even more so in the modern-day setting that acts as the overarching storyline to the current games.
The narrative approach in Assassin's Creed Mirage represents a similar structure to that of Assassin's Creed One, II and other earlier titles. This means there's less trekking across the open world and more quests, dialogue, story, sneaking and assassinating.
Speaking of assassinations, Ubisoft is bringing back the black box mission structure for these activities. This means players will have to create opportunities to take down their targets, cleverly outwit the guards in certain areas and find unique opportunities to infiltrate the area. You can't just walk into a fortress dual-wielding two axes and kill everyone around you before single-shotting the target – cough-cough Assassin's Creed Valhalla. 
Players will also be able to witness the growth of The Hidden Ones first-hand in Mirage. They will also get to see Alamut which is the original fortress and founding location of The Hidden Ones. While Alamut has been mentioned countless times in previous games, its location has never actually appeared in any game. It serves as a major story point that ties into Basim's betrayal.
It makes complete sense to have this iconic Persian fortress in the game. Given that Mirage is set in 861, The Hidden Ones were already founded and quite a powerful organization. Mirage will likely shed more light on how The Order of The Ancients became The Templars and the whole idea of this historical past makes the game so much more enticing.
It is also important to note that Mirage plans on spanning over a few years of the Assassin's Creed story. We will meet Basim as a youngster, and see him grow into an apprentice assassin and then into a Master Assassin. As he grows, Basim will learn new skills players can use in the game. One new skill will allow Basim to, in a way, slow down time and mark multiple targets to assassinate in one sweep of attacks.
Basim can also call on his eagle to scout the areas of Baghdad for enemies, infiltration routes and stealth opportunities. In Mirage, this eagle is an Aquila heliaca, also known as an Eastern Imperial Eagle.  However, there are now enemies in Mirage that can shoot down your eagle if you aren't careful.
The core experience in Assassin's Creed Mirage is stealth. Players will need to identify their targets, hunt them down, kill them and vanish out of sight. The game now features a new detection system that shows players who is spotting them, where they can see them and how far away they are. Players can deploy mines while sneaking around areas to take down routine guards and put them to sleep from a distance using the blow dart.
When players need to escape from an area, they can use the new and returning parkour moves to get out as fast as possible. One new move sees players pole vault across one building to the next and even over large wide spaces. Players can also look forward to new and returning parkour animations. If anything, I would love to see the fantastic Assassin's Creed Unity animations return in Mirage. So far, it seems like that is the case
But Ubisoft says chases are incredibly fast and players will feel in control and more agile than ever as they move about the city. Every area in the game has been designed with parkour in mind so you can easily make use of all the opportunities to escape and distract your enemies.
So far, Assassin's Creed Mirage sounds like the game we have been longing for. A simple return to form that players can enjoy without spending time plundering ruins and walking across mountains. I could not be more excited about this.
Assassin's Creed Mirage is set to launch in 2023 although there's no exact date yet. It is releasing on PS4, PS5, Xbox One, Xbox Series X/S and PC.