How do you take Origins, possibly the best entry in the Assassin's Creed series and make it bigger and better? Assassin's Creed: Odyssey is the most ambitious, charming, and exciting Assassin's Creed game to date and everything it stands for oozes love and passion for the series. The great sense of discovery as you explore Ancient Greece, the gripping, satisfying story and the charming characters you meet along the way all add up to create this exceptional feast as if I was dining at a great Greek Banquet with so much to look at and sample and if I wanted more I could easily have taken. The joy of Assassin's Creed: Odyssey was felt through every mechanic, every island I docked at and every choice of dialogue I made throughout this massive game. There is no doubt that this is a series defining entry and one for the ages.
Check out our video review of Assassin's Creed: Odyssey below;
[su_youtube url="https://www.youtube.com/watch?v=S3tkMEMzNWk"]
As most Assassin's Creed games go, you often get stuck playing with a male Assassin, bar Syndicate and Liberation. Odyssey lets you choose between Alexios or Kassandra right from the get go and you are that character throughout the game. Every dialogue option changes, and without spoiling anything, the entire premise of Odyssey sees a giant twist depending on who you choose too. Choice is a large foundation of what makes Odyssey so great and it creates a ripple effect that I underestimated. I killed people I should have not killed, made bad decisions that affected the lives of dozens, and even missed out on some sexy time by coming on too strong while flirting with a pirate.
The opening moments of Assassin's Creed: Odyssey confused the hell out of me but as the story slowly unfolded, I felt more intrigued by the plot and characters than ever before. Dare I say, this could be one of the best stories in Assassin's Creed history and that is all I am going to say about it to avoid possible spoilers. In a nutshell, the main character you choose sets off on an "Odyssey" to discover the truth about her past and in turn comes face to face with a deadly group of people known as The Cult of Kosmos who somehow control Greece by feeding lies to the people through Oracles, propaganda and even death threats. Like Origins, you have to now track down these leaders and take them down one by one to reveal the truth behind the ordeal.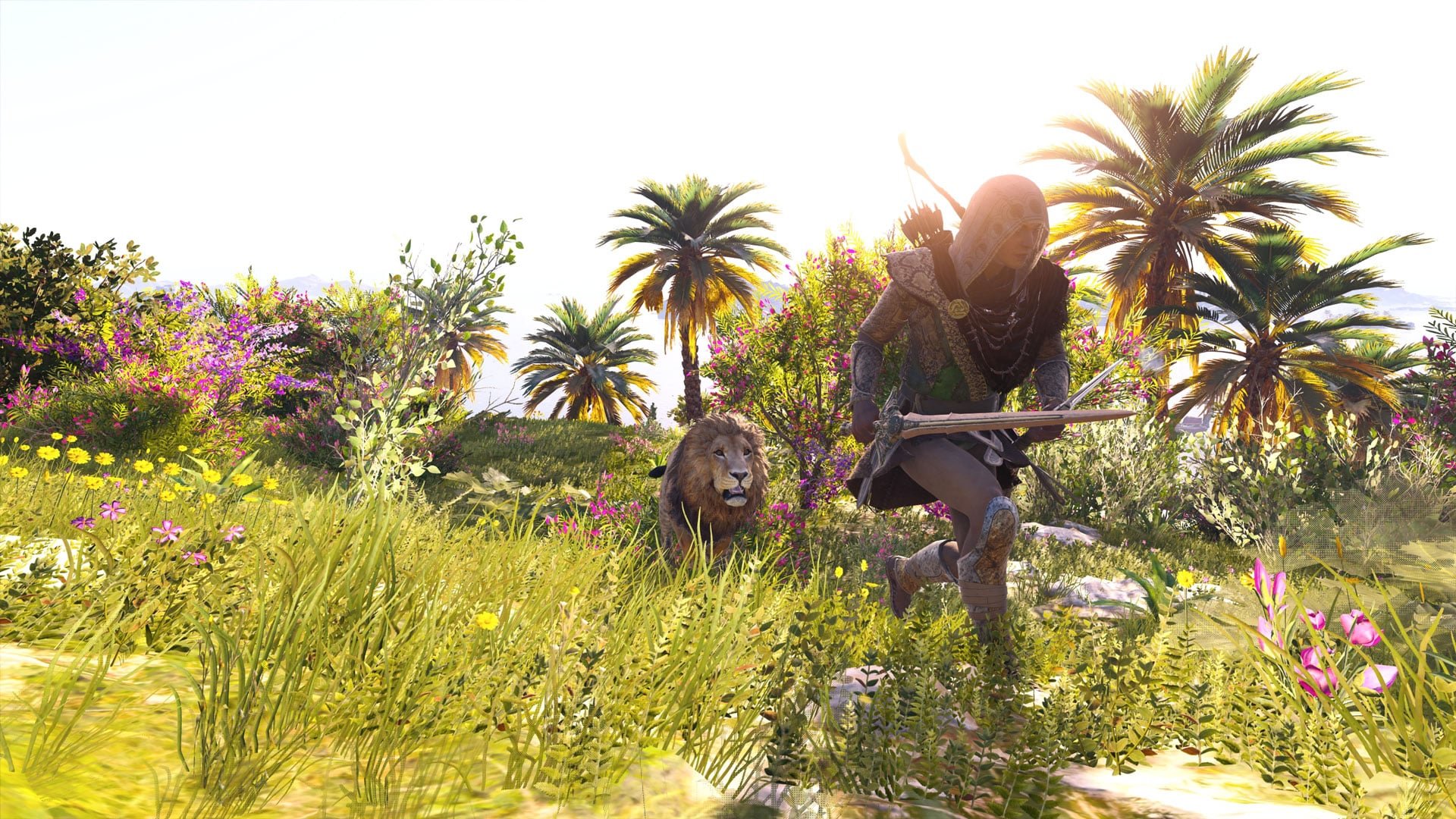 Unlike Origins, Assassin's Creed: Odyssey has a much, much deeper system in place and throughout the game, everything that was sort of in Origins has been expanded beyond belief in Odyssey. You will see I compare the two games quite often in this review and there is a point to that. The games are quite similar in fashion as Origins acted as a reboot to the series so there was no doubt in my mind that Odyssey would improve on it. From the get-go, Odyssey offers two ways to play the game. A normal guided way where waypoints are given to you at every turn to show you where to go and who to kill and the new, and pretty awesome Exploration Mode. This mode forces you to ask questions during quests to pinpoint where your target or location is on the map. There is no such thing as just going there by following a waypoint. I Often had to ask the quest giver where I would find what she wanted and she would say "West of the Temple of Athens". It was then my job to open up the map and pinpoint where I was meant to go.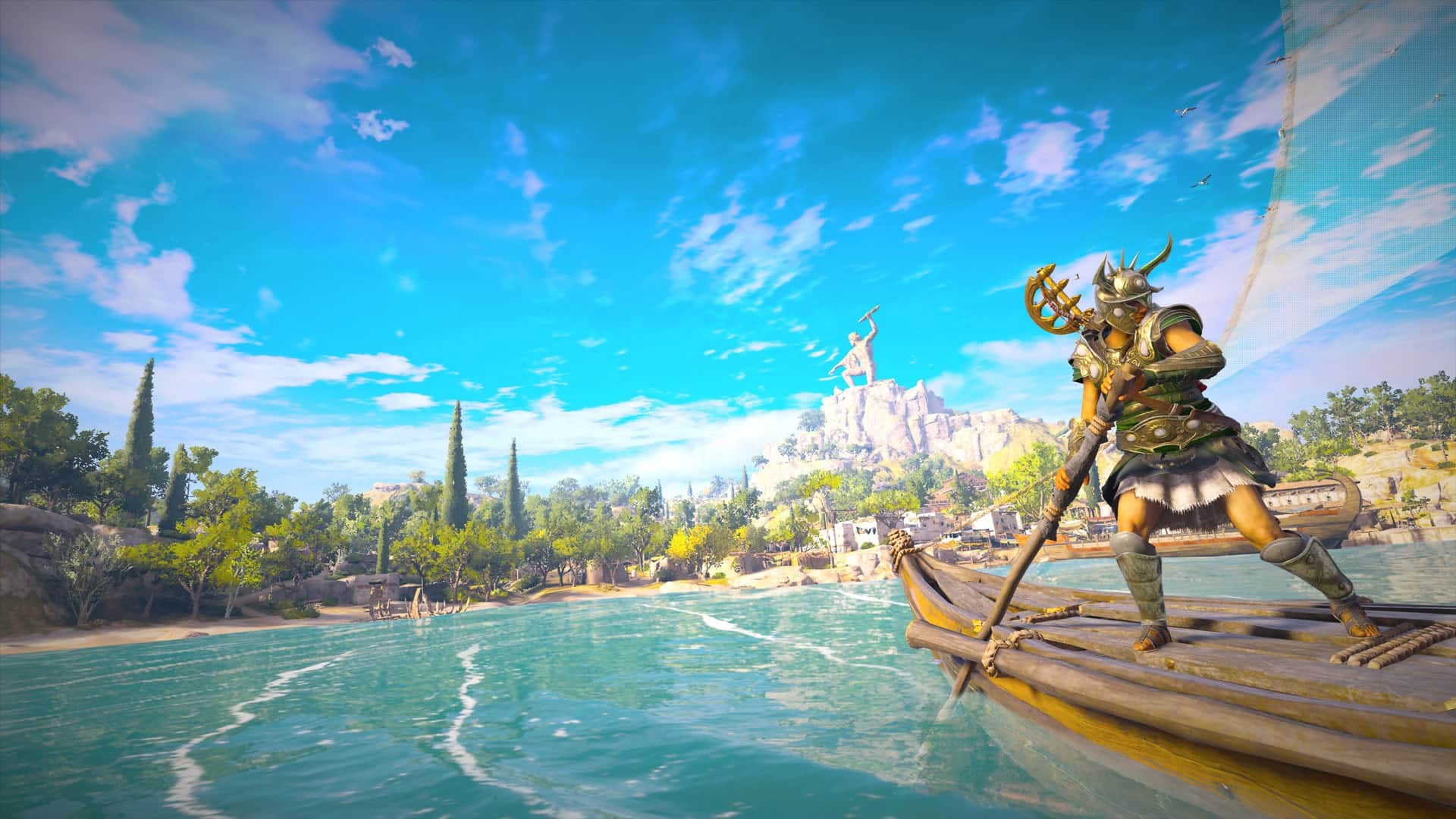 This sort of system is also found when tracking down the cult members. There are roughly forty members of this organization and they are scattered throughout the gigantic world you can explore but there is a catch. You have to discover each of their locations by collecting hints to what industry they control in Greece. The more you do side quests and explore the world, the more these evil people are found. One specific one which I was missing, I only discovered a while later by doing a side quest I abandoned in the early game.
These systems give Odyssey that "Odyssey" feeling where you on a journey of epic proportions and have to sail the seas, collect lore, and speak to people to truly find your way around the game. The sense of discovery is phenomenal and every time I jumped onto my ship to sail to a new island, I got a fuzzy feeling of excitement as I could not wait to see what was in store for me on the other end of the ocean. Not many games have done this and Assassin's Creed: Odyssey somehow delivered the magic I was in dire need of from the series.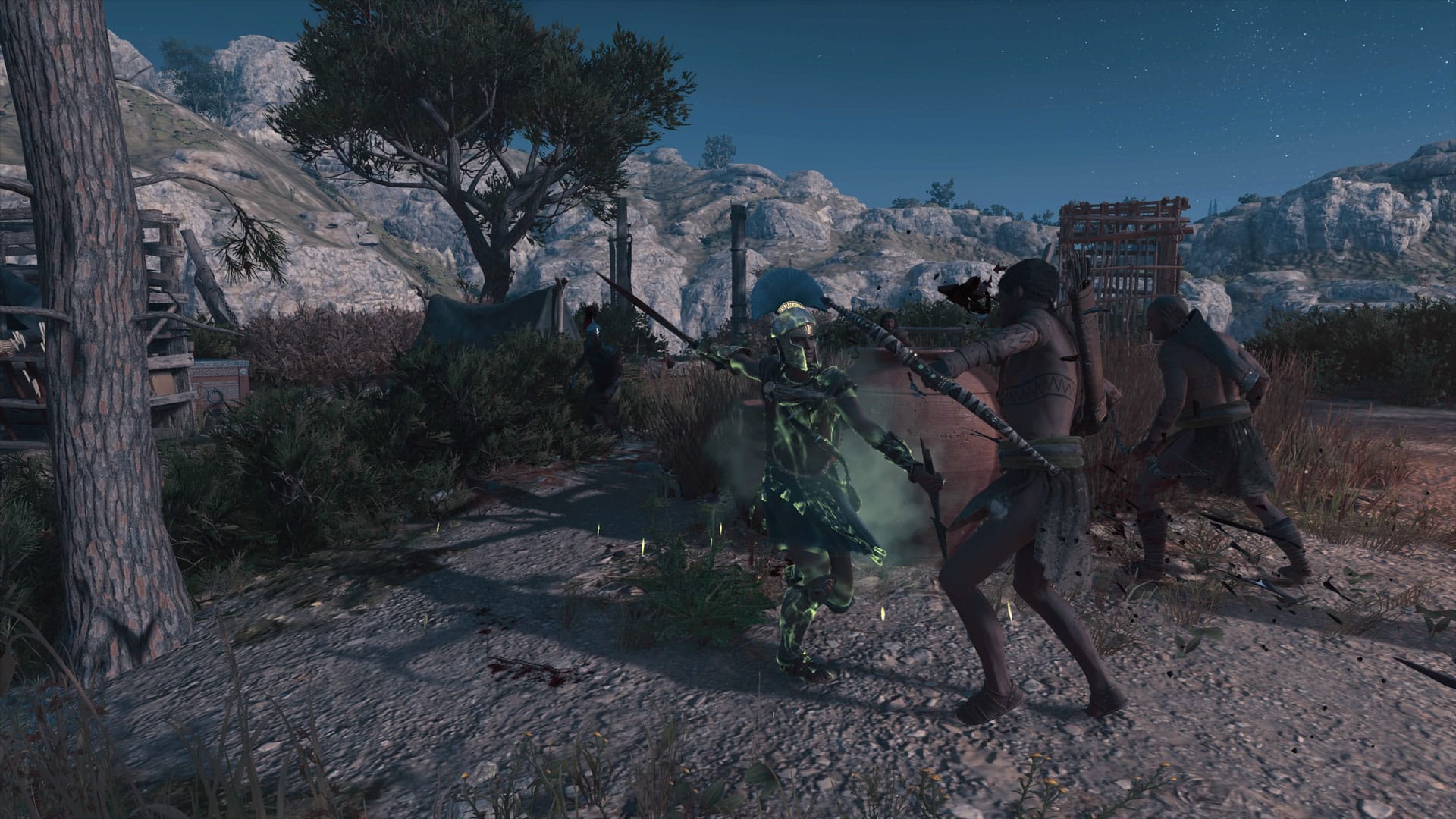 The layers of the game make up one big, exciting experience and every character, location and even side quest I took on was filled with exceptional writing and detail. One of my favourites was an old lady that tasked me to obtain a bear scrotum and a deer tongue so she could make a potion that would help her lover last longer in the sack. I did it with a smile on my face but then ended up pleasuring her at the same time. That was just one of many lovable quests you take on in the game and the more you sit and listen to these people talk, and make Kassandra's choices for her, the more involved you feel in the overall experience. As if you are setting her story up for her as she goes about her odyssey.
Kassandra is also a badass in every way. She is one of the coolest, no-nonsense female characters I have seen in gaming in a while and if you are on the fence about her or Alexios, I highly recommend taking her instead. She even shoves a man's fake eye up a goat's backside and calls it a day. The magic of her character is felt throughout the game and the amount of time you spend with her makes it totally worthwhile.
Assassin's Creed: Odyssey has revamped the RPG system from Origins and it works very well. You now go up levels slower, equipment is more focused and stats are vital to pulling off the character build you want. Yes, you can build your character the way you want to play. I went for a two-handed axe build for most of the time but the problem here is that my "Assassin' stat was so low that I could hardly stealth kill anyone without just dealing damage. This was then made up by the large chunk of health and damage boosts. If I decided I needed to take a more silent approach then I could easily by switching up some equipment and boosting the stats in a specific tree.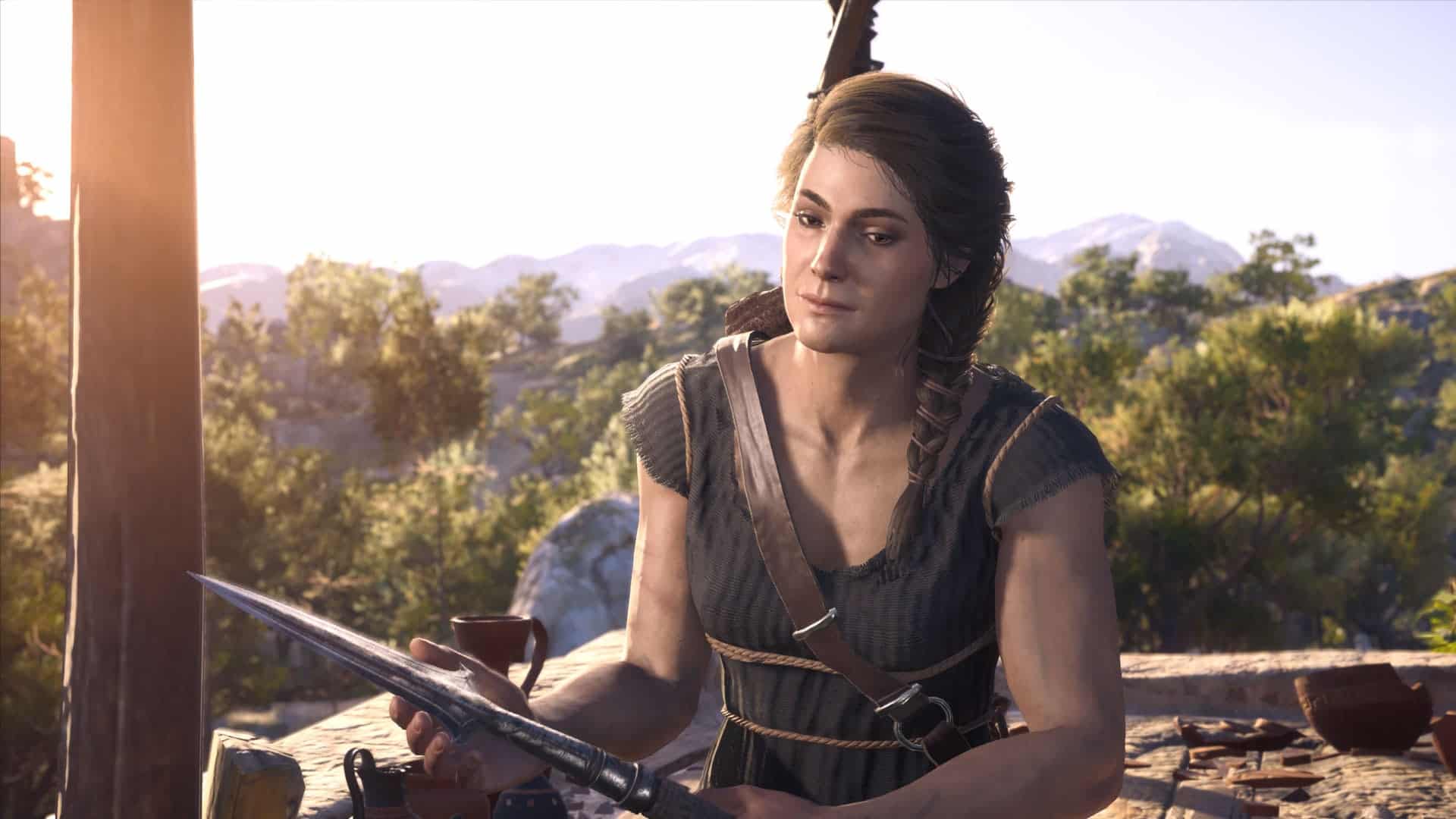 Abilities make Kassandra feel godly to an extent where these act as cool special powers. Using the Spear of Leonidas, she could throw it at an enemy killing him and then "warp" to him and chain another enemy at the same time. The Spartan Kick is a favourite too allowing you to punt anyone off a cliff or mountaintop. It is satisfying and most of the time you will spend your life lining up the poor soul to do so. Kassandra also has cool bow abilities like a rain of arrows that targets a small circle on the ground and showers powerful arrows down on her enemies. These abilities are pretty epic and make the game feel more fantasy than realistic and it works. Believe me.
Saying that, Odyssey is tough. Often I hit a wall where I could not beat a boss due to my lack of gear or level. I remember easily cheesing some fights in Origins but somehow I could just not do it in Odyssey. You have to pay attention to your gear, buy new things, level them up and master the weapon type you choose to use. If you still feel weak then you can engrave your gear now which allows you to pay the blacksmith to add special perks to each item such as increased Assassin damage, poison resistance and more. There are also cool gear sets to collect that give you not only a cool look but an awesome buff if you wear them all. These are a grind to get but would be worth it in the end. The rare goods trader has also returned in Odyssey and he has some cool gear for sale but only trades in Oriculcum which is obtained by doing weekly bounties and daily quests. I can see myself coming back for months to try and complete a set gear of equipment.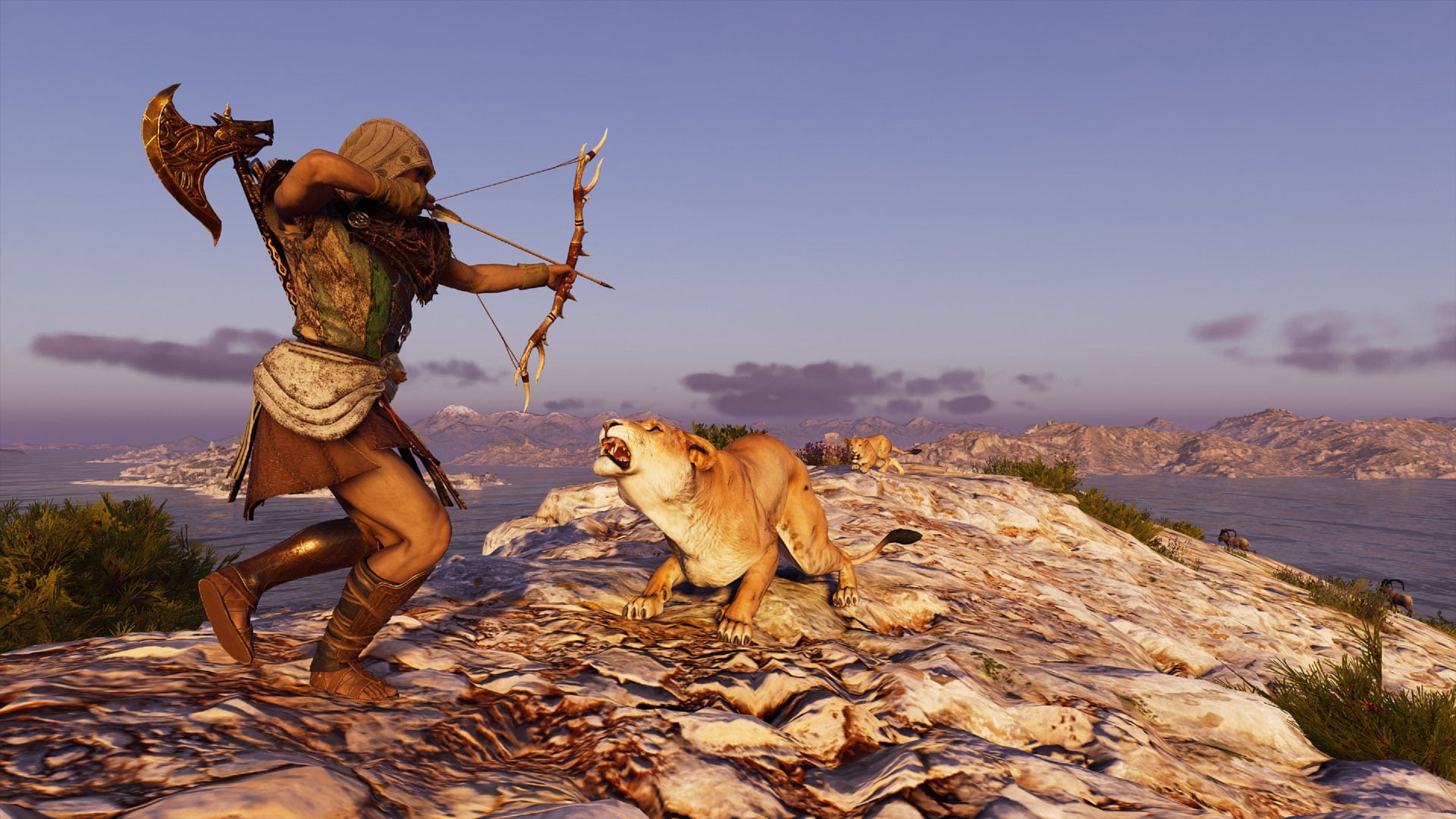 Odyssey is massive and that is even underselling how big the world is. Sure, much of it is water but when you are not on the sea, the lands sprawl as far as your eye can see. The sheer amount of detail in each location is fantastic and every land and island felt unique to a certain degree, Pilgrim's Landing boasts a rocky mountain which is filled with yellow-leaved trees and has a real Autumn vibe. Attika, the land of Athens is a massive city with its rich areas, poor slums and all the beautiful greek chapels atop hills. Part of what makes Odyssey so perfect is the detail put into each location in the game. Sure, the islands can feel a bit bland after a while, but they are islands, what more can you do?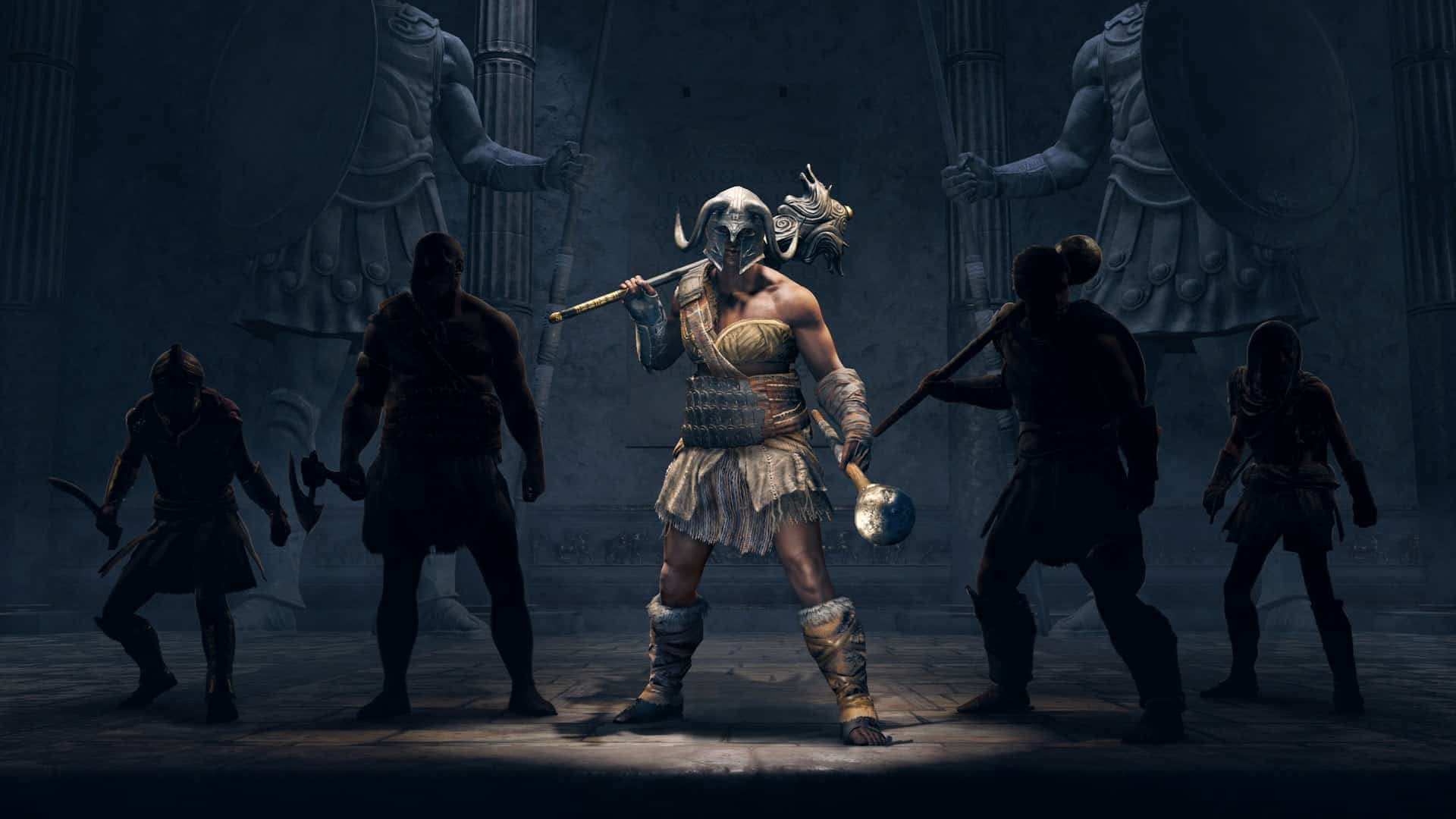 Assassin's Creed: Odyssey also features a new wanted system that sees a handful of Mercenaries come after you if you break the law by stealing, killing and being seen or just being a typical Assassin. That is to say that I found it impossible to play the game without at least two of the Mercenaries chasing me down and every fort I went to take on, and every mission I started, these darn well-equipped soldiers got in my way. It is quite a game of cat and mouse all the time and I loved it. This constant horn blowing to warn me that someone three levels above me could possible come and ruin my day had a great sense of danger. Sure, I could just pay the bounty and move on with life but what is the fun of that?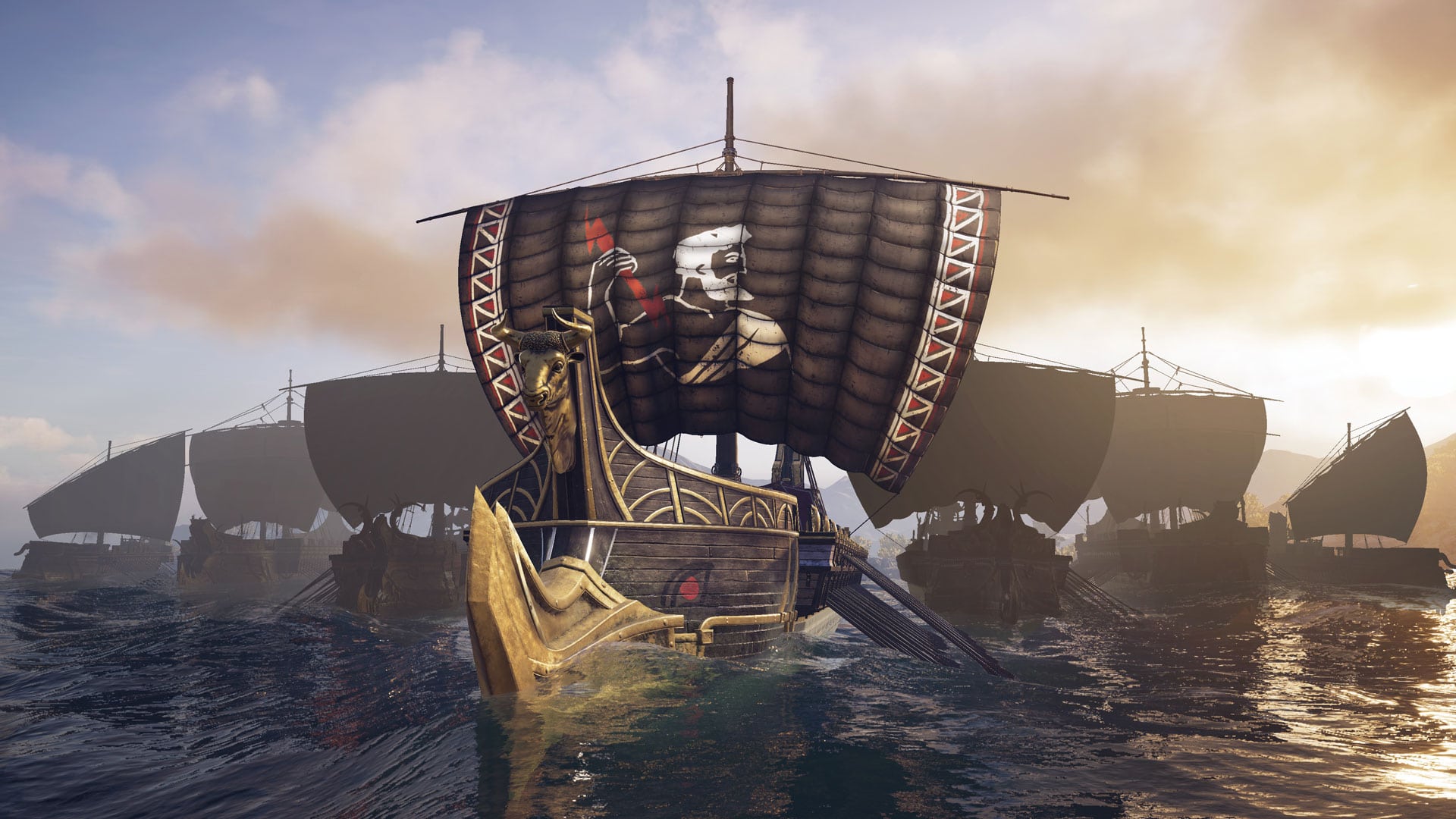 The Mercenary System also has its own leaderboard-like ladder to climb up too. As you kill these Mercenaries you will go up in level tiers and fight harder, stronger enemies. The thing is, Kassandra, can also climb up these tiers making her a mercenary too. The goal is to get to the top of the ninth tier and kill the worst of the mercenaries in the game.
With the game relying heavily on the ocean, Odyssey sees the great naval combat return. It is nothing like Black Flag, but a more simplified version of it. You have your ship, your crew that you can recruit by knocking enemies down or just using Ubisoft Club to get Evie Frye to join you. As I progressed in the game I could unlock upgrades to the very few attacks. Bows, spears and fire alternates of both. The naval combat is fun, and a great distraction from walking around the land and there was something satisfying about taking down a few pirates ships and bashing them into bits to steal their wood. You can also board the ships which often ended with me Spartan Kicking them all off the side. Any way you put it, the ocean is as big of a playground as the land.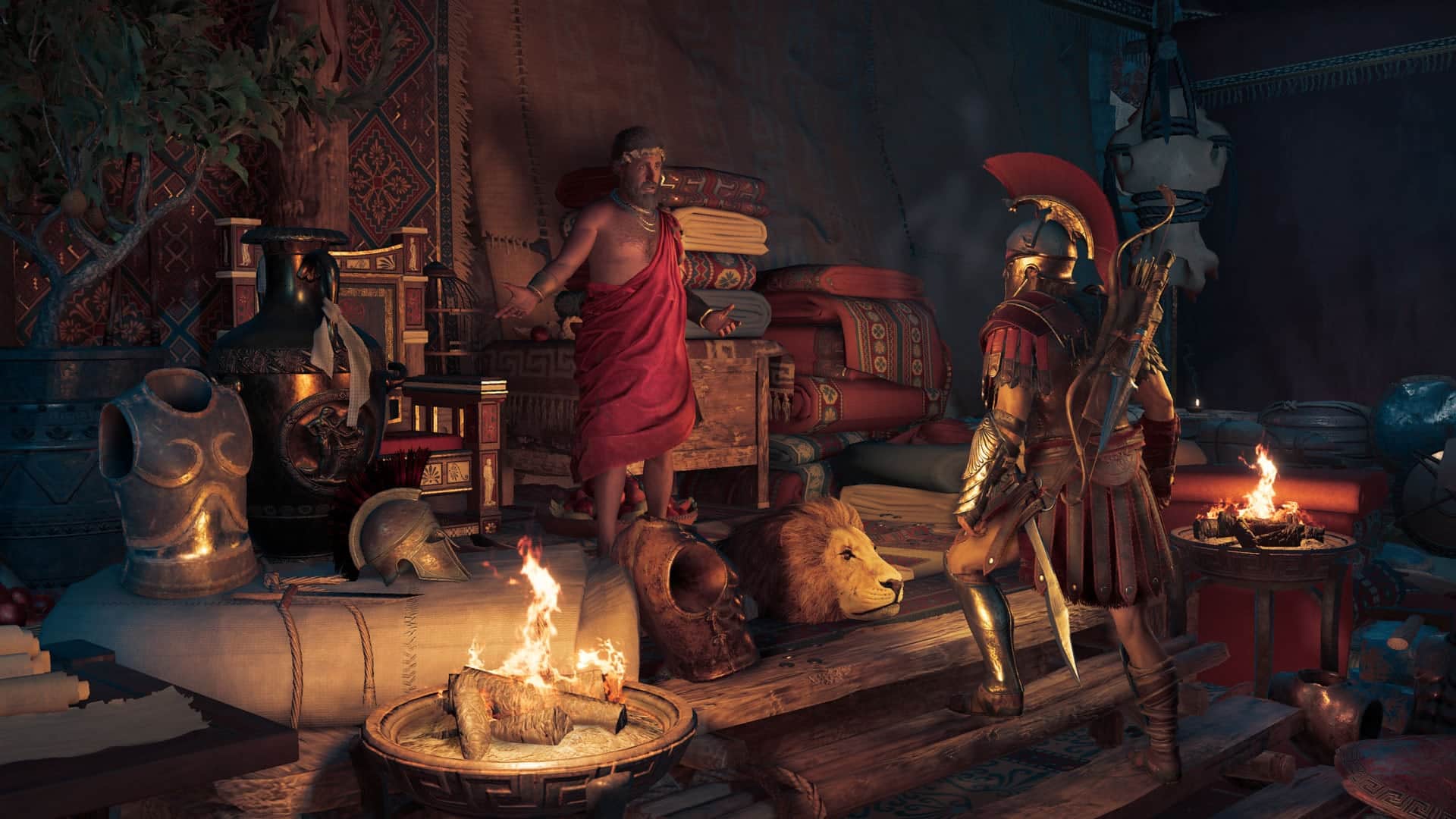 On that topic of land, Odyssey also features a simplified war system where you have to weaken an army's control on a region by burning silos, weapons, killing soldiers and stealing their war chests. Weaken them enough and the leader appears for you to go and kill. At times you can even participate in large open warfare between two armies. The battles are intense as everyone is slashing everyone apart and you need to try and keep tabs on who to kill before the opposing team conquers the field. These are not vital at all to the game's story progression but something that adds the feeling of "Greece at war" to the game.
Odyssey does so much right that it is hard to find a flaw in it. Ubisoft took Origins and filed the rough edges down, added some hints of hardcore RPG, a great sense of discovery, and a story like no other. Like I have been saying since the start, Assassin's Creed: Odyssey is unlike anything I have played in the series. Its RPG-focused loot system, the gorgeous world covered in secrets and mystery and its fantastic story pulls you into the game for hours and on without any hope of you escaping its charming grasp. Assassin's Creed: Odyssey is a series-defining entry.

This review is based on a review copy provided to us by Ubisoft
Available On: PS4, Xbox One, PC | Release Date: 5 October 2018