If you're a racing fan you'll have heard the name Assetto Corsa well enough to know that this is no run of the mill racer. This is the definition of a sim, and it has earned its place next to the likes of iRacing and rFactor 2 within the sim community, but unlike the other two, Assetto Corsa Competizione is also available on console. A curious case given the closest you get to 'sim' racing on either Xbox or PlayStation is Forza Motorsport or Gran Turismo respectively. Having launched in 2018 on PC, and later in 2020 on console, the game finally comes full circle on console with next-gen updates in 2022. But how does this juggernaut stack up in the current console racing climate?
Let's get this out of the way first, if you aren't in the fortunate position of owning a racing wheel, you should probably give this one a skip. ACC is a brutally realistic sim, if you're looking for something to complement your latest Gran Turismo habit, this is far off the mark. ACC is the motorsport enthusia- no, zealot's game. If you like spending as much time under the hood, adjusting tyre pressure, tackling engine modes, mapping and brake balance as much as you do driving, this may be the game for you. ACC is a no-holds-barred, back to basics sim title that necessitates about as much time and focus as you would expect from a title based on one of the world's most challenging motorsport categories, Grand Touring.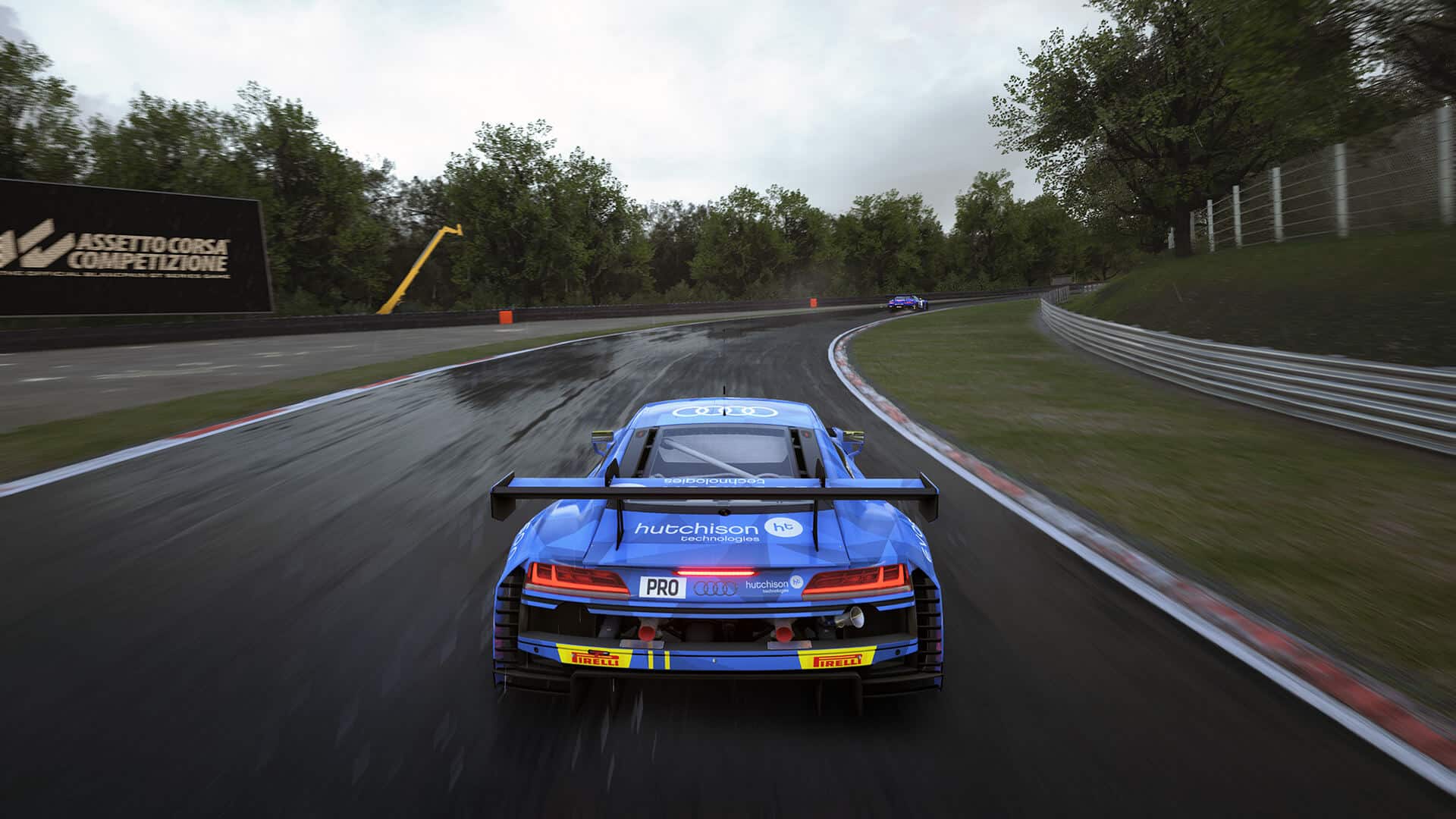 ACC is the official game of the GT World Challenge and as such is focused entirely on the series, formerly known as Blancpain GT. As such, it's a far cry from its predecessor which spread its coverage over a number of car types while still remaining hyper-focused on realistic handling. The GT World Challenge, for those unfamiliar, is a global racing series featuring GT3 cars, homologated road cars built to match the FIA's specs for this specific category. This means big wings, major downforce and almost no limit to engine size or chassis design, but limited to a weight between 1200 – 1300kg and a maximum output of around 600hp. So light, powerful and dangerously challenging to drive. 
If that all sounds a little specific, it's because that's exactly the DNA of this title, specificity, attention to detail and realism. ACC doesn't pull any punches, you manage everything and I mean literally everything, right down to the grimey little tidbits that most other titles blissfully omit; brake pressure, tyre wear, all displayed in a cluster of gauges that keep you constantly in the loop, connected to the car and team. This spills over into a biblical rulebook dictated by the FIA as to race decorum, you'll be managing pitstops, adjusting for weather conditions, vehicle damage, every tiny detail is here and it is GLORIOUS! 
PlayingAssetto Corsa Competizione with any kind of controller other than a wheel is a major disservice, even if you're a master on the DualSense, you'll find the microscopic input required to drive these 600hp GT3 cars incredibly challenging. There are a plethora of assists available, but even these are limited in their implementation. With a wheel and a healthy amount of practice, ACC comes alive and really shows its chops. It feels almost as if granular of the tarmac can be felt through a decent wheel, no other game I have had the fortune of reviewing does feedback quite as Assetto Corsa Competizione does. Pair it up with a set of load cell peddles and the combined feedback through your hands and feet is quite blissful and close enough to the real thing to have you second-guessing your surroundings until your Uber Eats order arrives to break the illusion. 
The next-gen update to ACC is a welcome one for those who have been languishing on the newer consoles with the older version, upgraded to 4k/60FPS, a gold standard for console racers, Assetto Corsa Competizione sees notable improvements on the newer console beyond visual fidelity. Included in the update is the ability to create private lobbies (a long-requested, and head-scratching omittance from previous versions) as well as serving up 30 player grids in multiplayer. 60 liveries from the 2021 GT3 Championship are also thrown in for good measure. 
Assetto Corsa Competizioneoffers up a total of 11 tracks from the current GT Challenge Series, with a further 8 available via DLC. The base set includes famous circuits like Spa, Brands Hatch, Silverstone and Monza, while a few more tempting tracks like Kyalami (Local boy Jordan Pepper included) await in the Intercontinental GT DLC. I found myself scratching my head a little at this choice to keep the DLC separate given the title launched nearly 4 years ago, it just seems a little incomplete as the 2021 season is essentially locked behind that paywall. 
While Assetto Corsa Competizione isn't trying to compete on a visual level with other contemporaries, it's by no means an ugly title, time of day and weather effects are passable and realistic enough to be immersive, textures are fairly sharp as long as you don't gaze too far off the track (Not that you will, ever, concentrate!) Car models are beautifully detailed, especially inside the cockpit as numerous gauges and dials litter the dash, this is further complemented by some pretty incredible sound design. The whine and whistle of each of the cars is a sweet sound to any motoring enthusiast and the echoes in the cabin combined with rattling bodywork provide some of the most immersive and realistic audio I have experienced in any game.
Assetto Corsa Competizione isn't everyone's cup of tea, it's a hardcore, realistic and immersive racing title that almost makes a wheel compulsory to enjoy its many deep and nuanced offerings. An ample career mode combined with a generous multiplayer serves up endless enjoyment. Its devoted fanbase and continued support from its dev team is testament to the staying power of a title like this on console. If you have a wheel, you've probably already dipped a toe into this one, but if you're new to the sim racing scene, ACC is a must-have.
This Assetto Corsa Competizionereview was written by Hylton Goodwin based on a PS5 copy of the game. You can grab it starting from R670 here. 
Story -

7.5/10

Gameplay -

9/10

Presentation -

8.5/10

Value -

9/10
Summary
Assetto Corsa Competizione is a hardcore, realistic and immersive racing title that almost makes a wheel compulsory to enjoy its many deep gameplay mechanics.
Pros
Easily the best REAL sim on console
Intricate and nuanced, a track rats dream title
Exceptional handling with a racing wheel and load cell pedals
Brilliant audio design
Cons
Not recommended for controllers
Frustrating paywall makes the base game feel a bit empty
Steep learning curve for newbies