When I first started using the Asus ROG Flow X16 I wondered who exactly this notebook would be for. A hybrid tablet, stylus and touch screen combined with a powerful RTX 3070 Ti, Mini-LED display and more storage space than you could ever imagine. It is as if ASUS wanted to make a notebook for everyone and if anything, it felt like it was suffering from a major identity crisis. However, the more I used the Asus ROG Flow X16, the more impressed I was. It is a top-notch gaming notebook with some impressive tech even if some of it I could have done without.
On the one hand, you have a fast and stylish notebook that is incredibly versatile and on the other hand, there's the gaming performance that powers everything I did on this device. The screen can also flip around to the other side meaning it can be used as a dedicated display when you plug a controller into it. The experience here is really remarkable.
Asus ROG Flow X16 Tech Specs
| | |
| --- | --- |
| Screen | 16in, 2,560 x 1,600 165Hz Mini-LED |
| Processor | AMD Ryzen 9 6900HS, 3.3GHz |
| RAM | 32GB (Upgradable) |
| GPU | Nvidia GeForce RTX 3070 Ti 8GB |
| Storage | 1TB (Expandable) |
| OS | Windows 11Pro (depending on model) |
| Battery life | Up to 8 hours/1 hour game time |
| Connectivity | Wi-Fi 6, Bluetooth 5.2, 2 x USB 3.2,21 x USB 3.2 Type-C, 1 x HDMI 2.0, 1 x microSD, 1 x audio |
| Dimensions | 355 x 243 x 19.4mm, 2.1kg |
Asus ROG Flow X16 Design
First off we have the overall design of the Asus ROG Flow X16. ASUS thought of everything when making this notebook and there's n doubt about that. The notebook is quite thin and is made from black metal. There are a few vents around it, especially on the button and sides of the device. If anything, this notebook is clean with sharp cuts on the edges and a matte black finish. It does pick up fingerprints quite quickly so keep that in mind. Out of most of the ASUS ROG gaming range, this is one of the more subtle designs around with no ridiculous RGB flashing lights that get in the way.
The display here is especially great. The notebook can be opened with one hand and the hinge feels smooth and agile. This is thanks to the heavy bottom that helps keep the notebook down when opening up the lid. The screen can rotate back 360 degrees so you can use this Asus ROG Flow X16 as a dedicated tablet or display without having the keyboard in front of you.
You know those portable displays ASUS makes that you can plug into your PS5? This is kind of the same thing but everything is already here for you.I would not use the notebook as a tablet per se. It is a bit too bulky for my liking.
While the outer shell of the notebook does get dirty and smudged with fingerprints, the inner is made from a different metal so it actually stays clean in comparison. This is thanks to the magnesium metal shell. The keyboard here is zone-lit RGB and is nice to use. There are four hotkeys which you can customize and the lighting is bright enough to help you in the dark. The trackpad is also quite large and great for gestures. I honestly don't know how I would get around Windows these days without gestures so yay for larger trackpads.
When it comes to ports, the Asus ROG Flow X16 packs the power port, HDMI 2.0b, audio combo, xGM port and USB-C port on the left-hand side. On the right-hand side, you'll find the two USB-A ports that are 3.1 gen1, a MicroSD card reader and the power button. I need to mention that the xGM port is for an external GPU but I did not have one to test and that's okay because the model I reviewed was quite beastly on its own.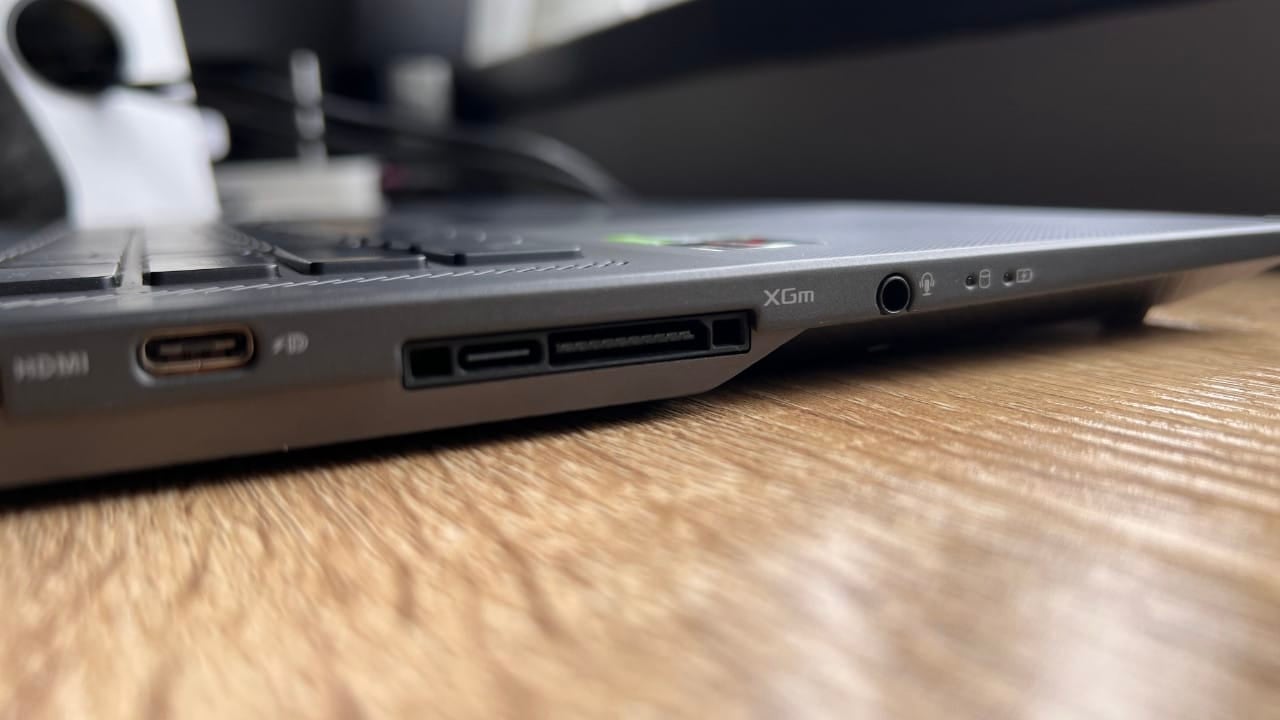 The overall design of the Asus ROG Flow X16 was great. I enjoyed how simple it was while also being quite sleek and clean. I honestly have no complaints here other than the smudges on the outer body.
Asus ROG Flow X16 Performance
A big selling point of the Asus ROG Flow X16 is its display and it is a big deal. It is one of the first non-Apple notebooks to include Mini-LED tech meaning it has the ability to have multizone backlights in order to increase the contrast and deliver some intense brightness. You can turn multi-zone dimming on and off too so it kinda acts like disabling and enabling local dimming on a TV.
Mini-LED is already a big deal on TVs thanks to the insane brightness it can deliver. I recently tested this out in a Hisense U8H TV so it was nice to see on a notebook. It also means that the display doesn't have any of the drawbacks you will face with OLED tech such as burn-in and crushed blacks.
The screen can reach some incredible brightness levels with a measurement of 1000 nits with multizone enabled and 700 nits with it disabled. Of course, there is some noticeable blooming but it really won't be as big of an issue here as it would be on a TV.
You would want to use this notebook in multizone dimming when playing games and watching content. The blacks are so much deeper and the highlights are incredible. When doing anything else, you'll then disable it. Or not but I don't recommend doing any sort of design stuff with multizone on as it ruins the accuracy of image quality.
Playing games is where this display shines. Highlights in HDR produce extremely bright images that pop out on the display. It is absolutely stunning to see in motion, especially in games with some incredible HDR implementation. I recommend Destiny 2, Gears and Horizon Zero Dawn. Not to mention that the display, apart from being a monster of brightness, is also touch and stylus supported.
When it comes to gaming, this Asus ROG Flow X16 packs some great internals. The RTX 3070 Ti includes 8GB of VRAM and the GPU can reach up to 125 watts of TGP power. There's also a lot of room for upgrades here thanks to the extra SSD and RAM slots.
The numbers speak for themselves. Here are some of the tests I got.
Benchmarks
Tested in Turbo mode
DMark 13 – Fire Strike: 25410

Graphics – 28738
Physics – 27592

3DMark 13 – Time Spy: 10820

Graphics – 10810
CPU – 11037
Games
Tested at QHD+ at max possible setting with RT on
Cyberpunk 2077
Battlefield V
Dying Light 2
God of War
The results are quite good. Keep in mind that this is a notebook and while the 3070 Ti desktop GPU is capable of way more, this is pretty impressive for a notebook and a notebook so thin too. You can likely hit 60FPS on all these lower FPS games if you drop the resolution down to HD.
The cooling on this Asus ROG Flow X16 is also amazing. ASUS has included a dual-fan design with a smaller fan in the middle of the notebook which sucks in air from the outside and blows it onto the heat sinks. It is quite clever.
This doesn't mean the device doesn't get hot but it does help keep things under control. I reached a max temperature of 88C when really pushing this Asus ROG Flow X16 to the max. The fan hit 50dB of sound when the fans were trying their hardest to keep things cool.
When it comes to the battery life, this notebook packs a 90Whr cell and it goes a decent job powering things. I even managed to play a full hour of Destiny 2 on the battery before it died. This means if you're not gaming, you can get a good 8 hours of life out of this battery.
The speakers on this Asus ROG Flow X16 were also decent. They come with Dolby software that helps set up the equaliser and once configured, the sound was good. They managed to deliver a full-sounding experience and even on around 70% volume, they were quite punchy.
The webcam, on the other hand, isn't great. it is low res and horrible in low light situations. It will do but you will be judged during Zoom meetings.
Asus ROG Flow X16 Verdict
So what started out as a miss for me turned into quite an impressive notebook. The Asus ROG Flow X16 is a great buy and the display alone is a sell for me. If this is the future of gaming notebook displays, I can't wait to see what's to come.
The Asus ROG Flow X16 is available in SA starting at R39,999
Display -

9.5/10

Performance -

9/10

Design -

9/10

Value -

8.5/10
Summary
The Asus ROG Flow X16 is a powerful machine with one of the best displays you can get. It is more than capable of everything you need from a gaming notebook.
Pros
Brilliant display
Powerful internals
Sleek design
Cons
Some blooming on display
Smudges quickly
Web cam is meh