There's no denying that I was not a fan of the last ASUS ROG Flow that was sent to me to test out last year. The 13-inch notebook was mediocre with loud fans, a dull display and of course, you needed the external eGPU to turn it into a gaming notebook. I get it, the tech is cool but who in the world would spend money on it? To carry around a giant eGPU and a notebook at the same time makes very little sense. Not to mention the bloated price tag for both pieces of tech makes it cheaper and easier to just buy a powerful notebook. The new ASUS ROG Flow Z13 is now a tablet and while much of my criticisms remain the same for this device, I kinda loved spending time with it.
The ASUS ROG Z13 is hands-down the most powerful tablet you can get on the market. It doubles up as a hybrid notebook thanks to its detachable keyboard and then turns into a dedicated gaming notebook thanks to its AMD Radeon RX 6850M XT eGPU. Inside the tablet itself, you'll find some impressive specs that include an Intel Core-i9 12900H, NVIDIA RTX 3050 Ti, 16GB of RAM and a 512GB SSD.
Watch out ASUS ROG Flow Z13 + XG Mobile AMD Radeon RX 6850M XT eGPU review below
The tablet itself boasts a 13-inch 16:10 1080p display with a 120Hz refresh rate. It is a tablet which means you can also use up to 10 fingers on the display to get around. The panel itself isn't remotely impressive. It uses an IPS panel which means it doesn't get as bright as tablets should and the black levels aren't the best due to the always-on backlight. You can get a 4K 60Hz version of this tablet too.
ASUS ROG Flow Z13 Tech Specs
Here are the official specs for the Flow Z13 tablet on its own:
CPU
GPU

NVIDIA RTX 3050 Ti 4GB
Intel Iris Xe

Display

13.4-inch
1920 x 1080
16:10
Touch screen
120Hz
Adaptive Sync
Stylus Support
Dobly Vision

RAM
Storage

512TB SSD (comes in 1TB config)

IO/Ports

1 x 3.5mm audio jack combo
1 x ROG XG Mobile Interface
1 x USB 2.0 Type-A
1 x USB 3.2 Gen Type C (for power too)
1 x Thunderbolt 4 (for power too)
1 x Micro SD Card Reader

Keyboard/touchpad

Backlit RGB Chiclet
Multi-touch trackpad

Camera
Speakers/Microphone

2-System speakers
Hi-Res Certified
AI Noise-Cancelling
Dolby Atmos
3-microphone array

Network
Battery
Extras

Rear window lighting
Aura Sync

Dimensions

30.2 x 20.4 x 1.20 cm
1.12Kgs
ASUS XG Mobile eGPU Tech Specs
Here are the official specs for the ASUS XG Mobile eGPU. Keep in mind that this device is completely optional but for the sake of this review, we are testing it as a bundle.
ASUS XG Mobile eGPU (optional)
VRAM
Power

Up to 165W with ROG Boost

Ports

1 x HDMI 2.1
1 x DP 1.4 support G-SYNC
1 x RJ-45 LAN port
1 x DC input jack
4 x USB 3.2 Gen 1 Type-A
1 x SD Card reader(Standard)/UHS-II(312MB/s)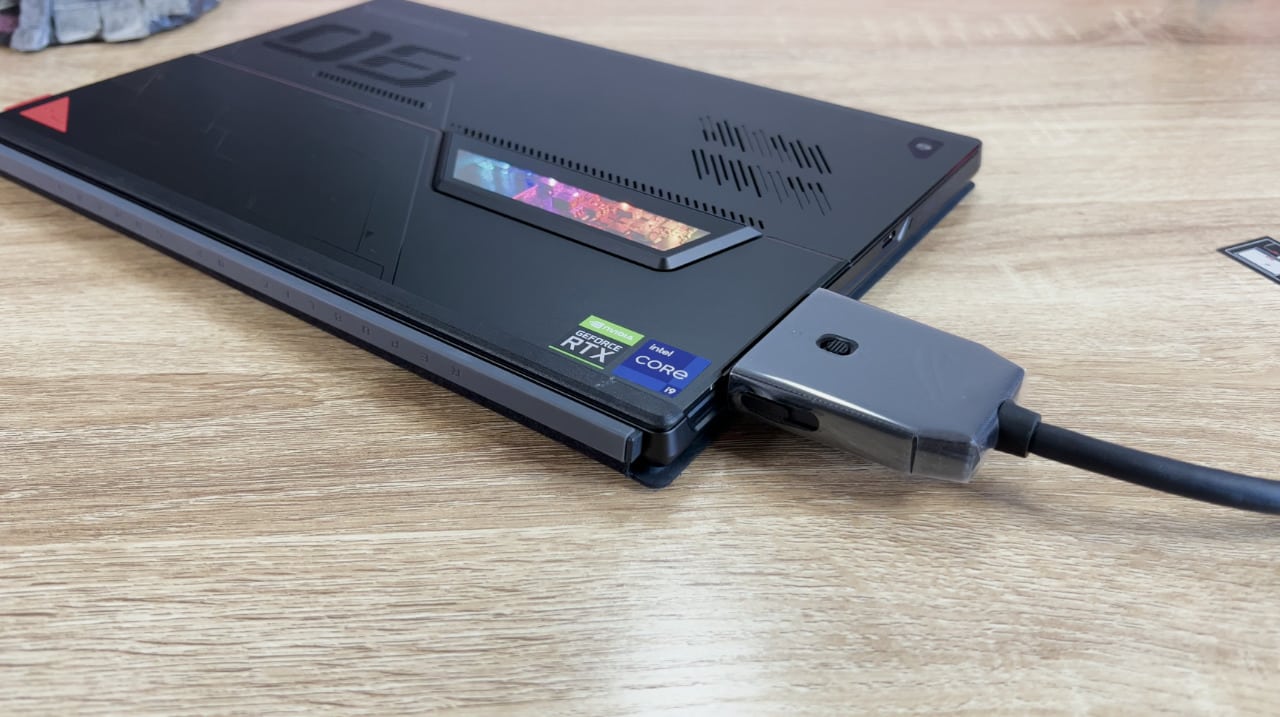 ASUS ROG Flow Z13 Design
You can see from the specs that there's a lot to unpack here with the ASUS ROG Flow Z13 itself. The tablet is pretty cool to hold and feels sturdy and premium. ASUS has really put a lot of effort into this device to make it feel expensive and you can see small details across it that scream this. The tablet, when detached from the keyboard is quite bulky but expected given the specs inside of this device. On the top, there are some vents with the Republic of Gamers logo and at the bottom, you'll find the magnetic connector for the detachable keyboard.
In terms of ports, on the left, you'll find the one USB C port and the eGPU port for the XG Mobile. On the right, there's a USB Type-A port and audio combo. There's also the power button and volume rocker. Two much-needed features on a tablet such as this.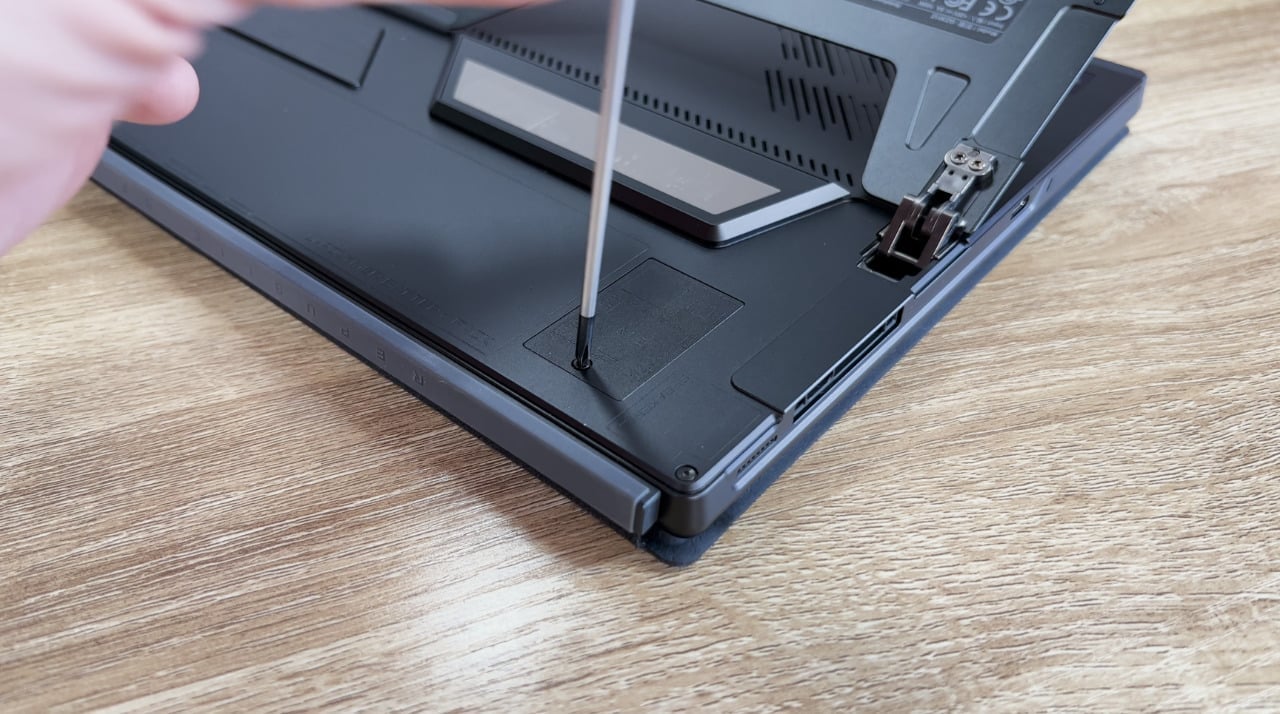 ASUS has pulled a Nintendo and hid the Micro SD card reader behind the kickstand. It is nicely tucked away from view too. I really enjoy the design of this ASUS ROG Flow Z13. I especially liked the engravings on the metal chassis that indicate where the ports are and what tech is underneath that specific part of the shell.
For example, there's even a small little compartment that shows you where the SSD expansion slot is. There are also two speaker blocks to show where the sound will come out of. It is almost as if the internal hardware lives on the outside shell. ASUS has even put a glass window on the back that includes RGB. This window gives you a sneak peek at the main board on the device and the 12th-gen CPU die.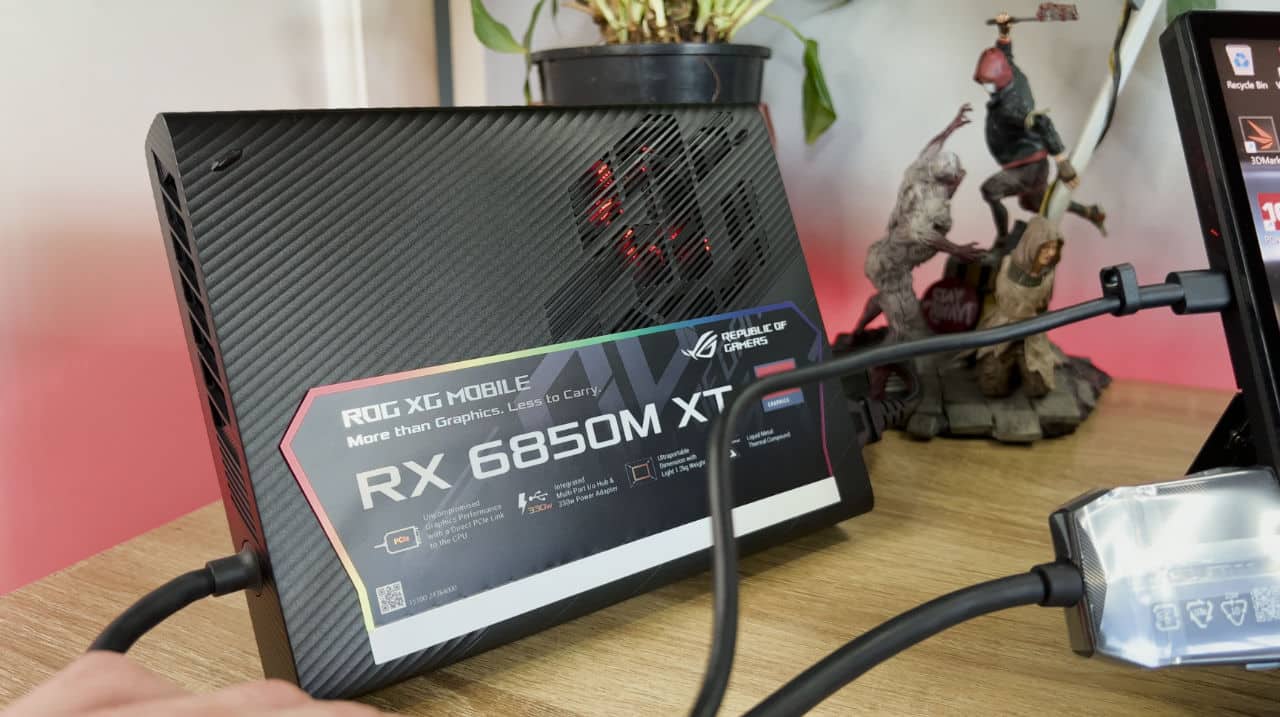 The kickstand is also sturdy and easy to use. The hinges are of high quality too and look great when open. There's a thin red piece of rubber to indicate where to pull the kickstand open and closed. As for the keyboard, it is decent and beats most tablet keyboard accessories on the market. The chiclet keys will make it all feel like a standard notebook experience when typing. There's also RGB which is cool for a detachable accessory. I did wish the touchpad was a little larger but hey, you can only squeeze so much into this.
ASUS ROG XG Mobile Design
The optional XG Mobile eGPU is a large black box that houses the AMD RX 6850M. There isn't much to look at there when it comes to the design. The box packs a range of ports on the back end that expand what is on offer when plugged into the notebook. The cable on the other end is specifically made for ROG Flow notebooks and is a combination of a proprietary PCIe port and a USB C port. Together, this device is capable of sending GPU power to the notebook.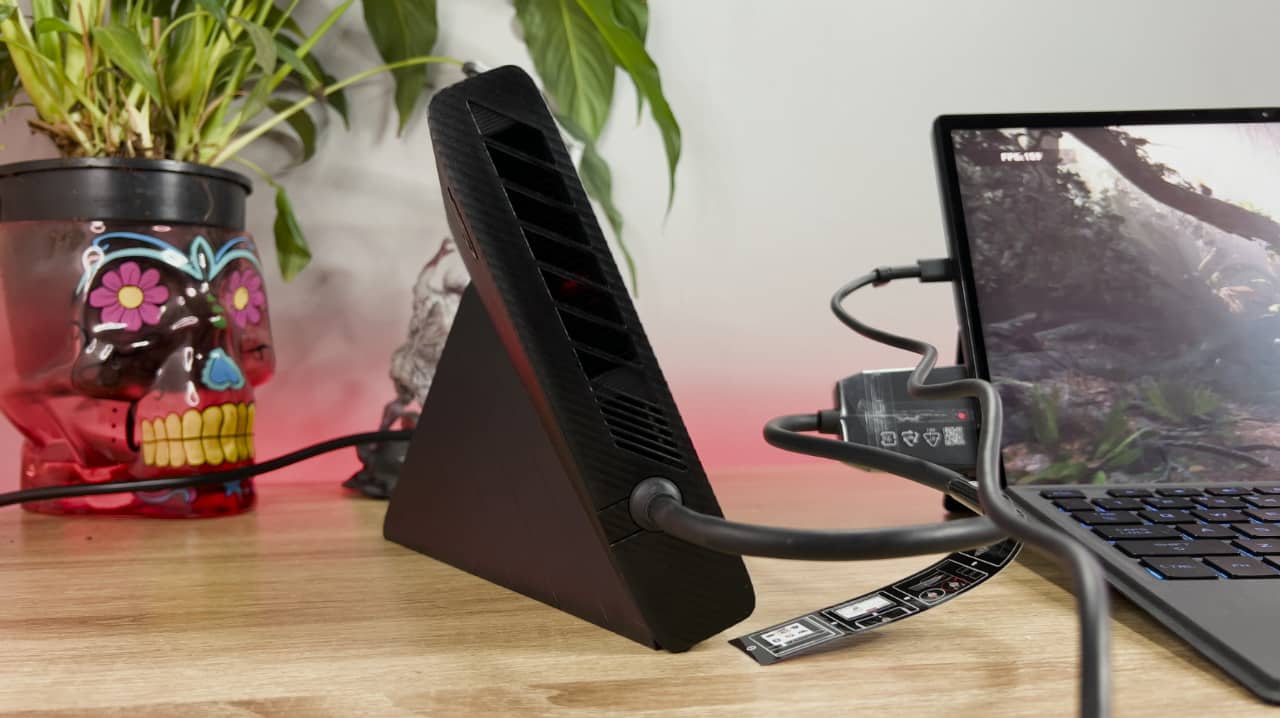 It also has a kickstand that folds outwards so you can prop it up next to the tablet when in use. On the other end, there are a few vents and an LED-lit fan because you know, it is a gaming tablet after all. I also need to mention the SD card reader at the top of the eGPU. While the Flow Z13 packs a Micro SD slot, the XG Mobile is a large SD slot.
ASUS ROG Flow Z13 Performance
General performance on the ASUS ROG Flow Z13 was fantastic. The combination of the Core i9 and RTX 3050 Ti meant that daily use of this tablet held up well. It also helps that the display is decent making it a joy to work on. Sure, 13-inches isn't ideal for what I do but most people looking for a compact tablet hybrid will likely feel fine here.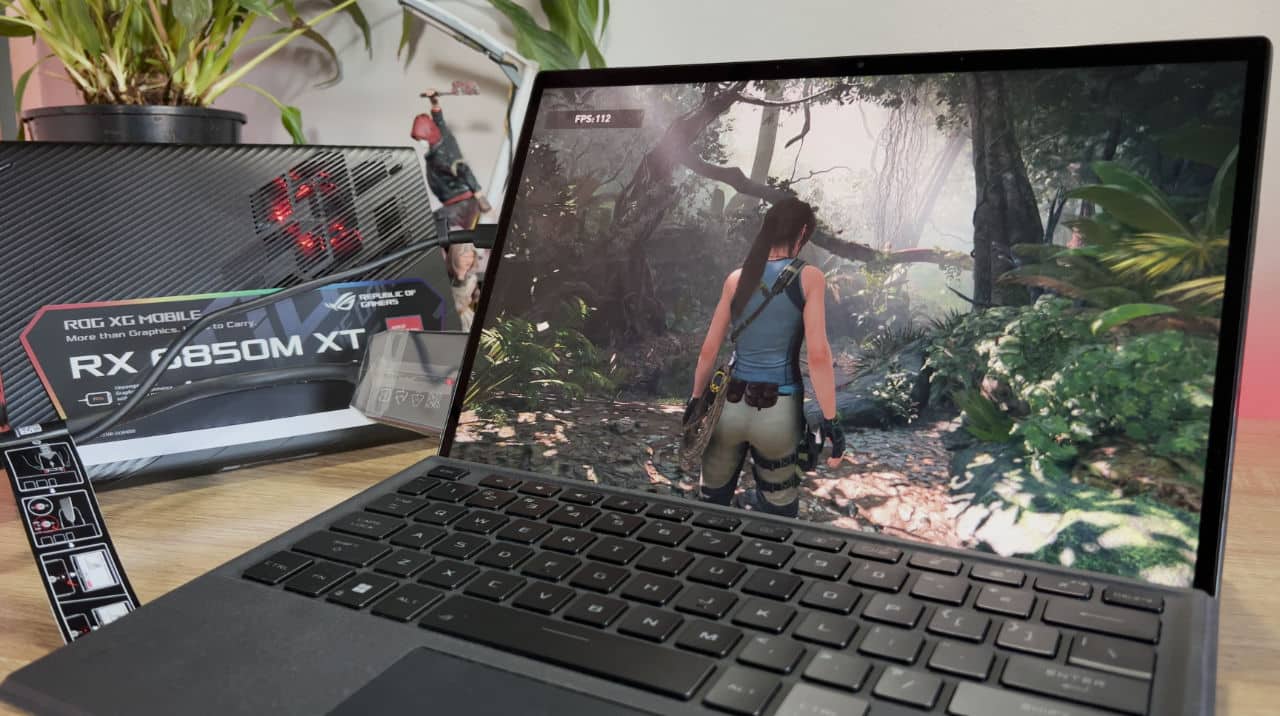 The display pumps out the max brightness of 540 nits which is enough for the average room lighting. It doesn't have the best coverage around. I measured only 98.2% sRGB, 70% AdobeRGB and 73% DCI-P3. Ideally, this panel isn't great for design.
For the sake of this review, I wanted to test out the pure power of the Z13 itself and then compare it to the added performance of the XG Mobile GPU. Mainly because the Z13 is a pretty powerful tablet on its own so it will be interesting to see how it holds up. I also wanted to test out this XG Mobile plugged into an external display. While the tablet is okay, playing games on this 13-inch IPS 1080p panel might feel like gaming twenty years ago and isn't ideal for the most part.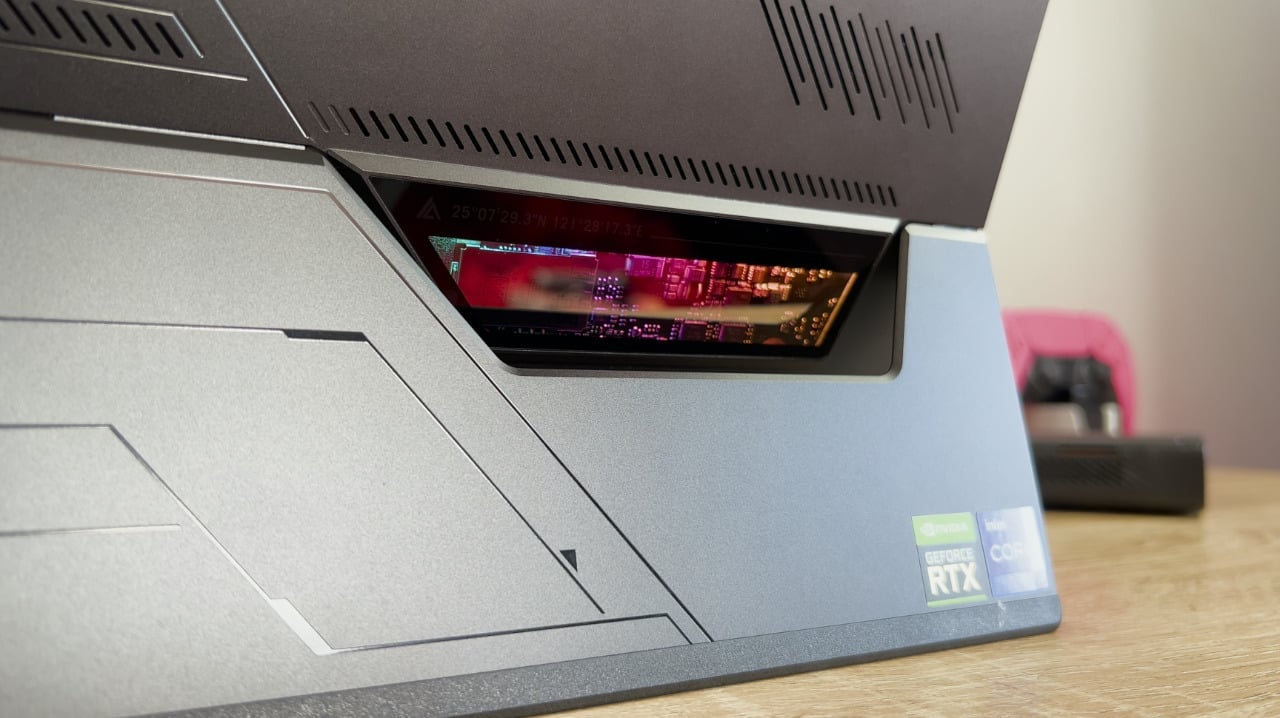 The RTX 3050 Ti is a Max-Q variant that runs at 35W and can be boosted up to 40W using Dynamic Boost. ASUS has also included MUX to the tablet which might boost performance slightly too. I can't get inside this device to show you what's inside of it due to its build. The closest you will get to the internals is by removing the M.2 bay to upgrade the SSD. This slot is compatible with a 2230 SSD only which makes it a costly upgrade compared to the 2280 SSDs.
Without the optional XG Mobile eGPU, this tablet is limited to 100W of power through the USB C port when gaming. The ASUS Armoury Crate then let me toggle between various settings to bypass the RTX 3050 and only use the Intel Iris Xe. Generally, you would want to keep this on Eco mode and only use the Intel Iris Xe when not gaming. You would then switch it to dGPU MUX mode to make use of the RTX 3050 and disable the integrated GPU.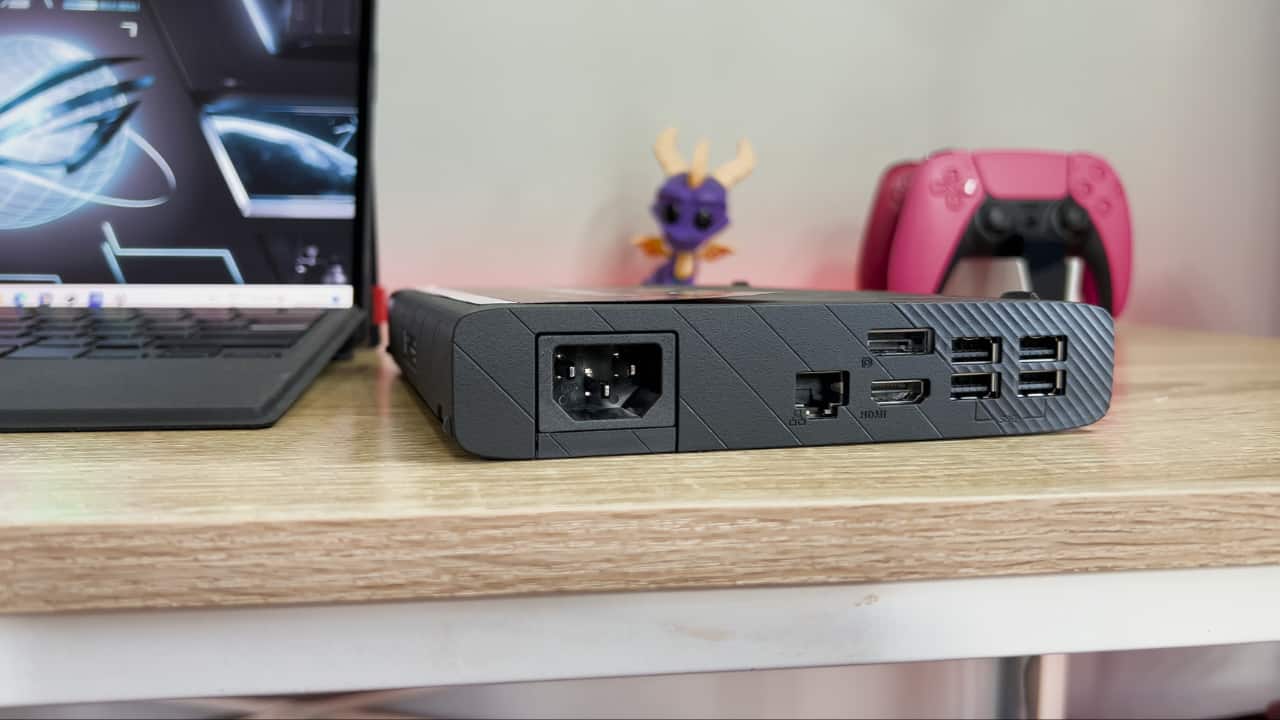 The CPU power is also limited on this tablet. Mainly due to the design of the chassis. At 50W, the CPU only runs at about over 70% of the performance. It is still quite impressive for a tablet. This performance is determined by the power setting I chose. Turbo Mode is the best for gaming here as the 3050 TI can go up to 40W while the CPU sat at 35W. This tablet is all about understanding the thermal limitations in combination with the power restrictions.
Here are some of the tests I ran while using the dedicated RTX 3050 Ti on Turbo mode and some CPU tests I ran too.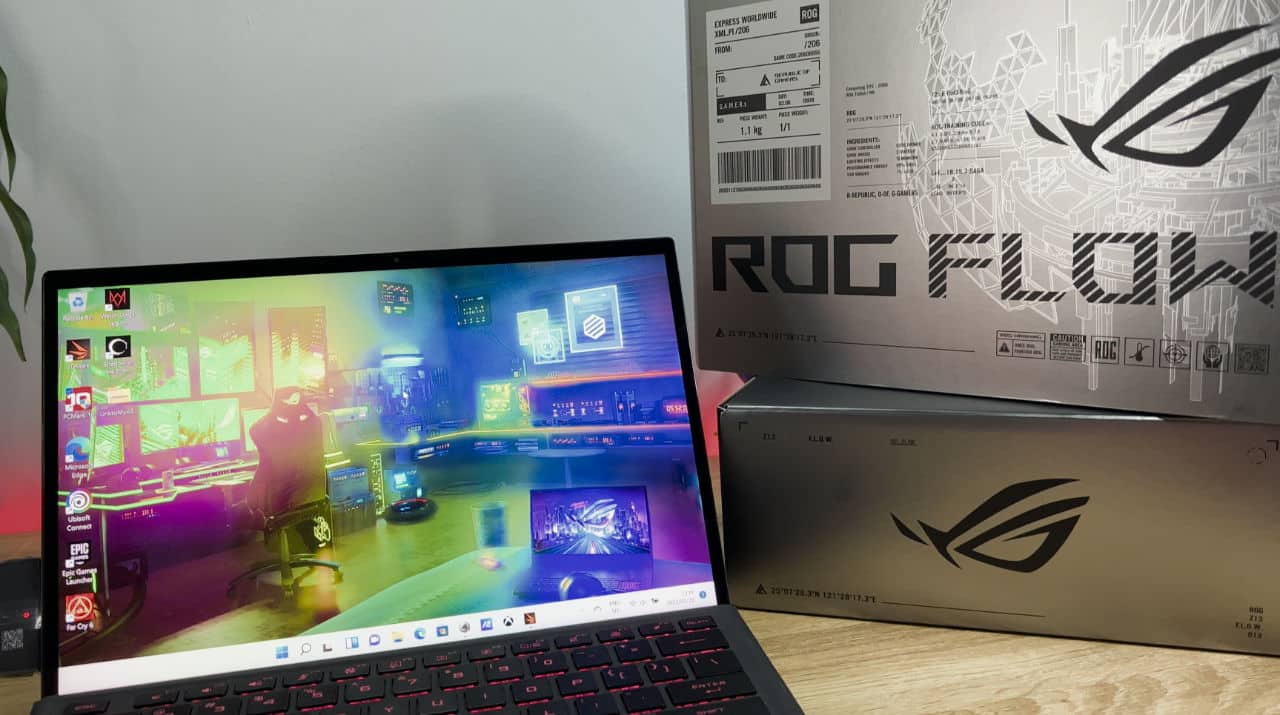 Gaming
Far Cry 6 RTX 3050 Ti

1080p Medium (RT Off) – 57 Average / 63 Max / 51 Min
1080p Medium (FSR Ultra Performance + RT On) – 31 Average / 36 Max / 28 Min

Shadow of the Tomb Raider RTX 3050 Ti

1080p High (Ultra Performance DLSS) – 63 Average

Red Dead Redemption 2
The Witcher 3 RTX 3050 Ti
PCMark 10
3D Mark
TimeSpy

8222 Overall
8222 Graphics Score
8226 CPU Score
We then have the ASUS ROG XG Mobile. This AMD RX 6850M GPU is undoubtedly better than using the dedicated RTX 3050 Ti but you have to slog the setup to make this possible. The eGPU plugs into the tablet on the XG Mobile port and is enabled through the ASUS Armoury Crate. Once enabled, all GPU power is sent from the XG Mobile completely bypassing the Intel Iris Xe and 3050 Ti. Here are some of the tests I ran using this external GPU.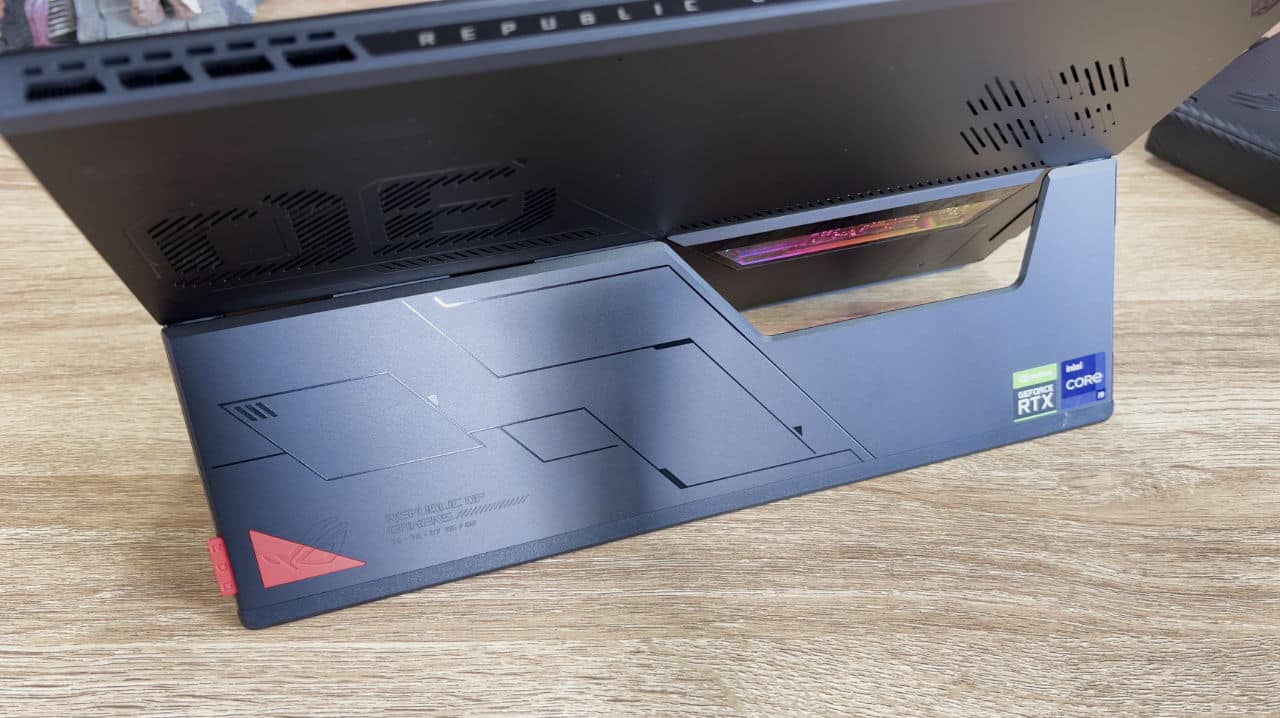 Far Cry 6 XG Mobile

1080p Ultra (RT Max FSR Quality) – 60 Average / 109 Max / 27 Min
1080p Ultra (RT Max FSR Ultra Performance) – 585Average / 112 Max / 69 Min

Watch Dogs: Legion XG Mobile

1080p Ultra (RT Max) – 32 Average / 41 Max / 18 Min

Shadow of the Tomb Raider XG Mobile

1080p Ultra (CAS off) – 154 Average

Red Dead Redemption 2 XG Mobile

1080p Ultra – 59 Average TBA

The Witcher 3 RTX 3050 Ti XG Mobile

1080p Ultra – 62 Average TBA
Fans on the tablet itself were pretty loud during tests. With that being said, they weren't as annoying as other notebook fans I have worked with. Yes, they are noticeable but not annoying. As for the heating, the notebook itself maxed out at 75 degrees celsius during these tests. It wasn't hotter than say a gaming notebook but this is a tablet so you need to remember to handle it with some extra care while the device is hot and bothered.
TimeSpy

12020 Overall
11871 Graphics Score
12945 CPU Score

PCMark 10

Overall – 8257
Essentials – 11463
Productivity – 10330
Content Creation – 12 904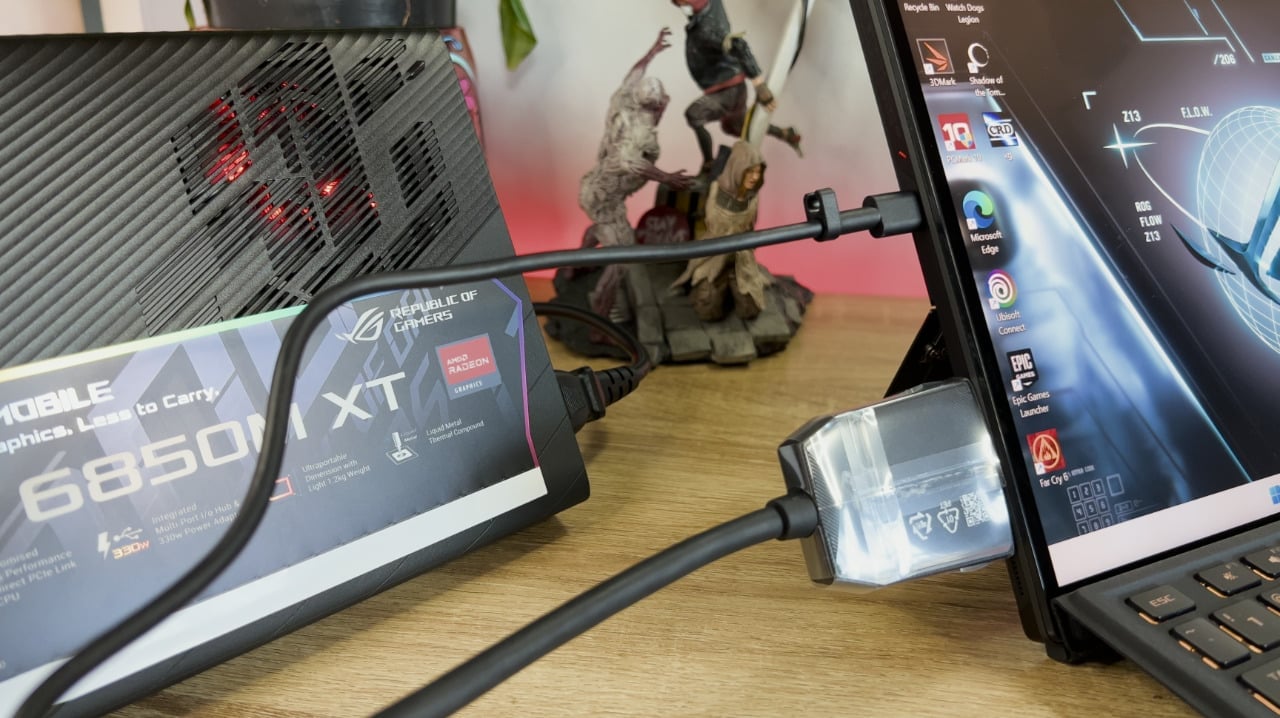 Speaking of heat, the Flow Z13 handles its heat dissipation quite well. I never reached higher than 50 degrees celsius during tests on the tablet itself. When using the XG Mobile, this dropped even further down to 35 degrees. You probably won't ever hold this tablet while gaming but it is nice to know it doesn't get too hot anyway.
So in the end I both loved and hated the Flow Z13. As a tablet, it is very bulky and while the design packs some cool features like the RGB glass back, it simply isn't practical as a tablet due to its thick build.
Battery life on tablets is also supposed to be great due to the fact that you're meant to be carrying them around with you everywhere. The Flow Z13 can't manage more than 6 hours even if you push the brightness down and disable the 3050 Ti. It is just not ideal here.
Then we have the XG Mobile which is a real chore to use. It just adds so many wires and mess to the mix just to play on a tiny 13-inch display. Sure, you can output this to a display through the Flow itself but when does this experience become too much work than it is worth.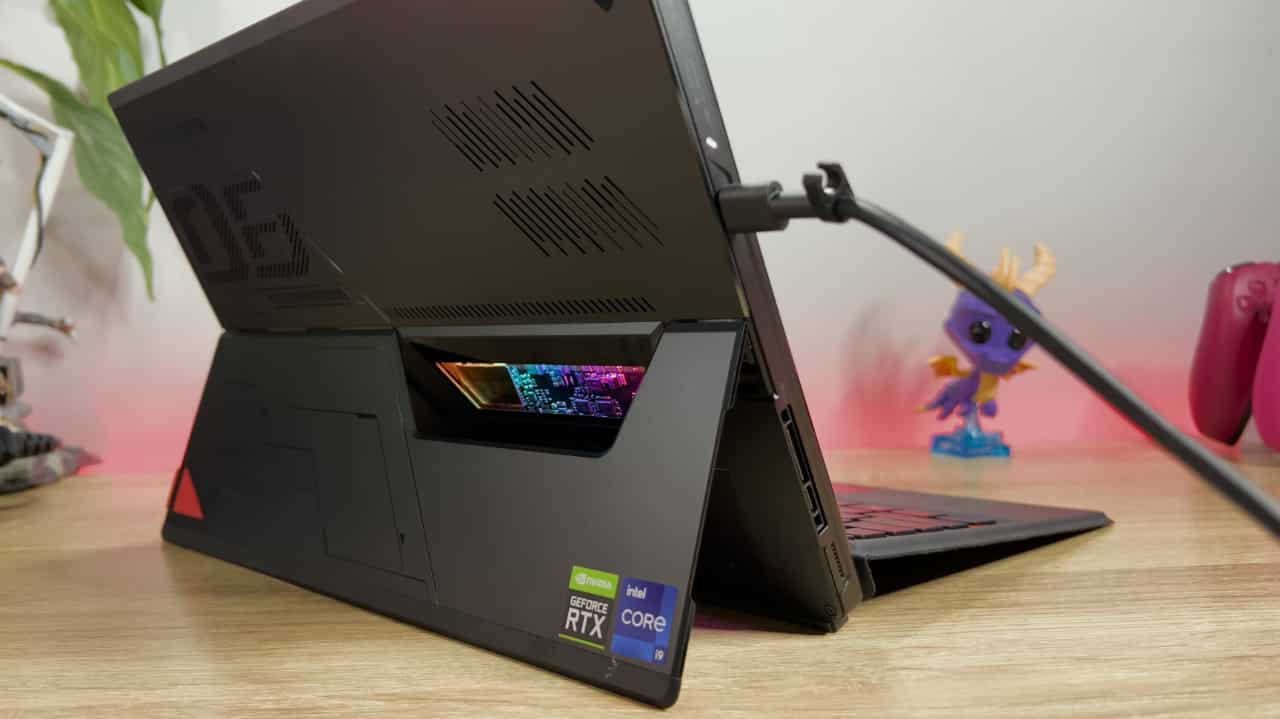 I love ASUS for going to the extent they have to make the most powerful tablet and if you're looking for a gaming tablet, this is it. But the XG Mobile is more trouble and cost than it's worth. Gamers want simplicity, well I do anyway and this whole experience is simply too much effort for me. I would rather build a PC or get a notebook. The all-in-one package makes a lot more sense.
This ASUS ROG Flow Z13 + XG Mobile AMD Radeon RX 6850M XT eGPU is based on a unit sent to us by ASUS. You can pick up the Flow Z13 starting at R38,999 at the ASUS Store here.