The ASUS ROG Strix Flare II Animate is by far one of the best keyboards I have tested out, and while they have not always been the strongest contenders for my money, the Flare II Animate has truly shown what ASUS is capable of when they put the same thought into their keyboards as they do their more notable components. 
ASUS hasn't always been the strongest competitor when it came to peripherals – not that they were particularly bad, just that they didn't offer anything different from a normal keyboard experience, but at a much higher price point. However, the ROG Strix Flare II Animate certainly changes things, as it is truly one of the best keyboards I have used in quite some time. Was it because of the super-cool LED animation system? The proprietary PBT keycaps? The 16.8 million per-key RGB lighting? No, it was something much better than any of that – its comfort. 
ASUS ROG Strix Flare II Animate Tech Specs
Key Switch:

ROG NX Red
Connectivity: USB 2.0
Size (Full/TKL): 100%
Lighting:

AniMe Matrix™ LED
DisplayPer key RGB LEDs
Front underglow lighting

AURA Sync: Yes
Anti-Ghosting: Yes
Other features

Macro Keys
All key programmable
USB Pass through
USB 2.0

Armoury Crate

Cable: 2M braided cable
Colour: Gunmetal
Dimensions

Keyboard: 435mm x 165mm x 38mm
Wrist rest: 435mm x 85mm x 27mm
Weight: 1.15Kg

In the box

1 x gaming keyboard

t1 x wrist res
1 x ROG keycap pulled
1 x ROG switch pulled
1 x ROG sticker
1 x quick start guide
1 x warranty booklet
ASUS ROG Strix Flare II Animate Design
Before I dive deep into my experience of the ROG Strix Flare II Animate, let's run through some of the features. ASUS boasts their new proprietary ROG NX Red and Blue switches in the Flare II Animate, with soft PBT keycaps, an industrious aluminium frame, and shrouded in ABS plastic. The Flare II Animate offers a full 104-key US layout, with full language support depending on your region. 
Some of the more flashy features include a handy multimedia scroll wheel for easy volume adjustment, with a nifty lever-style knob next to it for forwarding, or rewinding, content, as well as a convenient pause/play button on the side. An anti-Windows Key button, as well as a quick access lighting brightness control are placed alongside the multimedia scroll wheel. The ROG Strix Flare II Animate comes included with a beautiful, fully-detachable magnetic faux-leather padded wrist wrest, complete with subtle ambient lighting bar at the bottom. Finally, we have the AniME Matrix LED Display, offering a micro-dot LED lighting system that offers customisable settings for various applications.
ASUS ROG Strix Flare II Animate Experience
While the UWU-named LED system catches the eye at first, it was the comfort brought on by the heavenly wrist-rest, ergonomic shape, and soft PBT keycaps that really stole the show. The lighting was super handy, able to display a multitude of useful information, such as system status – even battery life on a notebook – there were also cool visual animations that were just fun to watch. Though, while the lighting could be handy, I never found myself looking at too much after the initial "oh that's cool" moment, seeing either my own custom image or a pre-loaded visual animation.
The real star of the ROG Strix Flare II Animate was not a single element or component, but the result of the combination of a stellar line-up of design choices. While this is labelled as a "gaming keyboard", it was used thoroughly for full-day typing, design work, and gaming (of course), and was one of the most comfortable, and durable, keyboards I have used. Admittedly, I do not have the greatest typing posture, as I often wrist the bones of my wrists on a flat surface in order to move my hands freely. The included wrist-rest, which has significant padding to it, offered a breathable faux-leather surface to limit sweating and irritation to my skin. 
It is also fully detachable at any point, using magnets to simply snap the wrist-rest to the keyboard. Sans wrist-rest, the ROG Strix Flare II Animate was quite comfortable still, thanks to the ergonomic layout, but could not compete with its full form. A large part of the comfort came from the ergonomic layout of the Flare II Animate, featuring a slight concave design, making it easier to reach each key. With less finger travel between each keystroke, my fingers thanked me after a full day of typing, and hours of gaming straight after, as they were nowhere near as fatigued using other keyboards. 
The proprietary ROG NX Red switches in this review model were also quite surprising, with subtle differences between the NX Red switches and the Cherry Red also available, including smoother travel, better cushioning at the end of the keystroke, and less forceful pushback. The result meant that my fingertips were not as worn as usual, and my fingers were overall less fatigued, along with the ergonomics than with my normal keyboard. Lastly, because of the comfort of the ROG Strix Flare II Animate, I was able to type more effectively, making my workloads physically easier – which sounds ridiculous to say about a keyboard, but I kind of think that's part of the problem a keyboard should solve, no?
The key switches are completely swappable as well, allowing you to use your own custom keycaps and switches, which enhances the modularity of the keyboard. Keystrokes are also quieter thanks to the sound-dampening foam layered underneath, which was definitely appreciated during my midnight gaming sessions. The Flare II Animate boasts an impressive 8000 Hz polling rate, which ASUS claims reduces the latency input from 1 millisecond to a mere 0.125ms. 
Honestly, I didn't see a difference in my input timing between the ROG Strix Flare II Animate and my other keyboards, and that is purely down to the fact that I genuinely feel you will not be able to tell the difference in a real-world setting. Honestly, no disrespect to the Flare II Animate as I am sure the 0.125 ms input time was happening, but I just physically could not see or feel the difference in real-time.
This could be down to the fact that there are other, more prevalent, restrictions in competitive gaming, such as high-ping servers, server lag, or the fact that I suck. Outside of competitive gaming, there really is no need for such incredulous polling rates, so while it is certainly impressive on paper, it's just not something you feel when actually using it.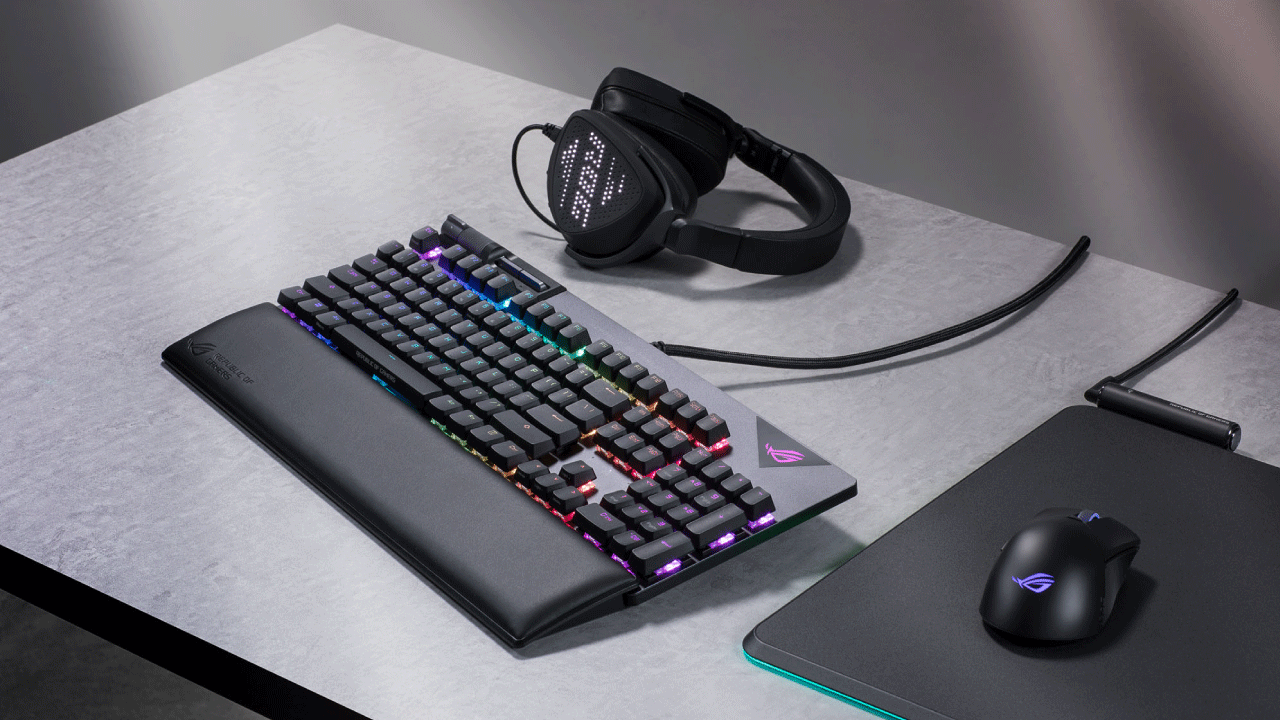 Really, the only critique I could come up with for the ROG Strix Flare II Animate was the insane polling rate, and it's not even a critique really, it's more of a real-world observation of incredible technology that we just cannot feel the impact of yet – much like how calculations can only be proven correct once the technology catches up to it. 
Otherwise, the ROG Strix Flare II Animate is genuinely one of the best keyboards I have ever used, and definitely the best keyboard that ASUS has come up with to date. It is certainly one of the most comfortable keyboards I have subjected my hands to, its ergonomic design makes typing easier and less taxing, and its overall build and quality, along with the proprietary ROG NX Red switches and ROG PBT keycaps, truly showcase the greatness that ASUS can come up, and proves that ASUS can be a dominant force in the peripheral market. 
According to ASUS South Africa, the ROG Strix Flare II Animate will retail at roughly R3200.00 and will land at the end of April.
ASUS ROG Strix Flare II Animate Review
Performance -

9.5/10

Value -

9.5/10

Design -

9.5/10
Summary
ASUS ROG Strix Flare II Animate keyboard is one of the best gaming keyboards I have used and offers incredible value, performance, versatility, and comfort.
Pros
Comfort and ergonomics
Customisation and esthetics
Versatility
Cons
AniME Matrix LED novelty wears off
The polling rate doesn't really show real-world benefits