The ASUS ROG Swift PG65UQ 65-inch Big Format Gaming Display is a beastly piece of tech. Announced a couple of years ago, it is meant to be the ultimate display when it comes to gaming and packs some of the best display tech you can find in a screen right now. Think of it as that gaming monitor you have on your desk but just far more superior and damn huge. Coming in at a 65-inches, it is not a desk monitor, rather meant for gaming setups with a couch, a decent sound system and of course, consoles and a PC plugged into it. You will fry your eyeballs if you tried to sit close to this display like you would a PC monitor.
Watch the display in action in our full ASUS ROG Swift PG65UQ 65-inch Big Format Gaming Display Video Review
While the display is fantastic and features some phenomenal tech, the main idea of it is to replace a TV set? Does it? Well, not really as there are still some drawbacks to owning it. I look for a handful of things on a TV including Netflix, Anytime+ features which allows you to control your sound system with one remote, and just the overall ease of use that makes it possible to do everything without getting off the couch. The display is also limited to its output so things like Dolby Digital+ did not work at all forcing me to use the mediocre built-in speakers when using my Apple TV.
But for every downside, there was an upside. The display has almost perfect black levels even better than my Samsung QLED, the HDR is magnificent, and the PC features like 4K 144Hz are a dream come true. It also boasts NVIDIA G-Sync ultimate, and an array of PC settings to overclock the display. In short, while this may not be the best TV on the market, it is the best gaming display and well done to ASUS for crafting such a fantastic device.
Of course, this all comes at a pretty steep price tag of R79,999 which is hefty. Sure, the tech inside is monster but you can get yourself a pretty huge LG OLED (the best TV on the market) for much less. It won't have the fancy-schmancy PC features like the 144Hz display or NVIDIA G-Sync, but the viewing experience will be on par with HDR and the peak brightness being on the same level.
---
ASUS ROG Swift PG65UQ Big Format Gaming Display Tech Specs
65-inch 4K UHD (3840×2160)
384 dimming zones (quantum dot)
1000 nits peak brightness
144Hz overclockable refresh rate
Display HDR1000
Variable refresh rate Xbox One support
---
ASUS ROG Swift PG65UQ Design
Compared to other ASUS ROG devices, the big format gaming display is subtle. It comes in a massive box which represents many other premium TV boxes on the market and requires no set up at all. You just pull the box open and the TV comes out. You don't even need to connect the stand as it is already on the display. On the back, there's a load of vents with the ROG logo. The ports are also lined up perfectly on one side along with the 4 HDMI ports, DisplayPort, optical audio out, USB and there's even a power switch next to the kettle plug adapter.
When it comes to TV standards, the device has all the ports you would need and four ports are kind of the max when it comes to most TV brands on the market. The optical port allows for sound output, although limited, and every port supports Deep Colour (HDR) output too.
As for the stand, it is huge and fits perfectly with the display's design. It has three legs that shoot out of the centre and it takes up quite a lot of stand space. Anyone with a soundbar might struggle to find room for it as it has quite the wide wingspan. ASUS included RGB into the device too and to be frank it is pretty boring. For a brand that boasts the RGB life, the dim glowing logo underneath the display was a major let down. Gaming setups are all about lights and flair so they could have easily included some backlit RGBs that would shoot up on the wall behind the display. I have my own and they make a world of difference. Hopefully, ASUS will embrace the idea for the next version of the display.
[perfectpullquote align="left" bordertop="false" cite="" link="" color="#C9DF2D" class="" size="21″]The remote is a joke. You pay R80,000 for a TV and the included remote is a flimsy and limited piece of plastic that you could probably snap in half if you sat on it. I was not impressed at all.[/perfectpullquote]
Lastly, we have a giant 65-inch display. It reaches to all four corners of the device with fewer bezels on the top, right and left than the bottom.  It is quite reflective, more so than my Samsung QLED but the brightness which we will get to later helps reduce any reflection on the display. There's nothing much to say about it when it is off. It is a giant black screen when turned off but the real magic happens when it is on.
---
ASUS ROG Swift PG65UQ Performance and Functionality
For the sake of this review, we are going to tackle this device in two different parts. One being consoles and one being PC. First, we tweaked the display's settings. The ASUS ROG Swift PG65UQ 65-inch display has a pretty simple UI with limited settings that range from brightness, overclocking the display, tweaking the eco mode and a few other settings. The biggest problem was the lack of smart features as while the display excels in everything else, the UI and lack of built-in apps kind of made this R80,000 TV feel like it came out of 2012.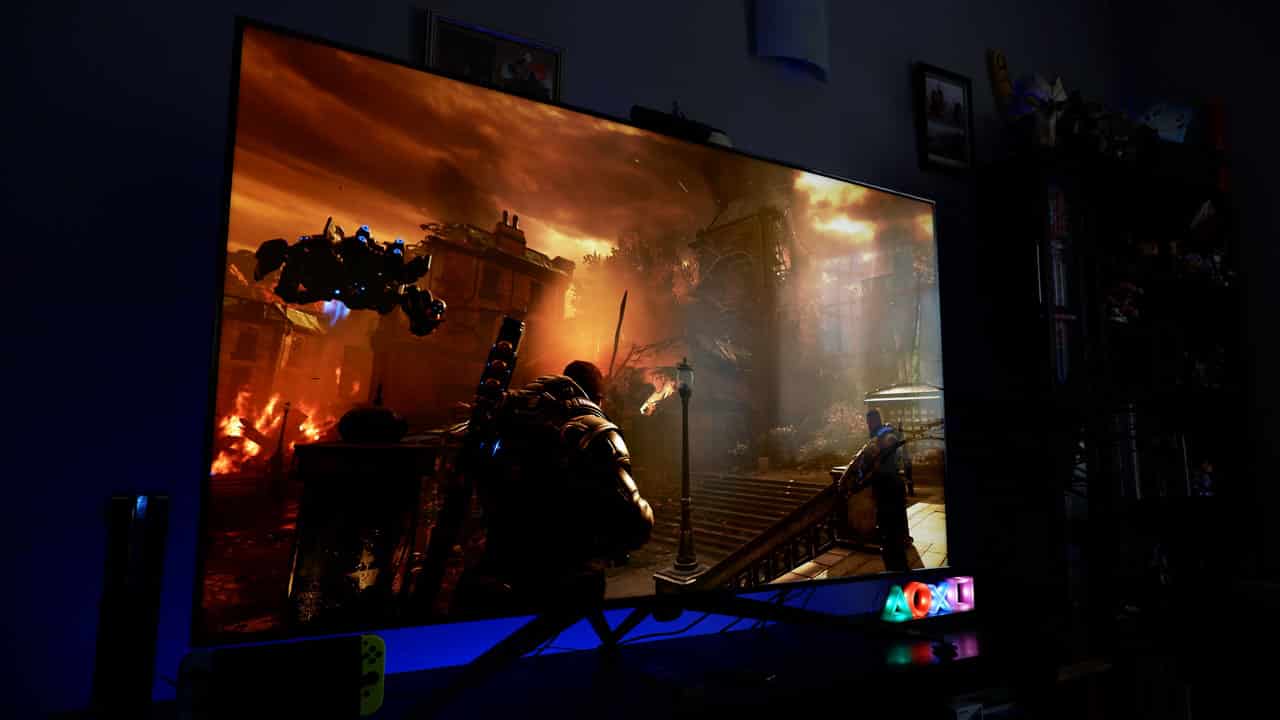 With that being said, the most important settings are at your disposal on the menu. We turned everything to max including changing the variable backlight to fast to allow for perfect black levels, enabling deep colour for all the ports and changing the game mode to FPS. We wanted to make the most out of the display which meant everything had to be tweaked and the menus offer enough room for movement to enable a great viewing experience.
It also helps that the display has a fantastic quantum dot panel with some of the best local dimming I have seen on a non-OLED screen. At times I even could not believe it so I walked up to the screen to see if the pixels were turned on and they were not. There was no glow around white objects with a black background and no sign of the dimming zones flickering down and up as the display got brighter. It is truly OLED level performance on a Quantum Dot panel and the results speak volumes when playing and watching content on the display.
---
PC
First and foremost, the ASUS ROG 65-inch Big Format Gaming Display is made with PC gamers in mind. ASUS has taken all the great tech from some of its best monitors on the market and put it into a giant display. It works and it works damn well. Most incredible of all is the fact that this is a 65-inch display that has 144Hz support with NVIDIA G-Sync, HDR and amazing black levels. If you put that into perspective, the display is unworldly as even the best monitors on the market are still limited to specs. To find the combination of this all in a huge display is a real design triumph.
What this all means for PC gaming is you will get the best of the best no matter how you approach your set up. The most ideal would be to make use of a DisplayPort cable. We plugged in our Acer Helios 500 into the display and it automatically enabled everything we needed. As the ASUS ROG Swift PG65UQ 65-inch display is one of the only NVIDIA G-Sync ultimate displays on the market, it means the display covers all the fancy features including HDR over G-Sync, 100 nits of brightness, higher contrast ratios and of course, ultra-low latency gaming. This is all thanks to the built-in NVIDIA chip that powers the experience.
We put some games to the test and tried to focus on those with HDR capabilities. The best bet was Call of Duty: Modern Warfare, Destiny 2, and Monster Hunter World: Iceborne. Sure, the Helio 500 with its GTX 1070 would never be able to output 4K at 144Hz but we were ready to lower the settings and tweak things to see just what 144Hz on a 65-inch display looked like.
Think about your 144Hz display if you own one. Now imagine that at 65-inches. That is the experience on the ASUS ROG Swift PG65UQ in a nutshell. Games performed as well as the hardware could take them including zero latency thanks to the G-Sync Ultimate features. We never got to max anything out at 4K 144Hz but who can? That sort of setting demands a great amount of power. So much power that the display could be future-proof to the point where hardware in the coming years will go hand-in-hand with this fantastic display.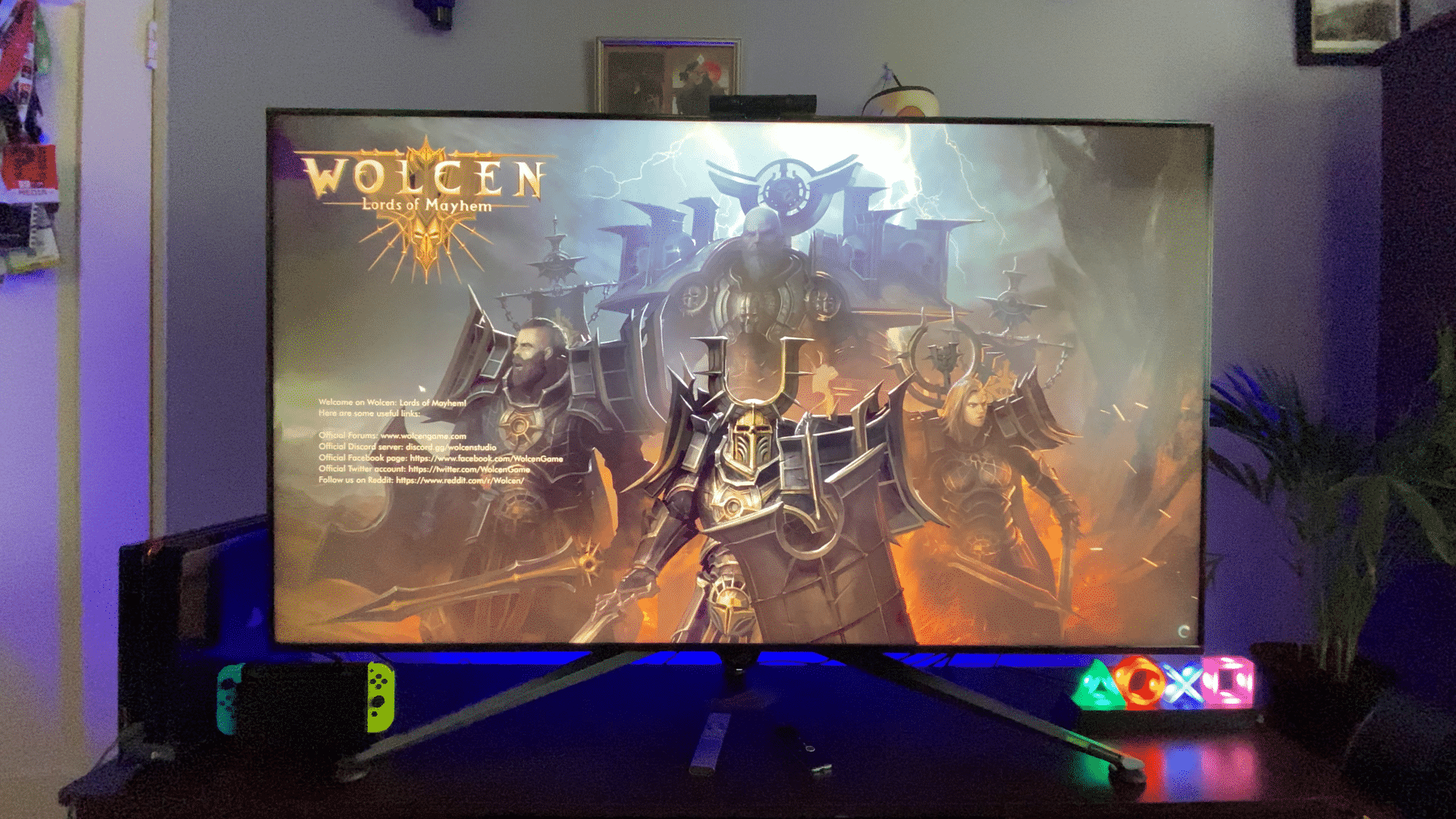 [perfectpullquote align="right" bordertop="false" cite="" link="" color="#DF2D2D" class="" size="21″]The display will breathe life into all games both new and old as the experience is just unlike any other old gaming monitor on the market.[/perfectpullquote]
On the odd chance, we managed to run an older game like Borderlands 2 which is not as demanding as the latest entry. It ran quite well on the display and the GTX 1070 pushed it to around 120 fps. It looked superb.
---
Console
Then we have the console support which is another main feature of the display. It is a TV in theory so you would use both consoles and PC. The experience is a lot less exciting than using a PC as most of it just plug in and play.  However, the magic happens when you are playing a game that supports HDR and a higher frame rate. That game for us was Zombie Army 4 and it came to life on the display like never before. The high saturation, deep blacks and peak bright scenes look absolutely stunning. The HDR is one thing, but it is all enhanced by the display's ability to peak at 1000 nits on bright objects and go completely black when a dark area appears.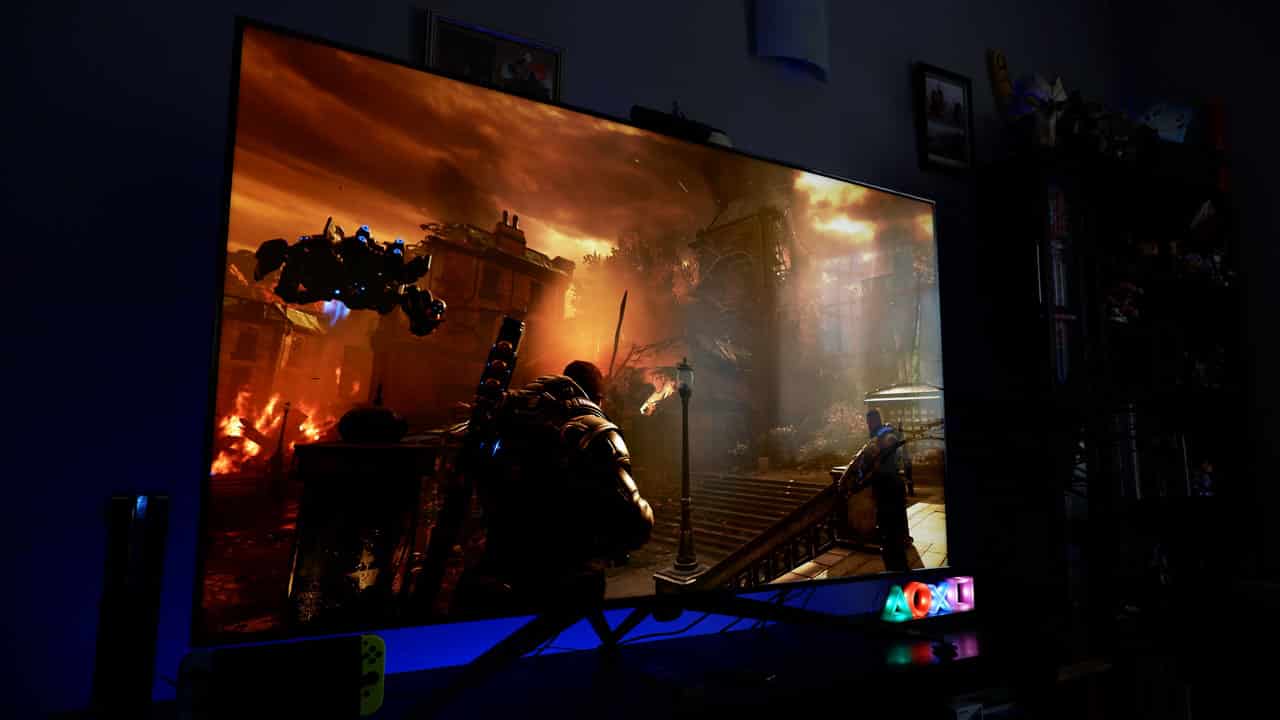 We then have the Xbox One X and its ability to output a variable refresh rate. It is a small feature but a landmark for console gaming. In a nutshell, it means that supported games will run smoother on the display as the HDMI 2.1 port can work alongside the Xbox One X and the built-in chip to reduce screen tear and input lag. In some cases, games can also run at a higher frame rate than 60fps and it all results in a smoother experience. It is the first next-gen feature we got to test on the display.
---
Great but not Perfect
The ASUS ROG Swift PG65UQ 65-inch display is fantastic but it has some issues. Most of them relate to the display's quality-of-life or lack thereof. For starters, the display has a fan inside of it that never turns off unless you flick the power switch. I just don't understand why it would need a fan in all honesty. Samsung has an 8K 75-inch TV on the market with barely any air vents and no fan at all. Surely ASUS could have left this out. It is not the end of the world but it makes a noticeable sound all the time.
We then have the UI which is just slow and buggy. Changing outputs is extremely sluggish often leaving the display black for a few seconds while it flicks through the plugged-in devices. It is frustrating at times. Lastly, we have a lack of smart features and limited "TV" support. If you want to replace a TV then you need to have these features such as auto-on power, Dobly Digital sound output and some apps. It would have perfected the whole experience.
---
Verdict
The ASUS 65-inch Big Format Display is simply the best gaming display on the market. There is no getting around that fact. It is the ultimate device when it comes to technology and its features. To have a 65-inch 4K 144Hz HDR 1000-nit display in front of you is unbelievable and will bring a tear to any PC and console gamer's eyes. Sure, it is lacking some great "TV" features but there are always alternative devices for that. For R80,000 you cannot get a better display made for gaming but you may need to mortgage your house for it. If you are interested in this device, ASUS will claim it will soon be available by request only and online retailers will take orders soon.