The introduction of the dual-screen notebook was something that not only seemed arbitrary but just impossible to be actually functional. We have seen so many add-ons to notebooks to turn them into dual-screen hybrids but combining a second screen to a single notebook just seemed like science fiction. In the words of Howard Stark, "I am limited by the technology of my time". 
ASUS initially brought this concept to life with the introduction of their ZenBook Pro Duo and it seems they continue to refine the platform. Their latest entry which branches into their gaming range, is the ROG Zephyrus Duo 16 which is not only practical but seems to bring that science fiction technology a little closer to our time.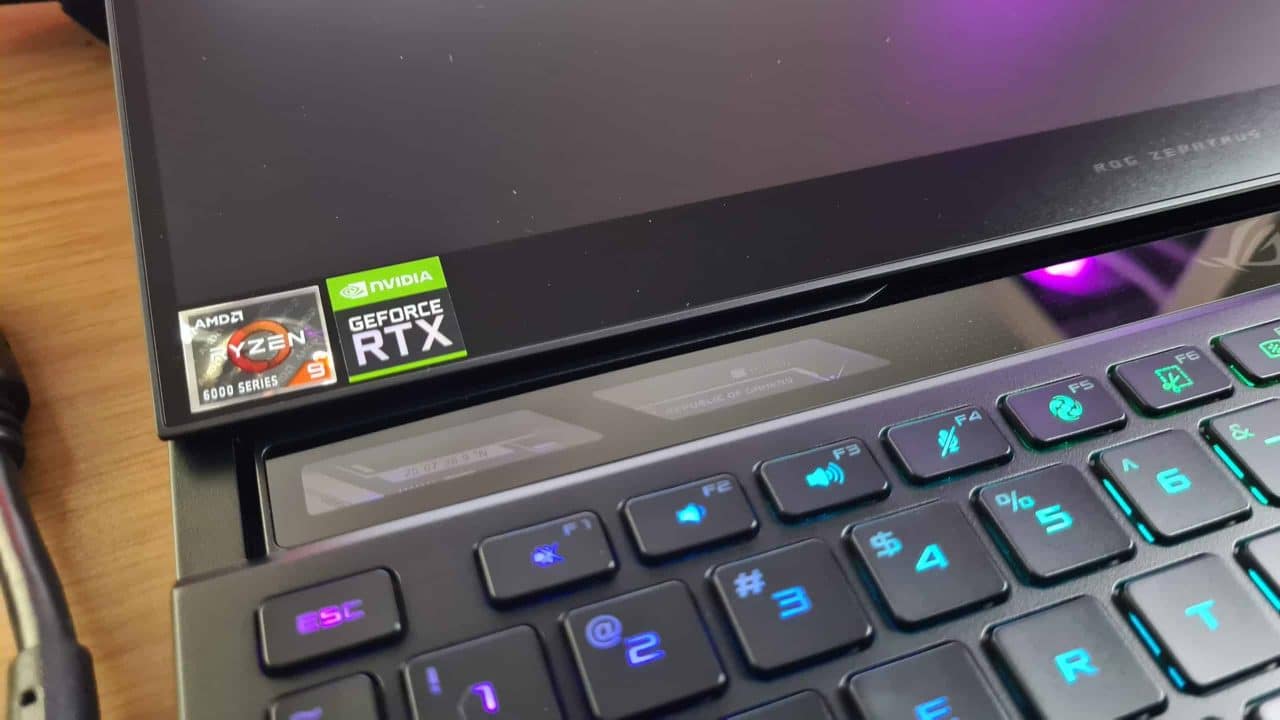 The ASUS ROG Zephyrus Duo 16 offers users a smaller 14" Mini-LED panel underneath the main 16" display just as it is in the ZenBook Duo range. The secondary panel is a fully interactive, touch panel and the idea, at least according to ASUS, is that it can be used to display secondary programmes while gaming such as Discord, TeamSpeak, Spotify or if you are streaming/recording, programmes like OBS Studio or Streamlabs OBS. 
Looking at the ZenBook range of dual-screen notebooks, the second screen's use was quite similar, being particularly helpful for processes like video editing. Being able to position the audio and video tracks to the second screen makes scrubbing through footage, editing clips and even adding effects much simpler and more intuitive. By all means, the same ease came into play with the Zephyrus Duo 16 as it handled editing tasks with incredible ease but since this was a gaming notebook, I wanted to see how practical using the second screen for Discord and OBS really was. 
ASUS ROG Zephyrus Duo 16 Specs:
Processor

AMD Ryzen™ 9 6900HX Mobile Processor (8-core/16-thread, 20MB cache, up to 4.9 GHz max boost)

Graphics

NVIDIA® GeForce RTX™ 3080 Ti Laptop GPU

ROG Boost: 1445 MHz* at 165W (1395MHz Boost Clock+50MHz OC, 140W+10W Dynamic Boost in Turbo Mode, 140W+25W in Manual Mode)

Display

UHD+ 16:10 (3840 x 2400, WQUXGA) / FHD+ 16:10 (1920 x 1200, WUXGA)

Refresh Rate:

120Hz / 240Hz

Support Dolby Vision HDR :

Yes

Additional Display

ScreenPad™ Plus (14″ 3840 x 1100(4K) IPS-level Panel Support Stylus)

Memory

32GB DDR5-4800 SO-DIMM x 2

Support dual channel memory

Storage

2TB + 2TB PCIe® 4.0 NVMe™ M.2 Performance SSD (RAID 0)

I/O Ports

1x 3.5mm Combo Audio Jack

1x USB 3.2 Gen 2 Type-C support DisplayPort™

1x USB 3.2 Gen 2 Type-C support DisplayPort™ / power delivery / G-SYNC

Keyboard and Touchpad

Backlit Chiclet Keyboard Per-Key RGB

Camera

720P HD IR Camera for Windows Hello

Audio

AI noise-canceling technology

Built-in array microphone

6-speaker(dual-force woofer) system with Smart Amplifier Technology

Network and Communication

Wi-Fi 6E(802.11ax) (Dual band) 2*2 + Bluetooth 5.2 (*BT version may change with OS upgrades.) -RangeBoost

Battery

90WHrs, 4S1P, 4-cell Li-ion

Power Supply

ø6.0, 280W AC Adapter, Output: 20V DC, 14A, 280W, Input: 100~240C AC 50/60Hz universal

Dimensions (W x D x H)

35.5 x 26.6 x 2.05 ~ 2.05 cm (13.98″ x 10.47″ x 0.81″ ~ 0.81″)
Surprisingly, despite the small screen size, using secondary programmes was actually quite easy. It did take some time to get used to but once I got the hang of it, it was super helpful being to start and stop recordings, manage scene transitions and even manage audio levels in real-time. For Discord, the secondary screen made muting channels and managing who was coming on and off seamless, especially in games that support Discord overlay. 
Moving back up to the main display, the ROG Zephyrus Duo 16 comes equipped with a stunning UHD+ 120Hz panel in the superior 16:10 aspect ratio, or you could opt for an FHD+ 240Hz panel instead. Other models also offer a QHD+ display with a 165Hz refresh rate, still in the 16:10 aspect ratio. Dubbed the ROG Nebula Display, the main panel also boasts a 3ms response time, Pantone Validation, FreeSync Premium and full Dolby Vision HDR support.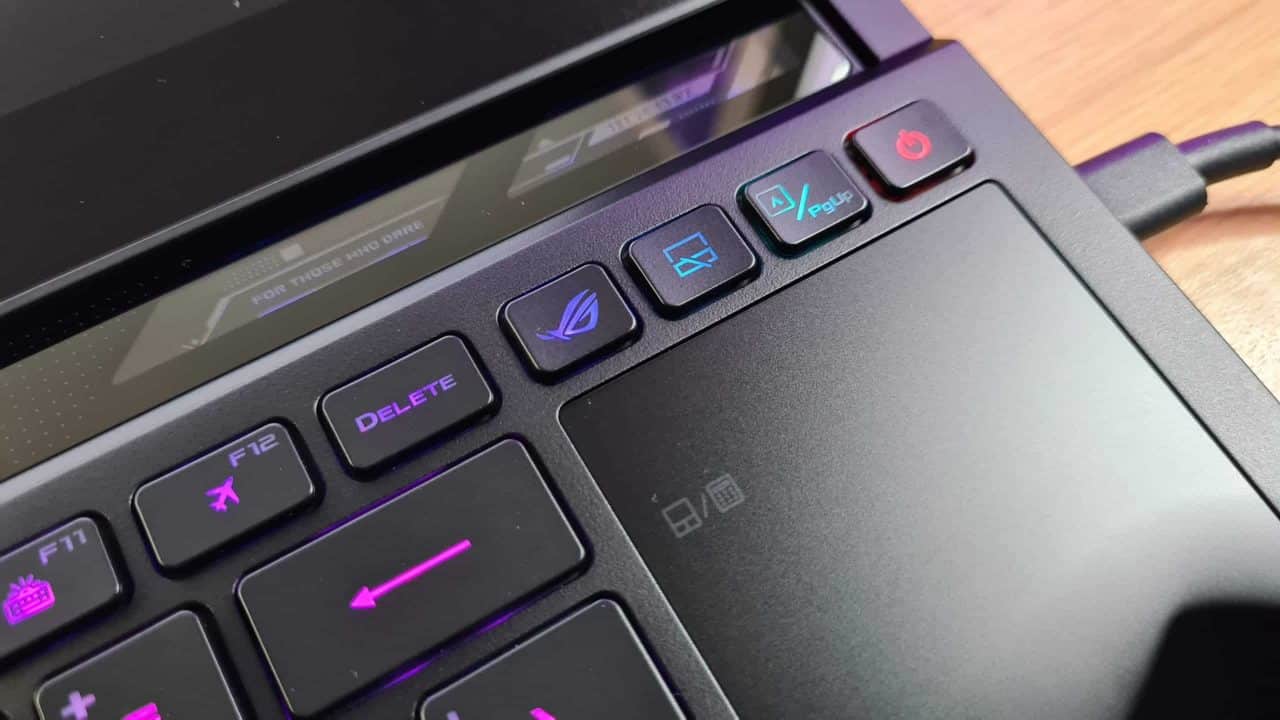 The panel offers a magnificent view into the virtual world whether you are gaming, consuming content or creating it. I will say that while the display offers something unparalleled in terms of editing photos and videos, or any sort of editing work really, I didn't see anything particularly spectacular when it came to gaming. This isn't to say that games didn't look beautiful because they absolutely did but games typically aren't meant to utilise these kinds of panels so this wasn't the panel underperforming in any way. 
Content consumption though was pretty stellar especially if you have access to 4K HDR or Dolby Vision content at your disposal. For example, watching Stranger Things on Netflix using the ROG Zephyrus Duo 16 was an incredible experience as opposed to watching it on another device. Sure, it still doesn't beat a full-sized TV but as far as portable content consumption goes, the Duo is top-tier.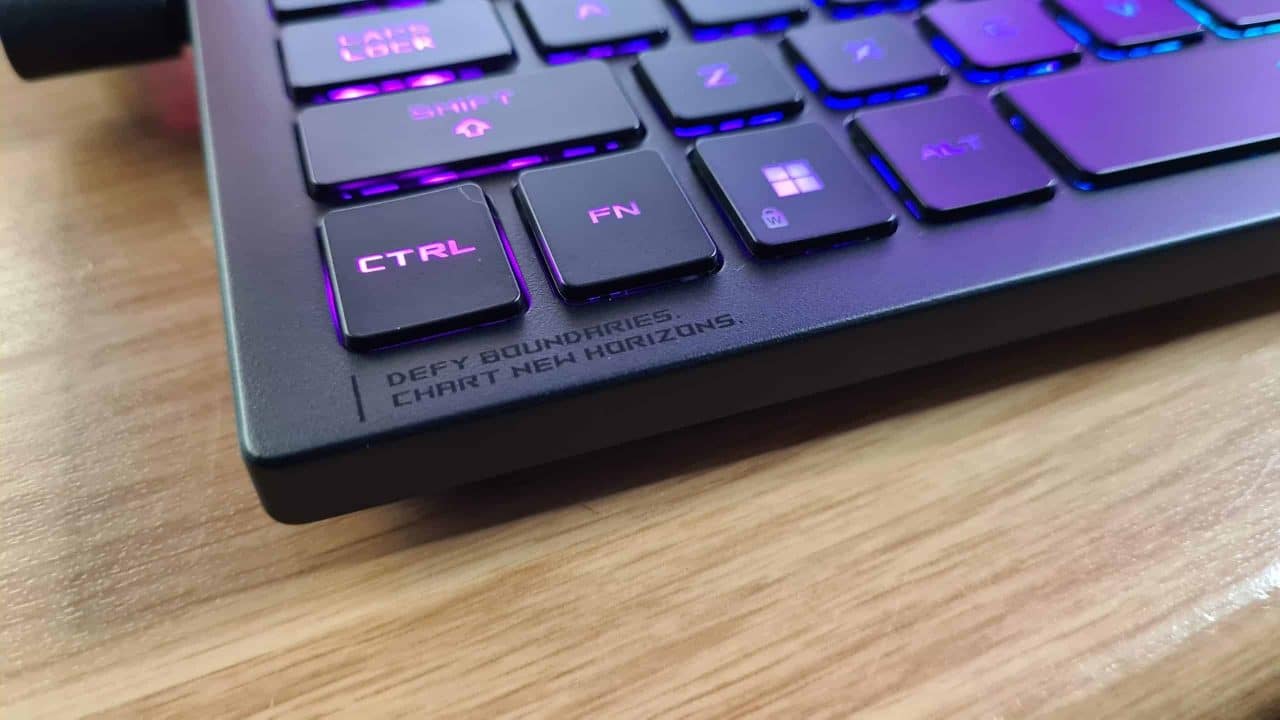 The ROG Zephyrus Duo 16 design remains fairly minimal, disguising its incredibly powerful innards with a sleek design that gives nothing away. The Duo is striking in a chic aesthetic sort of way, one that doesn't so much scream at you for attention but rather bats its eyes and walks swiftly away as you gawk in awe. The lid shows off a single diagonal line across with the ROG eye on one side, both beautifully embossed with a stunning purple and blue colour scheme, and around the edges are the I/O ports and various cooling vents.
As you open the ROG Zephyrus Duo 16 you are greeted with the enchanting machinations of the dual-screen display, as the 14" slowly lifts and raises towards the main display, revealing an epic logo bar. On either side are transparent windows that give you a small glimpse into the heart of the machine, with the text "For those who dare" also visible, almost like opening the chest containing the tech Holy Grail.
The elevation of the second display also has a practical function to it as well – not only does it make looking at and using the screen easier but it also provides more room for the fans underneath to vent heat from the cooling chamber. The result of this is that components can be pushed for more performance while remaining somewhat cooler. 
ASUS ROG Zephyrus Duo 16 Performance
Powering these two screens is an AMD Ryzen 9 6900HX mobile CPU which sports 8 cores, 16 threads and a 4.9 GHz boost clock. Graphically, the Duo houses an RTX 3080Ti GPU, along with 32GB of DDR5 RAM and a 2TB + 2TB NVME storage solution. It goes without saying that these are pretty power-hungry components, and while the Duo 16 does house a large 90WHrs, you can expect about 1-2 hours in intensive tasks on battery power. If you are simply watching content, web browsing or even performing general work tasks, the battery life will last slightly longer. 
Interestingly, the Duo 16 utilises two power supplies – a traditional AC power adaptor as well as a USB Type-C connection. I asked ASUS why this was done, and as you would expect, with such high-end components being fitted into the notebook, it requires heavier power utilisation, thus the need for two power connections. Though, ASUS did confirm that this was only to get the absolute best performance from the device, especially for gaming, so you could run the device on a single power connection if you wanted.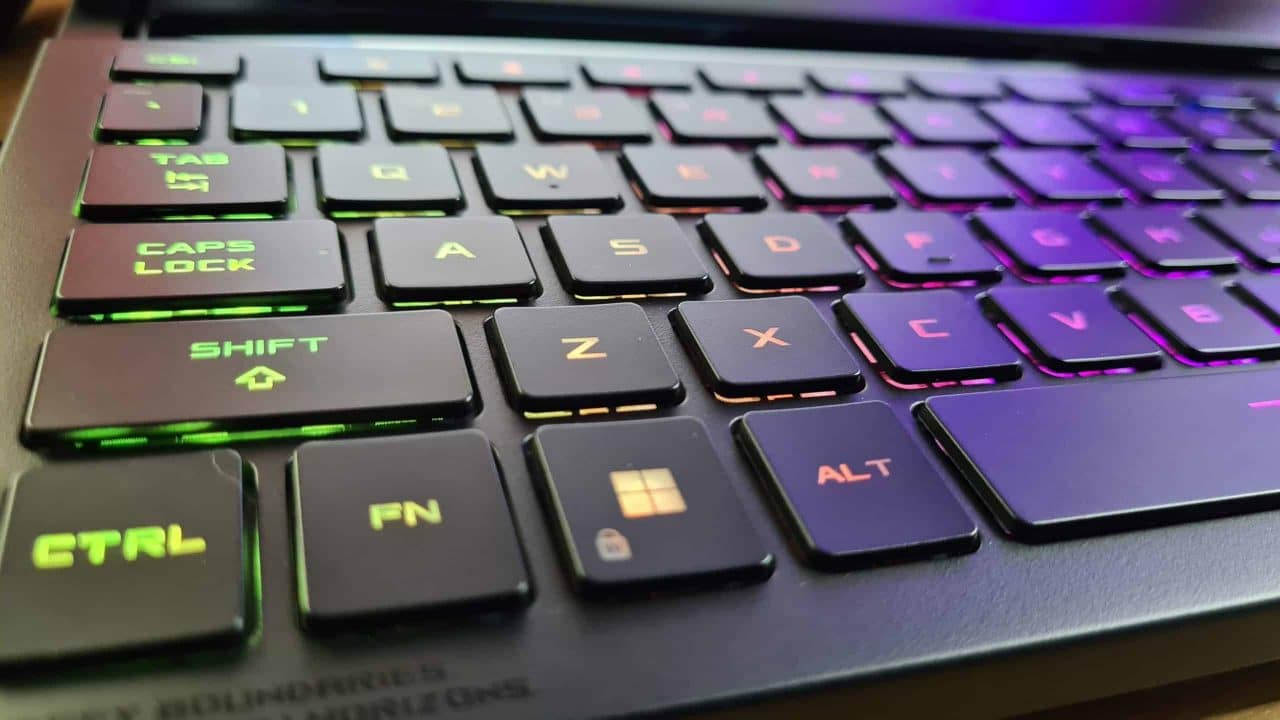 As you can imagine, the Duo 16 is a pretty monstrous powerhouse and is easily able to tackle high refresh rate 4K gaming. While you might not get 4K at high frames at Ultra for more graphically intense games, competitive titles have no problem hitting those targets. In saying that, I was still able to get over 90fps at 4K on either High or Ultra for most of the titles that I tested. Unfortunately, as soon as I untethered myself from the shackles of power cords, my experience was reduced quite substantially, meaning that while you could ideally get away with mobile 4K gaming, it wouldn't always be a smooth experience. Its worth noting here that you could still achieve 4K 60fps gameplay at a lower detail tier which is impressive in amongst itself. 
Overall, the ROG Zephyrus Duo 16 is one of the best gaming notebooks I have used to date, so long as you are willing to accept and embrace ASUS's usual standard of over-the-top features that leaves you stunned in awe and thinking "but why?" at the same time. The second screen is incredibly helpful and its downright necessary in others but the main display, design and performance of this monstrous powerhouse is still what sets this notebook apart.
In short, if you can look past the close to R60 000 price tag, this is probably the best gaming notebook you could pick up for yourself to date. 
ASUS ROG Zephyrus Duo 16
Performance -

10/10

Design -

9/10

Cooling -

8/10

Value -

9/10
Summary
The ASUS ROG Zephyrus Duo 16 is truly one of the most powerful and best gaming notebooks you can buy at the moment, giving you a premium out-of-this-world experience.
Pros
Performance is top-notch
Stunning minimal design
Ergonomic
Incredible value
Cons
Keyboard is a little small due to being pushed down by second screen