ASUS South Africa is proud to announce the introduction of its local eCommerce store. After trialling the platform for a month, ASUS South Africa has gone live, giving its local fans quick and easy access to some of ASUS' best products. This includes the likes of fan favourites such as the Zenbook, Vivobook, Studiobook, and the ROG range.
Interestingly enough, upcoming and existing businesses can take advantage of the eCommerce offering, with ASUS including its Expertbook on the platform.
The newly launched ASUS Store features secure online payments and nationwide delivery. The standard delivery is free for orders over R450, with an option for next-day delivery at an additional cost. The standard delivery will get the product to your door in 2-3 business days, while next-day delivery includes even outlying areas. ASUS has also made its store newcomer friendly, with the tech company offering a 14-day return policy as well as a full 3-year pick-up and return policy to everyone who orders from their online platform.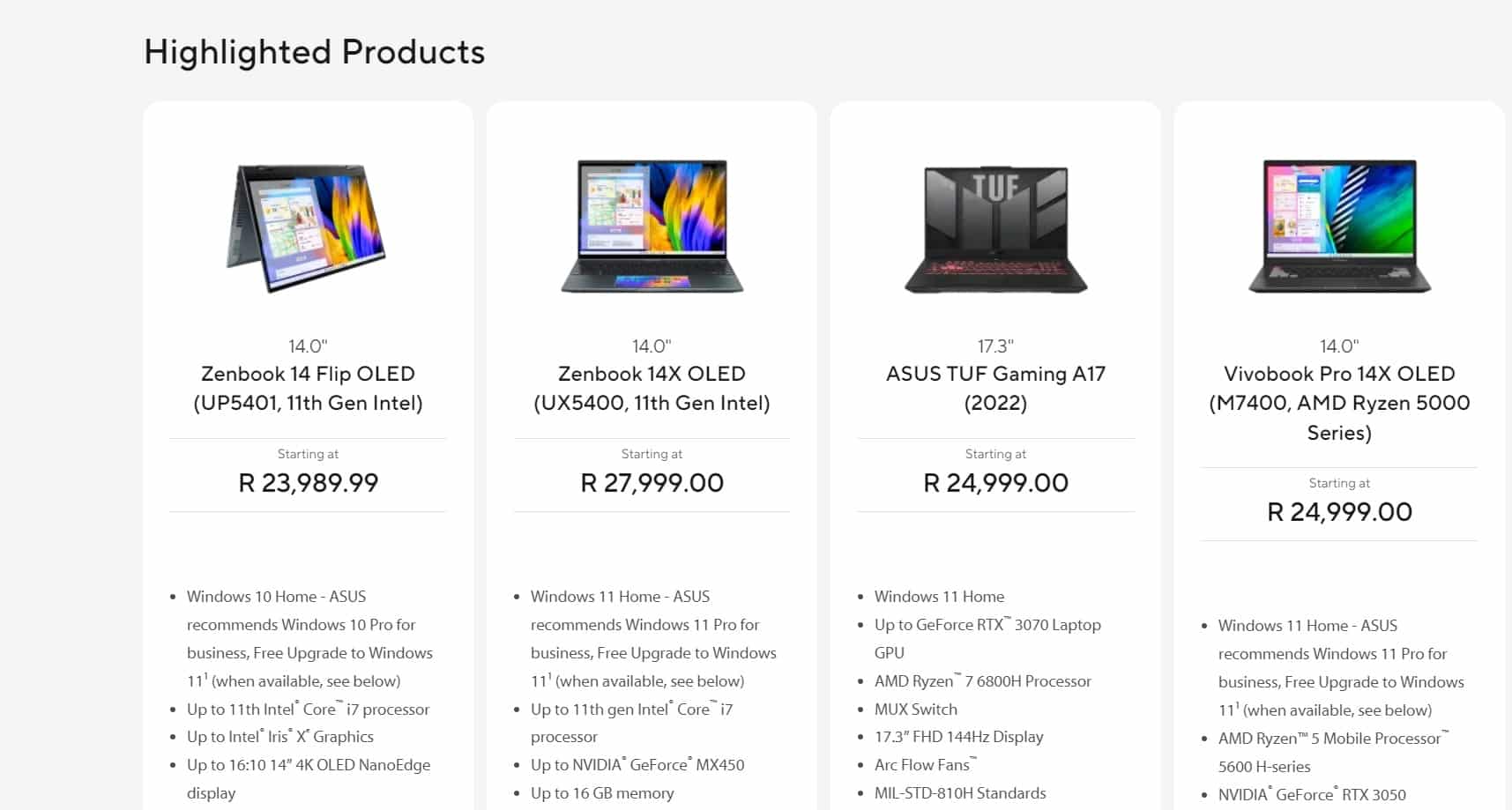 As for payment methods, customers can make use of debit or credit cards, with online payments being securely protected through PayFast. Additionally, the ASUS Store features monthly credit options through Mobicred.
During the initial soft launch phase, the ASUS Store attracted over 3,000 sign-ups from eager local tech enthusiasts. ASUS states that it plans to grow this list "with upcoming special offers and vouchers", so it may be worthwhile signing up if you haven't already. Pricing of the products works in line with standard retail pricing across the range.
"The ASUS Store works on a 2-in-1 website module, which allows us to get [a] better insight on our customers and what they are currently looking for," says Jessica Burnett, eCommerce Solution Manager at ASUS South Africa.
"At ASUS we strive [for] purpose-driven innovation and the customer experience through our online store is the latest example of that. Ensuring that customers have access to all ASUS and Republic of gamers laptops in one place," Burnett added.
Since the pandemic, eCommerce stores have seen a rise in popularity. Customers can have peace of mind that the ASUS Store is completely Covid-compliant with contactless payments and socially distanced deliveries.
For those curious to see ASUS' offerings, you can access the store here.
As mentioned earlier, customers have access to a wide variety of ASUS products. The Zenbook Duo 14" can be bought from R32,999, the Vivobook Pro 14X OLED from R24,999, or you can buy the brand new Zenbook 14X OLED from R27,999. For gamers, ASUS has the TUF Gaming F15 from R15,999, the TUF Dash F15 from R23,519, or the ROG Strix Scar 17 (2022) from R54,999.
In addition to their regular product offerings, the ASUS Store features accessories like carry bags, laptop chargers, mice and keyboards, including every ROG-exclusive apparel. ASUS says the range will expand over time, with ASUS South Africa actively working on bringing more brand accessories to the market.