Routers are often overlooked when it comes to creating a seamless wireless network in a household or business. A good router can fundamentally alter how you work, play and consume content. This is even more true if you are in a household with a plethora of connected devices, between TVs, smartphones, notebooks, PCs and other smart devices. I decided to take a look at what ASUS has to offer in 2022 across lifestyle, gaming and overall usage to give you an idea of where to look when you decide to upgrade your wireless experience.
ASUS has always been synonymous with quality and powerful hardware, from motherboards to graphics cards, extending their reach to peripherals such as monitors, keyboards and mice. Their router range is still fairly new but is growing at a rapid rate, thanks to the same quality standards as we find in their prolific technology. ASUS' range of wireless routers is also quite extensive, offering something for gaming, business and lifestyle applications.
READ MORE
Best Ultimate Gaming Router – ASUS ROG Strix GS-AX5400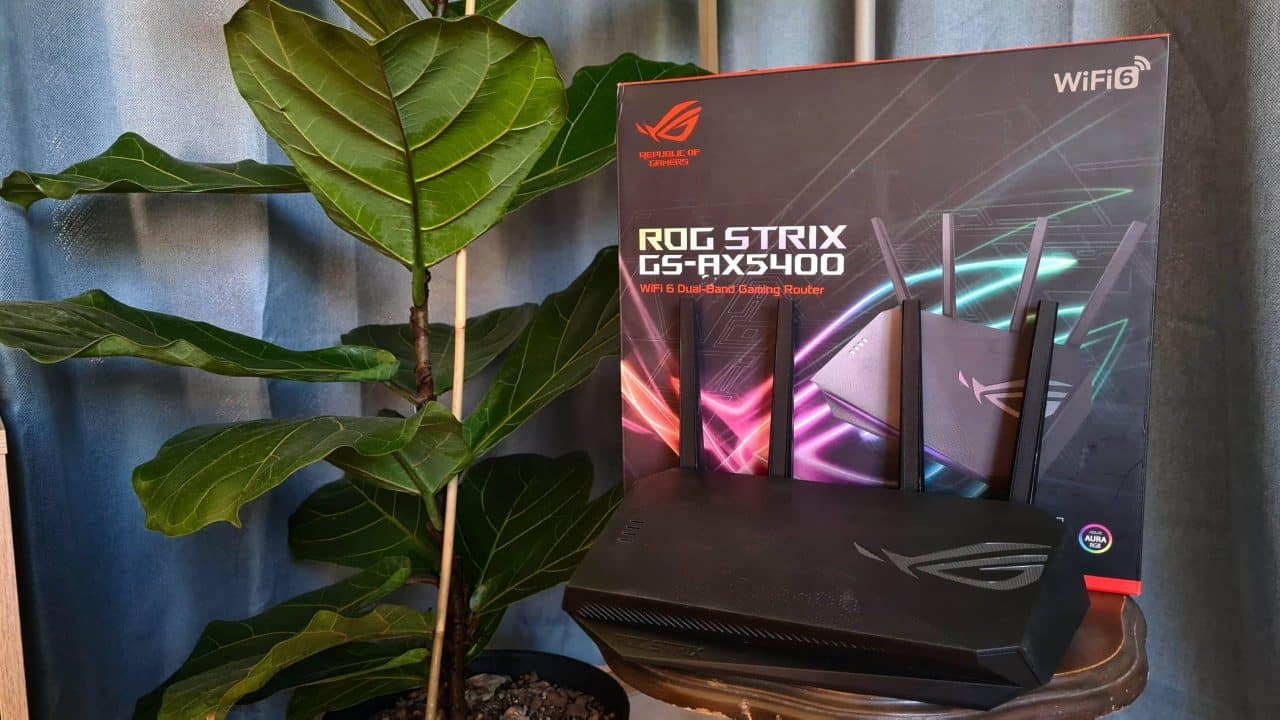 The ASUS ROG Strix GS-AX5400 is a fairly compact WiFi 6 gaming router that leaves behind an overly aggressive aesthetic, opting for a more streamlined, refined and premium look that seems far more natural in a home environment. The ROG series of routers typically look like they have been ripped straight out of a starship fighter, and while that aesthetic is certainly sure to turn heads, the design this time around feels like it calmly whispers its prowess at you rather than roaring from a mountaintop. The more subtle design fits in better with most home scenarios, as well as business settings, preventing it from looking out of place no matter where it's situated.
The router offers four antennae at the rear with a slightly jutted-out edge to the left with the text "ROG STRIX". As the edge fills back into the router, a simple light bar grows bigger from left to right that can be programmed with AURA SYNC for customisation, but doesn't ever feel like a beacon signaling a mothership. On the top of the router is ROG's typical diagonal slice across the centre, with a dotted pattern on the left and a smoothed surface on the right. Of course, you can't miss the prominent ROG eye also customisable with AURA SYNC, along with the notice lights on the lid.
The ASUS ROG Strix GS-AX5400 comes standard with WiFi 6 capabilities and PS5 compatibility, offering users speeds of up to 5400 Mbps and 160 MHz channels. Along with the array of gaming features on offer as well, including Mobile Game Mode, dedicated gaming ethernet port and gear accelerator, the Strix GS-AX5400 also comes equipped with VPN Fusion – the ability to run a VPN network and a standard internet connection at the same time. I loved this because I could access restricted gaming content (the Casino content in GTA Online for example), surf the high seas and still have my standard internet speeds for standard internet browsing for other members of the house.
In terms of gaming, the Strix GS-AX5400 offers two 2.4GHz and two 5GHz frequency bands that can safely handle a fair number of devices per channel (I was able to easily run roughly six intensive devices off a single band without any drops or issues) giving you unfettered access to the net. Along with this is game traffic prioritisation which means that the router will give priority to any traffic related to gaming, especially with regard to online gaming. There is also a dedicated gaming port that will prioritise any device connected to the port, perfect if you want to hardwire your gaming device.
Best Budget Gaming Router – TUF Gaming AX5400
The TUF Gaming range from ASUS can be fairly equated to their ROG range just on a bit of a budget. The TUF range is by no means an inferior or subpar range which a lot of budget-friendly alternatives from brands tend to be and the TUF Gaming AX5400 WiFi 6 router is no different. The TUF Gamign AX5400 offers many of the same functionalities as its ROG Strix GS-AX5400 counterpart but with some key differences.
The TUF Gaming AX5400 still offers full WiFi 6 functionality with a dedicated gaming port, and will also prioritise gaming traffic on your network, along with support for up to 5400 Mbps and 160 MHz channels. The dedicated port will also prioritise anything connected to it so its great if you want to connect a gaming device to it for uninterrupted service. The AX5400 also sports three bandwidth channels, with two 5GHz and one 2.4GHz connection. The AX5400 also sports VPN Fusion which would allow you to use a VPN and your standard connection at the same time, a huge plus point.
As for the changes, the TUF Gaming AX5400 offers a far more aggressive aesthetic than its ROG Strix counterpart, with a design that looks like it could pilot a jaeger on route to the Pacific Rim to battle Kaiju. With sharp edges all over, a vent grill in the front and a carbon grey colour scheme all over, the TUF Gaming AX5400 looks like it would be more comfortable on the deck of an aircraft carrier than handling network traffic. The router also sports six antennae, with four on the rear and one on each side. In essence, the TUF Gaming AX5400 is fantastic budget alternative to the ultimate ROG Strix GS-AX5400 with a more aggressive design.
Best Entry-Point WiFi 6 Router – ASUS RT-AX56U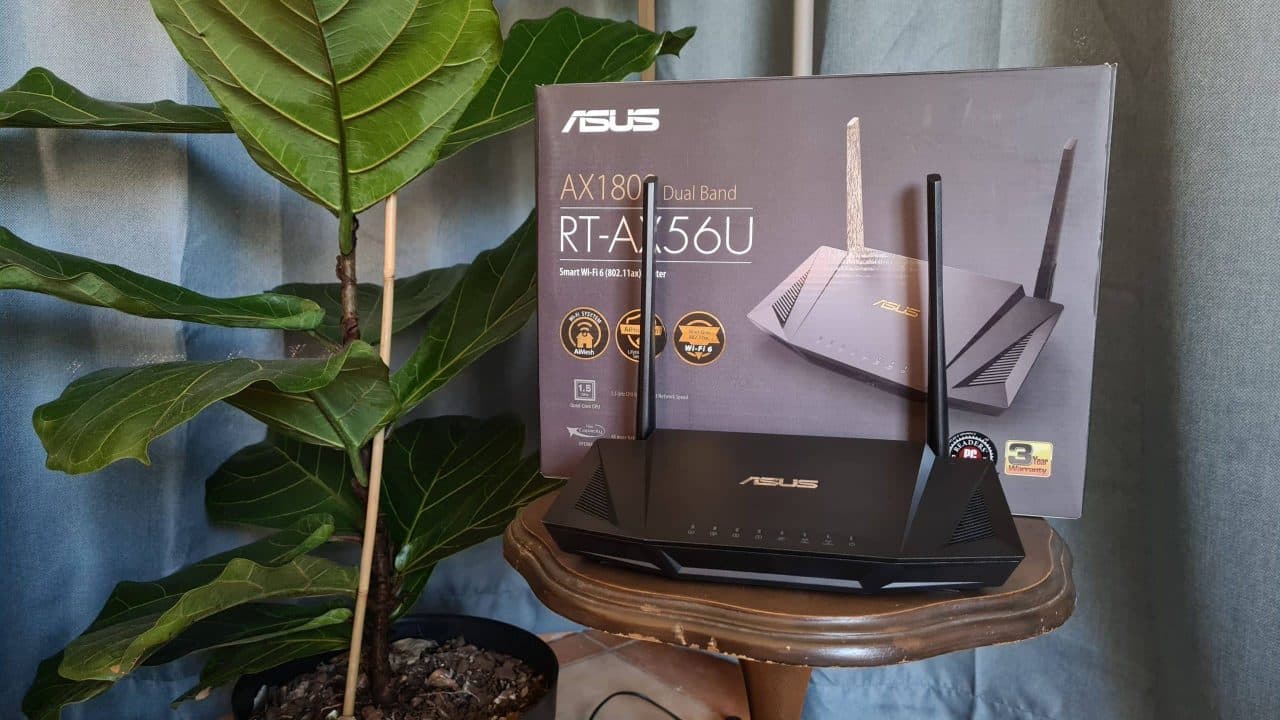 ASUS also offers fantastic entry points into the WiFi 6 range, especially in the form of the ASUS RT-AX56U. It is a simple, no-frills router with a sleek design that offers full WiFi 6 support, 1800Mbps total connection speed and 80MHz bandwidth. A smaller router with vents on each side for heat dissipation and two antennae at the rear. A simple gold "ASUS" logo stands in the centre of the lid with the notice lights towards the bottom.
The RT-AX56U was built for those who simply need an efficient router that will elevate their smart home connectivity, especially if you are looking for something that won't cost you too much to get into the WiFi 6 arena. Mainly designed for connection with notebooks, smartphones, tablets and the like, the RT-AX56U is still an incredible router for connection with gaming consoles and PCs but it won't offer all of the same benefits of the gaming routers mentioned above. The RT-AX56U is fantastic for small homes and businesses looking for enhanced connectivity between devices, or even just anyone looking to upgrade their wireless connectivity relatively affordably.
Best Lifestyle Router – ASUS ZenWifi XD6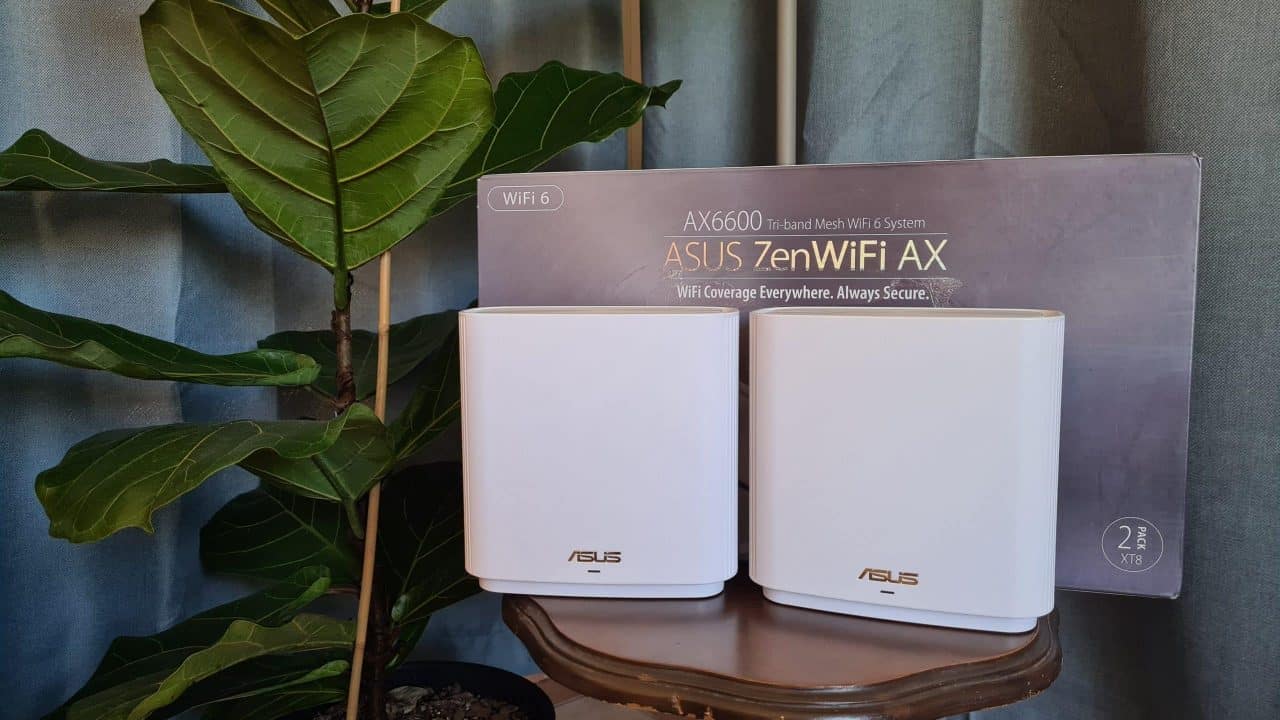 The ASUS ZenWifi range of routers have always been centered towards large households with a large number of devices to connect, be it smarthphones, tablets, notebooks, TVs, etc. The ZenWifi XD6 is dual-pair set of routers that create a mesh network environment in your home or office giving you massive spans of coverage. While I do not currenlty have the household large enough to test the claim, ASUS states that you will receive 5400 sq. ft. of coverage with both routers in play, or 2700 sq. ft. of coverage with a single router.
Though, I can attest that while I had one router situated near the CPE on one side of the house, the other router sat on the other end of the house, giving me total wifi coverage throughout – and I mean full bars throughout, total. The ZenWifi XD6 also boasts WiFi 6 connectivity and thanks to the mesh system that is created, you can connect quite a number of devices.
The aesthetic is super minimalist and clean, making it an organic placement in any home or office scenario. The major benefit of the ZenWifi XD6 system is that it is already a set of paired routers so while you may be able to utilise AI Mesh on any ASUS router (and make your own mesh system), these two are already linked and ready to go, making it easier for you to simply set it up, and get connected.
The XD6 also claims to offer true 8K streaming functionality and sadly I wasn't able to truly test this claim because I dont have any 8K facilities. However, with a full bandwidth speed support of 5400 Mbps and 160MHz frequencies, it is theoreteically possible. Again, I just wasn't able to confirm this or see it in action. Another slight issue is that the XD6 does not support VPN Fusion so while you can still load your VPN onto the router, you cannot use both a VPN and a standard connection at the same time. I would love to see this implemented with the ZenWifi range as a whole because its such an amazing feature that would be particularly helpful with the ZenWifi range.
The XD6 also sports a nifty feature where you can set certain times for your routers to block internet access for particular devices, or even altogether. This is handy for households with young kids whose parents don't want them surfing particular websites, or even just to encourage family time at dinner or breakfast. You can even use this feature to cut off network access to a device in real time, as well as return access when you want.
What I didn't mention individually and will therefore mention as a collective here, is that all of the routers mentioned above, and in fact ASUS's routers in general, come standard with lifetime free commercial-grade security protocols (titled AiProtection), AI mesh support, traffic control, parental control and full control using the ASUS Router app. All of these functions work to make your browsing safer, seamless and puts the power of control into your hands when it comes to managing your network traffic.
These are the best ASUS routers you could look at across gaming, entry-level and lifestyle WiFi 6 routers. ASUS does have a number of other devices in each category but after testing these, this would be my best recommendation in each class.