Rumours about Sony developing a Bloodborne remaster, PC port or sequel have been floating around for years now, but it looks like those rumours might all be untrue. As reported by a reputable From Software leaker, there's currently nothing planned for any of these Bloodborne projects.
First picked up by Reddit who cited an anonymous leaker, many were able to deduce that it was Omnipotent, who previously leaked accurate information regarding Sekiro: Shadows Die Twice, the Demon's Souls remake and Elden Ring. According to Omnipotent, there's currently nothing in development related to a Bloodborne remaster, PC port or sequel.
When pressed about whether or not From Software or Sony had anything planned for Bloodborne, Ominpotent provided a lengthy response: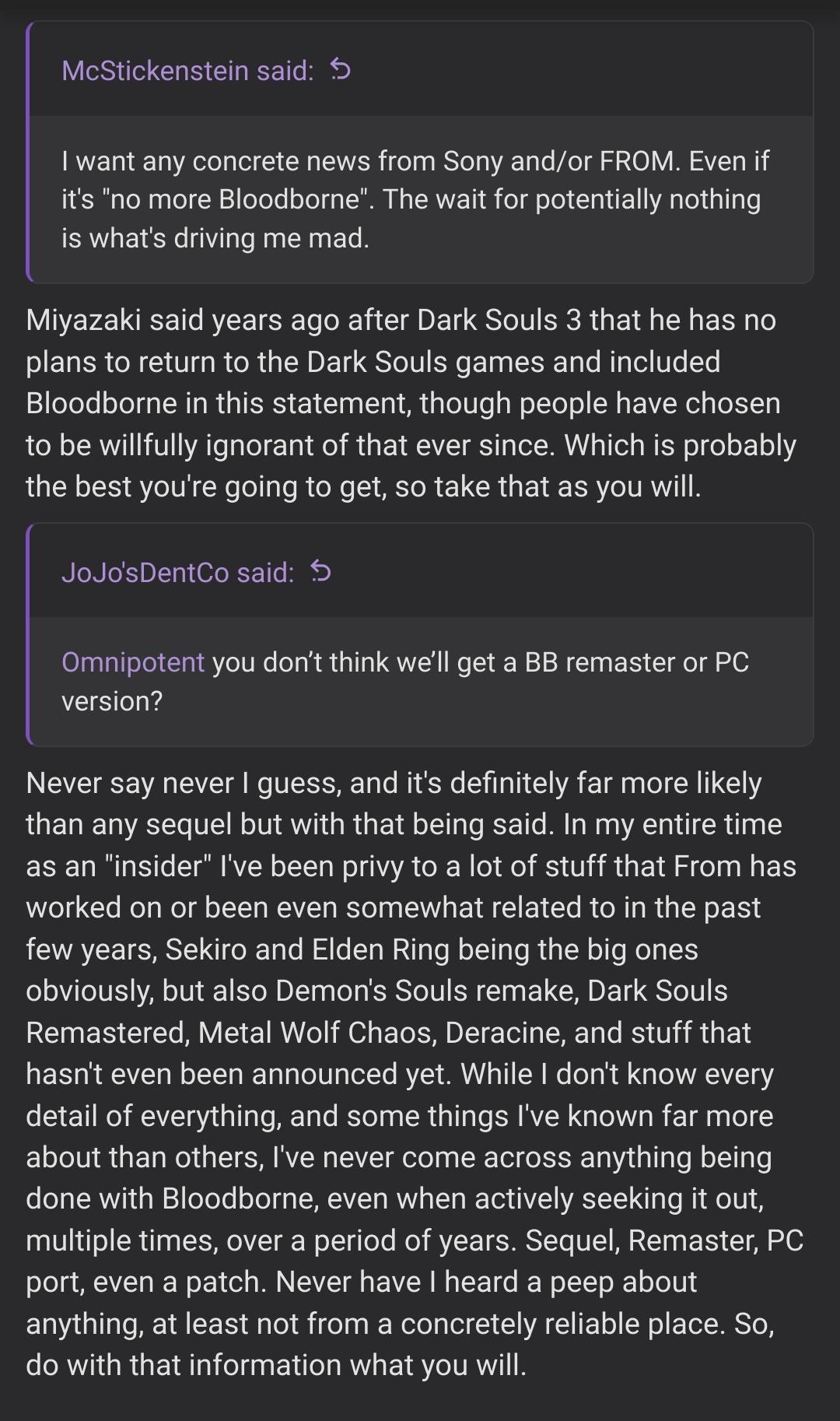 While any leak should be taken with a grain of salt, Omnipotent has proven to have a solid track record and be a trustworthy source of information in the From Software and Souls community. Their word shouldn't be taken as gospel either, but it's worth investing some trust in these claims.
This counters several dozen reports about Sony potentially working on a Bloodborne remaster/remake, PC port and sequel. Other rumours suggested that Demon's Souls remake developer Bluepoint were developing the sequel alongside a remaster. However, it's likely that their next project will be something else entirely now.
Fans have been requesting a new Bloodborne project for several years. While excellent fan-made projects such as the Bloodborne PSX demake were recently released, nothing has come of the rumours surrounding a potential remaster, a long-requested PC port nor an even less likely sequel.
If Omnipotent is to be believed, then director Hidetaka Miyazaki has moved on from the Dark Souls projects which now includes Bloodborne and is working on new, unannounced games instead.
That said, fans can still look forward to From Software's next open-world action-RPG Elden Ring which releases on 25 February 2022 for PS4, PS5, Xbox One, Xbox Series X/S and PC.
Source: Omnipotent (via Reddit)