Comic Con Africa 2022 is just under a month away and thanks to a recent media and exhibitor briefing, we got a massive information dump of the celebrities and talents coming to the event as well as key event details. This year's offering is packed to the brim with exciting activities, with everything from KidsCon and StreetCon to cosplay, gaming and the new StreamerCon; here's everything you need to know about Comic Con Africa this year.
First and foremost, Comic Con Africa 2022 will take place at the Johannesburg Expo Centre (Nasrec) and will run for a total of four days from 22-25 September. There will be over "256 hours of content across 8 stages", and it marks the first live show since 2019's record-breaking event on the African continent.
Comic Books
The backbone of Comic Con Africa has always been Artist Alley. This year, the live event will feature a wide variety of exciting guests and talents, both local and international. Guests will include Bill Masuku, Daniel Govar, Jason Masters, Karl Mostert, Livio Ramondelli, Sean Izaakse, Zach Howard, Tony Moy, Chris Campana and Andrew Lee Griffith, among others.
"The Cricut Spotlight Stage will feature Live Draws and fascinating Q&As. Also found in this area is the Author Avenue showcasing captivating books from SciFi to Fantasy, and The Block exhibitors who design and produce clothing, prints and other merchandise inspired by the comics," said Comic Con Africa in the official press release.
Cosplay
Cosplay will return to Comic Con Africa this year with big ambitions. Around 60 contestants are getting ready to compete in the Cosplay Championships, putting on a show to excite visitors on the Main Stage in front of three expert judges: Elizabeth Rage, Taryn Cosplay and Leon Chiro. The winner will go on to compete for the Cosplay Crown at MCM London Comic Con. If you want to take photos, get autographs and meet some of the cosplay talents, make sure you head over to Cosplay Central.
Gaming
Telkom VS Gaming has partnered with Comic Con Africa to bring gaming back in full force this year at the event. Esports tournaments will take place on the Telkom VS Gaming stage where players can tune into some of the biggest talents in the esports community competing in exciting matches.
Additionally, this year's show will also host the Dorito's Crunch Cup where fans will be able to freely enter and compete in games such as Tekken, Street Fighter, FIFA and Fortnite. Winners will stand a chance to win a total of R4000 in prize money and a lot of Doritos to take home. Best of all, these will be daily competitions.
Finally, KFC will be hosting its KFC AF Gaming challenges from their activation space with finals being hosted daily on the Main Stage. RedBull's exciting Campus Clutch Valorant tournament kicked off in August. The finals will be held at Comic Con Africa this year, so make sure you tune in.
Tabletop and Roleplaying Game Zones
Tabletop gaming and roleplaying will give attendees of Comic Con Africa this year plenty of action. The To Ride tournament will bring out the best players competing in a handful of exciting games. "Both new and established players will have opportunities to join in the free play of games such as Pokémon and Yu-Gi-Oh, X-Wing, Magic the Gathering and more," said the press release. PAVL will be a new apocalypse-themed event, also known as the Post-Apocalyptic Victorian Live Action Roleplaying experience, and is open to all visitors.
StreamerCon
This year marks the first time that Comic Con Africa will host StreamerCon, which aims to tap into the world of online content creation. Visitors will be able to meet and greet their favourite vloggers, YouTubers, Twitch streamers and podcasters with eight Spotlight Content Creators alongside 36 more in activities, panels and Q&As on the StreamerCon Stage. Those looking to break into streaming will also have a lot to learn from the experience. This year's guest list of streamers includes RustyPieLover, Bumfluffski, Spyro, Wizard of Oz and much more.
StreetCon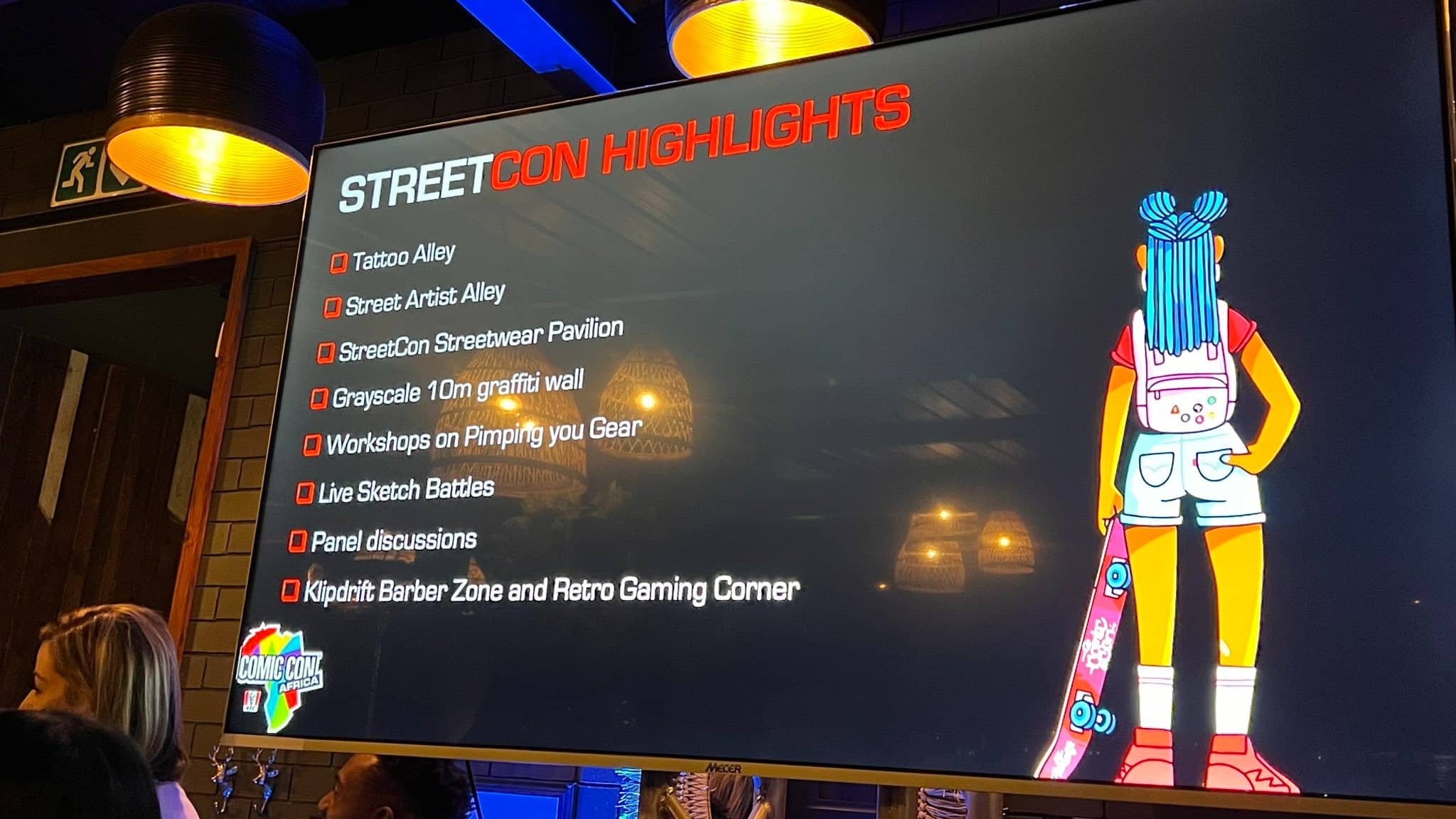 Legendary local brand Bathu will be the official sneaker partner for StreeCon, bringing a mash-up of urban and pop culture to Comic Con Africa. Fans will be able to grab the hottest merch, streetwear and sneakers from various brands attending, largely inspired by Urban x Pop culture. Four multidisciplinary street and urban artists will be there as spotlight guests, including live graffiti battles and sketch battles from top local talent, brought to you by Grayscale.
KidsCon
For kids by kids, KidsCon will be an experience that younger visitors will be able to participate in. The dedicated hall will include gaming activities, shopping for the best toys and lifestyle products, character meet and greets and tons of exciting and fun activities to enjoy. Families will gravitate towards KidsCon if they're looking for the ultimate family day out at Comic Con Africa this year.
Stars
Finally, the star lineup remains one of the key attractions of Comic Con Africa. This year, a fantastic list of celebrities will be joining the event. These include:
Tati Gabrielle – YOU, The Chilling Adventures of Sabrina, Uncharted
Ross Butler – 13 Reasons Why, Shazam!, Riverdale
Selwyn Ward – Power Rangers
Jamie Campbell Bower – Stranger Things (Vecna)
Here's the full lineup of talent coming to Comic Con Africa 2022:
International Cosplayers:
Taryn Cosplay (Italy)
Elizabeth Rage (USA)
Leon Chiro (Italy)
Local and International Comic Book Artists:
Andrew Lee Griffith (USA)
Bill Masuku (Zimbabwe)
Daniel Govar (USA)
Jason Masters (South Africa)
Karl Mostert (South Africa)
Livio Ramondelli (USA)
Sean Izaakse (South Africa)
Steve Ellis (USA)
Team Kwezi (South Africa)
Tony Moy (USA)
Zach Howard (USA)
Tasia M S (South Africa)
Stephane Roux (France)
Show Features:
3 Halls
2 x Food Truck Village
Kentucky Town with KFC
30,000sqm of indoor and outdoor event space
Seven activity zones
160 speakers
256 hours of content
50,000 + fans
Visit the official Comic Con Africa website for more details about further details on what's happening at South Africa's biggest pop culture event of the year.