This past weekend was the end of Comic Con Africa's chaotic and fantastic four-day-long celebration of pop culture. Previously Glitched covered Dungeons and Dragons at the event thanks to Unplug Yourself, and we also looked at Cosplay. Now it's time for my favourite part of the convention: the comics.
As someone with a deep love for comics, I was excited to attend for the chance to meet local and international comic book artists and see what they're currently working on. After a two-year break, Comic Con Africa was back again this year, and their comic book section was better than ever. After browsing through some of the fantastic art on display, I talked to three of South Africa's most celebrated comic book artists. Here is that conversation:
Arielle: For our readers who aren't already aware of you or your work, would you mind just running us through a quick introduction?
Jason Masters:
Sure! I've said it about a million times today, so that's easy! I'm Jason Masters. I am a local comic book artist from Johannesburg. I work for Marvel and DC, and I worked for WildStorm when it still existed. I drew James Bond; I drew the prequel comic to Bruce Willis's movie RED. I've done a lot of Bat Family books. I did Bat Woman, Legends of the Dark Knight, Nightwing, Batwing and Captain America. I drew Avengers and then yeah, that's me.
Click here to follow Jason Masters on Twitter and Instagram
Warren Louw:
Hi, I'm Warren Louw, a comic book cover illustrator for a wide variety of comic book publishers within the US industry, primarily DC Comics.
Click here to follow Warren Louw on Twitter and Instagram
Sean Izaakse:
I am Sean Izaakse, and I'm a South African-based comic artist that has worked for Marvel and DC over the past six years.
Click here to follow Sean Izaakse on Twitter and Instagram
Arielle: How do you feel about the Comic Book representation at Comic Con Africa 2022, as well as the support you've received – and you can be as honest as you want
Jason Masters:
Brutal honesty? I love it. I think it's been great. The representation about/for artists has been good, really really good. I have a friend Patrick who runs a company called Art Chimp, and he brought out most of his international artists. Which I think has been fantastic because you don't really get a lot of exposure to international artists here.

I thought that was amazing of him and while that wasn't through Comic Con I think Comic Con Africa did a great job, there are a lot of great local artists – even from Zimbabwe and a lot of other places. So I think comicwise it's been great BUT also, there's such crossover. It's like the Venn diagram of media. So you can't be upset that it's computer games and its toys and its Funko POPs because its pop culture. You're part of that family when you start drawing Batman.
Sean Izaakse:
Comic Con's been awesome, there hasn't been a Comic Con for the last like three years and I feel like this year has sort of made up for that. It has been extremely busy, I've seen all my old fans come back and made a whole lot of new ones, and I have been swamped – my table has been so busy that I can't wait to go and fall over at home.

Comics are represented quite well over here, there are a lot of new faces which is cool, it can of course always be improved on, we can always have more people but I always, when I see new artists or when people come to my table and tell me they want to work on their comics, I tell them to try and open a table because Comic Con Africa is a great way for them to gain exposure and to gauge the interest in their skills.
Warren Louw:
Man, all the support I've received this year has been amazing it's incredible to see. You know we've been without Comic Con Africa for years, and now with it happening once again, its been quite overwhelming just to see how much recognition and love and just to see how much passion is involved and also recognise how far and hard I've been pushing myself as well.

Because sometimes I wonder if people can even recognize that, and many seem to, which is quite reassuring as an artist.
Arielle: As comic book artists in South Africa, what are some challenges you face working in the international industry from here?
Jason Masters:
Loadshedding. So, unfortunately, I work digitally, but thankfully I also have an iPad Pro, so when the power goes out, I've still got a couple of hours to work. I would honestly say that's been the most difficult thing – not having power when I have a deadline.

Beyond that, we're a collective now via the internet. It's Twitter, Instagram, Tiktok – whatever. Everyone's promoting themselves digitally, so getting your stuff noticed isn't hard. If you're good enough or somebody notices you, you can work.
Sean Izaakse:
Probably not the things you would think. Because of the internet, and that people can literally go, and self-publish, people can go online and make their own monthly or even weekly webcomics. There are things like Patreon and Kickstarter so everyone can kind of get their own comics out there. I think the biggest challenge for South African comics, in general, is people just making the comics.

There are a lot of people who want to make their own comics, but they don't realize the amount of work that goes into it and so the drive to do it gets lost quite easily. It does take a lot of commitment and a lot of effort, and at first, it's like a novelty, and then they realise it's actually work and you need to put the hours in to build that fan base to the point where they are making a profit and have regular clients buying their stuff. And loadshedding.
Warren Louw:
For me, it's never been that much of an issue. It's not even been something I've really focused on too much. All I knew for myself was that I wanted to do art and push my limits and that just seemed to capture the attention of the various publishers out there getting approached. So I didn't have to worry about really having to put myself out there or network too hard – I just made sure always to produce the very best of what I could and have my artwork speak for itself. And that did the job for me.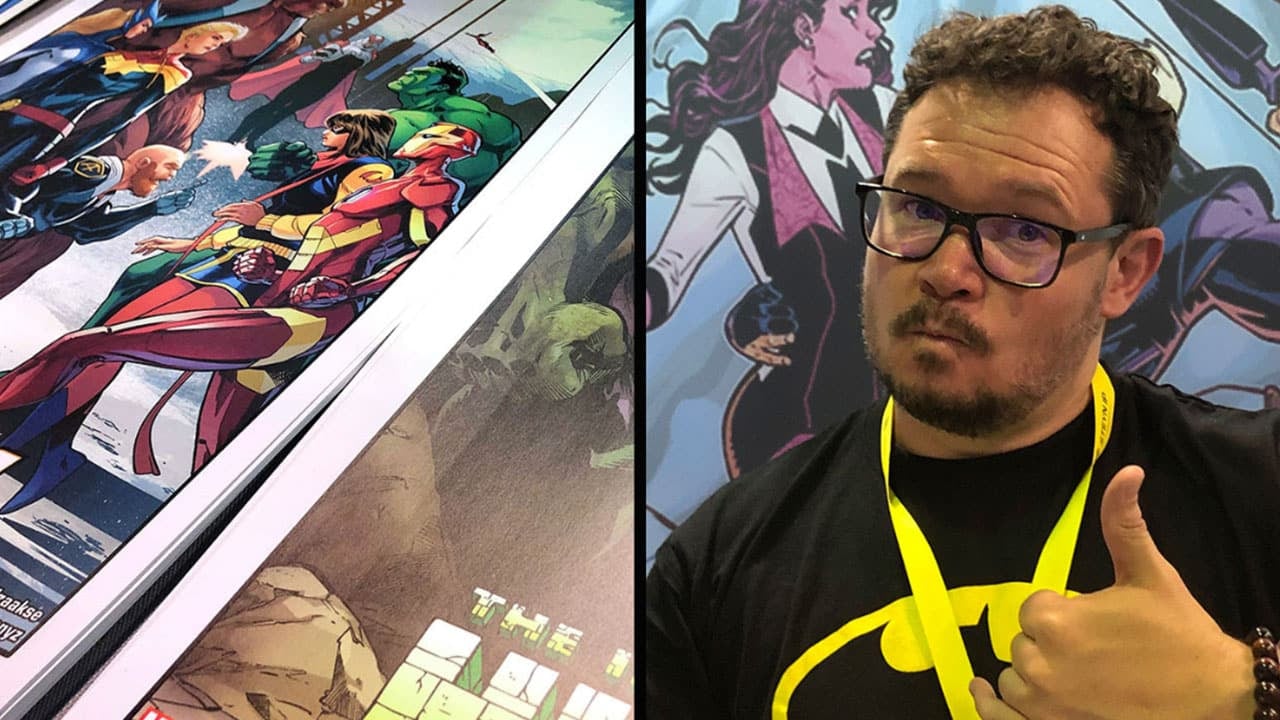 Arielle: If you could pick any comic series out there and just give yourself the job of working on it – what would you pick?
Jason Masters:
I want to do some creator-owned work. I've done a lot of stuff for Marvel and DC and Wildstorm so, at some point in the future, I want to do something that I created… and maybe with a writer because I'm not a good writer but yea, that's what I'd like to do.
Sean Izaakse:
That's really tough. I'm gonna be working on the fourth volume of my own book Stray, hopefully soon. I did volume 1, co-created with my friend Vito, and volumes 2 and 3 were kind of done without me because I was too busy, but I'm going to round it out with volume 4 and finish it off, so I'm looking forward to that.

And I mean I can't pick one thing because each company has characters I really like, so you know, put me on a Spider-Man comic. I'd love to work on a Spider-Man and a Daredevil book those are massive highlights. For DC, I'm a big fan of Robin – old classic Robin, Tim Drake's Robin. A "Flash" book would be great.

I like a lot of the B-tier characters because you can do a put more crazy things with them, so like Hawk and Dove would be fun, but generally, I like too many characters. I mean, doing a Superman book would be great but also really intimidating, and I'd love to work on a Batman book, but how can I bring something new to Batman? I'll have to see when I'm on it.
Warren Louw:
I would pick… wow, that's a hard one… honestly, for me personally, the most passionate thing that I would want to break into right now is not even necessarily a comic book cover for whatever other titles or series that I haven't been a part of yet, it's more about me creating my own original characters ad building worlds and universes for them.

I have been in the process of developing my own original characters already, of which there's going to be a huge in-depth and very complex story included, and that's what I'm passionate about actually wanting to put my time towards. Because hey, I've got so much more to express than just creating illustrations for other people's characters, so I want to get back to my own expression and design
Arielle: Of all work you've done, across all the various comic book runs, which was your personal favourite series to do work for
Sean Izaakse:
I mean, I always have to split it into two, but it's even harder to say now because I've been really lucky. I've worked on Fantastic Four, and so my favourite issue are the two issues of Hulk and The Thing fighting each other, like its literally two issues of the guys punching each other in the face and through mountains and stuff, and then Champions I have a soft spot for because we did like a really poignant issue that…

First of all those were characters that I had no investment in because they weren't characters from my childhood it wasn't like Daredevil or anyone like that, but those characters grew on me or fast because they're like young and nervous trying to figure things out and the one issue specifically was about Miles Morales dealing with a school shooting and that was a really poignant issue for a loooot of people.

After the issue came out, I got messages from a lot of teachers saying that they used that in their classrooms to help kids talk about going through that kind of stuff, so that's like pretty important to me. The Hulk and The Thing fighting is just my pure fanboy nerd thing. And then my current run that I'm doing of Thunderbolts is just crazy fun; it's a brilliant story with a couple of twists and turns, and I get to draw and redesign Hawkeye's new costume, so that's kind of like a highlight for me also.
Warren Louw:
Honestly, man, out of all of them, each one is special in its own unique way for how I chose to challenge and push myself in various ways, but for me personally, my black-and-gold Wonder Woman stands out.