Comic Con Africa is thrilled to announce the appearance of the beloved voice actress, Veronica Taylor, at the highly anticipated Comic Con Africa 2023 event. Fans of all ages will have the incredible opportunity to meet the iconic voice behind some of their favorite animated characters during Comic Con Africa.
Veronica Taylor has captured the hearts of millions worldwide with her extraordinary talent, bringing life to numerous iconic characters over the years. However, she is best known for her portrayal of the original Ash Ketchum, the passionate Pokémon Trainer from the classic Pokémon series. Her rendition of Ash Ketchum has become a symbol of nostalgia for fans who grew up watching the show and continues to resonate with new generations of Pokémon enthusiasts.
Throughout her illustrious career, Veronica Taylor's versatile voice has lent itself to a diverse array of characters, each leaving an indelible mark on animated pop culture. From strong and determined heroines to mischievous and endearing sidekicks, Taylor's vocal prowess has consistently impressed both fans and critics alike.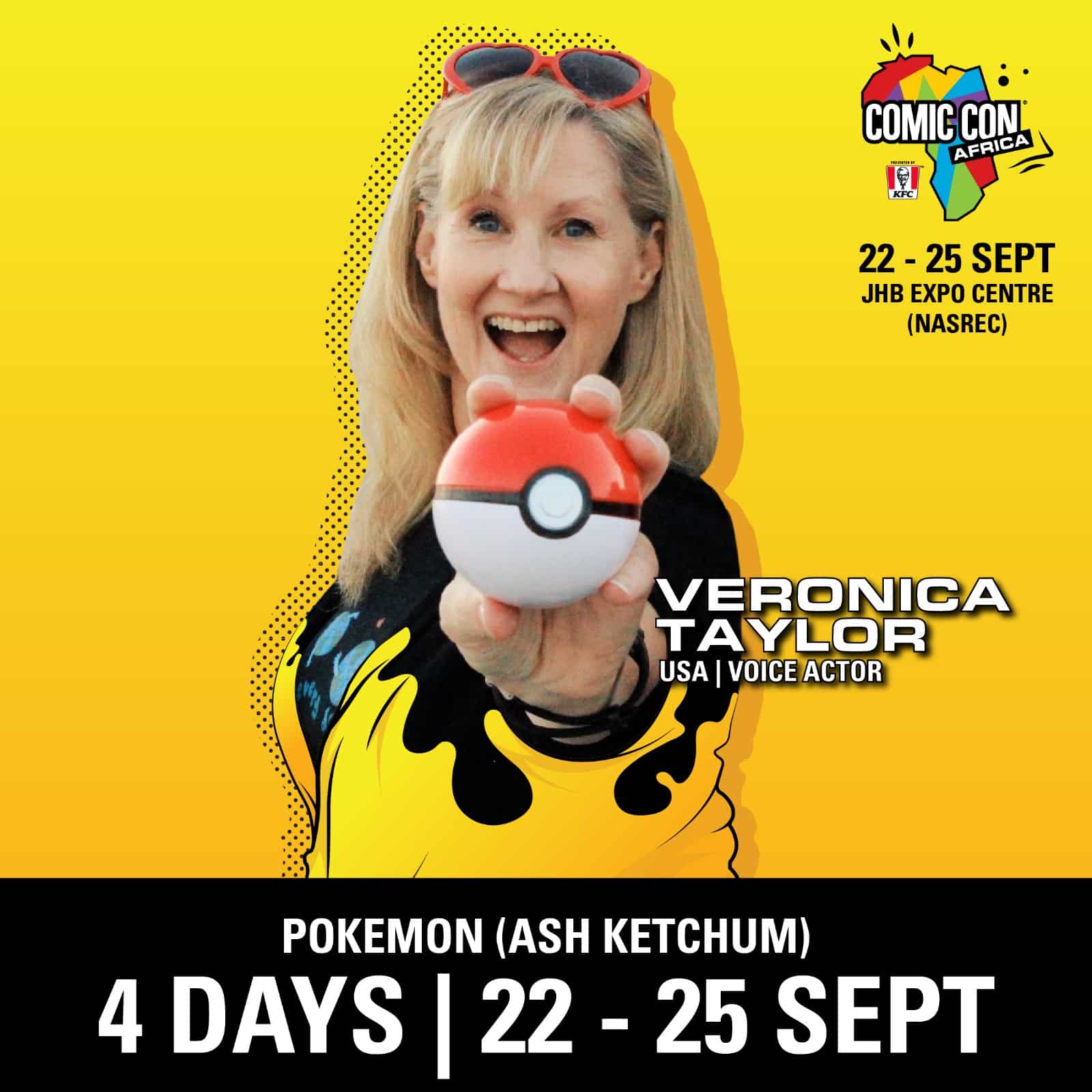 Veronica Taylor will be participating in autograph sessions, meet and greet opportunities, and engaging panel discussions where she will share behind-the-scenes stories from her iconic career. Fans can also look forward to Q&A sessions, where they can ask Taylor about her experiences and gain insights into the art of voice acting should they wish to.
The iMDB bio page for Veronica Taylor reads:
"Veronica Taylor (born Kathleen Charlotte McInerney) is an American voice actress. She is best known for her role as Ash Ketchum in the English dub of Pokémon (1997) from 1998 to 2006, having voiced the character (along with Delia Ketchum, May, and various other characters) in the main series and its associated movies. Outside of Pokemon, she appeared in numerous projects (primarily English dubs of anime) from 4Kids Entertainment and Central Park Media, including Amelia Wil Tesla Seyruun in The Slayers (1995), Nico Robin in the first dub of One Piece (1999), and April O'Neil in Teenage Mutant Ninja Turtles (2003), among others."
Comic Con Africa is happening at the Johannesburg Expo Centre (Nasrec), from 22 to 25 September 2023. Tickets are available on Howler.
Source: Press Release