We hope you're as excited as we are. After a two-year break, which felt more like five years, Comic Con Africa is back! And they're not just back in a small way; no, Comic Con Africa is back with a jampacked four-day festival of all things geeky, nerdy and fun. Comic Con Africa truly offers something for everyone, focusing strongly on comic books, tabletop games, pop culture, movies and TV, and cosplay and gaming.
But as with any comic convention, one of the biggest draws to the event has always been its international guest stars, and Comic Con Africa is no different. This year, three prominent international guests will be flown in specifically for the event. We here at Glitched spent some time doing little deep dives into the guests so that our readers can be fully caught up on who's who by the time Comic-Con opens its expo floor.
So with no further delay, here is everything you should know about Tati Gabrielle before seeing her at Comic Con Africa next week. If you want to read about another of the guests, Jamie Campbell Bower, you can read our post here.
"I do feel that women get sort of shorthanded in that way. Immediately people, when they hear that a girl is a gamer, it's always like a 'Really?' as opposed to a 'Yeah! Dope!'" – Tati Gabrielle
Tatiana Gabrielle Hobson, better known professionally as Tati Gabrielle, was born in San Francisco and is one of three children. Growing up, Tati always performed and began acting in the third grade. Tati's first official acting role as a child was in an adaptation of Lemony Snicket's A Series of Unfortunate Events, where she played the leading role of Lemony Snicket.
Tati auditioned for the Oakland School for the Arts in middle school and was accepted into their theatre program. She performed in and directed several productions and won multiple awards for her work at various theatre festivals, including the Edinburgh Festival Fringe in Scotland, before switching her major to French.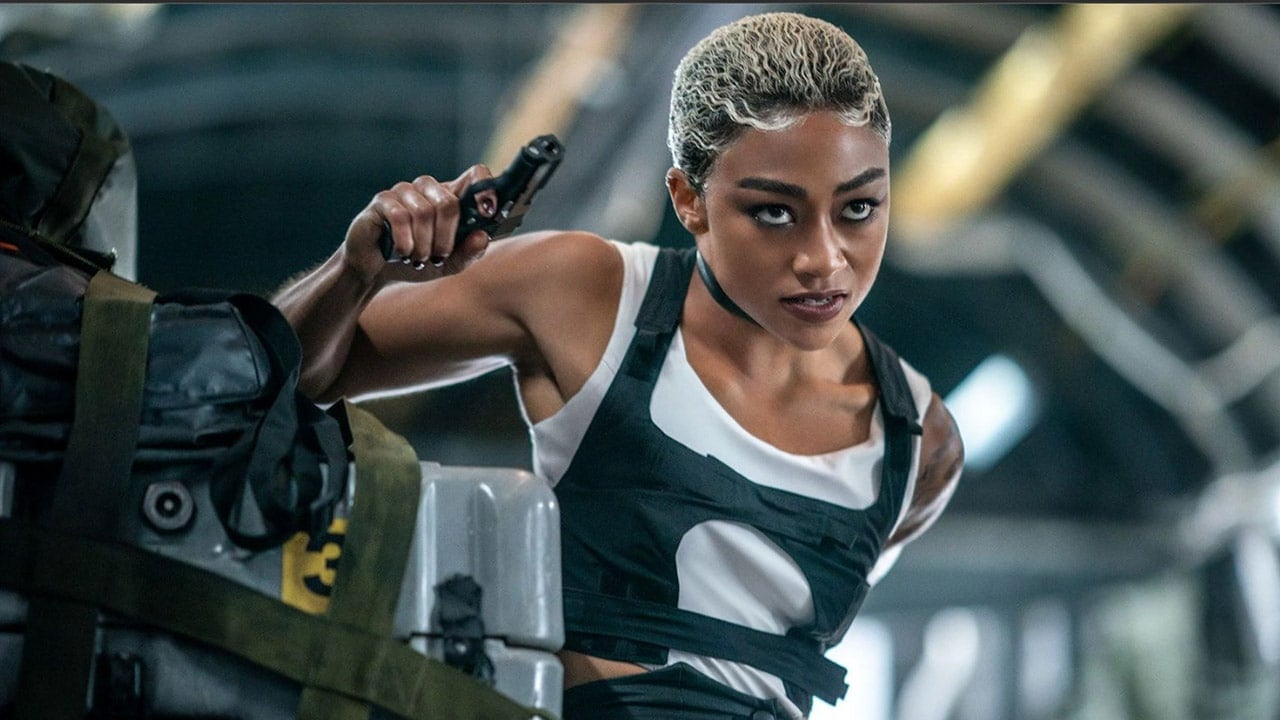 Tati is no stranger to the screen. Her breakout role was alongside childhood school friend Zendaya in 'K.C. Undercover'. Tati would then become well-known known for her role as Prudence on the Netflix original series Chilling Adventures of Sabrina before going on to star as Jo Braddock, the lead villain, in the 2022 movie Uncharted.
In interviews, Tati Gabrielle has spoken excitedly and fondly about her role in Uncharted, which saw her do all of her own stunts because he holds a black belt in karate. "I have never had so much just blatant fun doing something, I love my martial arts, and I've always loved sparring, fighting."
The Uncharted movie also felt like a great fit for Tati, because of her love for gaming. Tati loves playing competitive fighting or racing games in her spare time and has lost countless hours in Mortal Kombat and Need For Speed.
Because Tati started acting so young, her career has seen many changes, including her professional name. While working under Tatiana Hobson, Tati's first acting credit was in a short film, To Stay the Sword. Then in 2016, Tati would act as Tati Gabrielle for the first time and star in the Disney Channel comedy series K.C. Undercover.
In 2017, Tati would land her first recurring role in the CW apocalyptic drama, The 100 as Gaia. From there, her career just soared, with her most recent role being the voice of Williow in The Owl House.
Tati Gabrielle – Where Have You Seen Her Before?
Just Jenna (TV Movie) as Monique
K.C. Undercover (TV Series) as Wackie Jackie
The Thundermans (TV Series) as Hacksaw
Dimension 404 (TV Series) as Amanda's Sister
The Emoji Movie (Movie) as the voice of Addie
Freakish (TV Series) as Birdie
Tarantula (TV Series) as the voice of various characters
The 100 (TV Series) as Gaia
Chilling Adventures of Sabrina (TV Series) as Prudence Night
You (TV Series) as Marienne Bellamy
Uncharted (Movie) as Jo Braddock
The Owl House (TV Series) as the voice of Willow
Make sure you enter to win Comic Con Africa tickets here and you can purchase tickets here.