The second annual Comic Con Africa took place this past weekend. After last year's convention, which in my opinion was just a bigger and flashier rAge, the emphasis on "geek culture" was even bigger this year. But while everything was bigger, there's no getting away from the fact that Comic Con Africa 2019 was just a giant Sunday market for geeks, more on that later.
In light of last year's atrocious venue, the convention's new home at the Gallagher Estate Convention centre was a welcomed addition. Better parking and an all-around improved guest system meant you got to the venue faster, parked easier and did not have a giant sand hill to climb while dressed in your 30 Kg knight armour cosplay.
Gallagher proved to be a fantastic choice for the convention as its giant halls allowed for the organizers to divide things up quite well. You knew when going into a specific hall that it would cater to a need and if you wanted your dose of gaming, you would need to head to that hall to get it.
Six halls meant things were divided into various lifestyle categories. We had the gaming hall that showcased some upcoming titles from Bee Simulator to the awesome Luigi's Mansion 3; KidsCon which was a massive hall filled with screaming children, a giant LEGO activation and an entertaining Nerf arena where people got to take their frustration out on each other using plastic guns.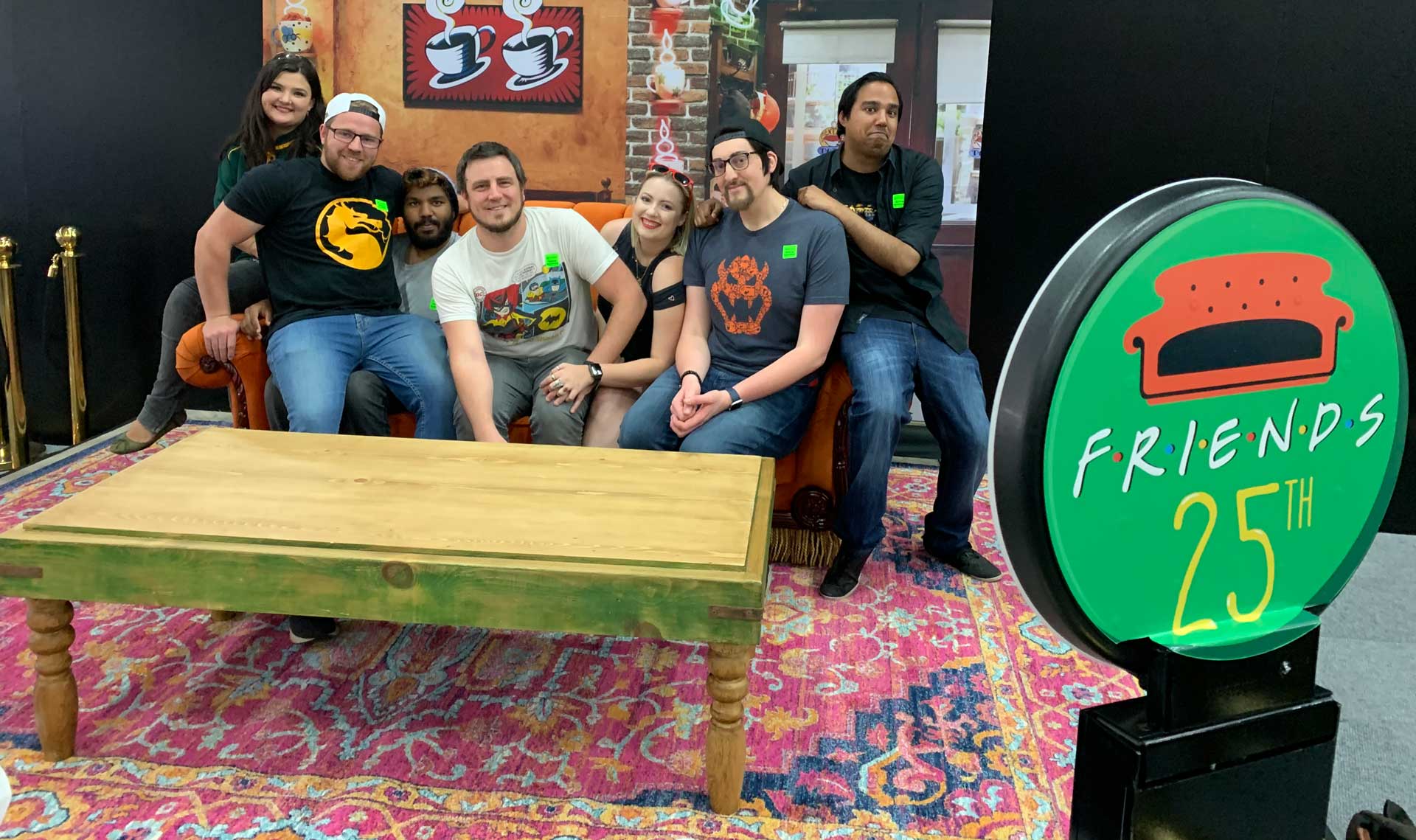 We then had the artist's alley which was bigger, cooler, and featured some fantastic art forms from comic books to sketches, paintings and much more. The international and local representation in this hall was one of the most exciting things to see. It was great to chat with upcoming local artists who have worked hard to bring their own comics and creations to life. Many of them do this as a hobby and are driven by their love and passion for the industry.
I was impressed by the organisation of the halls in general. Sure, the isles were still really tight and it took forever to get through during peak times but the stands and effort put into it all was world-class. One of my favourite stands was the PlayStation one that had a giant PS4 Pro standing up as the divider. I honestly walked past it a couple of times before realizing what it was but I was in awe after seeing it.
There was definitely less tech and gaming at this year's convention which is a good thing. In one mind I want to blame the current state of the industry which is pretty subdued due to the looming next-gen consoles on the horizon. Obtaining code and showcasing upcoming titles can be a challenge but we got to see some sneaky previews of upcoming games such as Nioh 2 and Ghost Recon: Breakpoint.
As for tech, it was so good to see the big PC gaming brands skip Comic Con Africa 2019 this year. MSI showed off some of its professional notebooks but the big show is happening this weekend at rAge where many of the brands will be on display. I do believe Comic Con, if they claim to be an international convention, should follow the international standards and keep the convention more on the "geek" side. So less tech is a step in the right direction.
Gaming and tech aside, Comic Con Africa had some really great initiatives to push the geek lifestyle this year. Hundreds of stores meant everyone was selling the same Funkpops, Spider-Man statues, "totally authentic framed Captain America Shields", shirts, PokeBalls, clocks, clothes and much, much more. The shopping department was anything but lacking at this year's show which is a good thing and a bad thing.
Too much of the same thing makes the overall experience feel like a glorified Sunday market and that is exactly the vibe I got at the show. Sure, it is great to walk around and look at the unaffordable statue of Hulk smashing Wolverine's face in, but one run through the hall and you realize that if you are not buying anything, there's nothing for you to do. Every store starts to blend in with one another and before you know it, you're just saying "wow, that is cool" over and over again before looking at the price and leaving without swiping your card.
I get that this sort of convention is great for local business owners and I admire the work and love put into all the products on sale but the elephant in the room is just this; if you had other things to do at the show, like panels with guests, workshops, activities and other audience-drawing events then your convention would not feel like a massive shop.
It is now the second year of Comic Con Africa and the guest lineup was just as horrendous. With Anthony Mackie cancelling for the second year in a row now (on the day before, people), the guest spotlights were left up to William Shatner, Nolan North, Troy Baker, Leanna Vamp and a handful more. Not to mention it was impossible to get any sort of interviews with the small handful of guests from a media side.
Speaking of cancellations, the way this was handled was just not on. The mystery surrounding the two big guests ditching the convention is just this; Comic Con Africa knew this was happening and most likely tried to cash in on more ticket sales before announcing the news. Anthony Mackie was still filming ON LOCATION when the announcement was made. Surely he should have been on the plane already the day before the start of the show? As for Bran, well. The Emmys are arranged months in advance. Surely this could have been announced earlier too?
Take all the guests away, which they almost did, and you have a bunch of halls with shops. Get what I am saying here? The few panels hosted on the awesome-looking KFC stage were far and few between to actually warrant its existence. Saying that I stayed for a few of these and they were extremely entertaining and informative, there were just not enough of them.
Who's at @ComicConAfrica today? #ComicConAfrica pic.twitter.com/jDlaulWRti

— GLITCHED (@_GLITCHED_) September 21, 2019
Speaking of KFC this year they came up with an awesome idea to hire "wingmen" to guests. You could then get them to stand in line for you so one could go do something else and come back when the wingman was at the front of the line. Great idea but poorly executed. The lack of guests meant the lines were hard to find. The Funko store line was crazy busy for the first few hours of each day and then it calmed down.
The only real lines were outside by the food area and they were so bad I decided to call Uber Eats to get myself lunch. Also, Gallagher does not allow any food trucks into the venue so guests had to put up with the terrible overpriced food that the venue makes themselves. I don't know about you, but food trucks make up a massive part of a "convention" experience so paying R60 for a hotdog after waiting in line for an hour was just a bad idea. Even the mini doughnuts were tasteless and too doughy, a travesty, I know.
If you're at @ComicConAfrica this weekend make sure to head to the @PlayStationZA stand and stamp your hand on the #DeathStranding wall. Social your video/photo for a chance to win a R5000 Death Stranding hamper! #ComicConAfrica pic.twitter.com/jdZWtTPVgq

— GLITCHED (@_GLITCHED_) September 21, 2019
Even with its guest lineup being a hot mess and the food offerings being a massive let down, Comic Con Africa should be grateful it has such a fantastic audience attending its mediocre show. The entire weekend would have been nothing without the people paying hundreds and thousands of rands to be there. South African geeks have a magical presence about them and the energy filled every hall.
The cosplay was world-class, the local artists were exciting, the young gamers ran around with their Fortnite shirts on, the Millenials posted every. single. thing on social media and the media all joined forces to bring the show to life across their digital platforms. Honestly, Comic Con Africa 2019 would be nothing without the community of passionate people that were delightful to be around and they should appreciate them enough to give them decent food.
THAT'S A WRAP! #Comicconafrica

We will be back next year, Cape Town 1-3 May & JHB 24-27 September 2020.

Thank you for your support, what an epic convention! pic.twitter.com/7jTtKs0oaQ

— Comic Con Africa (@ComicConAfrica) September 24, 2019
The energy throughout the weekend was magical and I wanted to often just put it in a jar for those days when I feel like I need some South African geek love. It was that "coming together" to celebrate that one thing we all have in common that carried this giant Sunday market into succession.
I want to thank those people that wowed me with their cosplay, art, makeup and energy; that told me I was wearing a cool shirt, that smiled through the 40-degree heat while ordering overpriced pizza, that bought all the awesome things without even considering the price. Thank you to the ones that asked for a selfie with me, randomly discussed Borderlands 3 class builds and how Thanos was right. Thank you to the South African community. Comic Con Africa 2019 would have just been a giant shop if it was not for you.
Until next year….