The Dakar Rally has been going on since 1978 and honestly, the whole rally-raid sport is somewhat of a niche. However, I can still remember watching some of it with my father years back and it was quite exciting. Unfortunately, developer Bigmoon Entertainment didn't manage to capture that excitement with Dakar 18. The developer tried to turn this niche motorsport into a video game, but it doesn't quite hit the mark.
Related: Call of Duty: Black Ops 4 Review
Let's get one thing straight right from the start. If you aren't a massive rally-raid fan, then you should steer well clear of the game. For those who are fans and watch the annual Dakar Rally, there might be something in the game to enjoy.
When I launched the game for the first time, I was thrown into a tutorial with some decent voice acting to show me the ropes. A complicated navigation system explanation followed when you race in the "Competitor" mode, but there's also a rookie option that provides you with a yellow marker at the top of your screen. This marker indicates where your next checkpoint is located.
Setting off in the tutorial, I crashed right before the end. Although I knew what to do, the game didn't allow me to go to the main menu until I finished the tutorial once again. Met with some great music in the main menu, I jumped headfirst into the main Rally which takes place in three countries with a total of 14 stages to complete.
You can choose from a variety of vehicle types, from bikes to 5×5's and more, but I chose the car option. In bikes, for example, you don't have a co-driver, which makes things more difficult. I picked the awesome Toyota Hilux and was pleasantly surprised to see I could pick South African driver Giniel de Villiers and his German co-driver, Dirk Von Zitzewitz.
I set off in Peru on this massive journey and that's where things started to go south, quickly. Following the markers and directions from my co-driver was a tough ask. The co-driver still keeps saying things like "go left 500" even when you are lost, until such time as he tells you to turn around. It almost feels as if the game doesn't register you aren't on the track anymore. Yes, you can get lost in Dakar 18 and that's part of the experience, but having a co-driver that you can't rely on is definitely not.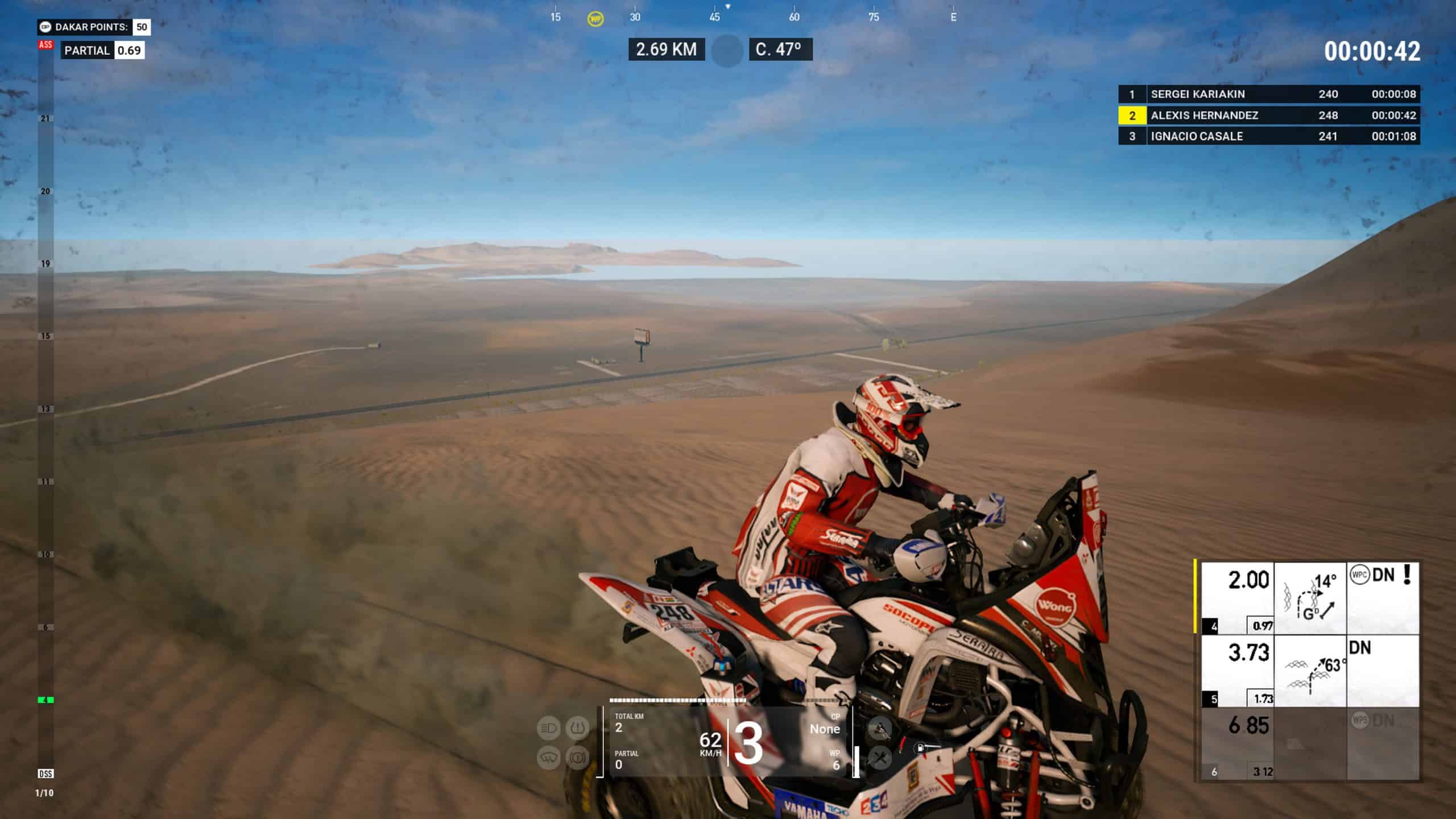 After a couple of hours, I just sat there and pressed R2 going over my 100th dune. Although the tutorial and the first stage of the Dakar rally is quite short, the third took me over 50 minutes, real minutes to complete. Listening to the co-driver and making my way over dune after dune, it honestly felt mind-numbing. Sometimes the waypoint icon disappears (even in Rookie mode) and you have to follow track lines in the sand, which can be rather straining on the eyes.
In Competitor mode, which is the standard and suggested game mode, that will be your life and you have to make sense of the navigation system all while trying to not break your vehicle. You can repair your vehicle with Dakar Points, which adds more minutes to your total time depending on what you are repairing.
It was simply so mind-numbingly boring that I had to pause and take breaks during a race just so I wouldn't fall asleep. It didn't help that the stages are quite barren. So much so that when I saw a big rock I got all excited. Character models also leave a lot to be desired and when you get close to a checkpoint with a crowd, the game takes over your vehicle and you are left to sit there and wait until your time pass gets stamped.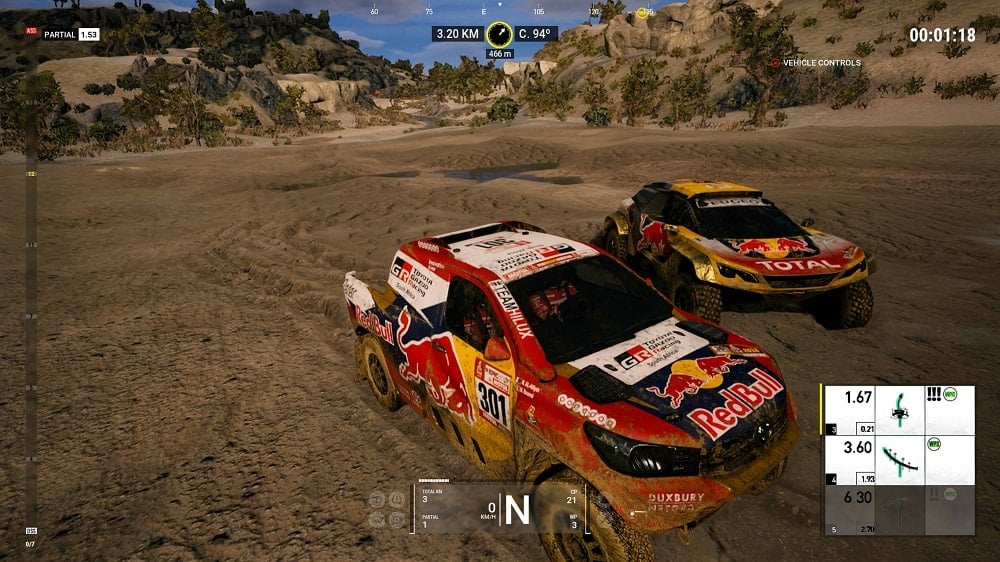 You might think: "Hey, but that's what Dakar is supposed to be" or "you just don't get the sport!". Well, maybe that is true, but there are a lot of technical issues that no one will appreciate. You need to keep your eye on the ground at all time for small objects like rocks or a lone cactus that can wreck you. Lost my bonnet due to a cactus half-way through a 270-kilometre race. Then, another race boasting 375 kilometres of dunes and sand. Bad driving? Nah, I drove into a tyre on the road with my Hilux and instantly received a "Withdrawn!" message and had to reload from the last checkpoint. Because that's what should happen to a Toyota Hilux when it hits some rubber.
There also a big camera issue that I simply couldn't get right. Throughout the game, I had to manually move my camera up and down just to keep my view in focus and it was constantly moving to the ground at one point. Further, my vehicle's engine sound just kept disappearing from time to time and I couldn't get it back until I restarted the game.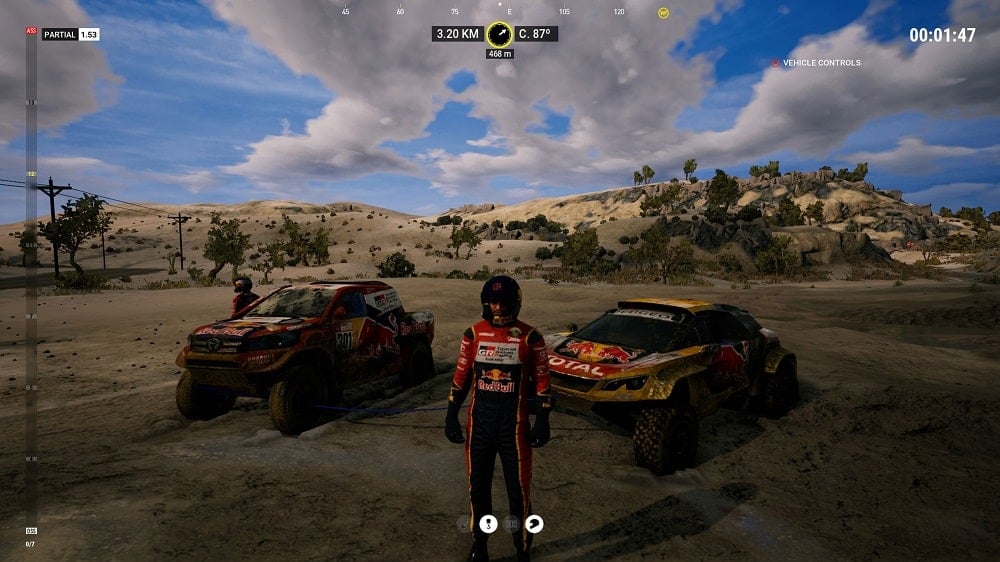 The one thing I did like about the gameplay is that you can get out of your vehicle and run or walk around. You can even help other competitors by pulling them out of sticky situations. Speaking of other competitors, the AI seems quite dumb, as it feels as if they completely ignore your presence during a race and you just have to make way for them or get run into.
So why don't you just jump into the multiplayer if the AI irritates you? Well, I tried, but unfortunately multiplayer didn't work for me. It kept giving me an error and I couldn't find a single match. This means that all you really have are the 14 single-player stages, some vehicles to choose from and a Treasure Hunt mode. The Treasure Hunt mode sees you playing on the same stage you have raced in and drive to a certain point on the map to go find a treasure, for example, a Peruvian flute. Keep in mind that you first need to complete a stage in the main Dakar Rally in order to go and explore it in Treasure Hunt mode.
Last but not least, I also experienced quite a few FPS drops on my PS4 Pro and some graphical errors, such as the ground flashing the colour of the sky. These weren't game-breaking, but with all the other issues in Dakar 18, I hoped it would at least be a smooth experience graphics and performance wise. Visually, sometimes the game can look impressive and there is nice vehicle damage to look at with some decent lighting thrown into the mix as well. However, that doesn't make up for all the technical issues and there are better-looking games out there.
The Verdict
Dakar 18 has a lot of technical issues that need to be addressed. The multiplayer aspect didn't work at all for me and with FPS drops, barren stages, as well as co-driver issues, sound issues and much more, the game, simply feels incomplete. For the average gamer, the experience will no doubt be mind-numbingly boring even if these issues are fixed.
Fans of the Dakar Rally should think twice about this video game as well since there are just so many technical issues and bugs that bring down the experience. I did like the idea of getting out of your vehicle and running around or helping other competitors, but apart from that aspect Dakar 18 leaves a lot to be desired.
This review is based off a review copy sent to us by Deep Silver
Available On: PS4, Xbox One and PC | Reviewed On: PS4 Pro | Release Date: 25 September 2018 | Price: R929