EA Games and developer Motive have revealed the collector's edition for the upcoming Dead Space remake. The package, which comes with an assortment of goodies including a full-size Isaac Clarke helmet, will set you back $274.99. This comes in light of a recent gameplay showcase which gave fans the first glimpse of the game in action.
The Dead Space remake is being handled by Motive, a studio under EA Games best known for developing Star Wars: Squadrons. It's an enhanced and improved version of the original 2008 title by Visceral Games, with levels being expanded and gameplay being tightened for a more modern survival horror experience.
Here's everything that you'll get in the collector's edition for Dead Space:
Physical copy of Dead Space
Dead Space Steelbook
Full-size, wearable Isaac Helmet
Dead Space CD Soundtrack
Lithograph Print
Foil Stamped Lithograph Folio
Four Mini Posters
Ishimura Patch
Metal 4″ Marker Statue
Marker Enamel Pin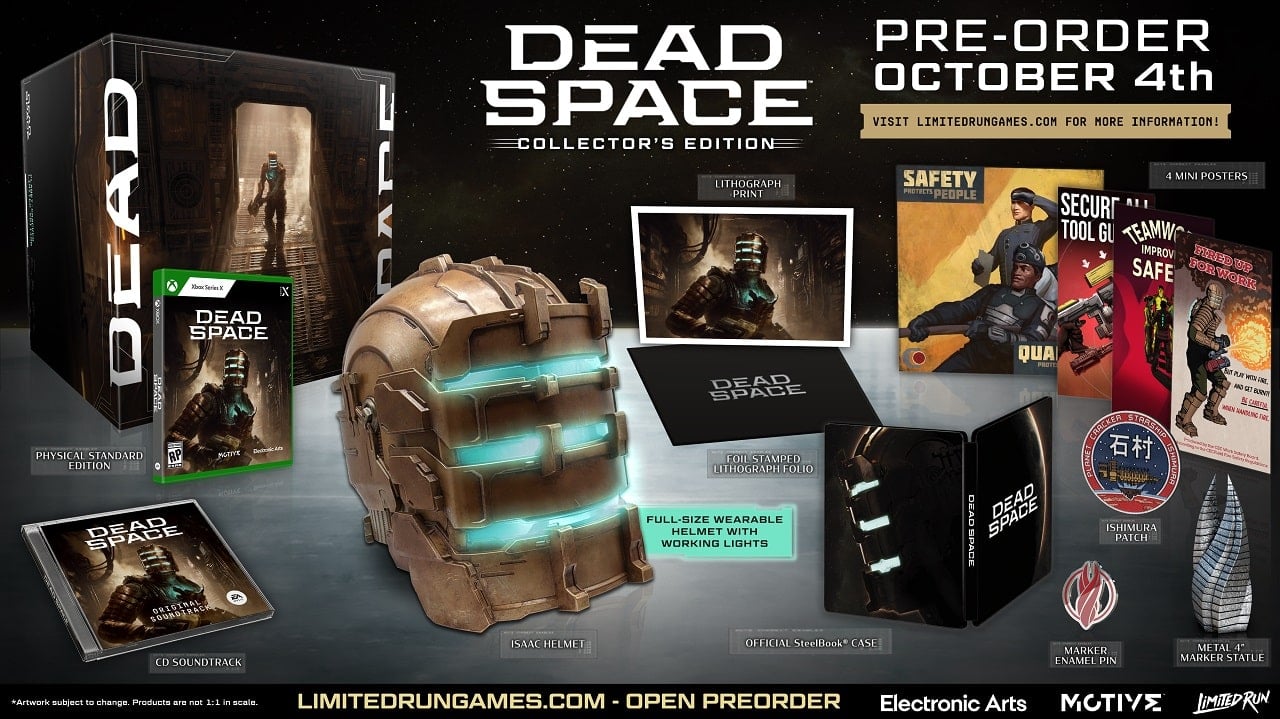 The pricey edition is currently available to order through Limited Run Games, who are distributing it for Electronic Arts. It's unclear if other outlets will be receiving the collector's edition, but you can grab it on either PS5, Xbox Series X/S or PC if you manage to secure one.
The Dead Space remake recently received an official gameplay trailer, described by Motive:
"Something has gone horribly wrong on board the mining ship, USG Ishimura. Get your first look at Dead Space gameplay. See how you'll explore the eerie, echoing corridors and workspaces within the USG Ishimura and survive the nightmarish horrors that await you. The sci-fi survival horror classic Dead Space returns, completely rebuilt from the ground up to offer a deeper and more immersive experience. This remake brings jaw-dropping visual fidelity and suspenseful atmospheric audio, as well as new gameplay content and improvements while staying faithful to the original game's thrilling vision."
Dead Space launches on 27 January 2023 for PS5, Xbox Series X/S and PC.
Source: Limited Run Games