Dreams has been a long time coming. The game was originally shown off by developer Media Molecule way back in 2013 during the reveal for the PS4. We are now at the end of the current generation and the game has been released after months in early access. For the most part, I have a love and hate relationship with Dreams. Some days I find hours of joy exploring the various creations at my disposal sorting through the showcases, mini-games and the select multiplayer stages created by the world. Other days I go on and leave in disappointment after playing through benchmark-like demos that lack structure, innovation and something to do. Unfortunately, most of Dreams is just that right now, a load of incomplete creations with a "WIP" label slapped on it while you sit and wait for someone to finish the RPG hack and slash they are working on.
https://www.youtube.com/watch?v=Btj6Ziu_QpU
Many people ask me; "what is Dreams" as Sony has not done the best job marketing this seven-year-old project. The lack of knowledge can also be contributed to the game's limited early access which was only launched in the US. I for one had no idea the game entered early access either and the whole rollout to launch has been rather confusing. With that being said, the early access phase of the game was important due to just what Dreams is; a game powered by creations made by people all over the world. Think of the game as a more mature version fo LittleBigPlanet and instead of creating levels, you can create anything you could ever imagine including games, stages, showcases and even full-playable shooters.
What this means is the game relies on user-generated content hence the early access phase allowing users to make stuff for the launch of the game. Following in the footsteps of LittleBigPlanet, Dreams is divided into two modes namely the "play" side of the game called Dream Surfing and the "create" mode called Dream Shaping. Most of the game's user-generated content falls under specific genres namely an "audiovisual showcase" which is a visual experience with no playable characters or roles; "games" are then playable experiences, often mini-games or demos.
To say you can find anything you could ever dream about in Dreams is an understatement as the game truly allows anyone to make anything they wake up thinking about and there are some fantastic games and visual showcases I witnessed within the review week of the game. One game called "Pilgrim" was sort of like a Super Mario 3D World clone and took me to all sorts of great locations as I wielded magic attacks and mastered the platforming. Another game was a fully-fledged turn-based RPG with a dedicated item and combat system. I explored a dark world, encountered enemies and had to use spells and items to beat them. It was like Final Fantasy in Dreams.
We then have the visual showcases that while they just contain a small area or piece of what is to come, they provide a glimpse at the future possibilities of Dreams. I played through an ARK-like survival game, built a hut and a fireplace and I could not wait to experience the rest of what the game had on offer. There is a lot to see and do in Dreams even if most of it is still in production. The sheer variety on offer means the game will be a completely different experience in a couple of months time.
Whatever I played, had a true "dreaming" feel to it as the game's engine is magical on its own. It is as if the creations are being viewed in your mind represented by some foggy and cloudy puffs of smoke. If one had to picture the dream you had last night, it would no doubt be blurry and represent a sort of whimsical view. Media Molecule has successfully created built an engine and game that manages to capture the beauty of a dream.
It also helps that Dreams is extremely accessible to everyone. The game offers three play styles including motion controls, using the analogue sticks and even the PlayStation Move Controllers. It fits every gamer's play style perfectly and while the motion controls are the best to get around, it works the same with the other options too. It all depends on the creation you are experiencing though. Most games task you to "possess" a creature or object. Once done, you are free to walk around, run and jump and interact with objects. It all depends on the creator's direction on how this is set.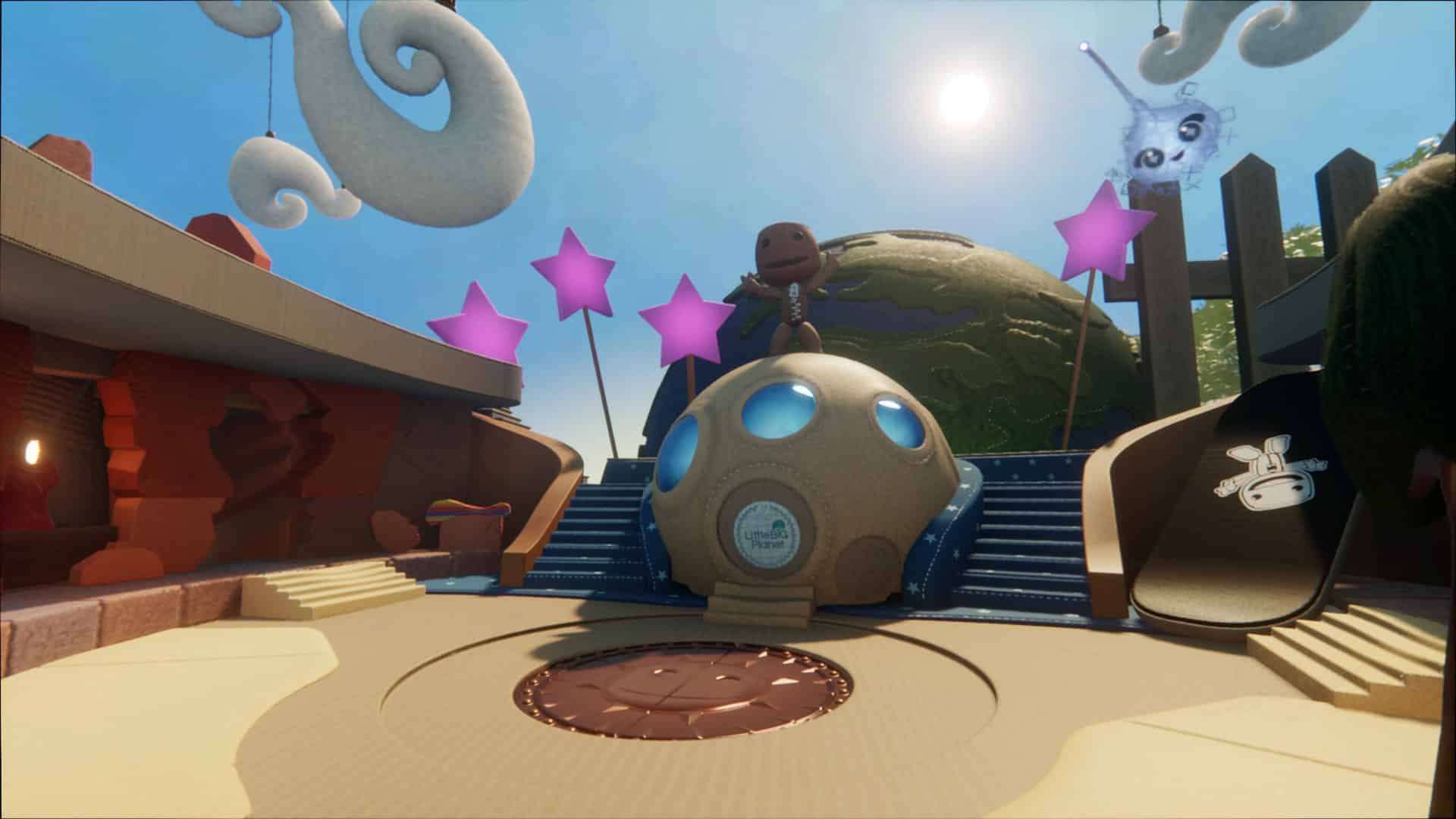 I never played one game that was hard to understand and control. It was as easy as entering the game and everything after that came naturally. Even the more challenging games offered control pages to see how to play the said game.
Apart from the user-created content, Media Molecule includes a couple of in-house creations that truly showcase just what is possible in Dreams. The main one called "Art's Dream" is a superb story of a musician trying to find his "dragon" and along the way remembers his childhood and all the creations he made up in his dreams. The experience lasts around two hours and it acts as a segway into the game's creation mode as you unlock building materials and items. The whole chapter is masterfully crafted and includes memorable characters, stages and set pieces (even a few cheesy musical numbers).
Art's Dream is a wonderful experience but that is about it when it comes to the in-house developments. Sure, the game has a few other Media Molecule creations like a time attack mode where you need to collect coins as a fox or get a 100-times multiplier while running around a gauntlet but that is about it. If there was anything I could criticize the game on, its the lack of a dedicated campaign for those who just want to sit and appreciate the magic of Media Molecule. I completed it all and just wanted more.
For those with a creative eye, Dreams is possibly the best game creator you could ever get your hands on. The creations tools are truly next-level and it often felt like a full game engine at your disposal. Putting your mind to it and you could spend hundreds of hours building, sculpting and crafting your dream creation even if it is just a statue of Sonic the Hedgehog. Sure at first the creation mode seems extremely overwhelming but the tutorials offer fun ways to dive into each category one by one.
The tutorials also give you a lot of freedom to approach things your own way be it building an environment or even a character. I often found myself getting carried away with a simple design because I just wanted to see how it would turn out. Mastering these tools can be a little tricky but a few days in, I was scooting around my screen stamping objects, combining things and painting beautiful vistas. Unlike LBP, Dreams has a dedicated mode where you can create any object you can dream of and that is the magic here. This means your levels and showcases are not limited to the objects the game has on offer and if you want something just make it.
Making a working game is a little more challenging but it is also the most exciting part of the game. Like the crafting, the level builder offers a range of tutorials to take you step by step into the process. It is all about logic and anyone with any sort of programming knowledge will understand how it works. Do this and this happens. Get here and it triggers this. All these methods are easily represented in the game and if you are looking for a method, you just need to find it.
You can also make sure of Media Molecule and other user creations as assets for your game if you are struggling. However, I kind of looked at the builder like a study, you don't know much about it until you learn and Dreams' game creator requires dedication and the willingness to learn it.
Verdict
Simply put, there is nothing like Dreams. It combines magic and creativity in a world that you never want to escape from. Sure, some nights I sat on my couch trying to find something to do in it but other nights I could not put it down. I wish that there was more dedicated Media Molecule content to experience as Art's Dream is over way too soon. However, give this game time and we will soon be experiencing the same quality content made by people all over the world. The possibilities are endless and even if you never touch the best tools, you will find countless hours of entertainment in the game's Dream Surfing mode
This Dreams Review was based on a code sent to us by PlayStation
Available On: PS4 | Reviewed On: PS4 Pro | Release Date: 14 February | Price: R699