Dying Light 2 is less than 2 months away from release and if you're planning on playing the latest zombie horror game on PC then you probably want to know if your PC can run the game. Techland has released the official Dying Light 2 PC system requirements and they are quite demanding. If you're looking at the full raytracing pipeline you're going to need an RTX 3080 in order to run the game in full HD.
If you don't have a monster PC you should be okay too though. Techland says that even an NVIDIA RTX 2060 can pull off full HD at 60FPS on high graphics. However, any raytracing in Dying Light 2 will require a bit more juice. Say an RTX 2070 upwards.
If you're looking for a 4K experience, you're going to have to disable raytracing on Dying Light 2. Unless of course, you have an RTX 3090. Take a look at the full Dying Light 2 PC system requirements below.
Dying Light 2 PC System Requirements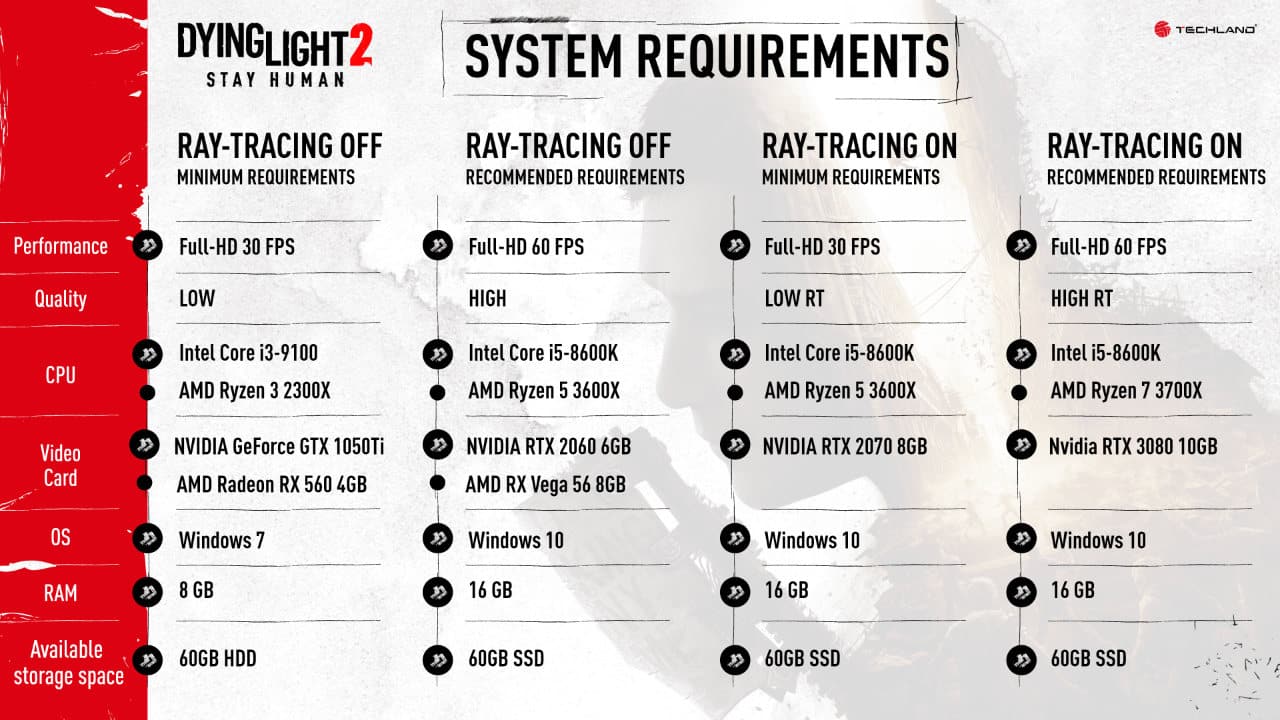 Minimum System Requirements (1080p 30FPS)
CPU: Intel® Core™ i3-9100 (4 cores /4 threads) @ 3.6 GHz / AMD Ryzen™ 3 2300X (4 cores / 4 threads) @ 3.5 GHz
RAM: 8GB
GPU: NVIDIA GeForce® GTX 1050 Ti / AMD Radeon™ RX 560 (4GB VRAM)
OS: Windows 7
Recommended System Requirements (1080p 60FPS)
CPU: Intel® or AMD CPU running at 3.6 GHz or higher

e.g., Intel® Core™ i5-8600K or AMD Ryzen™ 5 3600X, or newer

RAM: 16GB
GPU: Dedicated NVIDIA or AMD graphics card with at least 6GB of dedicated VRAM and support for DirectX 11.0 and Shader Model 5.1

e.g., NVIDIA GeForce® RTX 2060 6GB or AMD Radeon™ RX Vega 56 8GB, or newer

OS: Windows 10
Minimum System Requirements for Raytracing (1080p 30FPS)
CPU: Intel® Core™ i5-8600K @3.6 GHz or AMD Ryzen™ 5 3600X @3.6 GHz, or newer
RAM: 16GB
GPU: NVIDIA GeForce® RTX 2070 6GB or AMD Radeon™ RX Vega 56 8GB, or newer
OS: Windows 10
Recommended System Requirements for Raytracing (1080p 60FPS)
CPU: Intel® Core™ i5-8600K @ 3.6 GHz / AMD Ryzen™ 5 3600X @ 3.6 GHz
RAM: 16GB
GPU: NVIDIA GeForce® RTX 3080 6GB or AMD Radeon™ RX Vega 56 8GB, or newer
OS: Windows 10
Source: Twitter