Firstly, I need to say that it bodes well for the franchise that the slogan for the game is, playing is believing because this is definitely true for PES 2020. It's very hard to do a PES 2020 review without the endless comparison to 'that other football game'. I will start by saying that if you tend to lean more towards one as a general rule, as I tend to do, it's always good to challenge yourself by playing the opposing franchise. It gives you a fresh perspective on the gameplay mechanics and their implementation so we don't become too ensconced in our bubble of fandom.
[su_youtube url="https://www.youtube.com/watch?v=_89i5H1zAeU" width="900″]
The most obvious and impressive thing about PES 2020 is how similar the gameplay mechanics are to real football. PES asks, no – demands, more of the player than they might be used to. This can be too much of a challenge for some who might prefer the game to do everything for them, but who really wants to play a game on easy? You can absolutely adjust the mechanics and AI to be slightly less challenging should you wish for something more arcadey, but if you're after a more realistic football experience, I'd advise against this, because PES 2020 offers this in spades. 
There are several things in particular that really speak to this realism. The first is the more realistic dribbling movement and the use of the analogue sticks to achieve this. You use the analogues to direct special moves. If an opposing player is coming towards you, for example, you need to use one or both analogues to dribble around the defender. Many of these are also specific to the skill level of a player like Ronaldo, Neymar and so on. 
Goalmouth action is also much more exciting. If you're taking a shot at goal and the ball bounces off the goalposts and stays in-game, the scramble for the ball is more realistic. You need to adjust your gameplay accordingly, making defending more intense. 
If you make a defending error, it's more likely to lead to a goal against you, particularly if you're playing against strong opposition. Likewise, a strong opposing team requires refined defence tactics, which means you have to switch modes (by using the assigned arrow keys) within the match to become more defensive as opposed to more offensive.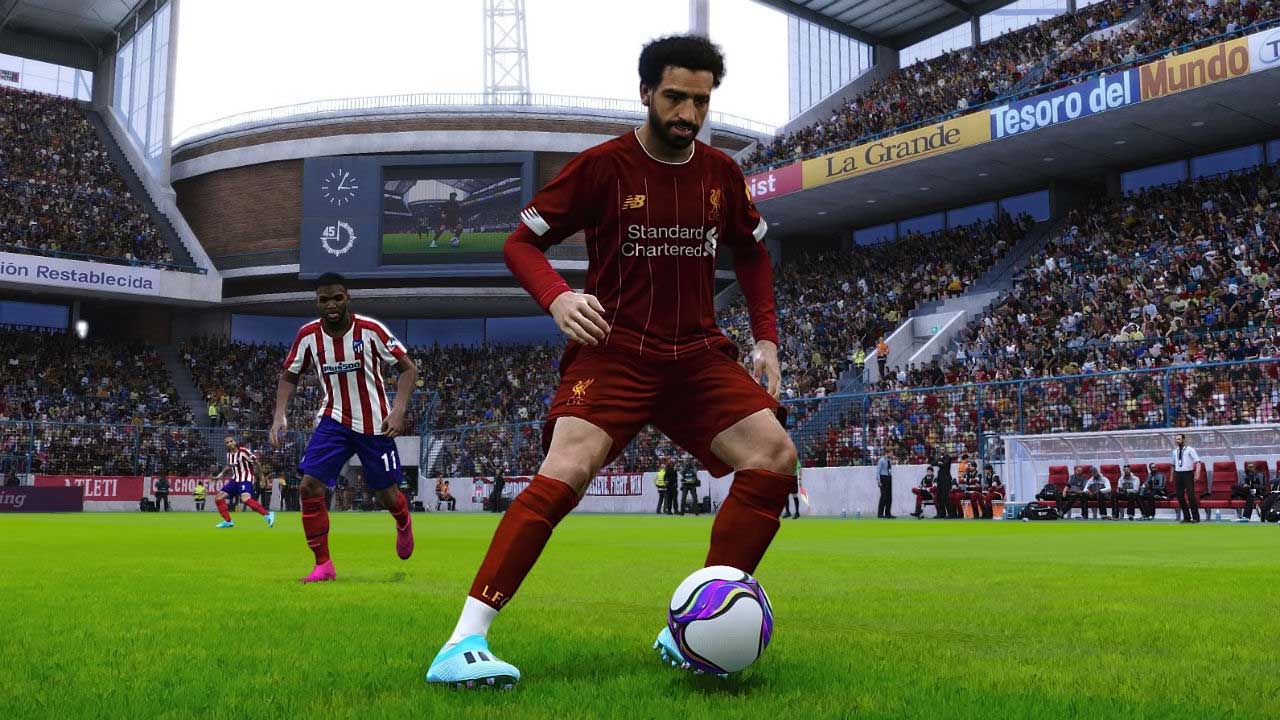 If you use regularly use players out of their usual position, for example using a defender as a wing, they begin to adapt to that position and will subsequently prefer to play that position in games, meaning you have fewer players available in your defending positions. You can retrain them of course, but it's something to bear in mind when assigning them.
There are also some awesome new camera angles, that while I can definitely appreciate, in all honesty, I'll never use because I'm boring and stick to what I like there. 
There are some staples as always in these kinds of yearly iterations. The myClub points system is still in place and hasn't really changed much at all, which is a little disappointing, but the customisation of teams and players is available as always. The small year on year improvements that are made to these systems are always on point so nothing remarkable there, just more of the same.
The usual game modes are still there as well –  Single Player Campaign, Quick Match etc. – however included for the first time is the online Matchday Mode, which gives you some hefty myClub rewards to redeem.  Konami chooses an important real-life match and players then decide who they want to represent. My one gripe with a Matchday game is the time restriction. If you don't play it within the three-hour time period you miss the window and have to wait till the next one, which can be frustrating. I feel like it would be worthwhile to at least give people twelve hours to take advantage of this. It's not a deal-breaker however, just an irritation. 
With regards to the existing online multiplayer, most of the time the connection is pretty decent if you have a good fibre line, but there is the odd occasion where lag strikes, and somehow the threat of server issues feels omnipresent. On the plus side, the game does warn you if your connection is weak. If you're patient you can fiddle with the matchmaking settings, but it really depends on how committed you are. Other than that, it's pretty much business as usual.
While PES 2020 is definitely a fun game, it's not all sunshine and roses of course. On the downside, the commentary is repetitive and boring, with the same remarks over and over again, and this lack of diversity means the commentary adds nothing to the matches. 
With regards to the AI, specifically, when it comes to a loose ball, this has a tendency to pass by a player, who could easily intercept it. Instead, the AI often watches the ball go past them which adds an element of frustration to the game. 
Over the years I've switched many times between football franchises, and there are often small differences that cause gamers to favour one franchise over another. PES 2020 is definitely a winning formula this time around. There are some small gripes, but on the whole, it's an excellent and above all, fun game that excels in offering players a satisfying and engaging experience. 
Verdict

This eFootball PES 2020 review was based on a code sent to us by Konami
Available On: PS4, Xbox One, PC | Reviewed On: PS4 | Release Date: 10 September 2019 | Price: R770