Elden Ring is finally out and From Software have littered the game with several cool Easter eggs. Among the many that you can find while out in The Lands Between, Guts Greatsword from the Berserk series is certainly one amazing Easter egg for fans. If you're keen to get your hands on it fairly early, here's where you can find it.
As many fans know, Elden Ring director Hidetaka Miyazaki has been heavily influenced by the late Kentaro Miura's popular dark fantasy manga Berserk. This time, From Software have placed an actual weapon from the manga to honour Miura's legacy. The author sadly passed away in 2021, and this homage shouldn't be missed.
Where to Find the Berserk Guts Greatsword in Elden Ring
The Berserk Greatsword can be found fairly early on in the game. As soon as the open-world becomes available to you, you need to head to the region northeast of Limgrave called Caelid. If you get your trusty steed Torrent before the trek, it will make things a bit easier when traveling.
Near the western border of Limgrave and Caelid is a big black wagon surrounded by tough enemies. The Berserk Greatsword is on the back of the wagon in a large chest. If you get lost, here's a map (courtesy of Dexerto) that shows its exact location below: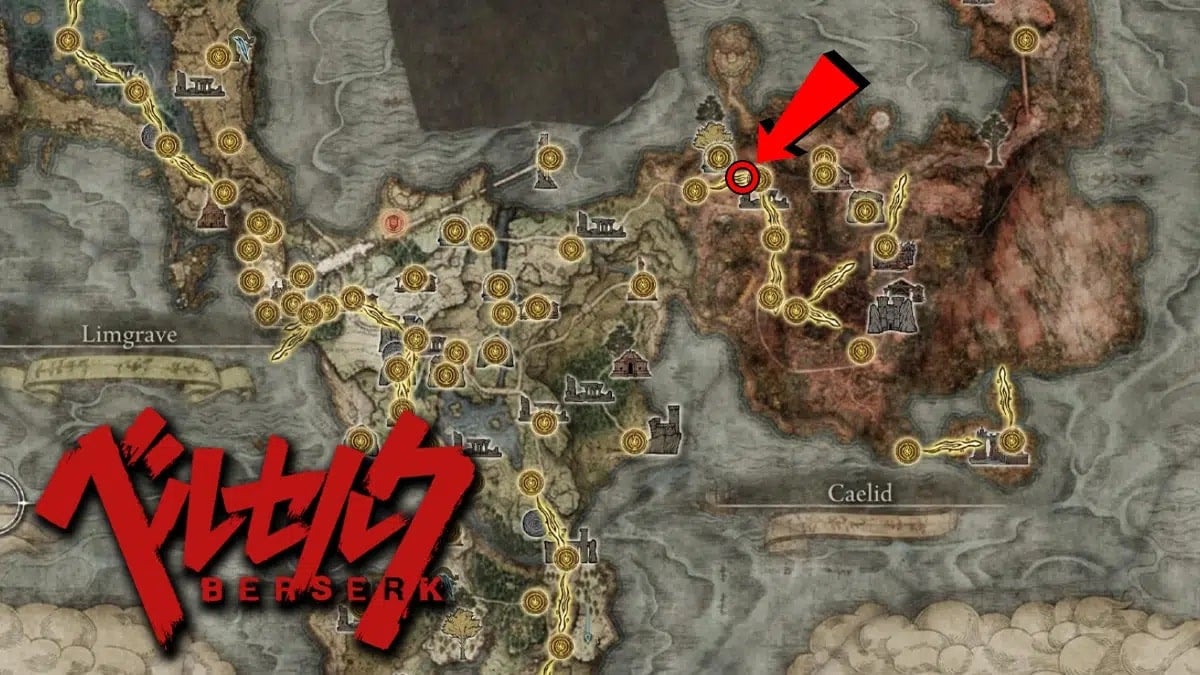 If you're still in the early stages of the game, it wouldn't be wise to engage with the enemies as they're fairly tough. However, you can simply approach the wagon via stealth by sneaking around the enemies or rush in to grab the sword then get out as soon as possible.
The Greatsword's design is directly inspired by Guts' first iteration of the weapon, right down to its iconic size. Unfortunately, you wouldn't be able to use this Greatsword right off the bat as it requires a hefty 31 points in Strength to wield properly.
That said, if you're going for a pure strength build, then this Greatsword is definitely one to look out for. Its bulky size has a decently long reach and it's capable of dishing out some great damage. Just be sure to throw points into Strength if you want to use it properly.
Elden Ring is now available for PS4, PS5, Xbox One, Xbox Series X/S and PC.
Source: Dexerto