Everybody's Golf is my favourite past time when it comes to sports games on consoles. I have been a fan of the series for years now beginning way back on the PSP version and following the growth and changes right up to the PS4 release. Everybody's Golf VR is not your average entry in the series as it makes use of Sony's VR system to bring the golf game right on your eyeballs – literally.
Some of the images in this review are taken from in-game and don't represent actual visual quality
Everybody's Golf VR is a PlayStation VR exclusive release that challenges you to a game of golf using the series' famous look and feels and of course charming characteristics. It might be a bite-sized version of its console counterpart, but it does a fantastic job at bringing the game to life in VR. Throughout my time with the game, I could not help but wonder why it has taken so long to get this game released as it just suits the headset and gameplay you would expect from VR extremely well.
Everybody's Golf is a bit watered-down when it comes to features and modes. With that being said, it does a great job at focusing on its strongest asset, the golfing. You start out with one course available to play and as you go through the 9-OUT and 9-IN holes, more courses will become available. You also start off with one caddy and more become available later in the game. There is no versus mode, no co-op and no multiplayer. It is just you on the course alone.
Before you head out to play a game of golf, you will get to change a selection of various settings including a mirror mode that flips the course around, choose between a handful of different clubs, a tee variation and whether or not you want to turn on the "tornado" on the hole. This tornado is a great handicap given the difficulty that comes with the game's VR approach. When your ball gets near, the hole will automatically suck it in saving you the struggle of putting it from a far distance.
The tornado is a great addition if you just want to have a good time and not worry about being too accurate with your putting shots. You can also turn it off if you wish, but I highly recommend leaving it on if you are not a pro at putting and don't want to end up raging at the challenge. I don't know what I would have at times without it enabled, in all honesty as sometimes my epic put-in-Eagle shots from over the hill were thanks to the fact that it sucked in the ball for me.
The general gameplay of Everybody's Golf VR is as charming as past games, if not a little lacking at times. Your caddy is the only person on the court with you and she does her best to try to break the silence when necessary. Even though at times she can be rather annoying when she screams "nice shot" only for it to go flying into the pond ahead.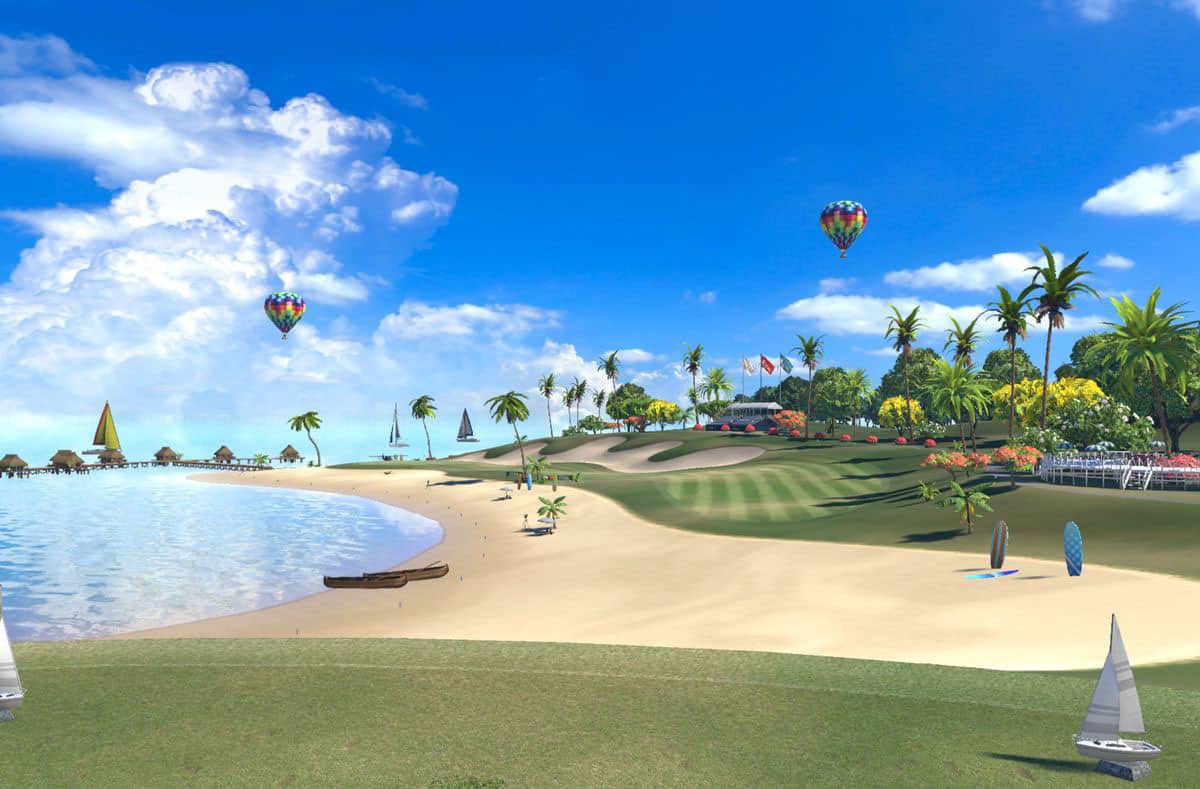 I often glared at her with my golf club in hand threatening to wallop her if she said another word (only when I was having a bad game). Timed events take place throughout the game too where you and your caddy would be chilling together in the middle of a log towering across two cliffs. She knew a "short cut" but got us lost and fearing for our lives. These cute, yet predictable cinematics are great to witness in VR even if they do nothing to add to the nonexistent narrative of the game.
The courses which you play on are fairly decent and detailed. Sure, they lack the crisp visuals from the PS4 game but compromises were no doubt taken to deliver the game in VR. Instead of individual blades of grass across the green fields, you now get textures and only a few grass bunches appearing where you hit the ball from. It can be an eyesore at times.
Later courses like the dinosaur course feature towering dinosaurs around the holes as you try to concentrate on your shots. There was nothing more nerve-wracking in the game than a T-Rex screaming at me while trying to putt my ball in.
Everybody's Golf VR can be played in two ways, you can use the PlayStation Motion Controller or the DualShock 4. Let's start with the best way to experience the game, with the Motion Controller. It is quite accurate and as someone who has played a game or two of real golf, pretty fun. The game detects the velocity of your swing and even the angle which you have the remote when it makes the impact with the ball, all resulting in a pretty satisfying game of golf.
I learnt in golf to stand with legs apart, ass out a bit and knees slightly bent. As you hit you need to twist your body to a certain angle and arch your foot. All of this, I did while playing Everybody's Gold VR and it was the closest I would ever get to golf without the sunburn and my real-life tactics paid off in the game too. I knew right away when I hit a ball wrong and if I missed without even having to look at the direction or down at my feet. It just felt so natural.
You can change directions, pick up grass and drop it to see what direction the wind is blowing and how fast, and even get a bird's eye view of the course from the sky before taking your shot. Before I knew it, it was natural to me and I starting playing the tougher holes with further starting tees and no tornado hole. The motion controller is by far the best way to play the game and the most fun too. It just makes you feel like Tiger Woods, minus the affair and angry ex-wife.
If you don't own a PlayStation Motion Controller then don't despair, you can use a DualShock 4 and it does a pretty great job as a replacement. Instead of using the analogue sticks to move around and the traditional "Everybody's Golf" button scheme, you hold the controller in both hands and rotate it around to simulate a golf club hitting the ball. Sort of like a steering wheel motion and flick it on a clockwork axis. It works and while it is not perfect at first, you could easily master the way it acts.
Everybody's Golf VR is a satisfying game of golf that comes to life in a new and refreshing way. The combination of VR and the Motion Controllers are a match made in heaven and it works, surprisingly. The DualShock is not the most ideal way to play the game but it also delivers a unique approach instead of just using the standard controller scheme.
While it lacks a lot of customization features, and the gameplay is linear, it is like nothing else you can experience in VR and that should be enough to give it a go. It is the best golf game around, now available in virtual reality.

Reviewed On: PS4 Pro (PS VR) | Available: 21 May 2019 | Price: R469