On Friday last week, I got to sit down with Ubisoft's upcoming open-world shooter. No, not The Division 2 but Far Cry New Dawn. This upcoming game was announced in December and came out of nowhere. It is releasing just 11 months after Far Cry 5 but is set 17 years after the events of the game.
Related: Far Cry New Dawn Goes Gold
For those who don't know what happened, be ready for some spoilers. There is no possible way to explain what Far Cry New Dawn is without explaining the ending of Far Cry 5. Joseph Seed was correct. The end of the world, or sort of, happened at the end of Far Cry 5. Nuclear bombs fell from the sky and vanquished most of life on the planet.
17 years later and you take the role of an unnamed hero in Hope County as you face off against the harsh lands, new enemies, factions and of course the environment that has been drastically altered due to the nuclear fallout. Is it all gone? No. Instead, the age of the Superbloom is here and most of the land is lush with bright plants and flowers that give the end of the world some colour for a change.
The preview build I played took place during Act 1 of the game. After a freak train smash, I survived and met the great people of Prosperity. This acts as a home base for the game's progression. Think Far Cry Primal's main village where you always go back to when you want to upgrade your essentials. It is here where most of your resources will go especially Ethanol which is the rarest and most sought-after substance in the game. Everything you can upgrade needs it and most of the demo's progression led me to farm for it.
I hijacked a petrol truck that instead of gas had Ethanol in it. I then completed some outposts which also rewarded me with the resource. I managed to upgrade my garage during the demo which then unlocked new vehicle creation options to build but everything in Prosperity can be upgraded to an extent. I love a management mechanic in a video game so I cannot wait to work towards fully upgrading the home base to its full potential and see how it visually changes over time.
Far Cry 5 had a lot of variety when it came to things to do and Far Cry New Dawn is no different. Some of the best activities I completed during the demo included a treasure hunt that has taken the concept of Far Cry 5's hunts to a new level. Each of them offered deeper stories to follow, more exploration and a lot more rewards. One of them saw me hunt down and kill a bear which had a key to a bunker that some Cheeseburger-obsessed man gave him. Cheeseburger is an iconic Fang For Hire from Far Cry 5 so the Easter Egg was heartwarming to discover.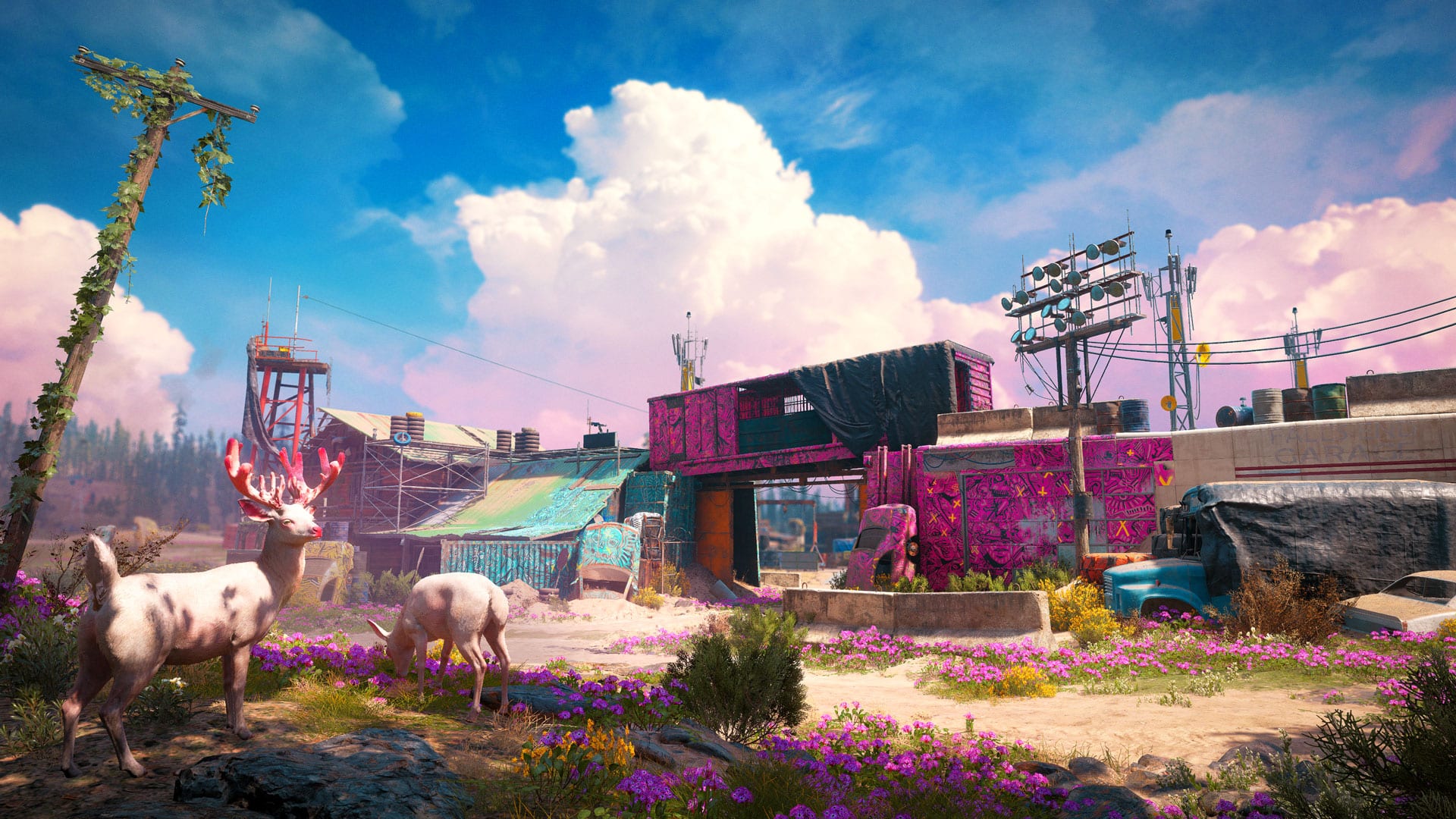 We then have the survivor missions which are also pretty detailed. I had to find and save someone's stash of "Medical Herbs" but I fell into a large hole doing so. This hole was an old reservoir filled with rabid dogs, snakes and a giant crocodile. I had to open the water valves to raise the water level which then created a race against the rising level as I had to escape the tunnels before the water got too high. The intensity and radio chatter between the survivor delivered a pretty impressive mission in my books.
But the variety of gameplay does not end there. Of course, you have the outposts which you need to take over. This is sort of the same as Far Cry 5. Find it, you scout ahead and take down as many enemies silently as possible. Once you have cleared the outpost then you are safe to enter, loot it and call it your own. You can, however, now "squeeze" it which rewards you with a lot more resources but also leaves it open for the enemies to come back and take it over again.
Then the open world also has a fair share of things to do while you are on your way to a mission. Saving hostages from death and the best new feature is a supply drop that falls from planes overhead. These boxes contain vital resources and of course, ethanol. However, everyone wants these boxes so you have to run as fast as you can to its drop point, kill whatever is there and claim it for yourself.
One cool feature for Far Cry 5 players is the ability to discover old locations and match them to photographs you find in the game. These locations will be familiar to those who have played the previous game and the side-mission will bring back some fond memories of the past game's setting.
Of course, it would not be a Far Cry game without the weaponry and Far Cry New Dawn is delivering one awesome and unique experience compared to all past games. Every weapon you find and can buy bares an "end of the world" vibe to it and it works very well. The sawblade launcher shoots out a blade at enemies which then chops them in half and can even ricochet to another enemy killing two at once.
Even the most standard assault rifle has a clunky and homemade feeling to it. I noticed this when I reloaded as sometimes the ammo would jam inside it. This is similar to the Fallout series where your damaged weapons would underperform. Looking through the roster of weapons you can find, I was happy to see that the variety should keep you busy for a long time as you try and collect and make them all. One I am aiming for it the unicorn flamethrower that just looks like it will burn down whole villages while being pink and adorable.
The biggest change to combat comes in the form of a new rank system. Enemies, weapons and even vehicles have ranks from one to four. The higher the rank, the harder it is to kill them especially if you are under ranked. I stumbled across a mutated bison and that was an elite rank. I shot it and I did no damage. I ran all I could away from it but is squashed me in one hit.
This ranking system will add a great level of depth to the combat as you try and take on harder enemies with weaker weapons and instead of just shooting everyone in the head with a sniper or bow from a distance, this will force you to improve and take different approaches to every scenario. If anything, this is the most refreshing mechanic in the entire game.
Then we have the world itself. Far Cry New Dawn looks fantastic and so different from everything in the past. The enemies are kickass and punk-like and the land is barren and some parts and lush and gorgeous at others with bright blue flowing rivers and bright green and purple plants everywhere. It is yet another exceptional Ubisoft open-world title so expect it to deliver on the studio's reputation.
While I did not get to experience much of the game's story, I did try and get as much done in the world as possible. I love an open-world game where you just get lost in side-missions and exploration and Far Cry New Dawn will no doubt deliver on that. The game launches on 15 February 2019 for PS4, Xbox One and PC and I cannot wait to get into the world and find more.
This preview is based on a PS4 Pro pre-release build we tested out at a media preview event.