Square Enix recently presented a deep dive into its upcoming action RPG, Final Fantasy XVI, at the PlayStation State of Play show last night. Alongside the extensive new gameplay, the company also revealed what players can expect in the Deluxe, Digital Deluxe and Collector's Edition as well as pre-order bonuses before the game launches this June.
In total, players will have four options to choose from when it comes to the various Final Fantasy XVI editions: the Standard edition, the Deluxe edition, the Digital Deluxe edition and the awesome Collector's edition. Pre-order bonuses are also available for those who pre-purchase the game ahead of the launch which includes a couple of items to use in-game. Here's each edition and what you get in them (local prices will be updated once we receive confirmation).
Standard Edition
The Standard edition will come with the base game as well as the pre-order bonuses for $70. Those who pre-order the game at BestBuy will receive a special steelbook case as well. It's unclear if steelbooks will be available in South Africa. Pre-order bonuses include:
Gil Boost Accessory: Cait Sith Charm
Bonus Weapon: Braveheart
Deluxe Edition
The Final Fantasy XVI Deluxe edition will cost $30 more than the Standard edition and comes with:
Cloth world map of Valisthea
Special Clive Rosfield steelbook case
You can pre-order the Deluxe edition right now.
Digital Deluxe Edition
Meanwhile, the Digital Deluxe edition will cost $90 and won't come with any physical items but includes:
Digital mini art book
Digital mini soundtrack
Collector's Edition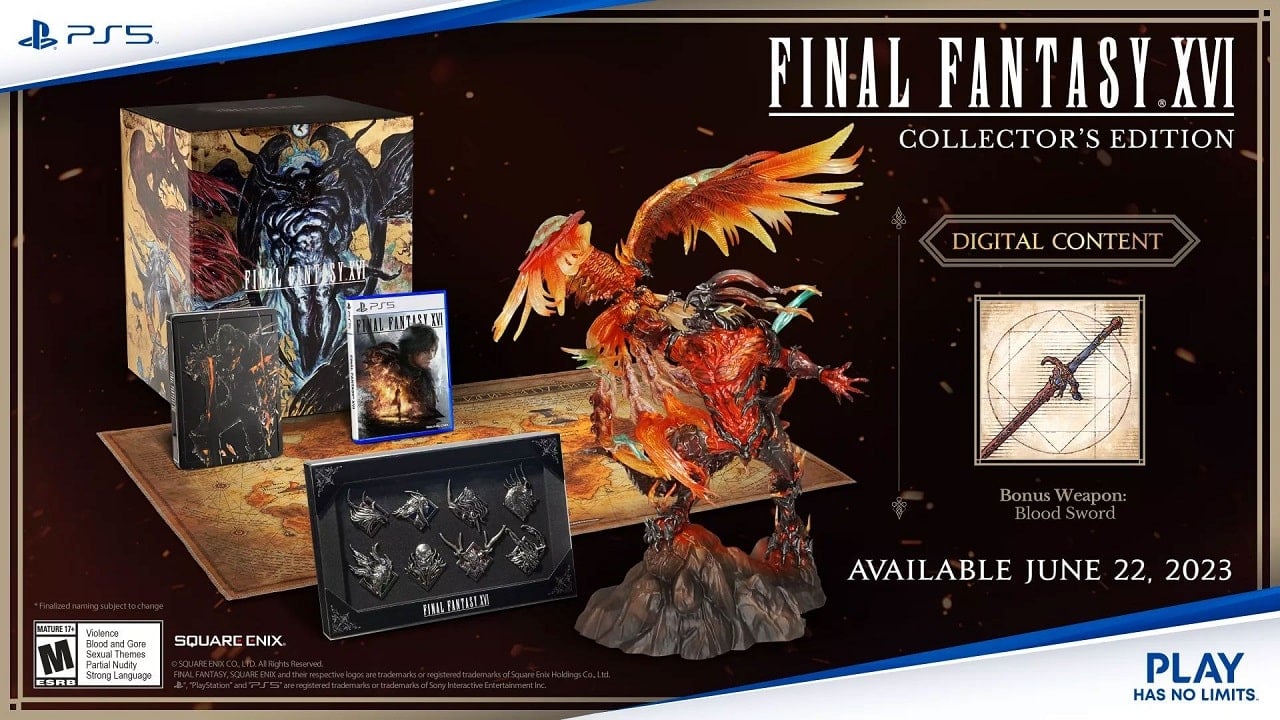 The Collector's Edition for Final Fantasy XVI (coming in at a whopping $350) contains an incredible statue showing the Eikon Ifrit in battle. Unfortunately, the Collector's Edition is exclusive to the Square Enix Store. You'll receive the following in this edition:
Ifrit statue
Set of 8 pins
Cloth world map of Valisthea
Special Clive Rosfield steelbook case
Blood Sword (digital item)
Final Fantasy XVI launches on 22 June 2023 exclusively for PS5.
Source: Square Enix