Valve's digital collectable card game, Artifact, is the most complex game I have ever played. Artifact released yesterday and the internet was filled with complaints about the game's monetization system and a whole lot more. Others were just frustrated as they couldn't win a single match, which will put anyone off a game. For those struggling to understand the game, and for those who plan to start playing it soon, we have five essential Artifact tips for beginners.
Related: Artifact South African Pricing, Card Packs & The Market
Keep in mind that these five Artifact tips for beginners are just that, for beginners. If you've played the beta to death of you have done a lot of research on the game, most of these tips won't help you too much. This is aimed at those starting out for the first time and we would also love to hear from our readers what other Artifact beginner tips they would give to new players.
Mass Losses Incoming
Artifact is one of the most complex games out there and I simply can't say that enough. New players will find the game daunting and rightly so, as there are just so many mechanics at play. The first of the Artifact tips for beginners is, therefore, more of a statement with some advice thrown in: You will lose a lot but make those losses count for something.
No matter if you choose casual play or go straight into events, Artifact is a game that you won't just start winning in. It could take hundreds of hours to master and even then, you might not know everything. Take the plethora of losses you are sure to suffer and roll with it. The best thing you can do with these losses is to learn from them. When your opponent plays a card you haven't seen before or used a certain tactic, read up about it in the card descriptions and note the effects it has on your board. Then, think about ways you could have countered it.
In Artifact, there is always something you could have done differently and I have found that thinking back on my losses really helped me in the next match.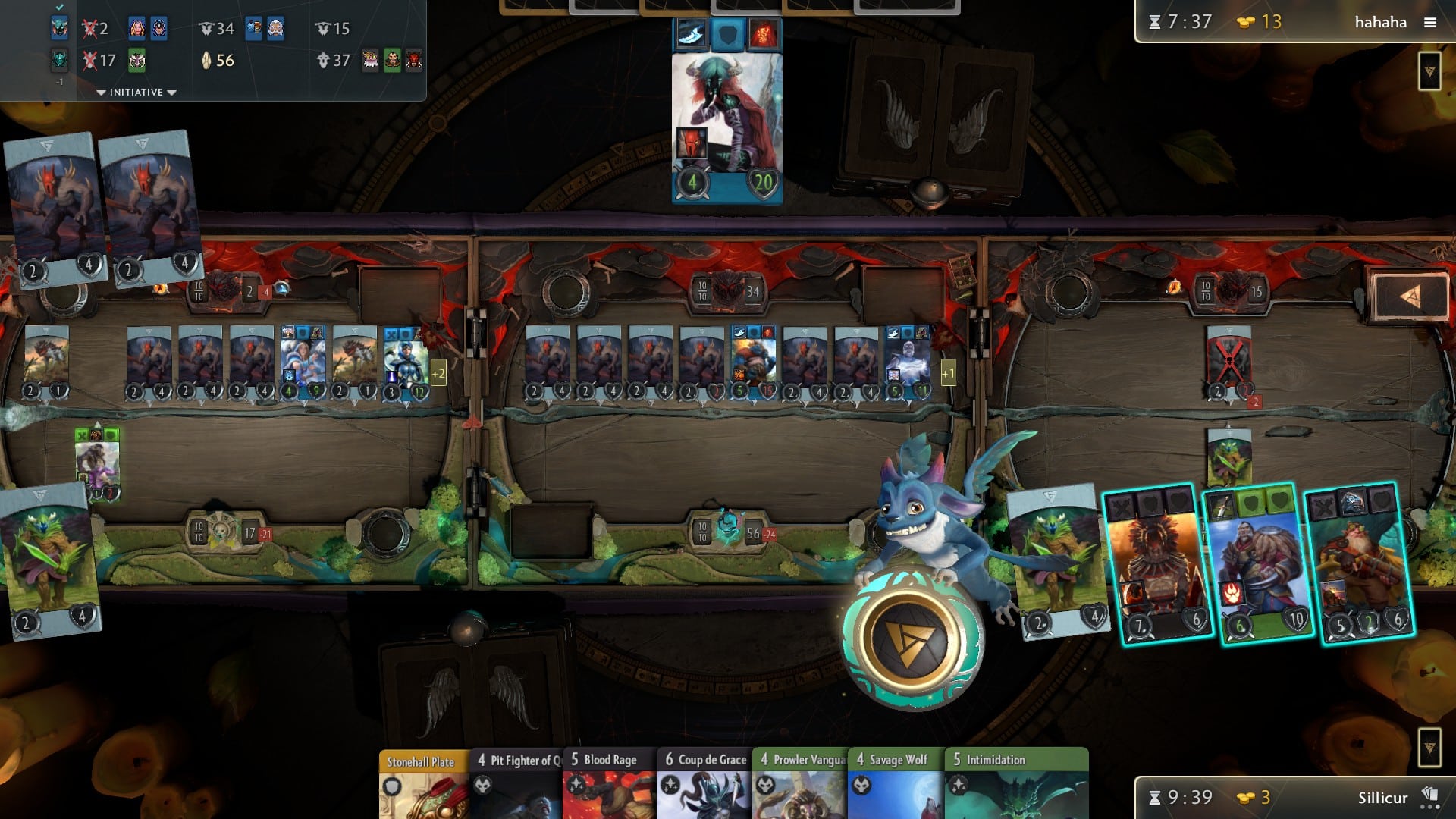 Three-lane highway
Unlike games like Hearthstone which has one board to play on, Artifact boasts boards that you need to pay attention to in each match. This is the biggest difference between Artifact and other digital collectable card games out there, it is also the most daunting aspect of the game for a beginner.
After playing roughly 15 hours worth of matches in Expert Constructed, I can tell you one thing. There's a difference between knowing the game has three boards and really, truly understanding the concept. It is something that you should always have in your mind as you play a match and rethink your tactics. Sure, one of the boards might look great for you, which gives you a false sense of security. Never, ever, think that you are winning due to one or two boards. I can't tell you how many times I've lost a match thinking that I was ahead, just to realize that my opponent has been building up a tactic in one specific lane from the first turn. It is those realizations, coupled with numerous losses, that make me believe that truly understanding the playing field has to be the most important thing that new Artifact players have to do.
Saving Private Wallet
There has been a lot of cries of pay-to-win in Artifact as there is no way to get more card packs by grinding it out. You have to spend event tickets (you get five with your initial purchase) and do well in an Expert game mode to get a reward. One of the best Artifact tips for beginners is to put your wallet away, because no matter what cards you have, you won't instantly start winning. However, there is another big reason not to spend money on the game right now.
Yesterday, in our South African Artifact pricing article, I mentioned that one of the most sought-after cards, Axe, was at R250 on the Steam market. Last night, the card's price dropped to R160 and then this morning, it was over R300. The market is still a bit unstable right now and it is the worst time to spend money on a card you think you need.
With the starter decks and 10 card packs you get from purchasing the game, you will have enough to learn and get better. You can win with either of the starter decks, so do not spend any money on more cards now. I predict that before the end of this year, rare cards that cost R100 or more will cost you less than R50. Further, buying card packs with the hope of getting that one card you need isn't a good idea either. Rather, wait for the prices to drop on the marketplace and spend that money on a card you really want in a month or so.
Colour-Coded
One of the most straight-forward mechanics in Artifact is also one that has caused the most losses for me right now. A basic explanation is that you have heroes, creep cards, spells and items. There are also four colours in the game that creeps, heroes and spells are coded with. You have blue, red, green and black. The biggest thing here is that you can only play a card of a certain colour if a hero of that same colour is present in a lane.
What happens is that sometimes, you have a bunch of green cards, but you only have a red hero in a lane, which means you can play basically nothing and have to end a turn. Not using that mana is a big deal and will cause your opponent to get the upper hand. That's why, for this Artifact beginner tip, I suggest sticking to two colours in your first decks, three heroes with one colour and two with another. It is also important to have cards of each of the two colours you have chosen with various mana requirements. For example, if you choose a bunch of 6-7 mana green creeps and low-mana red creeps, you might get stuck in a situation where RGN gives you only those expensive green creeps at the start, meaning you can't play anything.
This is obviously a very basic explanation of the colour-coding in Artifact, but if you keep these basics in mind when constructing a deck, you should at least have something to play each turn.
Expert, You Are Not
I'm trying my best to channel master Yoda here as this is probably the best tip I can give to Artifact beginners: Do not head into the Expert game modes just yet. There are several game modes you can try out for free against other players and you can even play against bots, so whatever you do, don't just go into Expert, you will get crushed.
Five event tickets will cost you R72 and you can only purchase them or get one ticket by recycling 20 cards. That's a lot of commitment into a mode that beginners are definitely not ready for. You can play these modes in casual play as well, so there is simply no reason to go into Expert, as all you will really do is lose your tickets. First, get to know every mechanic in the game as much as you can, wait for the market prices to drop, get a competitive deck together and then, only then, consider going into Expert play and probably still lose a bunch of tickets.
What Artifact beginner tips do you have to share? Let us know in the comment section below.