The Forza series is Microsoft's calling card this year after an empty slate of no exclusive game releases other than Sea of Thieves and State of Decay 2. I had no doubt that Playground Games would deliver a state-of-the-art racer as the Horizon series is one of the best racing experiences on the market. Forza Horizon 3 was my racing game of the year back in 2016 and it looks like history will repeat itself this year as Horizon 4 is bigger and better in every way possible. Forza Horizon 4 Review
Flying first class from the Australian Outback to the UK, Forza Horizon 4 is all about annual weather seasons. Spring, Summer, Autumn and Winter. These four seasons act as the foundation to the game's stellar racing system. You take on the role of a silent racer who has once again entered the prestigious Horizon Festival, a worldwide racing fest where people from all over come and to take over your roads during the loud and hyped event. While the story and even voice acting in Horizon 4 borders on cringe, the game is all about the racing and the experience of the hills and countryside of the UK.
It goes without saying the Forza Horizon 4 is utterly breathtaking and if anything, it ups the quality even more over the last game and that is saying something given how gorgeous Horizon 3 was. Let's be honest here, the UK is not the most attractive country in the world compared to the many biomes of Australia but the Horizon 4 brings every location to life and every new season that hops around almost feels like a whole new map. Essentially, Horizon 4 feels like it is set across four open world maps that rotate as you play through the game.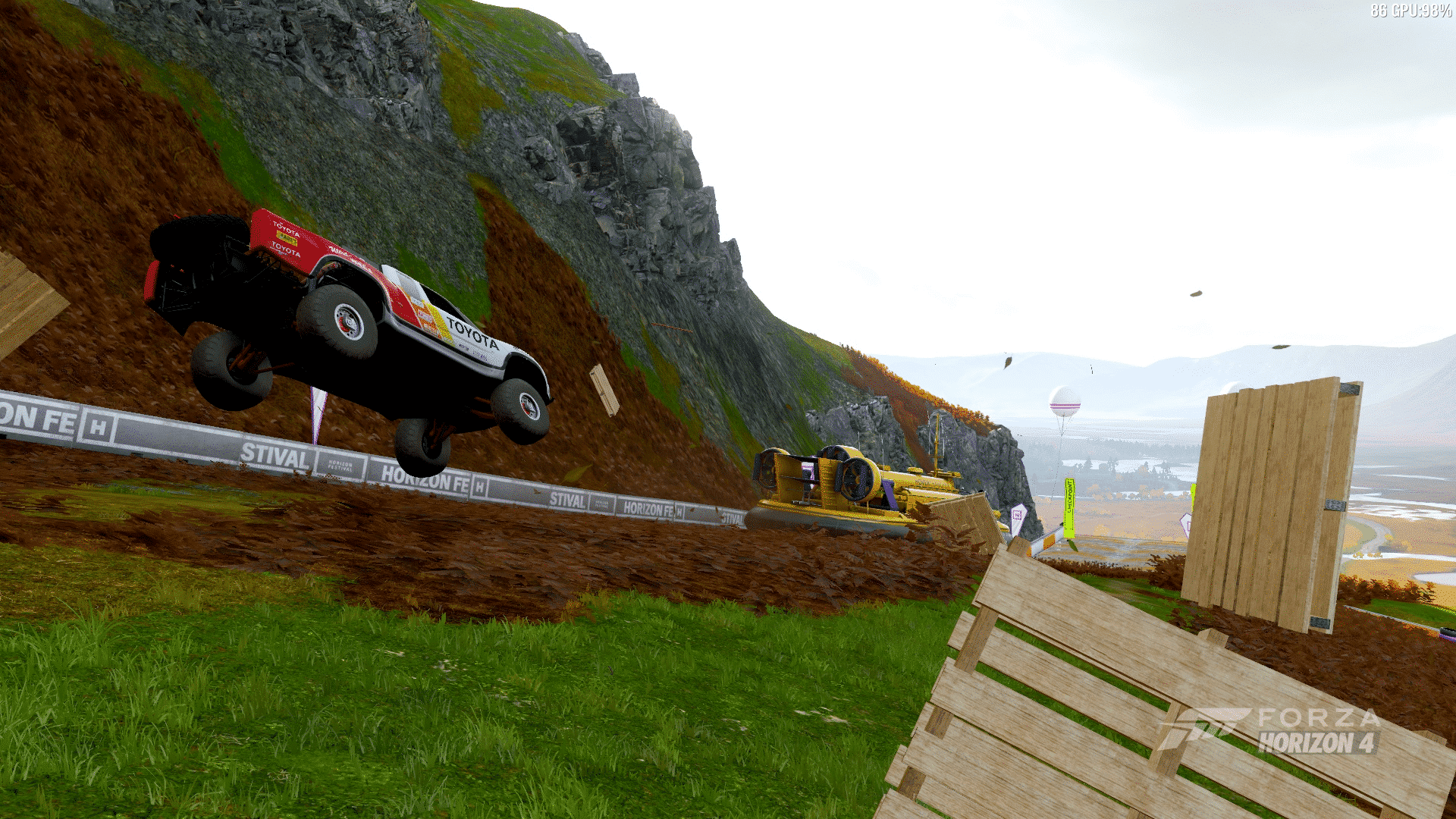 But these new seasons are not just for show as each of them brings with it a new challenge and themed events too. The seasons act as a weekly reset so every week you will be able to come back and do something new. During the review process, however, the seasons also changed as I gained Influence and ranked up my various race types. Forza Horizon 4 progresses very much the same as the past game. You race in one of over twenty-five race types, do cool things during the race, come first and gain Influence. As you become more popular you will unlock new race types and the process continues. Every now and then there is an awesome stunt race or Seasonal Event that takes you on a crazy goose chase as you race against a train, a hovercraft and more. These events are often themed around specific seasons which add a uniqueness to each one.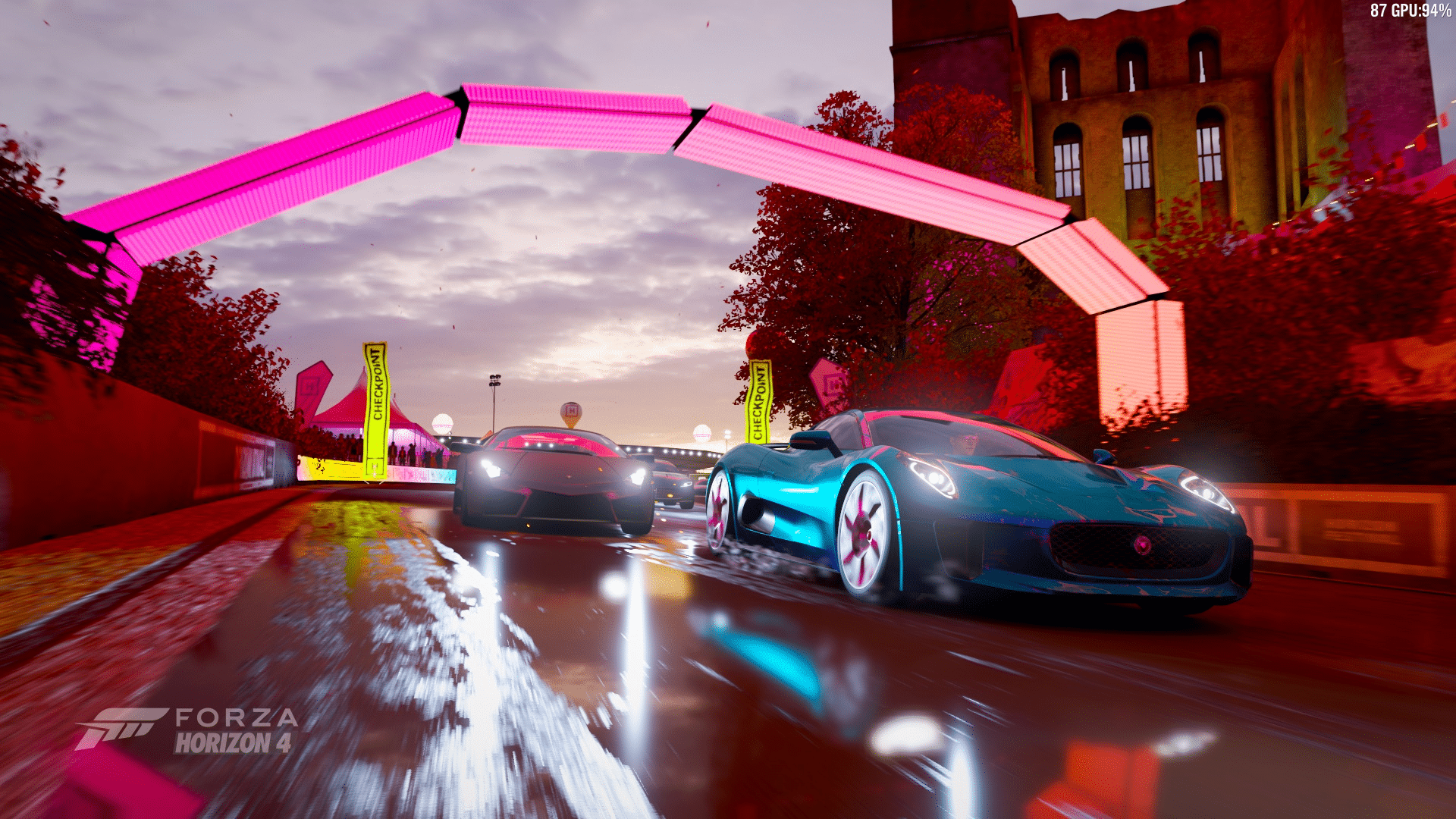 Forza Horizon 4 is not short of content. Over 450 cars and each race type made the experience feel refreshing each time I booted up the game. Rally-like races, street races and even those crazy off-road chases created a great set of things to do. It also helps that as the past game, you are not restricted to any specific car. You can select the car you want to race in and your AI opponents will also change to the ratio of your rating. Some races I felt that my offroad 2017 Ford RS just lacked the grip for the icy roads so I switched things up to a 4×4 Ford Ranger. The sheer level of freedom when it comes to what car you use for what race is truly impressive and kind of lets you play the entire game, bar a few Seasonal Events, the way you want to.
The car roster is also insane to the point where I was lost in the auction house trying to see what I wanted to bid on. Everything from Audi to Bugatti, Ford to Renault. You name it and it is there. The variation of each car type be it offroad, drift or street also makes your favourite car available for any sort of race you want to take on. You can buy cars using credit you earn from completing races or win them in the Horizon Spin, a slot machine-like raffle that randomly picks an item of different rarities to award you. These items range from common cars to regular cars and even the most prestigious legendary ones. Of course, Forza Horizon 4 has also implemented cosmetic items for your avatar. You can equip clothes and hats and even obtain rare emotes like a dab (for some reason) and some dances. These have also been thrown into the wheel spin because why not?
Cars are customizable with the same great vinyl and paint system from the past game. You can browse the other player's designs or make your own. For those who really want to take things to the next level, the performance upgrades allow for a detailed fine tune of your car. New upgrades include suspension tweaks and entirely new body kits that change everything at once. I am not one to dive into things like that so I just left my cars as is. If you are hardcore about things then rest assured that the system will allow for more than enough room for experimenting with various car tweaks and upgrades.
Cars now also have specific skills that you can master by gaining XP and unlocking perks. These skills are nothing more than increased XP gains for doing specific things but they help if you are going to invest a lot of time using a specific vehicle. There are also dozens of side objectives to complete in the world like smashing boards, racing through speed cameras at the highest speed possible and the barns are back for you to hunt down and unlock cool cars. There is more than enough to see and do in the game that distraction will happen. There is no doubt about that.
Forza Horizon 4 also introduces the ability to purchase some property. Be it a house or a small countryside cottage, the feature is cool but nothing more than a way to unlock new fast travel spots. The game charges you a premium to fast travel across the map and with a house that cost is now free, if you are travelling to that house I might add. Sure, buying property sounds cool but I rather invested my money in a new car and paint job. With that being said, a property does unlock new gameplay features which make them something worthwhile if you are really balling.
Forza Horizon 4's emphasis on seasonal changes is not just for show. The game does look magnificent throughout all four with a unique look for each but the gameplay experience is what Playground Games have been working on. Each season brings with it a different style of racing. Winter and its snowed roads make it extremely tough to race without specific cars or tyres. Spring's wet and raining conditions makes it slippery while driving. Summer is hot and sunny which allows for less challenge while turning corners and better long, cross-country races. Autumn and Spring are very much the same whereas it is wet and slippery. Don't let the seasons fool you. You can do every race and challenge during every season but the way you approach each race and challenge will change depending on the season that it currently is.
Forza Horizon 4 has made it all about the player and this shows throughout the game. The seasons may change but player freedom stays the same. The races may get tough but the various difficulty settings let you tweak individual changes to increase your credit you earn by making various aspects of the race harder. If you think the race you created is better than Horizon's one then the Blueprint feature lets you upload your preset so other players will have to use a set car and route for that race. The possibilities and the sheer amount of content is truly remarkable.
Sadly, I was unable to test much of the online aspect of Forza Horizon 4 due to various server issues during my review process. I did get to experience the new interconnected world though. While driving around, you will see other players do their thing and maybe even bash into one. Don't confuse this with the Drivatar feature that populates the world with cars from your friend's list. This interconnected feature has over 30 actual players in your server at any given time creating a more interactive online experience than ever.  Of course, the co-op is just as fun as Horizon 3 and it sees you race with or against your friend. This was my favourite part of the multiplayer experience and there was nothing better than my brother and I racing through speed traps to see who could get three starts. Besides the online, everything that Horizon 4 is, works perfectly fine offline already so there is at least that assurance. The game is a solid experience online and offline.
Forza Horizon 4 runs like a dream. I tested it on the Xbox One S at first and it was stunning. HDR adds so much to the experience that you really have to see it to believe. I then switched over to my Acer Predator Helios 500 and after the game downloaded (took forever thanks to Microsoft's crappy Windows Store), I tweaked some settings and the game ran like a dream at 1080p on ultra. The game was a smooth 90fps and up the whole time which goes to show that it has been perfectly optimized for PC. Horizon 3 had some major issues with its PC port so it is nice to see this issue is now fixed.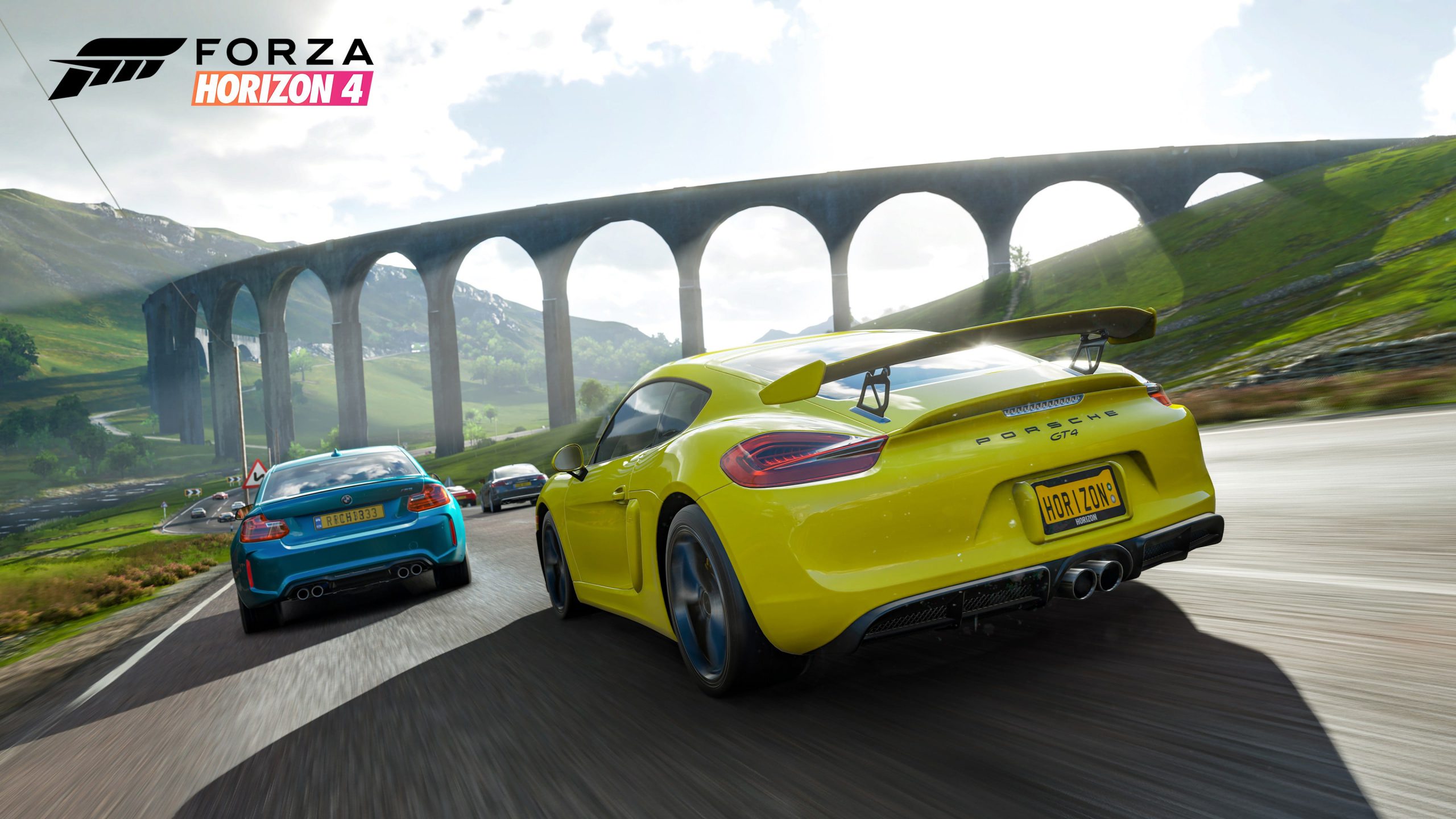 Forza Horizon 4 does not push the envelope much when it comes to new features but its formula is perfect already so what else could you possibly do? The new seasonal changes add a great layer of depth to the game but in the end, it is the smooth racing, great cars, gorgeous open world and the sheer amount of activities available that makes the game so great. You can simply get lost in the experience for hours on end and that is the beauty of the Horizon series.
This review is based on a review copy provided to us by Microsoft
Available On: Windows 10, Xbox One | Reviewed On: Windows 10 | Release Date: 28 September 2018