Just when you thought Microsoft Studios could not milk the Gears series any more, Gears Tactics is here to prove the series is still well and kicking. It is a departure from the larger main titles and works pretty well for a spinoff experience. If anything, it manages to develop on its own quite successfully by growing on RPG elements, intense tactical battles and squad-based mechanics. Its story may be a snore-fest at times. However, I got a decent glimpse at the prequel to the Gears series as I explored the newly-demolished world and recruited some squadmates.
https://www.youtube.com/watch?v=oziTQgMdXi4
Instead of the traditional third-person over-the-shoulder camera action, you are used to from the series, Gears Tactics is a strategic tactical game similar to the likes of XCOM. The game is played from a top-down perspective with a large emphasis on tactical gameplay. Instead of a grid system, you can move your squad anywhere you like by using action points. The further away you want to run, the more points it will use. Every turn, I got to perform a range of skills and abilities with each teammate, using the same points. This includes firing a gun, reloading that said gun, moving to cover and tossing a grenade into a group of Wretches.
Later on, once I levelled up my squad and unlocked new skills, the gameplay changed drastically as the enemies get tougher. I really had to take a step back and think about my moves. With that being said, each squadmate also unlocks a range of new attacks and abilities which go a long way to deliver a deeper combat system.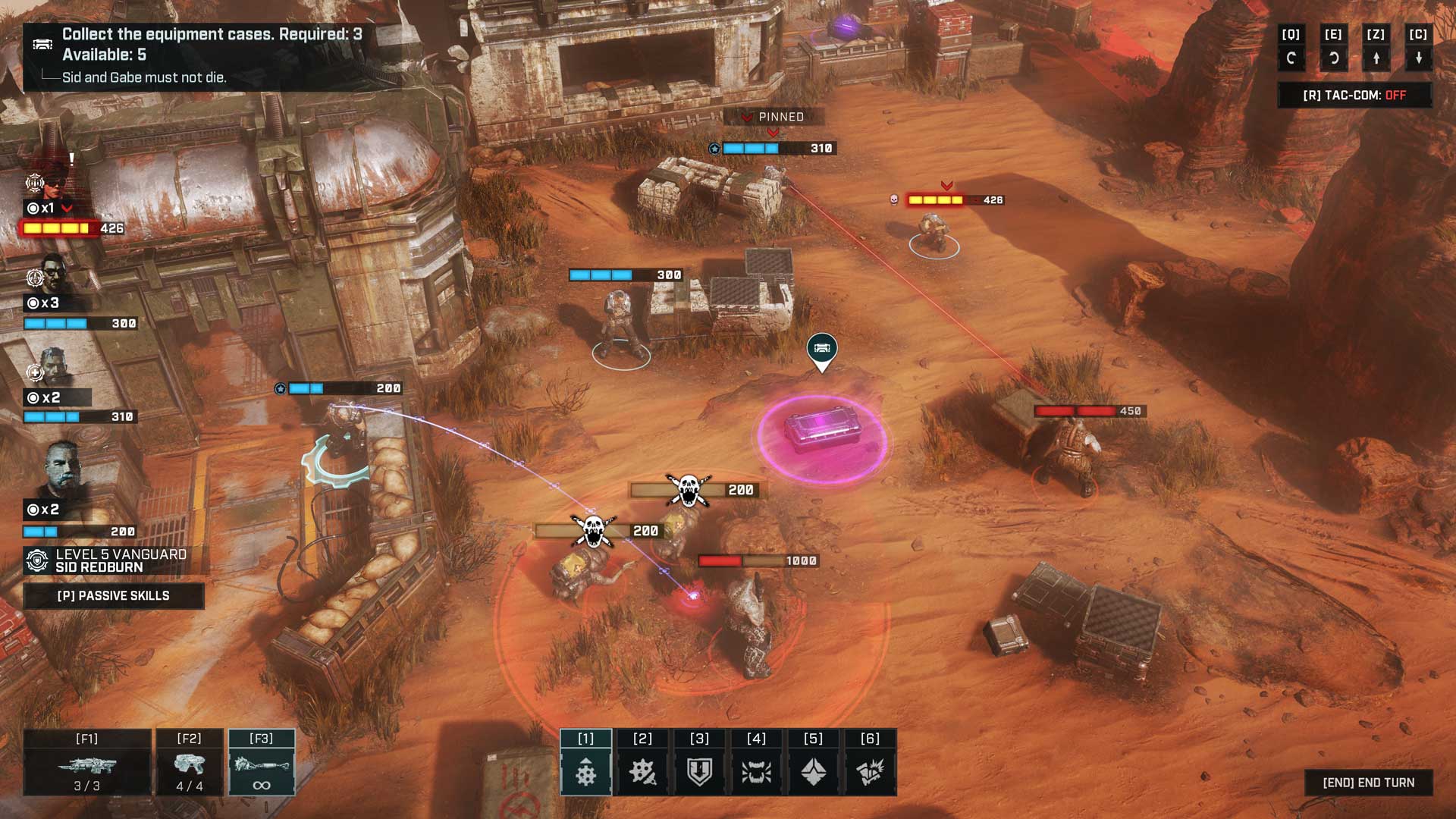 Same-Same But Very Different
If you have played any tactical game in the past few years Gears Tactics will be easy to pick up. As I progressed the story I came across new people that joined my squad, mastered their abilities and favoured some more than others in combat. Gears Tactics shines when it comes down to the deep customization system that relies on the loot you find in missions and by completing them. This loot comes in the form of new armour and weapon attachments. Each piece has a specific stat and often its own unique ability. Therefore, making it easy to combine a load of loot together on one squadmate to build a class worth taking into combat.
One squadmate has a cool cloak ability which made it possible to sneak out of an overwatch. I buffed her with heavy evasion stats making her hard to hit. She moved about the battlefield faster than other members and got the drop on enemies with her powerful shotgun. Another teammate was the healer and while he was weaker than most, I made sure he had enough abilities and buffs that kept him healing others. He could also heal a certain percentage after each turn after I unlocked skills through levelling him up.
The game does revolve around five main classes. Going into each mission, it was important to make sure I had a range of skills to cover all challenges that came my way. Gears Tactics also gets tough with enemies being able to hit just as hard as you do. It all came down to working together as a team and distracting while healing and damaging. The pipeline of attacks worked great and there was nothing better than seeing it all play out just as you planned. However, there was always a risk of losing a teammate as most of the people you recruit, once they die in combat, they are dead for the entire game.
Gears Tactics is full of fantastic action. It is often very reminiscent of the other games in the series. If you have played any of them you would know it is all about running to cover, shooting and being careful. Gears Tactics is almost like watching other games but from a top-down perspective. One could take Gears 5, flip the camera up and it would look just the same. It feels so different but the game is so true to series at the same time. Running towards an enemy to saw him in half and tossing a grenade into a Locust Nest to blow it up.  Even reviving a downed teammate. It is as "Gears" as it could get, with a huge gameplay twist.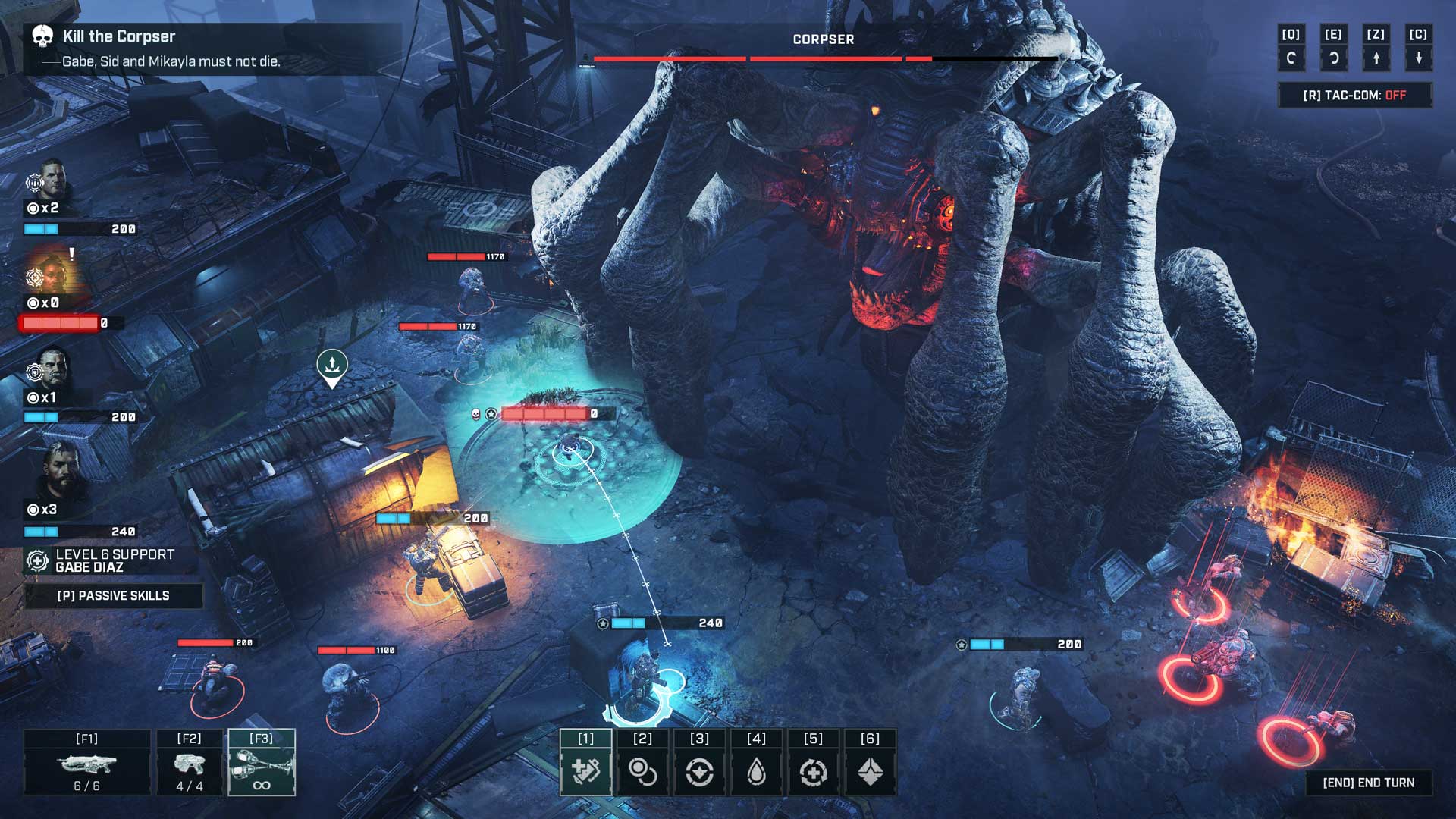 The Prequel We Needed
Gears Tactics also ties into the franchise quite well too. The game acts as a prequel to the Gears of War series. You follow the story of Gabe Diaz, the father of Gears 5 protagonist Kait Diaz. Gabe is asked to investigate and assassinate Ukkon, a Locust scientist who is involved in creating unique monsters for the war. The story explores the origins of many main characters in the series. However, you also get to witness the origin of some of the series' most iconic enemies. These moments in the game, especially the boss fights are tough as nails but also present some of the highlights of the experience.
However, it is far from perfect. Gears Tactics suffers from some clumsy UI and gameplay elements. For example, it often automatically targeted an enemy I did not want to shoot at. This meant it would move the game's camera rotation and location in the completely wrong direction. I then had to go out of the menu, rotate the camera, move it, select the enemy and start my attack from scratch. It is not a train smash but after the hundredth time, it kinda got annoying.
The game also crashed a few times. This happened right after a mission and it would not save my progress. I then had to replay the entire mission from the start.
With that being said, the flaws are far and few between. Gears Tactics is a remarkable experience that takes place in a fantastic video game universe. It may not be for everyone, but it kept me starring at my laptop screen for hours. It looks gorgeous and has so many unique tactical gameplay elements to stand out on its own.
Verdict
Gears Tactics is one of the best tactical games on the market. It delivers a challenging and unique approach to the series. As for replayability, it offers hours of intense gameplay, fantastic boss fights and a large emphasis on an end-game modifier experience. You don't want to miss this.
This Gears Tactics review was based on a code sent to us by Microsoft Game Studios and Splash Damage. 
Available On: PC (Xbox One TBA) | Release Date: 28 April 2020 | Price: R329