I believe South Africa is currently facing a crisis. Our expos have become complacent. We have Comic Con Africa that is trying to kill every other expo around it both in Cape Town and in Joburg. We have rAge which has not done anything new and "wow" in a couple of years now. We have ICON which, well had zero marketing and a failed Easter Weekend turnout and not to mention the others like FanCon, EGE (we won't go there) and smaller cons.
Don't get me wrong, expos and cons are great for the community and industry growth but one cannot help but feel that they have become unpopular to a certain extent. There was a time where attending rAge was the highlight of your year and chowing down mini doughnuts around a geek quiz as Geekfest was something you looked forward to for months.
South African expos are taking the strain due to constrained budget because tougher competition, lack of investment from brands and dare I say poor management. Everyone wants to own the scene which is something South Africans love doing. "We will own the geek, gaming and tech convention scene" is now the "we will own esports" of 2019 and it is ruining it for everyone.
That is to say, Dark Carnival and Rush finally decided to work together to bring two events into one location. An achievement for an industry so dead set on destroying each other.
This past weekend, Times Square Arena in Pretoria hosted Geekfest 2019 and Rush 2019. The combination of the two events was a step in the right direction but it was hard to miss the poor execution sticking out under the rug where it was swept away hours before it opened.
When you attend Geekfest you expect to tick off a number of things. Cosplay all around you, things to waste money on, watch crazed people hit each other with sticks, robots failing to drive around a box, and of course all the food. Geekfest was just that without it trying to be anything it was not.
Rush, being an unpredictable event due to it relying on active tournaments and brand sponsorships, you just go in hoping for the best. We had the main stage where some of the weekend's biggest tournaments took place and some smaller ones like the Tekken and FIFA league. There was a sad Samsung Galaxy Fortnite stand which looked like a prison for sad little kids but more on that later.
Of course, it is not an esports event without the players walking around like they own the place. You can just spot them in the crowd as they walk through and expect the world to move aside and bow to them. They kind of look like "big traps guy" minus the traps. Most of them are followed by a posse including a girlfriend who lives for the fact that she dates an esports player. She basically swings from his arm the whole day. Editor's note: This meant as satire and not intended to offend the players and supporters in the local scene. Apologies if it is read another way.
The Rush stands were busy on Saturday. A big change from the handful of people who were reportedly there on Friday. When I say "handful", let's say under ten "non-media and industry" people. Perhaps Friday could be seen a waste of resources given it is the second year in a row now with the same turnout on the day.
The Rush main stage had reasonable turnout for most of its tournaments. The crowd turned up and it was great to see the mixture of those who just came for Geekfest and those for Rush sitting down to watch a few games.
The moment I arrived, the ticket sales desk confused the hell out of me asking which ticket I wanted to buy. "If you buy a Rush ticket you get access to Geekfest". I knew this but they continued to ask if I was attending Rush or Geekfest 2019 as they had to sell me the ticket to the event I wanted to to go because "Rush was having a show". I still don't know what the issue was or if I purchased the right ticket but I got into the venue where both events were being held, regardless of the confusing ticket lady.
In all honesty, I was there for food given I arrived at lunchtime and it was a no easy task getting it and finding a spot to eat it. Seating was a disaster with no benches open to sit at and the general food area was crammed full of people bashing into each other and trying to dodge being stabbed by someone's cosplay as they moved about the two very thin isles that acted as walkways and lines for food.
It was not ideal at all. "Too small" would be an understatement here as the tiny concrete area acted as the robowars, Geek Quiz, food court, food truck parking lot, cosplay hangout area and the sparring arena. Oh, and there was some paintball shooting happening too. This was most likely done to avoid the noise the crowd would make which would interrupt the tournaments inside but the payoff was a crowded mess. Not only could one not find a bottle of water to purchase, one could not find a place to sit and enjoy lunch either.
Rush was all about gaming and it showed. The stands were always active with players cheering, screen flickering and tournaments taking place. Half the inside of the arena was Rush and the other half Geekfest 2019 stores and the Cosplay main stage.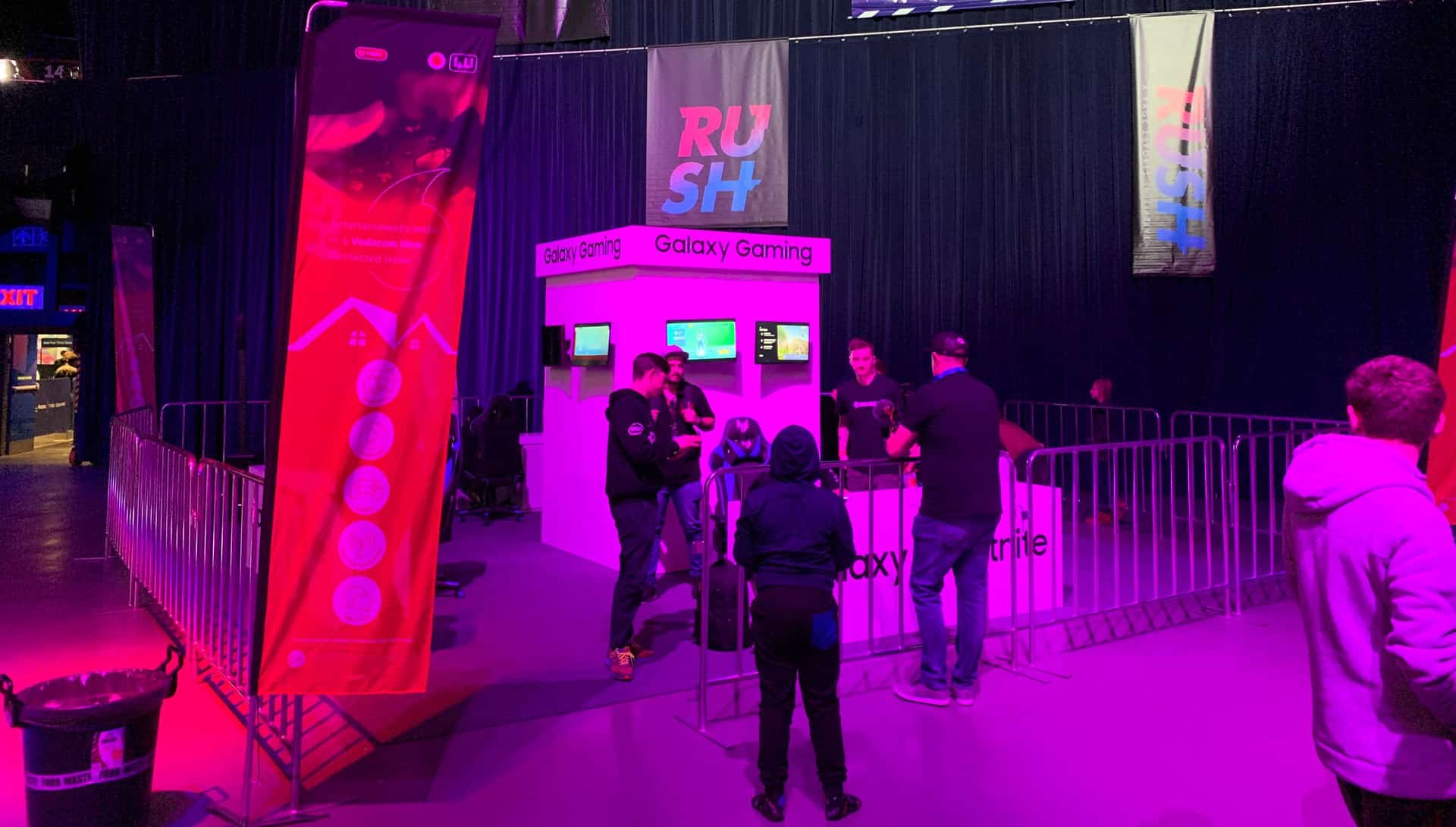 The saddest stand has to go to the Samsung Galaxy Fortnite pop-up that just looked as if it had a bad day. Cornered off in the dark corner of the arena, the stand looked like a prison blocked off the public with blank TV screens dangling for their dear life. The metal railings outside acted as a "do not dare enter" sign and it was overall very uninviting.
This was a drastic change compared to last year's Fortnite stand (hosted by ACGL) that was probably the busiest at the show. I don't know what the plan was there but it was not happening. It drew no new audience and had no one there bringing people in (where was my favourite yellow-haired Cape Town YouTuber?). It was as if Samsung dropped the stand off and someone decided to use it as a cage for kids with Fortnite being the game used to keep them busy. What a waste of an opportunity to get attendees gaming on the Galaxy devices.
I then questioned the organizer's decision to divide the cosplay and Rush tournaments up across two stages. Why not merge the competition and have the main Rush stage host it for an hour? Surely it would be great to have two worlds unite for a short moment given how everything else at the convention felt so divided. Instead, the crowd had to stand and watch the cosplay awards take place in a badly-lit corner of the venue scared to not make too much noise and disrupt the tournaments.
But the general feeling of the show was just that. When you were at a Rush tournament, you felt as if you were at a "rented" space at Geekfest 2019. When you were at a Geekfest stand, you felt as if it was a rented space at Rush. There was a clear lack of community and zero effort to try and grow each other by merging the two other than renting floor space. No one was giving you information on what Geekfest 2019 events were taking place and the same for Rush. It was just all happening and you just had to be lucky to catch a tournament or a geek quick.
Regardless of some poorly executed areas of the Geekfest 2019 and Rush partnership, it was a step in the right direction. Two very different conventions being placed under the same roof should be seen as an example of how you could help grow the deteriorating scene in SA. Sure, most of it felt like two expos on the same day at the same venue and they made zero effort to help each other (other than a few images online), but the exposure to the other "world" is a step in the right direction.
With two very different conventions taking place in September, one being (meant to be) comic based and the other a tech and gaming expo, this could be a learning curve for them too. But yeah, no one in SA cares about anyone but themselves when it comes to these things which is ultimately killing the industry. That is a story for another day.
Did you attend the convention(s) on the weekend? Let me know your thoughts down below.