Gigabyte has drastically revamped its 2022 notebooks with new internals and external features. This goes for both its gaming and productivity notebooks. The Gigabyte 2022 gaming notebooks come in a range of models that include 17-inch and 15-inch Aorus devices. Both the 17-inch and 15-inch models pack similar internal specs but of course, come with different screen sizes. There's also a range of new AERO Creator notebooks that now come with MiniLED displays which is great news for creators.
The biggest news here is the fact that these new Gigabyte 2022 notebooks pack a new design. Gigabyte has used the same notebook chassis for over two years now across most of its range, so it is nice to see these new notebooks switching things up. While the design change isn't dramatic, it is something. Take a look at the full range of notebooks below.
Gigabyte Aorus 17 2022 Gaming Notebooks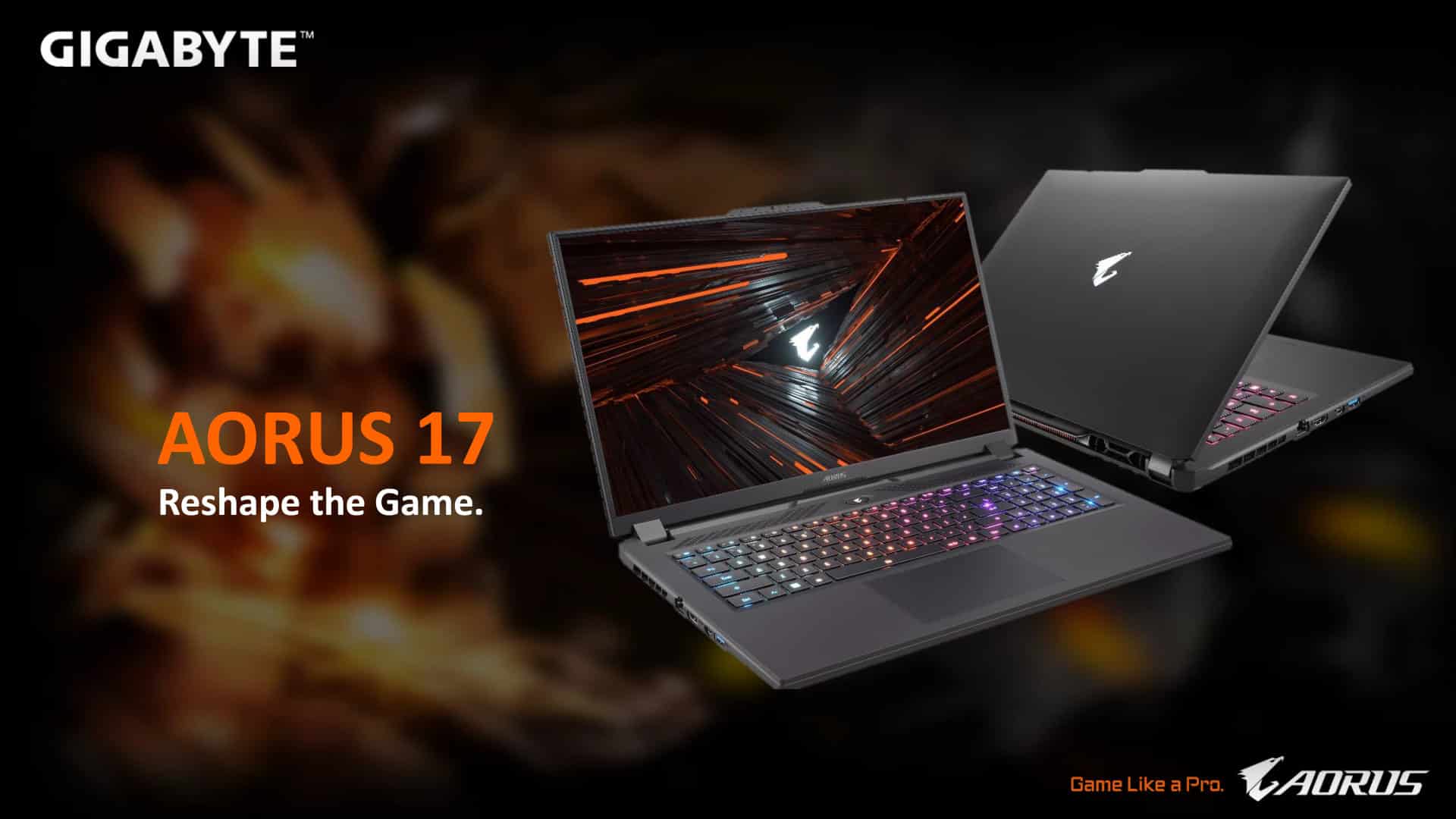 The Gigabyte Aorus 17 come in three configurations. The Aorus 17 YE, XE and KE. The notebooks are mainly the same when it comes to the external design and features. However, each model packs a different GPU depending on the unit. The Gigabyte Aorus YE is top-of-the-range and packs an NVIDIA GeForce RTX 3080 Ti 16 GB (115W), the XE has an RTX 3070 Ti 8 GB (115W), and the KE packs an RTX 3060 6 GB (100W).
These models have various options when it comes to configurations. This includes packing them with up to 64GB of DDR-4800 RAM and expanding the storage with two M.2 SSD slots. These SSD slots are Gen 4×4 compatible. All three models also come with a 99Wh battery and 17.3-inch FHD 360Hz displays.
Gigabyte says that its Windforce technology helps keep these notebooks cool during heavy gaming. The Windforce tech now includes four air-flow vents, triple heat pipes and dedicated pipes for the GPU VRAM and a pipe just for the GPU itself.
Gigabyte Aorus 15 2022 Gaming Notebooks
The Gigabyte Aorus 15 range is pretty much the same as the 17-inch models. Except for the fact that they pack a 15-inch display and a slightly smaller touchpad. They also come with the Gigabyte Aorus 15 YE, XE and KE naming conventions with the YE being the RTX 3080 Ti model. The 15-inch models can be configured with either an FHD 360Hz display or a QHD 165Hz panel.
Gigabyte AERO 2022 Creator Notebooks
The Gigabyte AERO 2022 Creator range has seen a lot of attention. They come in either an AERO 16-inch Creator model, AERO 16-inch or an AERO 17-inch. The chassis across the range is made from CNC aluminium. Similar to the Aorus range, the AERO models also come in three variants. You can get the YE5, XE5 or KE5.
The XE5 comes in two models. You can get either a MiniLED QHD+ display or a Samsung AMOLED UHD+ panel. The YE5 and KE5 both pack a UHD Samsung AMOLED panel. In terms of GPUs, they follow the same lineup as the Aorus with the YE5 packing an RTX 3080 Ti, XE5 an RTX 3070 Ti and the KE5 has an RTX 3060.
Local pricing and release dates have yet to be announced. We will share more details as we get more information.
Source: Press release