I have reviewed a number of Gigabyte notebooks this year and when the brand reached out to me to tackle this A7 X1 I was worried. Mainly because I honestly did not want to test out another Aero clone after reviewing three identical notebooks this year alone. Thankfully, the Gigabyte A7 X1 is completely different and if anything, the notebook is one of my favourites to come out of the company this year. It may be a bit bulkier than the rest but the device packs some incredible power and some of the best cooling I have seen in a Windows notebook.
For starters, the Gigabyte A7 X1 packs an NVIDIA RTX 3070 GPU combined with an AMD Ryzen 9 5900HX CPU. That alone makes it one of the best gaming notebooks in the market in terms of performance. The display is a 17.3-inch HD 144Hz panel which is great for gaming. It also packs a great selection of ports. Again, this is not a slim and compact notebook but the advantages you get from the larger size and cooling system makes the thickness well worth it.
Gigabyte A7 X1 Tech Specs
CPU: AMD Ryzen 9 5900HX
GPU: NVIDIA RTX 3070 8GB + AMD Radeon RX Vega 8
RAM: 16GB
Display: 17.3-inch 1920×1080 144Hz IPS
Storage: 512GB SSD
Ports: 1 USB 2.0 / 1 USB 3.0 / 1 USB 3.1 Gen2, HDMI 2.1, DisplayPort, Audio Jack
Networking:  Intel Wi-Fi 6 AX200 / BlueTooth 5.2
Dimensions: 34 x 396 x 262 mm / 2.53KG
Additional Features: 0.9MP (720p) webcam, 2 x 2W Speakers, Chiclet Keys
Price: R41,999
Gigabyte A7 X1 Design
For the most part, the Gigabyte A7 X1 is pretty basic when it comes to design. However, I do think that this overall visual aesthetic works for the notebook. The shell is entirely black and made of plastic. This helps keep it under 2.6KGs. On the top, there's a Gigabyte logo that doesn't light up but rather is printed into the outer shell.
On the bottom of the Gigabyte A7 X1, I was extremely surprised to see that the notebook has a removable battery. I don't think I have reviewed a notebook with a battery that can unclip in years. If anything, I thought it was a thing of the past. You can easily remove this 48.96W/h battery with a simply unclip. The battery is also small and compact making it easy to replace without any tools needed.
The bottom of the device also shows off the massive fans inside the Gigabyte A7 X1. The company calls this cooling system "Windforce". They are a lot bigger than most fans on I have seen this year and they help keep things cool especially during intense gaming. It also helps that the vents underneath the device are quite spacious making all hot airflow throughout the device better than ever.
Inside the Gigabyte A7 X1, you'll find an empty slot for a 2.5-inch storage device as well as an additional M.2 SSD slot. You can also remove the factory-installed SSD if you want to upgrade that. You'll also need to replace the installed RAM if you want to upgrade that.
As for the ports, you'll be happy to know that Gigabyte has been placed perfectly around the device. Even more so if you're right-handed. This is thanks to the HDMI, LAN, USB X and Mini DisplayPort at the back of the notebook. On the left, there are two USB 3.2 Gen2 ports and the DC port.
On the right, there's the audio ports and the USB 2.0. In short, the right-hand side packs the ports you'll probably never use. A slower USB port and audio jacks. This means for gamers, your right-hand mouse area will e free of clutter such as charging cables and mouse wires.
The keyboard on the Gigabyte A7 X1 is a basic chiclet one. The white trimmings and black keys look great on the device. There is no per-key RGB here. Instead, the entire keyboard uses one colour decided on by the built-in app. The touchpad is also decent and the additional left and right-click buttons make getting around while using it so much easier.
Lastly, the display is good for what you pay for here. The full HD panel packs a high refresh rate of 144Hz but it is an IPS panel so expect some poor viewing angles and low brightness. I measured a max brightness of 320 nits. So you're not going to get HDR at all here. In fact, the panel isn't HDR certified either. Gigabyte also has great panels on certain creator notebooks, this one isn't the best around. This is a panel made for gaming and not so much photo editing and video stuff. It only has 90% sRGB coverage and 64% AdobeRGB.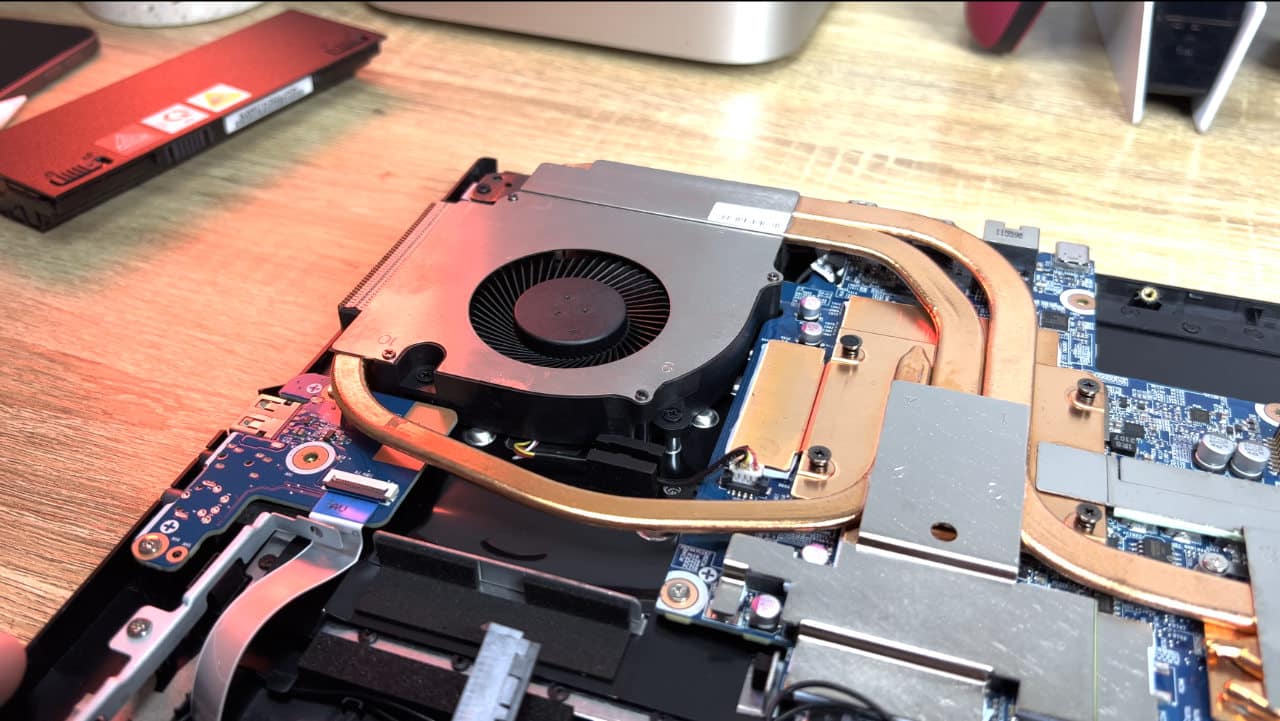 Gigabyte A7 X1 Performance
I ran a few tests on the Gigabyte A7 X1 to test out its cooling, gaming and productivity. Gaming especially performed extremely well. If anything, the results were some of the best I have seen this year. I played some games on my 4K TV and most of them hit 50FPS at 4K. Of course, if you're playing on the 144Hz display,  you can get away with well over 100FPS across certain titles. Competitive games will max this display out too. Here are some test results:
Performance
Fire Strike Ultra

6877 Overall
6735 Graphics
24478 Physics
3681 Combined

PC Mark 10

Essentials 10468
Productivity 9530
Digital Content Creation 8797
6848 Overall
Gaming
GTA V

85FPS (1080 Max Settings)

Final Fantasy XV Windows Benchmark

87FPS/8849 Score (1080 High Settings)

Far Cry 6

58FPS (1080p Ultra + RTX On)
Fan Noise and Heat
The Gigabyte A7 X1 can get loud but it isn't too bad. During heavy load, it maxed out at 62DB and during normal use without gaming, it hit 35DB. At the most, the device hit 50-degrees Celsius around the keyboard during gaming. Internally, I read the max of 99 degrees celsius during an hour of full gaming while playing Far Cry 6. Even at that heat, the system never throttled the CPU at all. The base clock remained at 3.5GHz when maxed out. It just goes to show how well this Windforce cooling system works here.
The speakers on the Gigabyte A7 X1 are also good. They can reach a max of 85DB and manage to send off decent sound at the same time. Of course, while gaming you'll have to combat the fans so you might want to use a set of headphones here for sure.
Last but not least we have the battery. While I love the idea that it is removable, it also has some downsides to it. Firstly, it tasks longer to charge than built-in batteries and doesn't last that long either. You'll get away with a max of 4 hours here with the brightness of 40%. With max brightness and average, non-gaming use, it will last just under an hour and a half. Definitely not ideal for the "on-the-go" type. It also charges using the DC power adapter so you'll have to take that with you wherever you go.
Gigabyte A7 X1 Review
The Gigabyte A7 X1 is a great gaming notebook. While the battery isn't the best, the performance you get from this device is top tier. The cooling system is one of the best I have seen this year and the upgradable slots make this a long-term investment. It is fast, snappy and great for gaming.
This Gigabyte A7 X1 review is based on a loan unit sent to us by Gigabyte. It is now available in SA starting at R41,999.