OLED displays on notebooks will soon be mainstream and it is about time. The Gigabyte Aero 15-XA is one of the first notebooks I have reviewed that includes an OLED display and it really does change everything. Apart from some powerful internals, the Gigabyte Aero 15-XA packs a Samsung organic LED with a resolution of 3840 x 2160. It has also been calibrated to meet the X-Rite certification making it great for content creators and gamers alike.
RELATED: Win a Gigabyte Aorus 7 NA Gaming Notebook Worth R18,999
Inside, it includes a powerful Intel Core-i7 9th generation CPU and an NVIDIA RTX 2070. In short, it is a powerful notebook that takes technology to the next level but most of all, the OLED display is the selling point here but how does it stack up on daily use of work and gaming? We are going to find out now.
Take a look at our full video review of this device;
---
Gigabyte Aero 15-XA OLED Notebook Tech Specs
CPU: Intel Core-i7 9750H
GPU: NVIDIA RTX 2070 Max-Q *GB
RAM: 16GB DDR4-2666
Storage: 512GB Intel SSD (One extra upgradable M.2 slot Available)
Wieght: 2.2Kgs
---
Gigabyte Aero 15-XA Design
There's nothing to write home about when it comes to the Gigabyte Aero 15-XA design. It is basic as it comes with an aluminium case, a sleek hinge and a thin and lightweight design. The standout feature I loved was the webcam which is placed at the bottom of the display and features a sliding mechanism which lets you open and close the camera. Yes, that is the biggest standout feature out of the entire notebook's design.
Luckily, the device is easy to use and can be opened with one hand, does not feel too heavy in your hands and the sleek design makes it lightweight enough to place in your bag for meeting and gaming on the go. Like all aluminium notebooks, the Gigabyte Aero 15-XA gets full of fingerprints very quickly and within minutes, the top was covered in spots.
When it comes to ports, the device packs everything you would expect from a notebook in today's age. If anything, it is a little shy on ports but the idea here is portability and the fewer ports, the more "office-friendly" it makes the notebook. On one side you will find a USB Type-C, USB 3.1 Gen1 port, HDMI, audio jack, and LAN port. On the opposite side, there's another USB Type-C port and two USB 3.1 Gen1 ports. The notebook also has an SD card reader which is great to see included in the design. The back has no connections but is filled with air vents to help keep things cool.
One nice feature which people would most likely overlook is the inclusion of Wi-Fi 6. This means the notebook is ready for the future when it comes to wireless communications and faster routers. Chances are, you don't own a router to support this yet, but maybe in the next couple of years, things will change. Still, the network tests showed some fantastic speeds and results even using the 2GHz and 5GHz bands.
The Gigabyte Aero 15-XA includes a backlit keyboard. It too is nothing wow by any means but the LED do get quite bright which is great for working in the dark. You can adjust all the settings using the dashboard such as brightness and colour variations. Lastly, the trackpad. It is fairly decent. Anyone that knows me would know I prefer physical click buttons at the bottom of a touchpad over a ClickPad but the mat on the Gigabyte Aero was not too tough to get used to. The fingerprint scanner does get in the way a bit though.
---
Performance and Display
Now for the technical side of this notebook. If you have not guessed yet, the OLED is gorgeous and I could stare at it any day. There's a load of advantages that come with using an OLED on a notebook. No screen bleeding at all, a brighter display that can reach 402 nits, and of course improved battery life as OLEDs use less energy. The Gigabyte Aero 15-XA OLED display is a game-changer thanks to its black value of 0 cd/m. Basically, this means that if the area on the display is black, the pixels are turned off you can see this quite easily by looking into the display at the darkest of parts. You will see nothing at all.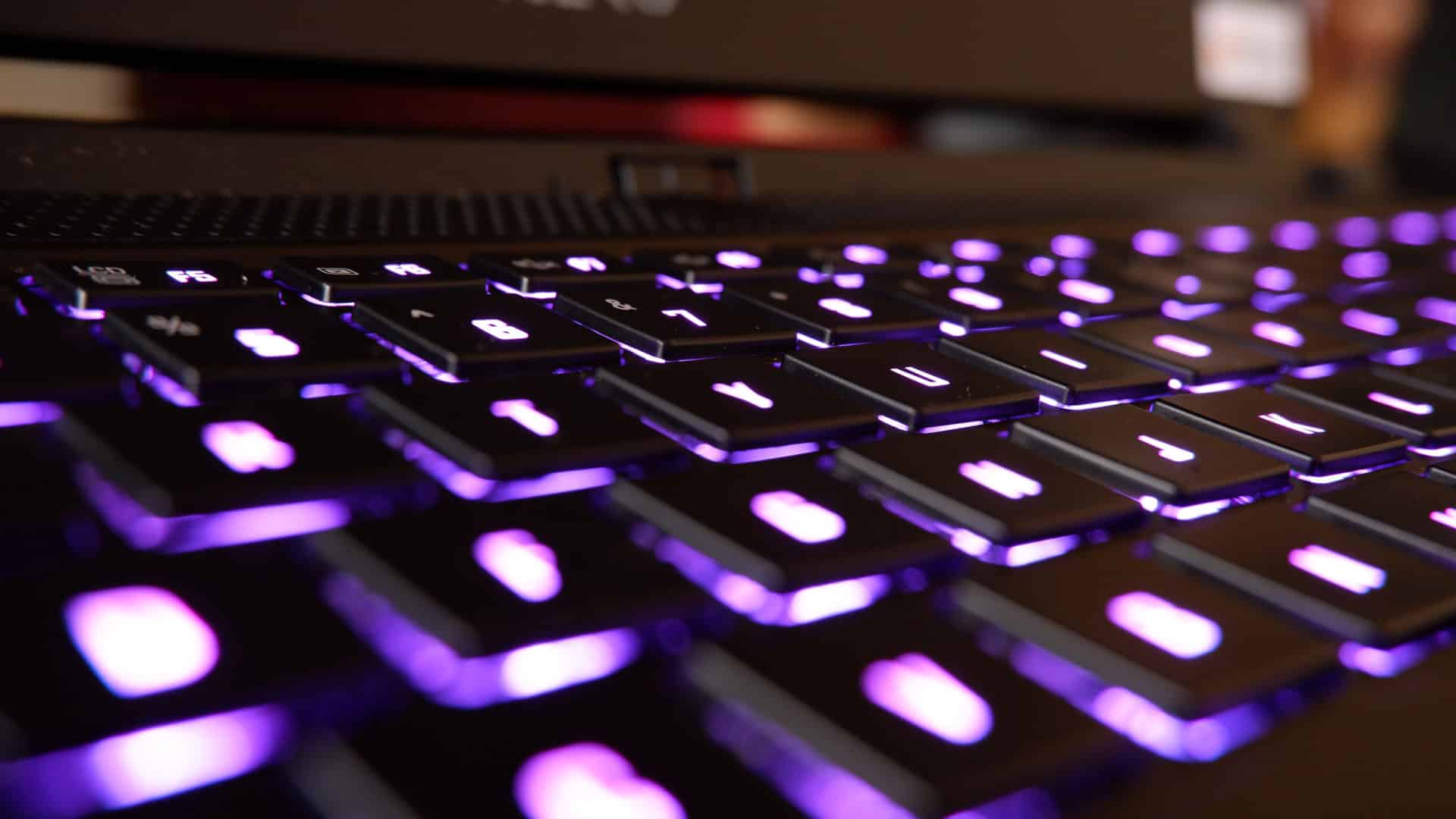 The OLED also means improved viewing angles when compared to LCD displays. You can see the screen clearer from the sides without the image being washed out with a white shimmer.
So this is all great but how does the hardware match up to the display? Well, pretty well. Gaming and design both benefit from the OLED panel and the RTX card can push some pretty high performance during the most intense workloads and gaming sessions. This is also helped by the CPU which has a base clock of 2.6GHz and can be boosted up to 4.5GHz making it a dream for video rendering. I ran some gaming benchmarks and they pumped out the following;
| | | | |
| --- | --- | --- | --- |
| Game | Setting | Max FPS | Min FPS |
| Rise of the Tomb Raider | Highest (1080p) | 60fps | 55fps |
| Hitman Benchmark | Ultra (1080p) | 95fps | 85fps |
| GTA V | Very High (1080p) | 79fps | 71fps |
| Shadow of War | Max (4K) | 30fps | 25fps |
As you can see from the tests, the Gigabyte Aero 15-XA can run any modern game at 1080p without much effort but when it comes to 4K, it struggles a bit which was expected. Running the Final Fantasy XV Windows Edition Benchmark tool pumped out a score of 6453 which again, was on 1080p, the ideal setting for this device. It is also important to note that all games benefitted from the OLED in some way or another. The display delivered some vibrant visuals and in some cases when HDR kicked in, it was even more vivid and superb. Anyone that has seen an OLED TV in action can expect the same experience here with a few sacrifices such a peak brightness.
One issue I did have with the notebook was its fan. While the cooling was great and kept things calm and collective during heated gaming sessions, the fans can get a little annoying. The high-pitch squeal sound is hard to ignore especially when they turn on even with the notebook sitting idle on the desktop.
As for battery life, it is pretty great. Work use can pump out around six hours and you can always change the resolution to get more time out of the device.
---
Verdict
The Gigabyte Aero 15's display is fantastic. The OLED panel is bright and vivid giving users a new experience on a notebook. It is truly the highlight of the device. Along with it comes a load of benefits including better battery life and an improved design ecosystem. It is not perfect though as I wish the display was less reflective, the fans were a little quieter and Gigabyte did something "wow" with the overall design as it feels dated. Other than that, this device should be seen as a stepping stone into the future of OLED notebooks.

The Gigabyte Aero OLED 15-XA Notebook retails in SA for around R32,999