After the Samsung Unpacked event last night in Joburg where Samsung announced the massive range of new Galaxy S10 devices, I got to spend a few short minutes with the Samsung Galaxy Fold.
Samsung opened its Unpacked event with the announcement of the Galaxy Fold before touching on all four new Galaxy S10 devices coming to the market. For Samsung Galaxy S10 South African pricing and other information, head here.
Related: Samsung Galaxy S10 and Galaxy S10+ Announced – South African Pricing And Release Date
The Samsung Galaxy Fold is a premium, high-end device according to Samsung and it makes complete sense. Its asking price of $1,980 is extremely high for a smartphone or a smart device of any sort. The announcement of the high price tag was met with silence during the Unpacked event as people watching around the world were taken back by Samsung's aggressive price point.
The Samsung Galaxy Fold features a premium design with a stainless steel band around it, a triple-lens camera system, the same found in the Galaxy S10+ and on the inside there are another two cameras. There is also another camera on the front of the device which gives the Galaxy Fold a crazy 6 cameras.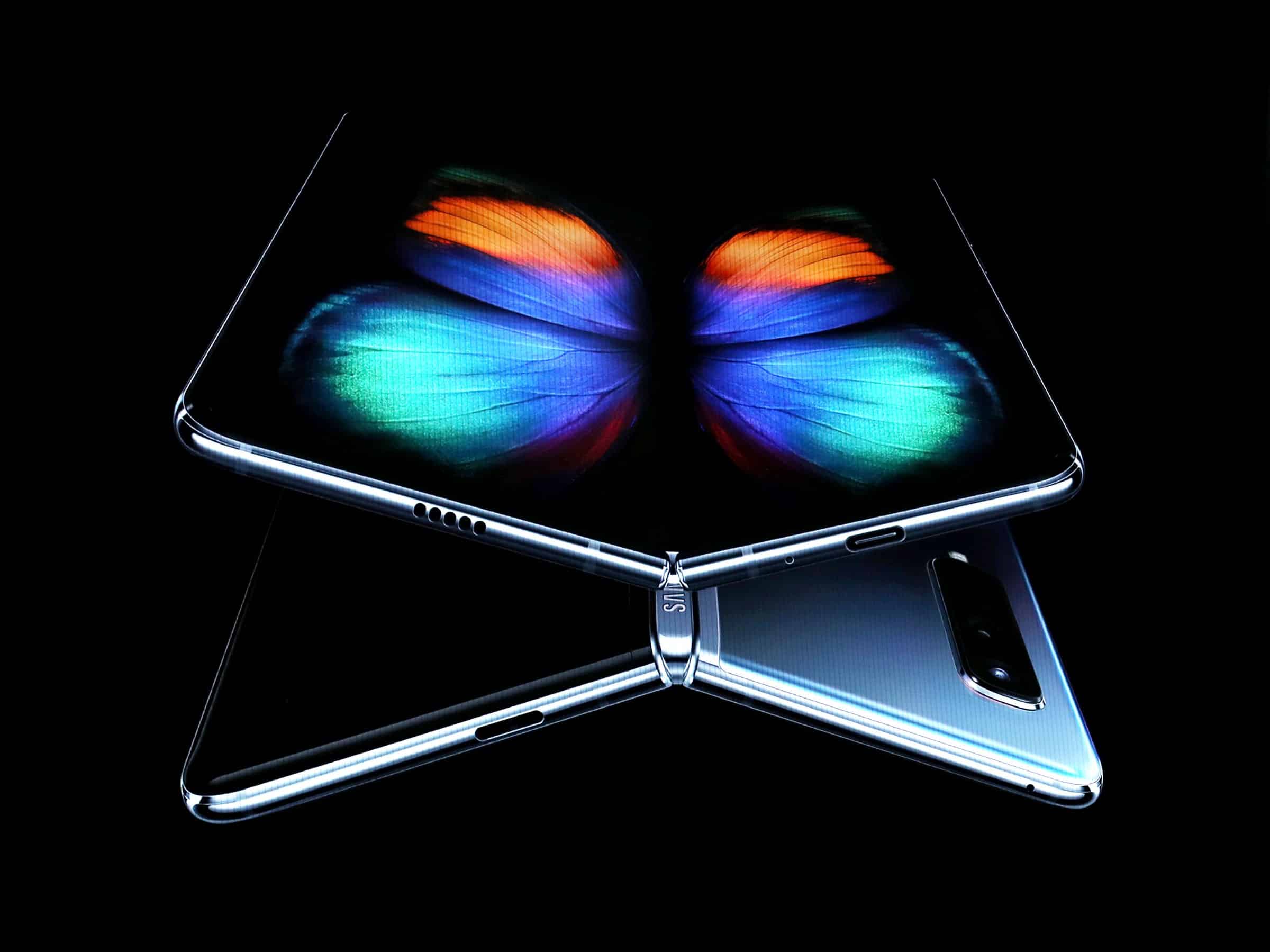 The device also has two displays. On the outside, there is a 4.7-inch round AMOLED that acts as a complete phone experience. It has a custom version of Android running that makes using an app and then opening up and using the device to continue that app a breeze. On the inside, however, is where the magic is. This giant 7.3-inch display folds open and looks great. There is minimal use of bezels around the edges and you can see that this is a phone of the future.
Inside, you have a whopping 12GB of RAM and 512GB or storage. The Galaxy Fold also has two batteries inside, one on each fold making up 4380mAh. No word yet on what CPU powers this device.
I was not allowed to take any photos during my short hands-on with the device, but from the moment I picked it up, it felt like I was holding something very new. It is quite large and tall and the outside, has a hard premium feel thanks to the stainless steel band and metal back and front.
Opening up the device is magical from the sense of it being something so new to experience. I held the two edges and sort of pried apart the device. It reminded me of a Nintendo 3DS XL that takes a bit of work to get open and clicks oh so satisfyingly when it reaches its end point.
The hinges were smooth with two stop points, when the device is fully open, and when it is fully closed. Believe it or not but the device does indeed close completely. This is not like the foldable phone I saw at CES that had to keep a bit of bend retention in place to keep the display from snapping. The Galaxy Fold is a true foldable phone.
The inner display felt great to play around with. It is not hard glass, rather a softer glass material surface that allows for the folding to take place. You can see that it bends from just looking at it.
As for the display. I do have some concerns. There was a fold mark right down the centre of the device I was testing. It is not extreme but its crease is clearly visible to the naked eye. This could flatten once open as I did not get enough time with the device to see what happens when it stays open for a good few seconds. The model Samsung used in its demo did not have this crease.
Another issue is its lack of quality of life features. It felt clumsy most of the time with me pressing that darn Bixby button while trying to open it up. The display also turns on as you unfold it so I kept pressing the screen while trying to fully open the device, opening apps which caused the display to rotate and do some strange things.
I do have large fingers and the thin bezels mean this was bound to happen. I could blame this on a/ not being adept with the device and how it functions and b/ it was not a retail version so Samsung could be still working on some stuff. Whatever they do, they need to disable the inner display until it is fully open else this will happen to other people too.
The Samsung Galaxy Fold is like nothing I had ever seen or experienced before. To have a screen that folds perfectly in half is out of this world and Samsung really has put a lot of effort into not only perfecting the display but the entire device and its high-end feel.
So is the Galaxy Fold worth its crazy asking price of $1,980? Well, it is hard to say. It is an experience out of this age which everyone wants. The people that can afford it will buy it but the tech is new and I would hang on and wait for at least the third generation.
We will hopefully get a chance to review the device in full closer to its release date in April. My short time with the device was enough to fall in love with its greatest feature, the foldable display, but there is a lot more going on under that hood that I would love to test out.