Last week I got to sit down with the Senior Writer and Narrative Director for Horizon Forbidden West to chat about the game and in particular, the story. Annie Kitain (Senior Writer) and Benjamin McCaw (Narrative Director) had a lot to share on the upcoming title and a big push for the studio was how Horizon Forbidden West has evolved from the original.
Both Annie and Benjamin hinted at a lot of surprises to come in the next adventure and how the story will be darker and more surprising than before. We know that Aloy is setting out to take down the Red Blight from destroying the world. This Red Blight is the first sign of biosphere degradation and while that takes the center stage during the game, Aloy's past and her connection to the Old World will also be a major factor in the game's story.
We still haven't learnt everything there is to know about Aloy and her past so Horizon Forbidden West aims to dive deeper into this backstory.
A big focus for Guerilla Games was to expand the world of Horizon Forbidden West by adding more people and tribes into the game. This way, the world felt less "apocalyptic" and more like a living society. The Tenakth is one of these tribes. It is divided into three clans and they don't like one another.
Benjamin claims that Guerrilla Games didn't want to simply make Horizon Forbidden West a bigger game in scale but rather improve the game's features and add more things to do while keeping the map to a similar scale. This means players will encounter more machines that are bigger, deadlier and harder to take down. Guerrilla Games has also focused on improving combat by making encounters feel grander. Side quests will also be deeper and tell more compelling stories. These side quests will help the player connect to the people in the world and tell emotional stories. [perfectpullquote align="right" bordertop="false" cite="" link="" color="" class="" size=""]Players can just play through the story if they want but the side quests add a lot of room for discovery.[/perfectpullquote]
As for the size of Horizon Forbidden West, I asked Benjamin how much time players will spend in the game. While he refused to give me an exact number of hours, he did say that the game has been expanded in so many new ways. Players can just play through the story if they want but the side quests add a lot of room for discovery. The world is also more verticle than before meaning players who like to explore can now climb giant ruins and large skyscrapers to get around.
[perfectpullquote align="left" bordertop="false" cite="" link="" color="" class="" size=""]Improvements are seen across both PS4 and PS5[/perfectpullquote]Benjamin didn't answer my question about flying mounts in Horizon Forbidden West (the interview was about the story so I understand). However, he did hint that there are new machines to conquer so we will have to see. I would personally love to fly around as I think most players will too.
Annie shared that her job is to fill the world with secrets for the player to find. She hinted that there are some very cool things to discover in the game that expand the current story as well as the distant past.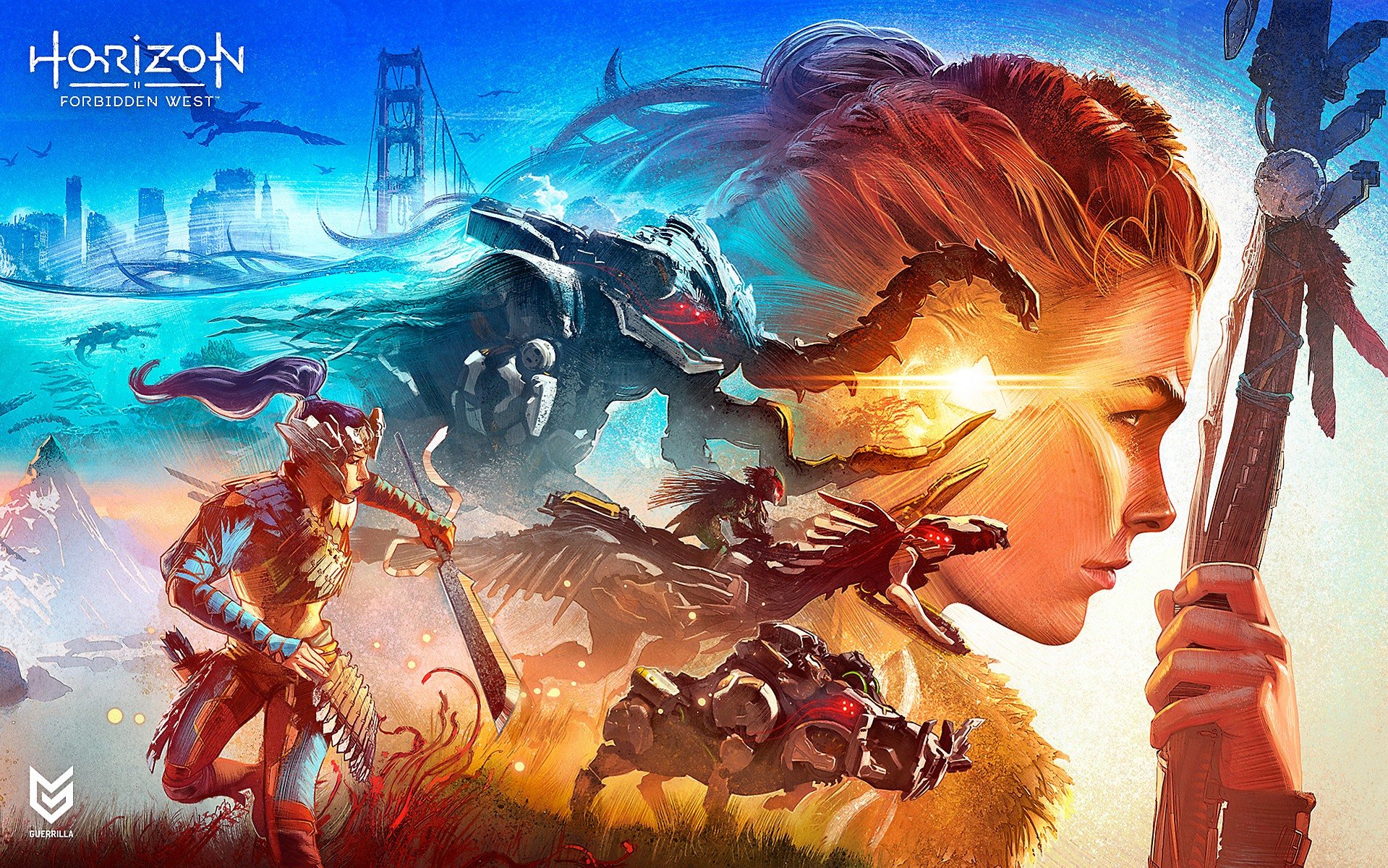 Aloy won't be alone in Horizon Forbidden West. While Benjamin confirmed she is the only playable character, the well-loved past characters will help her throughout most of her adventure. Benjamin says that the quests are designed so that Aloy meets new characters while also connecting further with the ones we know from the past game. These new characters have side quests to complete as well as pop up throughout the main story too.
All of these interactions are now more immersive than before thanks to the advanced new tech that has improved on facial animations and facial capture. Guerrilla Games says these improvements are seen across both PS4 and PS5 but PS5 players will enjoy a bit more visual flair through better lighting.
If you are jumping into Horizon Forbidden West without playing Horizon Zero Dawn, Benjamin says the game will catch you up on the events of the first game and its expansion Frozen Wilds. It will expand on what happened in the first game and Aloy will also start with some gear so you don't feel like she is weaker than when you left her.
Horizon Forbidden West releases on 18 February 2022 for PS4 and PS5.