As an avid Apple fan, I have always owned an iPhone. With that being said, I do believe that Huawei has fantastic smartphones. The P20 released earlier this year and was a hit and now the Huawei Mate 20 Pro is here and it packs every high-end capability into a smartphone. We are talking a giant 6.3-inch AMOLED display with a resolution of 144×3120. An under-screen fingerprint reader, dual sim capabilities, triple camera lense and much more. Huawei has ended 2018 with a bang by releasing the most futureproof smartphone I have ever used and it is crowned the best phone of 2018 in my books.
Huawei Mate 20 Pro Tech Specs
Body: 157.8 x 72.3 x 8.6 mm
Weight – 189g
Materials – Front/back glass + Aluminum Frame
Waterproof – Yes, IP68
Display – 6.39-inch AMOLED / 538 ppi @ 1400 x 3120 / HDR10
OS: Android 9.0 with Huawei's EMUI 9.0 Overlay
CPU – HiSilicon Kirin 980 (7nm) Octa-Core (2×2.6 GHz Cortex-A76 & 2×1.92 GHz
GPU – Mali-G76
Storage – 128 GB or 266GB -upgradable with proprietary Nano-Memory Card
RAM – 8GB
Camera – 40 MP, f/1.8, 27mm (wide), 1/1.7″, PDAF/Laser AF 20 MP, f/2.2, 16mm (ultrawide), 1/2.7″, PDAF/Laser AF 8 MP, f/2.4, 80mm (telephoto), 1/4″, 5x optical zoom, OIS, PDAF/Laser AF / 24 MP Front Camera
Features: Face Unlock / under-display fingerprint scanner
Price: R18,999
Design
While the Huawei Mate 20 Pro has a lot of future technology built into it, its design feels pretty dated. On the front, you will find the giant 6.3-inch AMOLED display that has a notch. Many companies made fun of Apple for inventing the notch and Huawei was one of them. Nice to see them following the trend they hated so much. The display is gorgeous. It is bright and vivid and boasts 538 pixels per inch. The screen curves around the edges and looks great. It does have a Samsung vibe to it but you know its Huawei thanks to the notch on top.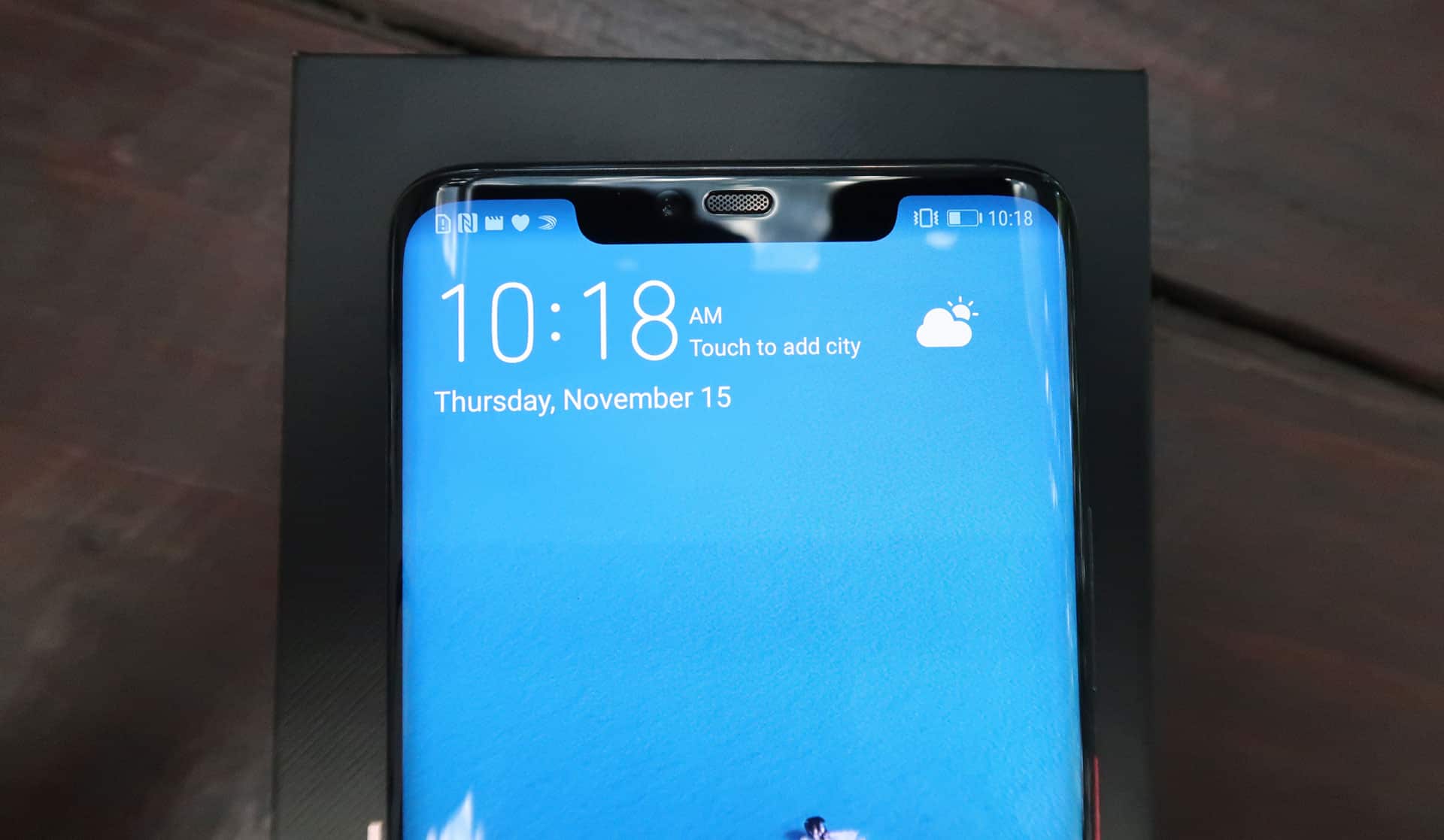 On the back is where the magic comes from for the Leica cameras. The Huawei Mate 20 Pro boasts three of them. a 40-megapixel wide lens, a 20-megapixel ultrawide lens and an 8-megapixel telephoto lens. Huawei has designed the back of the device to look sleek and defined. Even with three cameras and a flash, the four objects are neatly placed in a square which has become the Mate 20 Pro's main design selling point.
The phone is plastic on the back and comes in various colours. We got the boring black version and there is nothing really special about it really. The Mate 20 Pro then has everything else you would expect from a 2018 smartphone in terms of design. A USB Type-C port, no headphone jack, and a dual-SIM reader. This reader also acts as a slot for Huawei's new proprietary memory card. Just when you thought the world did not need a new type of storage, Huawei has introduced Nano-Memory. This smaller micro-SD does not fit anywhere else but in the Mate 20 Pro and you cannot use a Micros SD so if you want to upgrade your storage then you need this card.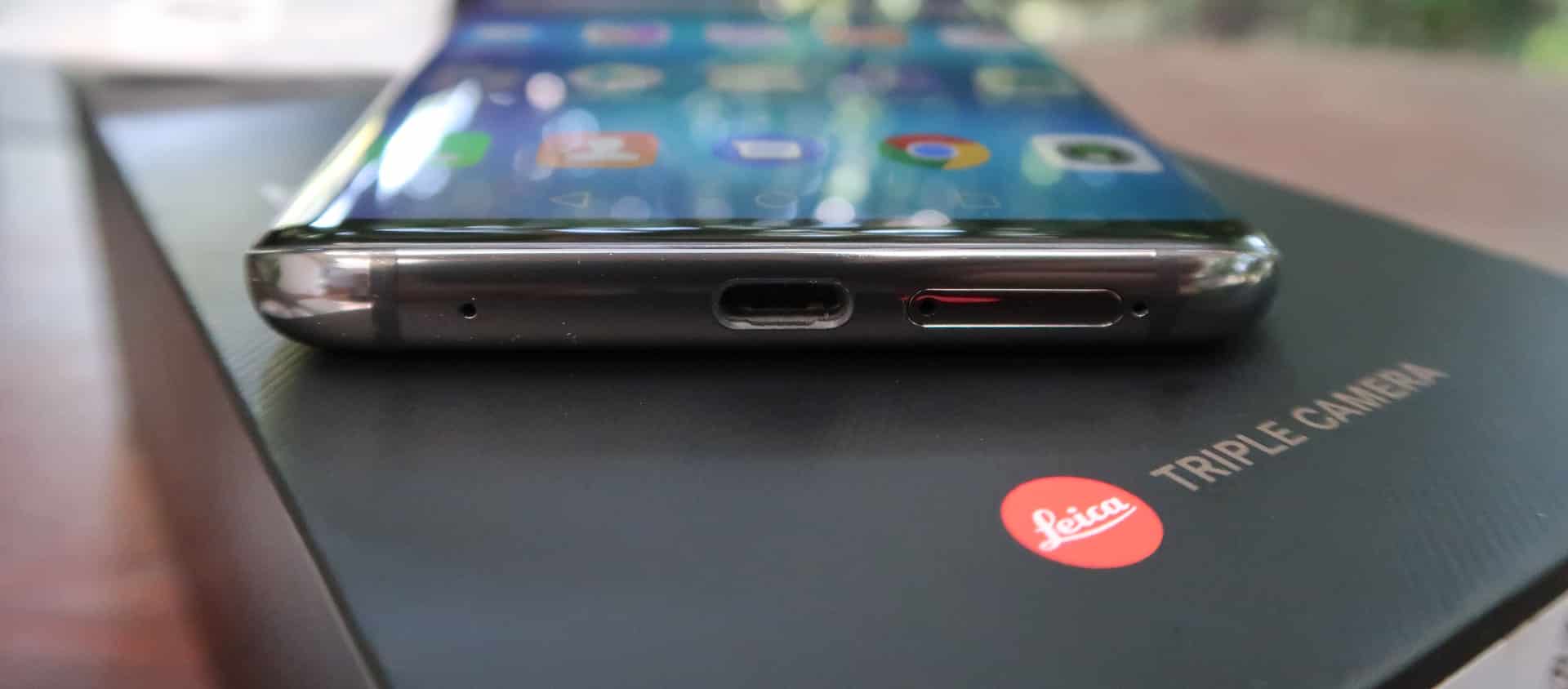 The overall design of the Huawei Mate 20 Pro feels unoriginal but that is not a bad thing. It bears a simplistic design and works for the phone. Its materials feel expensive and when you have it in your hand you know you are holding an R19k device.
Features
So the display on the Huawei Mate 20 Pro is a major selling point and there is a good reason why. This 6.3-inch 3120×1440 HDR AMOLED display is fantastic and the moment you turn it on, you can see the magic on screen. I am not a fan of curved displays but I will let this slide as the AMOLED screen is a real beauty. I went and started watching HDR YouTube content just to witness all the features come to life on the device and it was remarkable.
Under the screen, there is a fingerprint scanner. No more buttons needed. You just place your finger on the spot on the display and the reader picks up your fingerprint and unlocks your device. It is impressive, to say the least, and to think a few years ago we did not even have fingerprint scanners on smartphones let alone under-display ones. With that being said, it is slow. It could be because its new tech but it feels sluggish most of the time. Putting my finger on the display took a few moments for it to unlock. The point of unlocking your device is to do it as fast as possible and while the under-screen scanner is a cool feature, I could not help but feel it would just be faster and easier to put it onto the unlock button because your finger is already on it when you turn the screen on.
The Huawei Mate 20 Pro has a few ways to unlock your device. The notch features a 3D depth-sensing camera to use your face to unlock the device, you can use an old-school pin, or you can use your fingerprint. As an iPhone X owner, I can say that the 3D depth-sensing camera is great and pretty close to Apple's FaceID. It may be slower at times and it is not secure enough to be used for purchases but for a simple unlock, it works. I can just see many people opting in for an old school pin as the fancy-schmancy ways to unlock this awesome device just feel slow. The fingerprint scanner is slow and the face unlock feature just take the same amount of time too. My iPhone X is already unlocked by the time I swipe up on the screen, taking half the time of the Mate 20 Pro.
The Huawei Mate 20 Pro also has back-to-back charging which is pretty cool. You can turn it on and put any other wireless charging-enabled phone on the back of it to charge it. Not sure how many people will use this feature but its there if you want to use the Mate 20 Pro's massive 4200 mAh battery to give life to another device.
Speaking of the battery – wow. I have not had a smartphone last as long as the Mate 20 Pro ever. The closest is most likely one of the Plus iPhone models from a few years ago. The 4200 mAh battery is a real monster and lasts a good full day without an issue. I ended up having at least 20 per cent left after a day of good use. Huawei also packs a fast-charger adapter in the box, something very few manufacturers do. This 40W adapter helps charge the device faster than most and you can get a good 30 per cent battery back within 20 minutes of charge.
Camera
To be honest, the Huawei Mate 20 Pro will not be as amazing as it is without its camera and it is one on the market. It is the only smartphone camera you should look at for taking amazing photos and videos in your daily life. The triple-lens Leica camera does everything you throw at it and the results are beautiful. The performance of the cameras has a lot to do with the Kirin chipset and Huawei's A.I features such as video recording stabilization which even blew our production team's minds when they tested it out. While recording video, the A.I mechanics kick in and the software and hardware stabilize your video to the point where it looks as if you are using some sort of insanely-priced gyro stabilizer to record your shots. Video records in 4K or 1080p at 60FPS. Check out a 4K video clip below;
[su_youtube url="https://youtu.be/Sl2zmeySs1s"]
As for photos, well, that is just another fantastic feature of the Mate 20 Pro. There is so much camera here that you will start snapping a lot more of everything during the day and night. Just knowing your phone is capable of capturing some truly beautiful shots is a big deal and Mate 20 Pro makes a perfect companion. It could be the best smartphone camera on the South African market, given that the Google Pixel 3 is not available here. Check out all the snaps we took below;
Night time shots are fantastic too. The device takes a while to process any major dark shots but they look great when they are done. Those of you with a P20 Pro, you aren't going to find anything groundbreaking here as the camera is very much the same. Regardless, if a smartphone camera is a major sell for you then this is the phone you need. Even the front-facing camera pulls off a pretty sleek shot.
Performance and Gaming
So the Huawei Mate 20 Pro is a monster device and its CPU is high-end. But don't let that fool you, there are better phones with better performance on the market. A simple Geekbench test shows that last year's iPhone X beats is, but then again Apple's Bionic chips are the fastest on the market right now, even beating the powerful Mate 20 Pro. But in a 2018 smartphone, those few differences are barely felt. Devices run well and a Geekbench score is just a number as the results just give you a better understanding of the actual clocks of the CPU.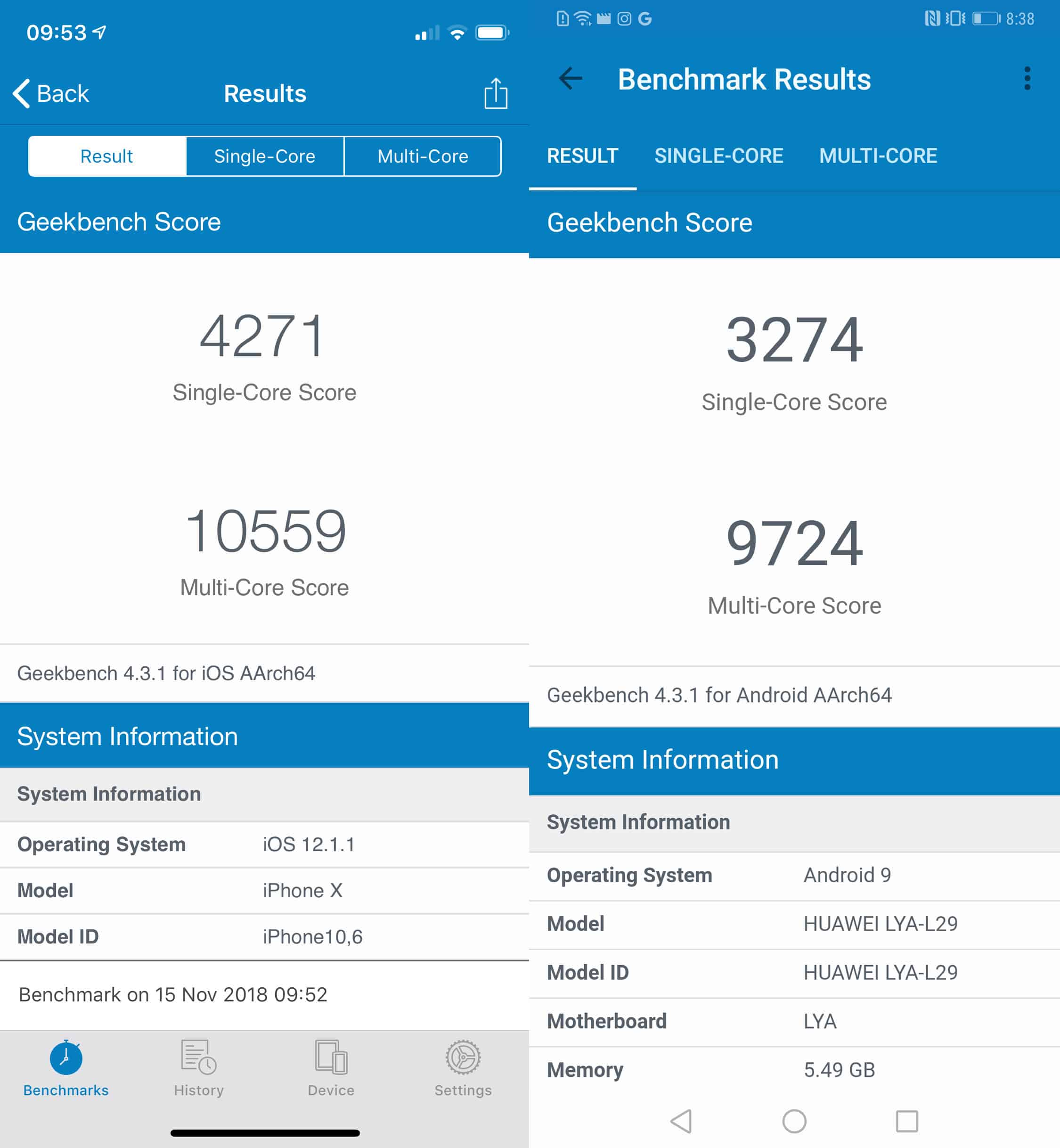 Even with the iPhone X beating the device in technical tests, it is a fantastic experience. Multitasking was great, I never encountered any lag or sluggish response, and it was a smooth and productive experience. Gaming was the same. Things look good on the fantastic display and colours and frame rate help push the mobile gaming experience to another level. It DOES NOT beat the Nintendo Switch as the company claims but it does mobile gaming as you would expect, pretty well.
Verdict
The Mate 20 Pro may be a bit pricey but who buys smartphones for cash anyway? At R18,999 or around R799 per month, the device packs more value than you can ever ask for. The smallest of things like the 40W charger being included in the box already shows that Huawei wants to make the smartphone experience everything it can offer and more. I mean, for the iPhone XS that costs R23,000 you still get a crappy 9W charger.
It lacks a headphone jack but welcome to 2018, and its feature and design are truly remarkable. It is every Android owner's dream phone and if I was not stuck in the Apple ecosystem I would pick one up today. The Huawei Mate 20 Pro today's phone, built for tomorrow.
This review is based on a device borrowed to us by Huawei Mobile South Africa over a period of 12 days.