Intel has revealed a new range of Comet Lake processors which will be added to its 10th gen lineup. The new CPUs form part the Comet Lake range and include eight new 10th Gen processors.
RELATED: Rumour: PS5 Dev Kit Patent Leaked – Designed in the Shape of a "V"
The new CPUs use Intel's 14nm process which is strange as the company already has a 10nm process meaning they won't be as efficient as the 10nm chipsets unless combined with an AMD or NVIDIA GPU.
Why would Intel reveal new chipsets when they have better ones on the market? Well, there's a reason for it. These chipsets will be cheaper and hardware makers will find a use for them in specific devices.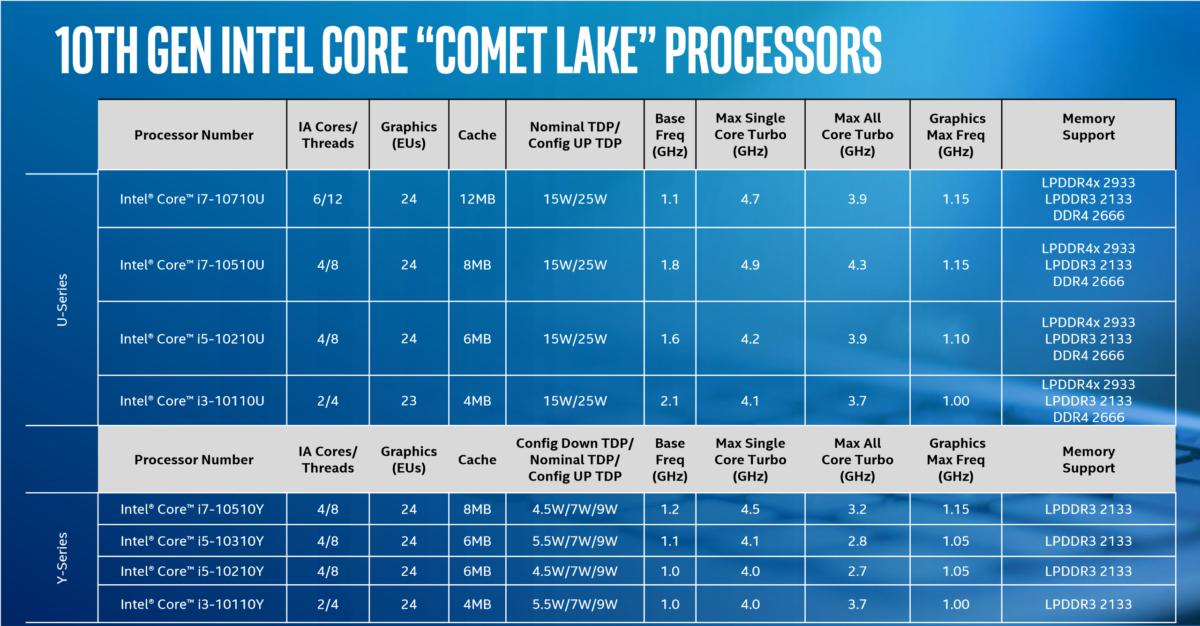 The new 14nm chips will lack the benefits from the 10nm chips such as improved battery life and none of them feature Intel's Gen11 integrated graphics. Instead, they make use of the company's previous integrated graphics hence needing a dedicated GPU to perform decent gaming.
Basically, when looking for a new CPU, anything with a "G (number)" at the end will form part of the better 10nm Ice Lake range. Anything with a "U" or a "Y" is Comet Lake. But the Comet Lake CPUs are not bad at all. According to Ryan Smith at AnandTech, the new U series will support LPDDR4x RAM as well as support for Thunderbolt 3 and Wi-Fi 6.
Intel also claims the devices baring the "Project Athena" sticker contain the new U chipsets and are guaranteed to last for nine hours of battery life.
Intel states the new 10th gen chipsets, both the 10nm and 14nm Comet Lake will be in devices by the end of 2019 and will offer affordable notebook experiences depending on the range you go for.
RELATED: Sony First-Party Multiplayer Games Could Come to Other Platforms