The Just Cause series is one of my go-to favourites when I want to just let off some steam and blow things up. The games have been known for their over-the-top action, fantastic exploration and just being really extra. Just Cause 4 follows all that and after the bumpy release of Just Cause 3's major performance issues, Just Cause 4 is a breath of fresh air as it runs smoothly, looks fantastic and there is enough new gameplay tweaks and additions to give the game the life it needs to compete with 2018's biggest games. If anything, I will probably spend December playing this instead of Red Dead Redemption 2.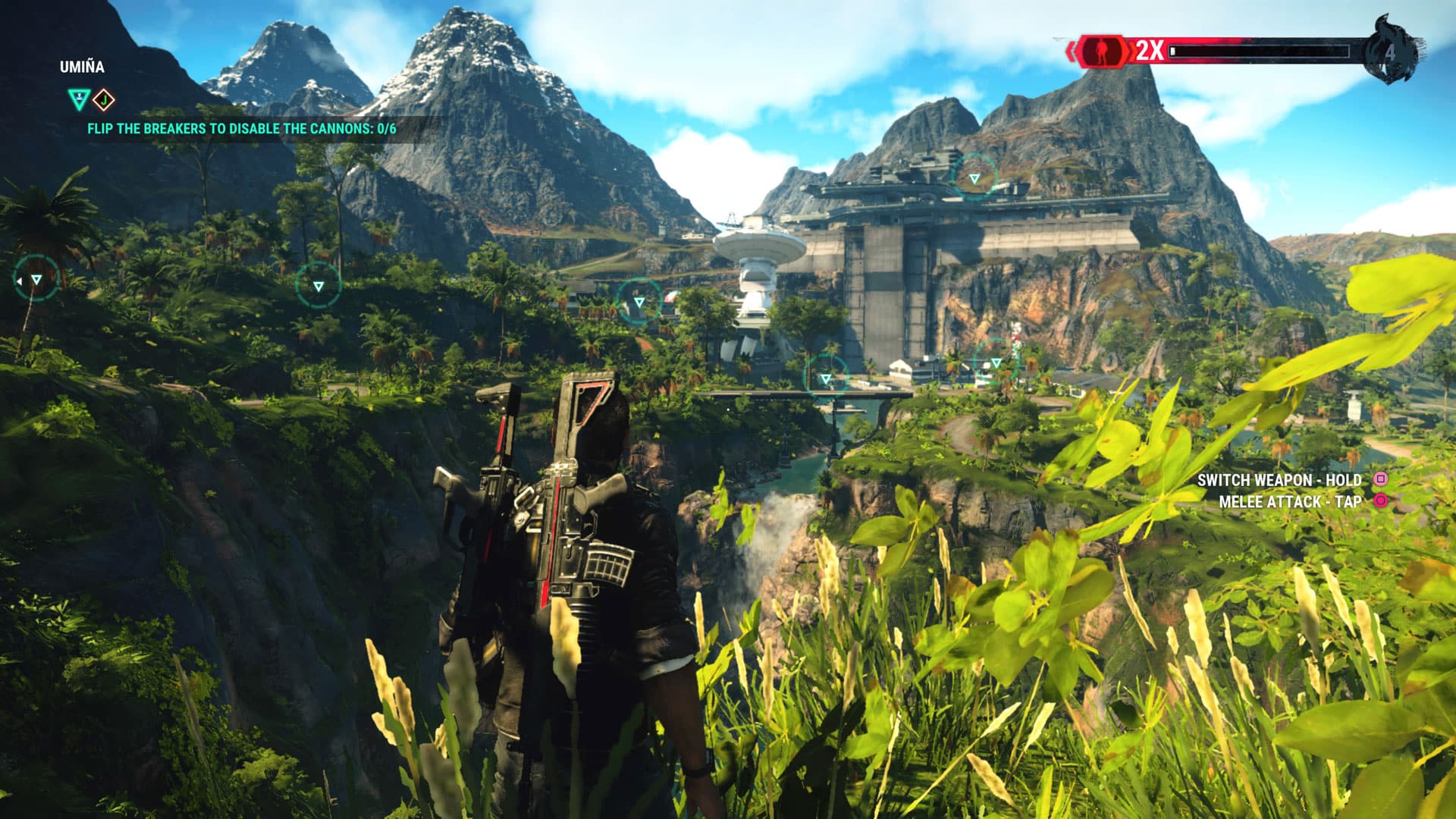 Just Cause 4 takes place on the gorgeous island of Solis. The lands combine a desert with a country farmland, wet Amazon-like jungles and frozen mountains. It is everything you could ever ask for in an open world. Rico is back and once again he is taking down a crazed dictator known as Salvador Mendoza that runs the world's most powerful army called the Black Hand. While the story sounds interesting it is far from it. The handful of main and supporting characters help pad the rebellion Rico is controlling but the overall plot is overshadowed by the game's fantastic action, and that is not a bad thing at all.
Just Cause 4 feels bigger and more ambitious than any past entries in the series and right from the start the game throws you into the deep end with a load of changes and mechanics that you need to master and fast. Rico's parachute and wingsuit return to make exploration fast and easy but his arsenal has seen a drastic change. Rico now no longer has any explosive on him, instead, every weapon has a secondary fire and his grappling hook is the breath of fresh air added to the series thanks to the deep customization options. More on that later.
At first, I missed the old ways of carrying a bucket load of C4, flying around, tossing and placing them all on red explosive objects just to stand at a distance and detonate them all at once, but the more I got into the new weapon system, the more creative it felt. Every weapon's secondary fire is unique to each model. The giant LMG can shoot normally and when you press L1 it can then be set up stationary for super-fast shooting.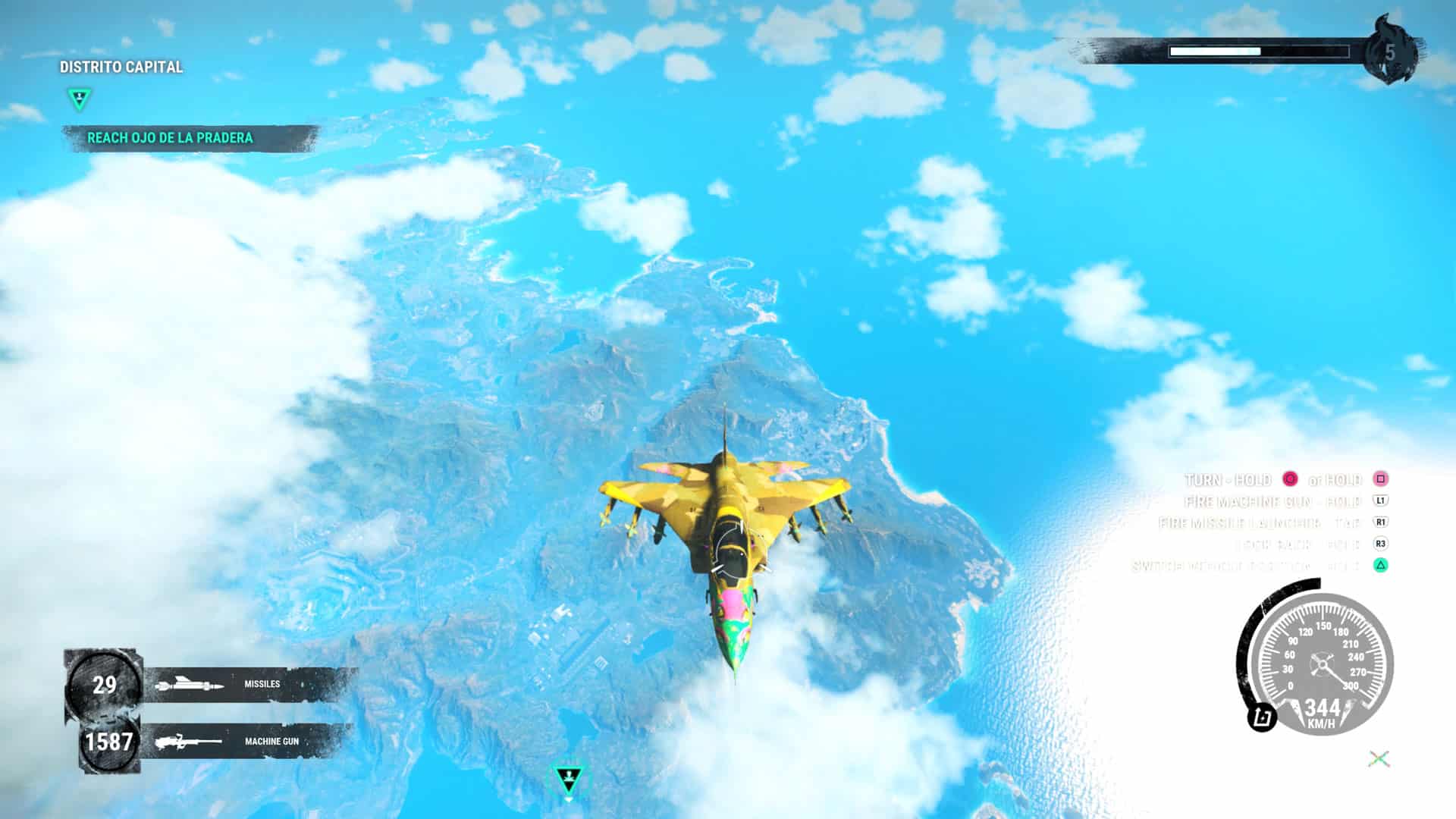 Sniper rifles can shoot normally with the trigger but the secondary fire sees them lock onto enemies and launch a missile at them. Standard machines guns then come with grenade launcher ammo that helps get rid of shielded enemies but my favourite of all was without a doubt the Lightning Gun that shoots a beam of electricity at enemies but its secondary fire tosses a grenade that summons a deadly lightning storm that strikes and destroys everything. It kills your mercenary allies, blows up cars, and even killed Rico often too. It looks fantastic and is just one of the better weapons in the game.
As for Rico's grappling hook, it is the simplest yet most effective addition to the series yet. Throughout the game, you unlock three ways to grappling hook objects; giant balloons that make things float, a pully grappling hook that can link a box to the ground and pull it towards it, and rocket-powered gadgets that send things flying in the direction you place them. These three grappling hooks can then be combined together in different loadouts to create the ultimate circus show. Putting a balloon on an enemy and a booster rocket and then activating it sends him flying into the air and the balloon then makes them spin around like a Bethesda glitch.
The pully grappling hook can easily rip helicopters out of the sky by shooting it toward them and shooting the other end into the ground. There was something great about even pulling two helicopters together to see them collide and explode in the air. I did it a dozen times and never got old. Destroying bases and fighting your way through the Black Hand was hard at first without the explosive I was used to from the past games but once I mastered the grappling hook, it added a deep level of creativity to Rico's mass destruction.
Even tethering these giant round gas tanks and throwing some balloons on them to see them fly high into the sky and them come crashing down to destroy everything in radius. The destruction in Just Cause was already top-notch and the new grappling hooks truly deliver the most hilarious gaming mechanics I have ever witnessed and created an endless possibility of chaos thanks to the game's superb physics. Everything can be hooked, sent into the air and destroyed forcing you to consider all options when taking on a base.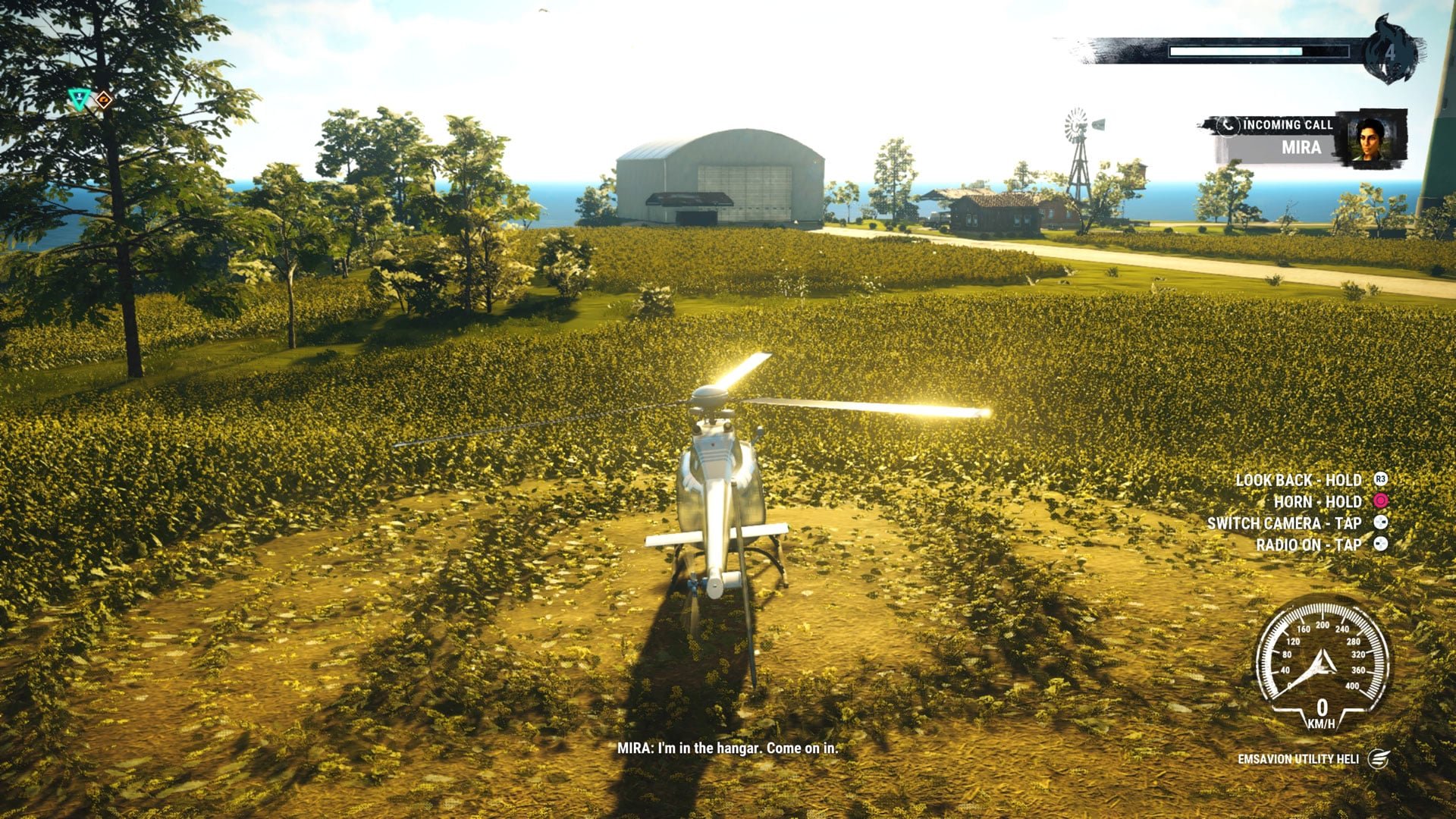 Much of the game's progress has been changed and the familiar "run to this base, destroy everything until you reach 100%" has now been replaced with a focused and more detail mission for every base you need to take over. The lands are scattered with Black Hand strongholds that hold the people of Solis back. The Black Hand have control of the entire island and by taking back these strongholds, Rico can send in his rebel squads to secure the regions.
Every stronghold you enter has a mission you need to complete. These missions range from the really exciting to the pretty bland and repetitive. One of them saw me head into an airport to blow things up all while hacking terminals and then escaping in one of the most explosive getaways in the game. The others revolved around running to a point, hacking a terminal, opening a hatch and then completing the stronghold. When they are good, they are great and when they are boring they are hard to digest.
But these stronghold missions are just part of the grander scale of things. The Black Hand have been terrorizing Solis with strange weather weapons and Rico's ultimate goal is to stop them. Once you have unlocked a region by sending your squad mates to free it, the main missions unlock. Every main territory in the game has a few lead-up missions that prep you with the equipment to take on one major one. These revolve around stopping a giant tornado, breaking up a lighting machine and much more.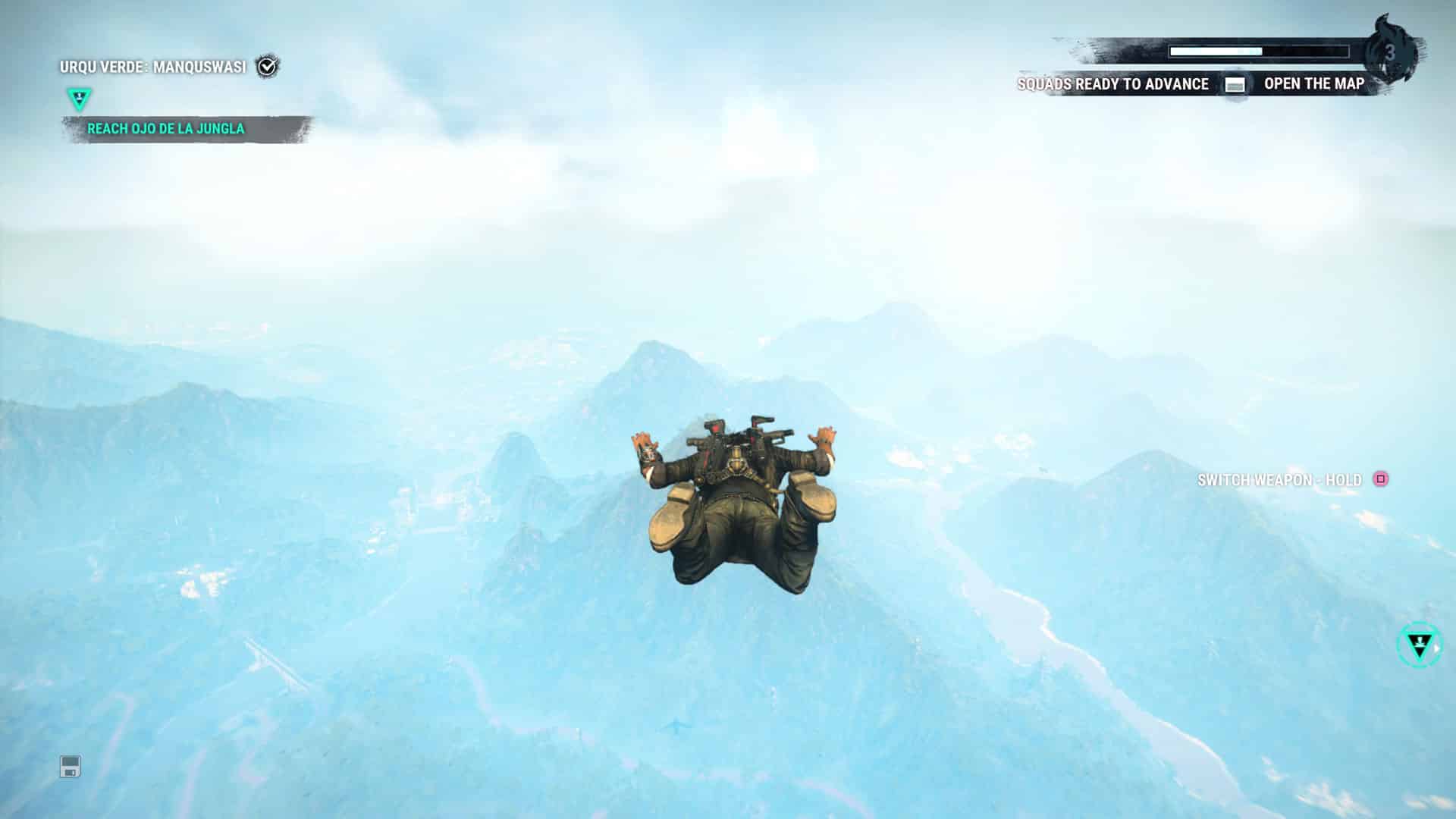 The missions leading up the explosive finale are not the best, rather they just focus on you stealing something to make something to help you stop the Black Hand. But the journey in-between all the story missions is what makes the game so great. Taking over strongholds, exploring Solis, doing side missions for Javi, Garland and Sargento which unlock grappling hook mods, and just blowing stuff up. These moments outshine the story of the game and I had no problem with that at all. Just Cause is just mindless action fun and there is plenty of it here.
Throughout the game, there's a wide range of things to see and do like wingsuit challenges, stunts with cars and flying helicopters through loops. The thing is, other than the wingsuit, all these other challenges are locked behind doing them with a specific car, plane or boat model. You cannot just get in one and get the job done. Instead, you have to fly around and hope that the vehicle you need is close by. After a while, it makes the easter egg hunt rather mundane. I wasted time finding a specific car only to jump through one silly hoop and finish the challenge. None of them pushes the envelope in creativity and they are not remotely hard at all.
When looking at the game's world, Solis is stunning and could be the best-looking Just Cause game to date. There are some nasty resolution issues though and I cannot help but feel that the game runs at 900p to keep the engine at a steady 30FPS and the game does run pretty smoothly so I guess that is all that matters. The world is breathtakingly beautiful regardless and every now and then I took a break from the chaos to look at the sunset and the glorious HDR implementation.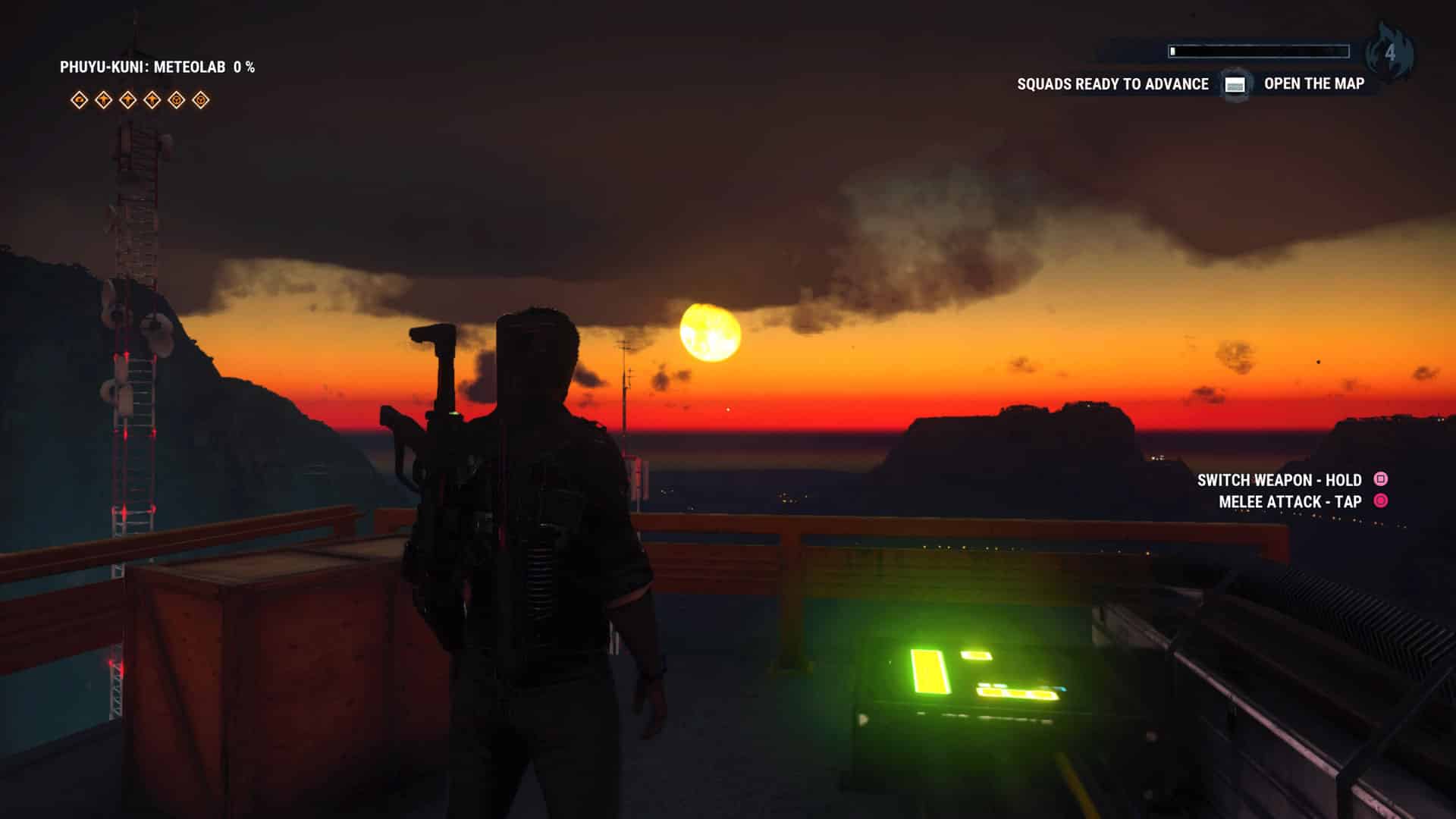 Just Cause 4 is just mindless action and I loved it for that. I could pop open Netflix, catch up on RuPaul's Drag Race all while saving the people of Solis. Its the most polished and feature-packed entry in the series and its emphasis on the elements provides a stunning experience that is unlike anything from the past. Even after taking over everything I would love to go back and complete those challenges if I can find the darn vehicles to do them with.
This review was based off a review copy given to us by Square-Enix
Available On: PS4, Xbox One, PC | Reviewed On: PS4 Pro | Release date: 4 December 2018 | Price: R999