If you don't know what a Kentucky Town is by now you've clearly missed the boat on KFC's trendy limited edition menu which pops up every now and then somewhere in South Africa – and after this last visit, that might be a blessing. The menu tries to bring some exclusive set items to customers that supposedly tie into the area hosting the Kentucky Town at the time. In December, the fast food joint dropped its Kentucky Town Durban and you could grab some KFC items inspired by iconic Durban food. There was even a Bunny Chow-like dish.
Back in September last year, KFC hosted its Kentucky Town at Comic Con Africa and it was undoubtedly the best part of the show for me. Not only was the food incredibly tasty but the service was unworldly at an event of that scale. The team managed to serve hundreds upon hundreds of hungry South Africans. Even as the queue went out the door and down into the outside area, it moved pretty fast and I was surprised to see how well this was handled.
Sadly, Kentucky Town Pretoria wasn't it. I decided to check it out given that, unlike the Durban counterpart which is quite far from me, the Pretoria venue was just a Gautrain trip away. So I hauled my entire family with me on the train to Pretoria, hopped on an Uber (which you have to grab from a few blocks away from the Hatfield Station because of the Maxxi Taxi drama) and was greeted by a rather long line at Kentucky Town. This was at around 13:30.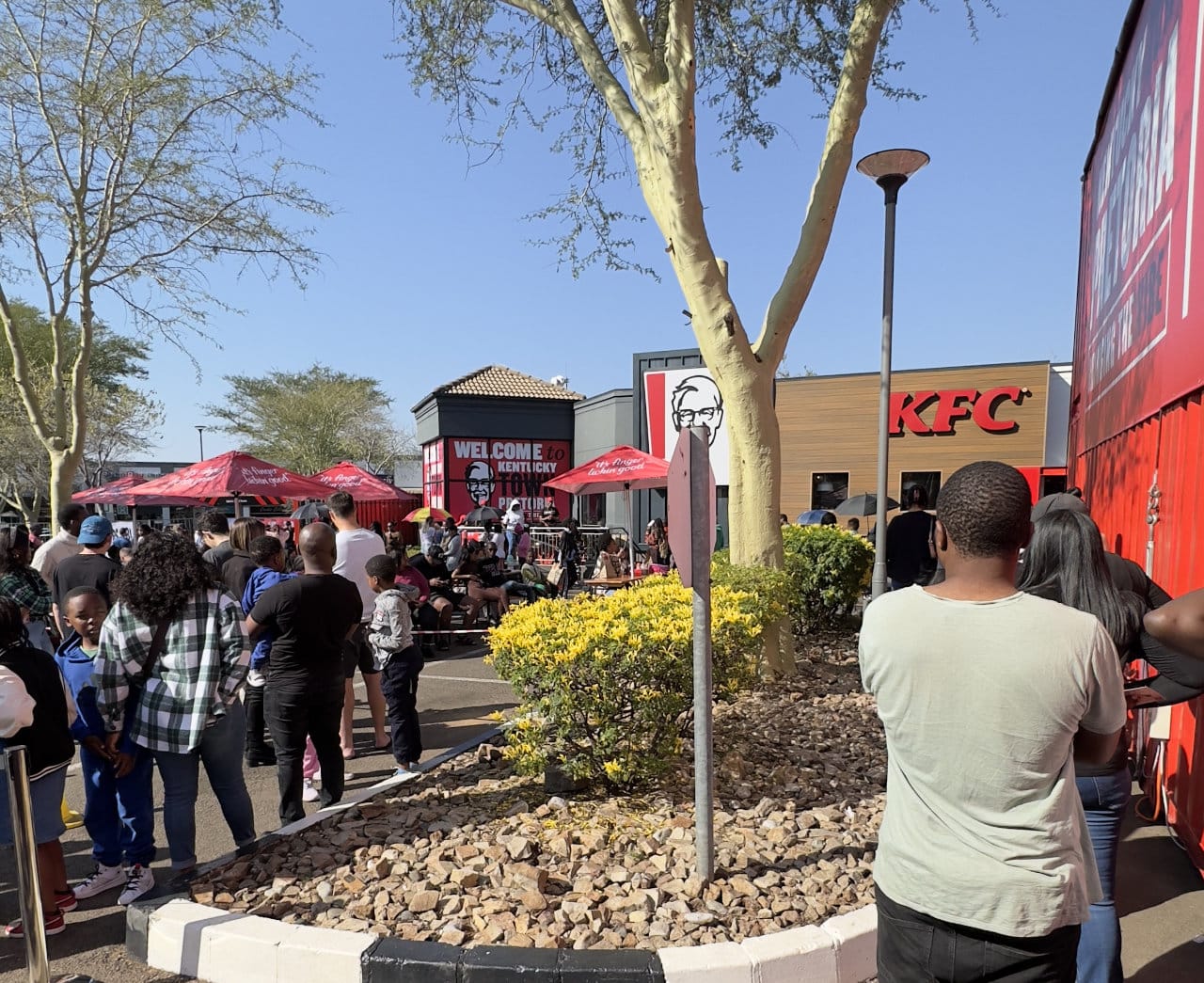 After the experience at Comic Con Africa, I really thought this long line wouldn't be an issue. If anything, it was similar in length to the Sunday lunch rush at the show in September and even then, I waited about 45 minutes for food. I thought to myself perhaps it would be even quicker given that this venue in Pretoria was at the Lynwood KFC – an actual KFC joint and not a makeshift restaurant in a convention centre. I was wrong.
I won't deny that the first hour was exciting. I was with two friends so we chatted and caught up. I also had to decide what I wanted to eat given that the only thing I wanted, the Blaze Burger, was already sold out when I got there. I also popped into the KFC Store and grabbed some sauces. The brand had other items on sale such as underwear, some slippers and hoodies. There was some sneaker activation that had no context to it. Some people were drawing on sneakers so I gather you had to buy some to get them customized or something? There was no sort of messaging at all.
I then rejoined my friends who managed to creep forward by a few steps. I was away for about 10 minutes but I felt the energy in the line wasn't as bright as it was before I left. Many of the people standing around me realized that this line wasn't going anywhere. There was even an elderly man near me who was struggling to stand and decided to go home.
The wait then entered the two-hour mark and everyone around me sorta looked like zombies. People were sitting on the small bits of free pavement around the drive-through in an attempt to save their feet and backs from pain. We also had the odd line jumper who would break through the crown to "meet a friend near the front".
We finally made it to the front at exactly 15:50 (two and a half hours later). Keep in mind that while this wait taking place, my entire family were sitting at the bench waiting for food. The bench area consisted of 8 tables…. an entire 8 tables for the masses of people who flocked to KFC to eat this special food. However, my family were superstars and really didn't complain or make a fuss about it. At least the sun was warm.
Inside, the ordering was really simple. I went to a kiosk and placed my order which consisted of 35 items and came to a whopping R1750. I am not joking when I say "I hauled my entire family". Even my 84-year-old granny joined the party.
But while standing like an idiot inside KFC Lynwood waiting for what I hoped would be good food, I spotted random people coming into the entrance of the restaurant asking to "use the bathroom". However, out of the corner of my eye, these people were going into the bathroom and then simply walking out of the bathroom and straight to a kiosk to order food.
So instead of waiting in line like my dumbass for three hours, they found a loophole in the system. Clearly, the chickie poo at the door who was meant to check who came and left, wasn't doing her job properly. I watched seven people in my twenty-minute wait do the same thing. But hey, I was there already and complaining wasn't going to give the time back – nor would it have healed the back pain I had.
Of course, in classic KFC tradition, after we carried most of the items to the table, I had to go back and ask for the missing items – mainly the Kentucky Fried Oreos. Add another ten minutes to the clock here. I also tried to get my hands on some serviettes and to my surprise, there wasn't one in the entire building.
So get this – Kentucky Town Pretoria had a special item on the menu called the Sphatlo. This was meant to be a Kota-like dish but with KFC stuff inside of it. Also, if you have ever eaten a Kota before, you would know that you're meant to use your hands. Imagine having no serviettes around to clean your hands while eating this….. it was a nightmare.
I watched as my hungry family tried to dig into the Sphatlo with their hands knowing that there was no way to wipe them at all. I then watched them try to eat the Sphatlo with a flimsy plastic fork and tear apart the bread and chicken piece by piece. It wasn't great.
It also didn't help that everything we ate was just as cold as the Fried Oreos that KFC forgot to give me. Cold KFC isn't great. It is not one of those things you can just eat during loadshedding all willy-nilly without warming it up in the microwave first. Even then, the lettuce and tomato go horrible and the chips taste disgusting.
The La Litchi Boba drinks were warm and ungarnished. Even the fizzle in the cold drink was gone. It was like drinking warm juice with little balls in it… The Chachos were literally chopped-up chicken strips with tomato, lettuce and jalapenos. Again, cold and underwhelming. The Dunked Pops had a decent taste besides being cold balls. But the sauce went everywhere after the staff threw them into the bag upside down. So much so that the paper stuck to all the pops and I had to peel it off each ball before I ate them.
The perfect metaphor – hot and hungry while waiting for food. The garage pie was likely better anyway.
I was looking forward to KFC Pretoria. Even when I saw the lines I wasn't too worried. My previous experience at Comic Con Africa gave me faith that it would be a somewhat fast trip and I would be eating a Blaze Burger within the hour. Sadly, that Blaze Burger being sold out should have been a sign of things to come. There is really no excuse for a three-hour wait to serve cold food. Maybe KFC should have focused less on watching how many Dunked Sauce bottles you could buy and more on who was "using the bathroom".
I won't be rushing to the next Kentucky Town anytime soon. Even if it ends up being a block away from my house. I think South Africans should have higher standards. This is not KFC's first rodeo either and it could have been handled better.