Kingdom Hearts 3 is the epic conclusion to a video game series in the making for over seventeen years. It marks the end of the Dark Seeker Saga following the story of Sora as he finally confronts the dark Master Xehanort. For those that have never played a Kingdom Hearts game before, it is a fantasy RPG set across a handful of Disney worlds filled with magic, charm and an extremely elaborate plot.
I have spent about half my life following the Kingdom Hearts series. I have played every game a couple of times and I am pretty much brushed up on its layered story and plot. In short, Kingdom Hearts has been in a better position as Kingdom Hearts 3 could be the weakest entry in the series to date. For everything it does great, it feels pretty lacklustre in other departments and its large emphasis on Disney is its biggest downfall.
It just lacks the magic and challenge found in past games and only the last few hours of the game truly bring that magical Kingdom Hearts experience to life but it is short lived.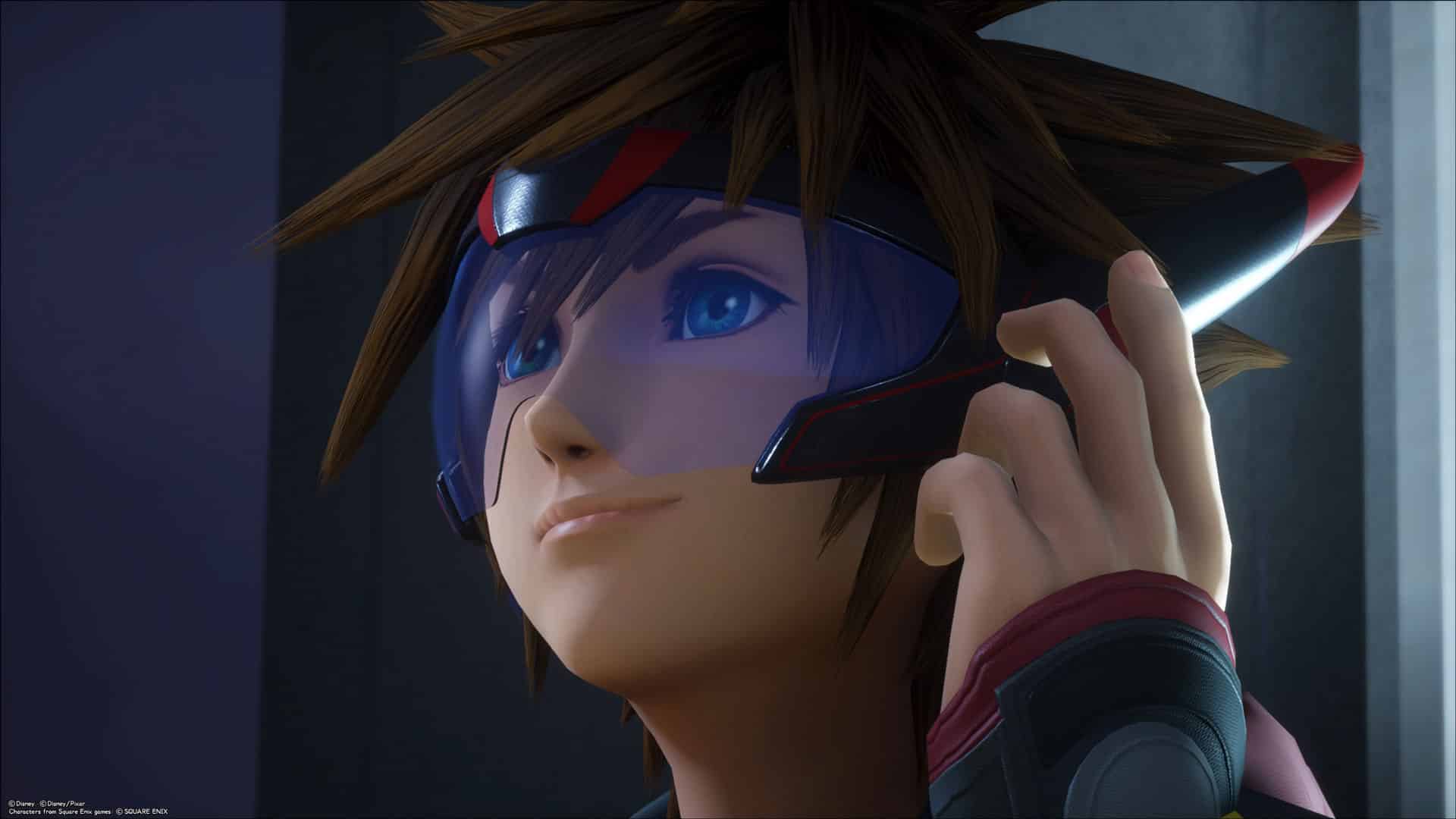 To explain the Kingdom Hearts story would take us all day so in short, Kingdom Hearts 3 sees the end of the Dark Seeker Saga, a story built over a series of games and worlds that follows the journey of Sora and a couple of Keyblade masters and wielders as they try and stop an evil villain from recreating the famous x-blade and in turn, controlling Kingdom Hearts.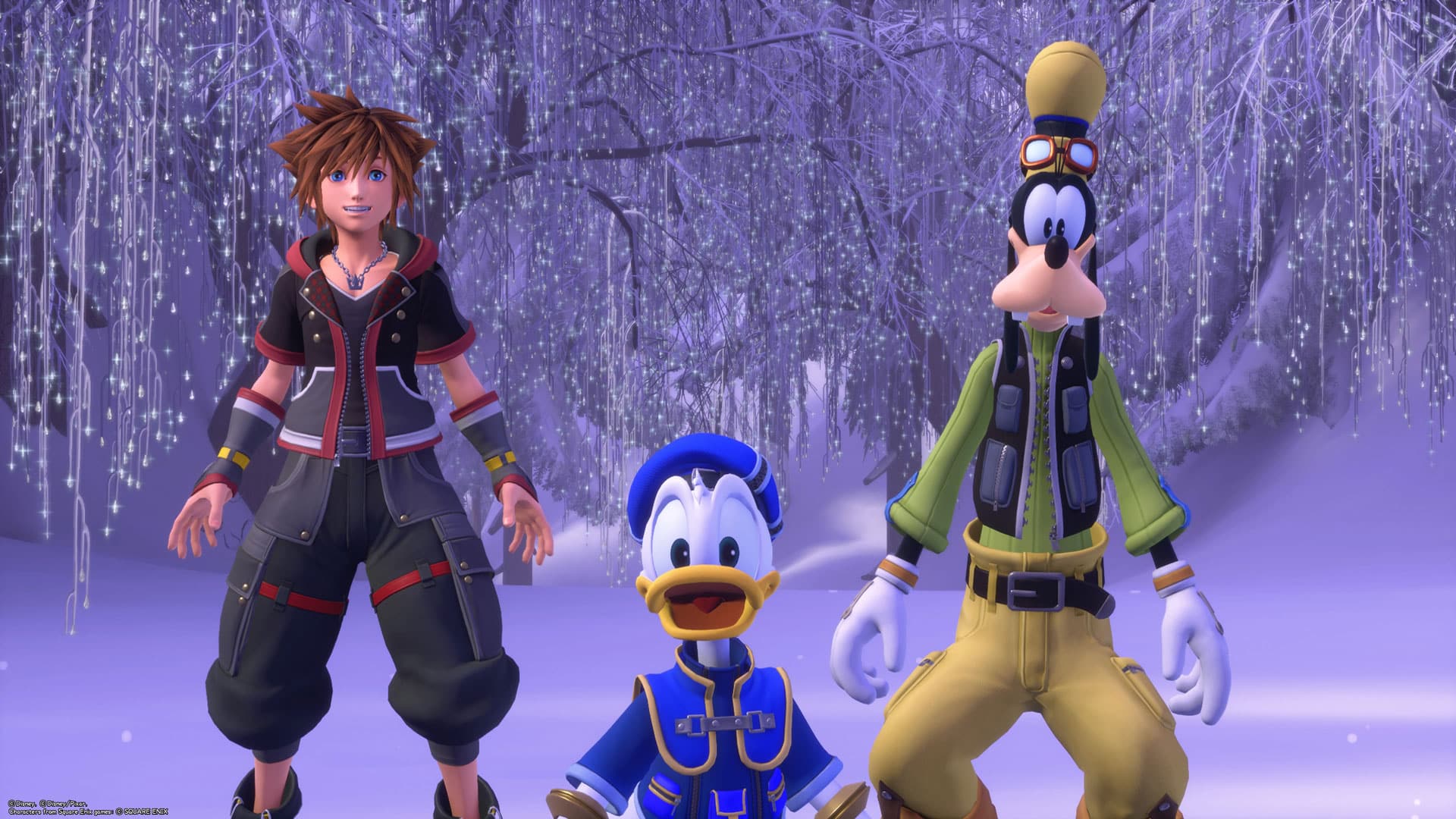 Master Xehanort has been planning his takeover for over a decade and to see it finally come into motion is one of the best parts of the game. Everything we have seen and experienced up to now reaches a final climatic close and the conclusion to the game is simply perfect. Unfortunately, the build-up to it all in Kingdom Hearts 3 is weak and the amount of control Disney has had on the game clearly shows how dumbed-down it has become.
With very little side narrative, Sora, Donald and Goofy head off to explore a load of Disney worlds to recover Sora's lost powers. After the end of Kingdom Hearts: Dream Drop Distance, Sora loses most of his abilities and heads to Mount Olympus to meet Hercules and find a way to regain his strength.
Much of the game's overall plot is pretty straightforward for most of the game. Sora enters a Disney world, completes its story while levelling up and fighting enemies. These Disney worlds are gorgeous and every cinematic is perfectly-designed with the utmost care to portray the universe in the best light. One thing is for sure, Disney had some high demands when it came to the quality of their IPs and Kingdom Hearts 3 is the best looking and most expansive title in the series. This delivers bigger worlds with bigger plots and memorable characters. Some of the cinematics are even pre-rendered like the cringy, yet catchy "Let it Go" rendition from Frozen.
Before every world, you need to travel there using the Gummi Ship. A staple in the series. Unlike past games, you are free to explore the outer sections of worlds to your heart's extent. The Gummi Ship is completely controllable and you can fly where you want, enter battles with waves of Heartless ships and find hidden Gummi parts and treasures scattered around the various zones. You then need to fly to the world you want to enter and this adds a great sense of exploration to the game. There was nothing like seeing the massive Monsters Inc. factory in the distance as I approached the world.
The Gummi Ship system is as you remember it, complicated and unnecessary. You can build new ships, buy a new one and invest a lot of time and effort into just this mechanic as there is a lot to see and do in the universe and a lot of side bosses and challenges to complete.
Every world is unique. Some of the favourites of mine in the game include Pirates of the Caribbean which takes place in an open-sea world where you can sail anywhere you want, climb off your ship and explore islands and search for white crabs to upgrade your ship. Sanfansokyo from Big Hero 6 is a large open city with giant buildings Sora can run up and warp to and Toy Box packs all the charm from the Toy Story series into a colourful and vibrant world.
While many of these Disney worlds hold their own, some of them struggle to stand out. The Kingdom of Corona is just a load of linear forests to explore with no personality and Arendelle from Frozen was an experience best forgotten. It saw me run up and down a handful of similar-looking areas just to get to the top of the mountain and fall down and do it all over again. This is a constant theme throughout Kingdom Hearts 3 whereas it does one thing extremely well but others just fail to deliver any sort of excitement.
Each world takes roughly 2-3 hours to complete with a copy-and-paste progression system. You watch a load of cinematics, explore the world and defeat enemies, watch another story and defeat the main boss. The variety of activities in these worlds compared to past games is lacking and that was one of my biggest issues. Every Disney world felt like it just blended together with another and none of them changed up the pace at all by throwing in an unexpected Organization XIII battle or mini-boss. It all just felt simple-minded and a tribute to Disney fandom.
Sure, the side activities to complete in these worlds keeps you busy but they have a lot to live up to when looking at past games and their worlds. Kingdom Hearts 2 had smaller worlds with a lot less charm yet you still felt more interested in the plot and waited for those difficulty spikes to occur in anticipation. There is a lot of talking and not a lot of challenge in Kingdom Hearts 3 and this is a major issue throughout the game.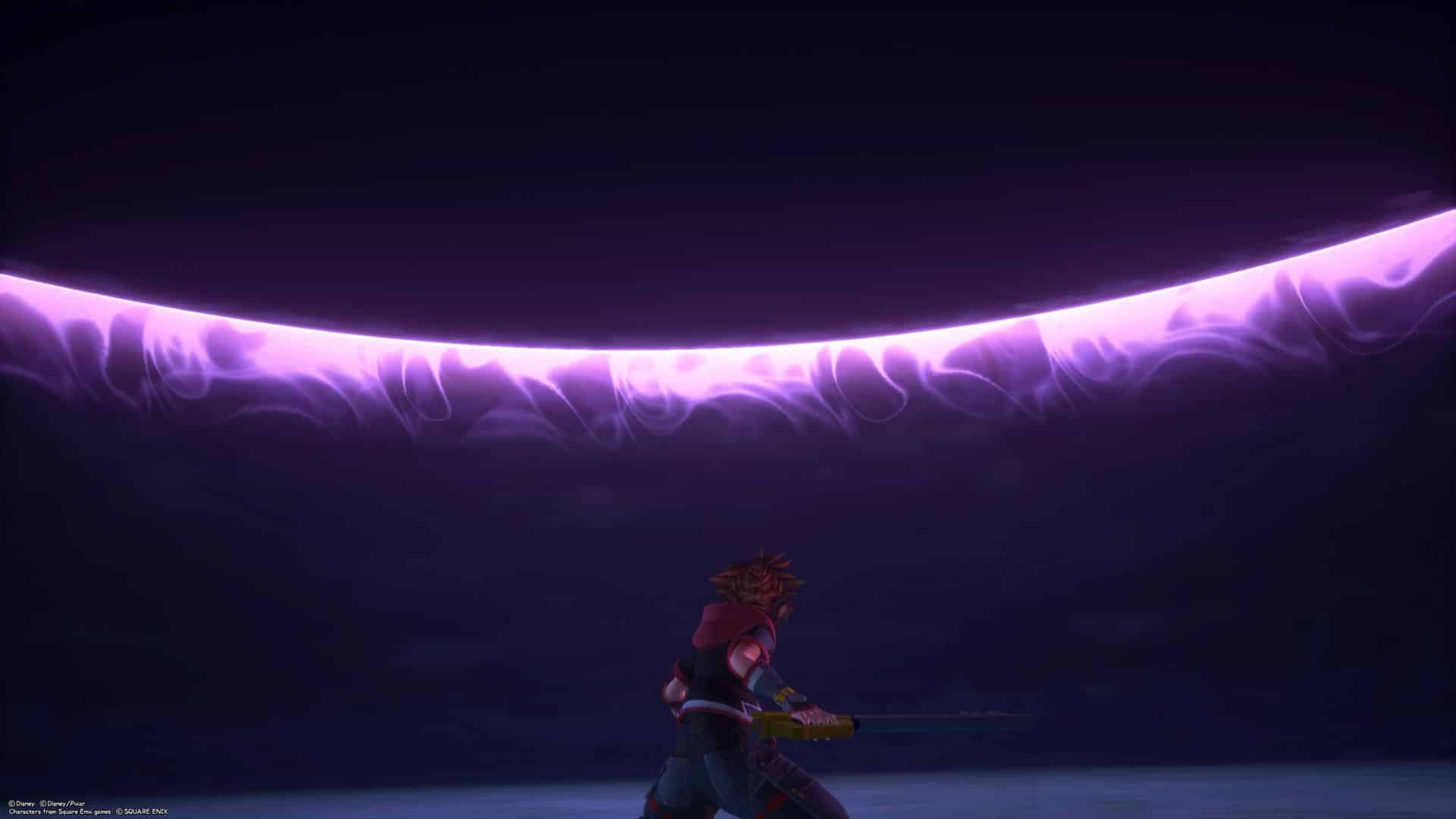 One of the biggest downfalls of the entire experience was its breezy difficulty. Everything was just so easy and even after restarting the game on Proud Mode, the game delivered nothing in terms of a challenging fight. This is mainly due to the extremely over-the-top combat system that is faster, flashier and more powerful than ever. Sora's Keyblades can now transform into even more powerful weapons like dual-pistols, a giant hammer and even powerful yoyos.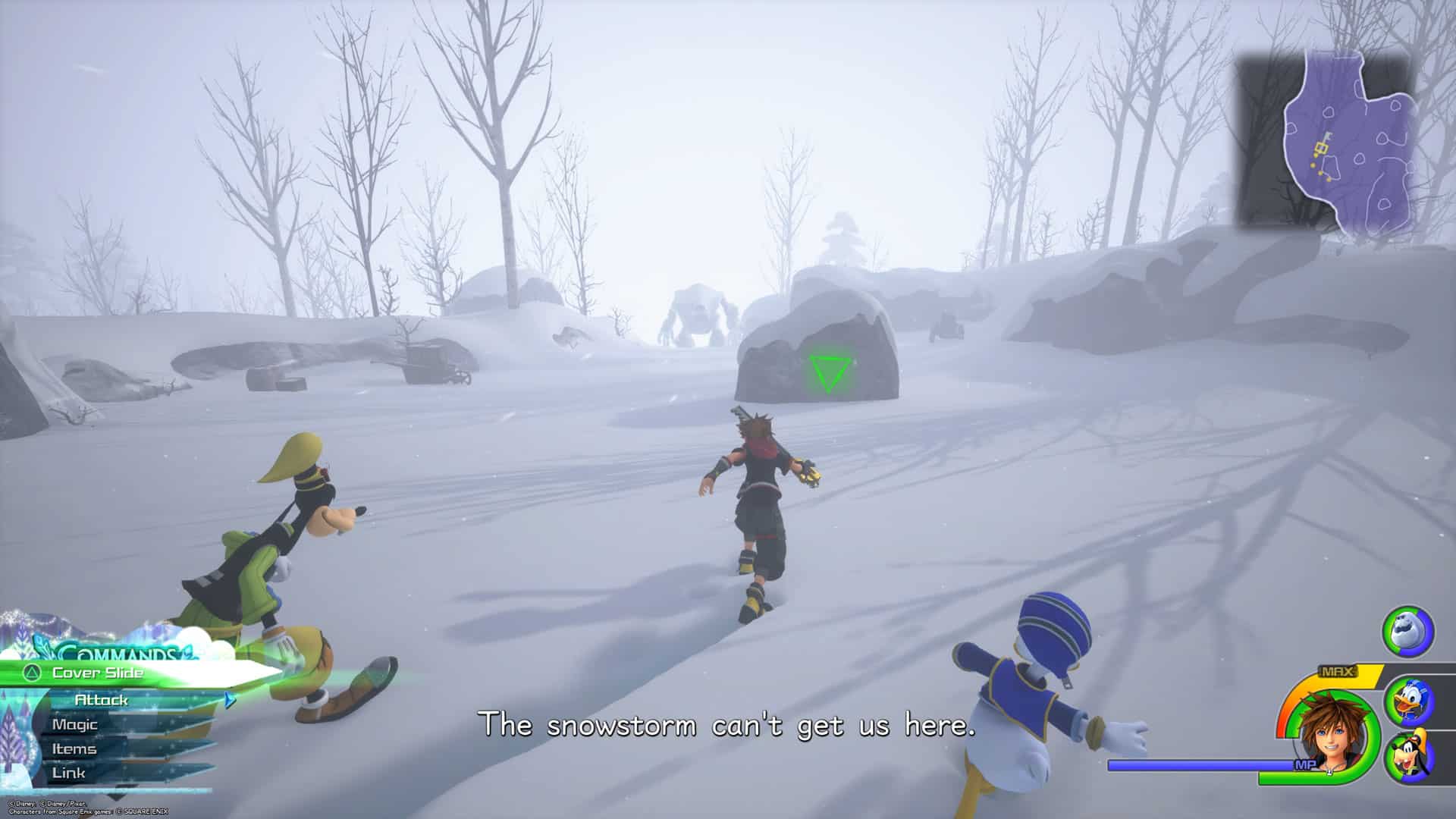 Every Keyblade you obtain at the end of every world has a unique transformation set and once you power that all up in combat you can pull off a finishing move. We then have Trinity Attacks which return and lets Sora team up with Donald, Goofy or the guest party member to pull off abilities. These too are great to look at but are very powerful. The new Attractions System then add a load of Disney World amusement park rides to the game and when triggered you can ride a giant pirate ship, merry go round or splash boat and basically demolish everything in your path.
But wait, there is more. Sora then has magic too which is extremely powerful and can also trigger special moves. He can also use the Flowmotion system to kick off walls, spin around poles and trigger combo attacks on top of it all. In short, Sora and his team are very, very powerful and that puts a big damper on the game's challenge. You can even upgrade those powerful Keyblades permanently in-game too.
The entire combat system and gear system is broken and needs some serious work. I started to run past mobs to avoid levelling up, never touched my Keyblade upgrades, forgot to equip new accessories and gear, and even left some abilities such as "Attraction Extender" alone. The final parts of the game, I was five levels under the requirement and it was still a breeze.
Unfortunately, this issue brought down the game's overall impact greatly. New boss fights felt uninteresting, and the odd chance that you would face off against something other than the cliche end boss fight ended faster than it began.
This reeks of Disney's influence over the game and clearly, Square Enix had to make compromises to bring the challenge down to level with newcomers to the series. This results in gameplay that is never fully realized and an experience that many of you will just breeze through and forget about.
But where Kingdom Hearts 3 shines is in its variety and there is plenty of it. While you will most likely never make use of it all, Sora has a lot to do and see other than exploring the empty and bland forests of Corona. Cooking can be done by collecting ingredients and giving them to Remy from Ratatouille. This then gives you buffs when eaten. Again, you will never need these buffs at all.
Every world then has mini-games such as a Heartless Flan challenge, some obstacle courses and let's not forget Hundred Acre Wood's vast collection of side-missions. There are then hidden Mickey Emblems scattered around each world that you need to photograph and over two hundred treasure chests to open across the game. For those who loved obtaining 100% in the past games (I know I did), these sorts of things will keep you busy for a good few hours after the credits roll.
So would you be able to play this entry without having any knowledge of the past games? Well, you could but it would be hard to follow the plot. For me, everything tied together so brilliantly and I saw plot hole close up and all the loose ends finally get snipped. For someone who had never played past games, it could be a less of an exciting experience for them but an enjoyable one at least. The worlds, beauty and charm of the game are enough to make it something worthwhile.
The supporting cast does a great job in delivering a stellar cinematic experience and I cannot tell you how many times Donald made me laugh out loud. Some of the story moments are a bit cringy at times especially when it comes to the game's "light versus darkness" approach but in general, the story, characters and setting is a true Kingdom Hearts experience.
Kingdom Hearts 3 is an ambitious game. When it comes to the story it delivers past its expectations. Unfortunately, its gameplay misses the mark at times when it comes to combat, a handful of bland and boring Disney worlds, and its lack of challenge is a real downer. The game is even missing its acclaimed Critical Mode, a staple in the series to date. It is not the best Kingdom Hearts ever made, but it is the best way to end this magical journey so at least there is that.
This review was based on a review code sent to us by Square Enix
Available On: PS4, Xbox One | Reviewed On: PS4 Pro | Release Date: 29 January 2019 | Price: R915