Logitech as a brand has a range of very fancy and feature-packed gaming headsets. If you want to splurge on something to put on your head while gaming, they have you covered. From the RGB types to the wireless surround sound headset. You'll find a lot to enjoy with the brand. However, a lot of gamers out there don't often want all the flash and features when it comes to headsets. If it sounds good and is comfortable then sometimes that is enough to sell them on the product. The Logitech G335 is one of these headsets. It is simple and doesn't go out of its way to make a statement. Unfortunately, this works both with and against the headset because the "basic" approach can be seen as a cheap product too.
The Logitech G335 comes in three colours. There is a Black, White and Green Mint colour. This is a special range of the G335 called the Colour Range. This specific selection of headsets adds a hint of colour to the accessory and on this headset, this is the colourful headband strap. Instead of a one-tone headband, this specific headset packs a bright and vibrant techno style with a striking blue and magenta. It looks cool. If only the whole headset had the same colour palette.
Overall, it is made of plastic and feels cheap and flimsy. This is especially seen in the headset's headband that is a lot harder than you would expect. It doesn't bend as much as I would have liked and if anything, I was worried it was going to snap due to the harder plastic. I also disliked the plastic seal point on the top of the headband. You can see where the machine joined these two halves into one and it gives the product a horrible cheap look. Kinda surprising from Logitech.
The Logitech G335 is light. It comes in at just 240 grams which is decent but also not groundbreaking given the cheap materials used on this headset. It is lighter than most wired and basic wireless headsets on the market including the Xbox Wireless Headset which is almost 300 grams and the PS5 Pulse headset that is 295 grams.
The lightweight design helps during long gaming sessions and when I put the headset on my neck it wasn't too heavy either. The earcups on the Logitech G335 are quite small and shallow. They just covered my ears. Anyone with large ears might find this headset uncomfortable.
There is a volume rocker on the back left earcup and that is about all you're going to get in terms of switches and knobs here. The mic folds and unfolds towards the left earcup and you can feel a slight click on the stick when it has passed a point where it mutes and unmutes. While this is not the most innovative microphone out there, I enjoyed it. Especially moving it up and down and muting and unmuting.
There's also the wire that comes out of the left earcup. It is not detachable sadly so you need to consider wear and tear from having it dangling from your head the whole time. Lastly, the Logitech G335 is somewhat versatile when it comes to its movement and size tweaks. The earcups can be moved up and down slightly by 5cm. In addition, the colourful headband can also be unclipped and moved up a joint if you want a looser fit on your head.
The headband placement combined with the earcup slider offered enough room to adjust the headset in my opinion. The two combined together let me tighten the headset on my head just enough to make it comfortable.
Logitech G335 Performance
Sadly, the G335 doesn't do much other than produce sound from the headset. With that being said, the sound quality of the speakers was impressive. You just can't get any noise cancellation or any sort of custom equaliser here unless you use specific software to tweak the source directly.
You probably figured this out already but there are no wireless features on this headset at all either. It is strictly wired. If you want mobile gaming or music and don't have a port then you'll need an adapter.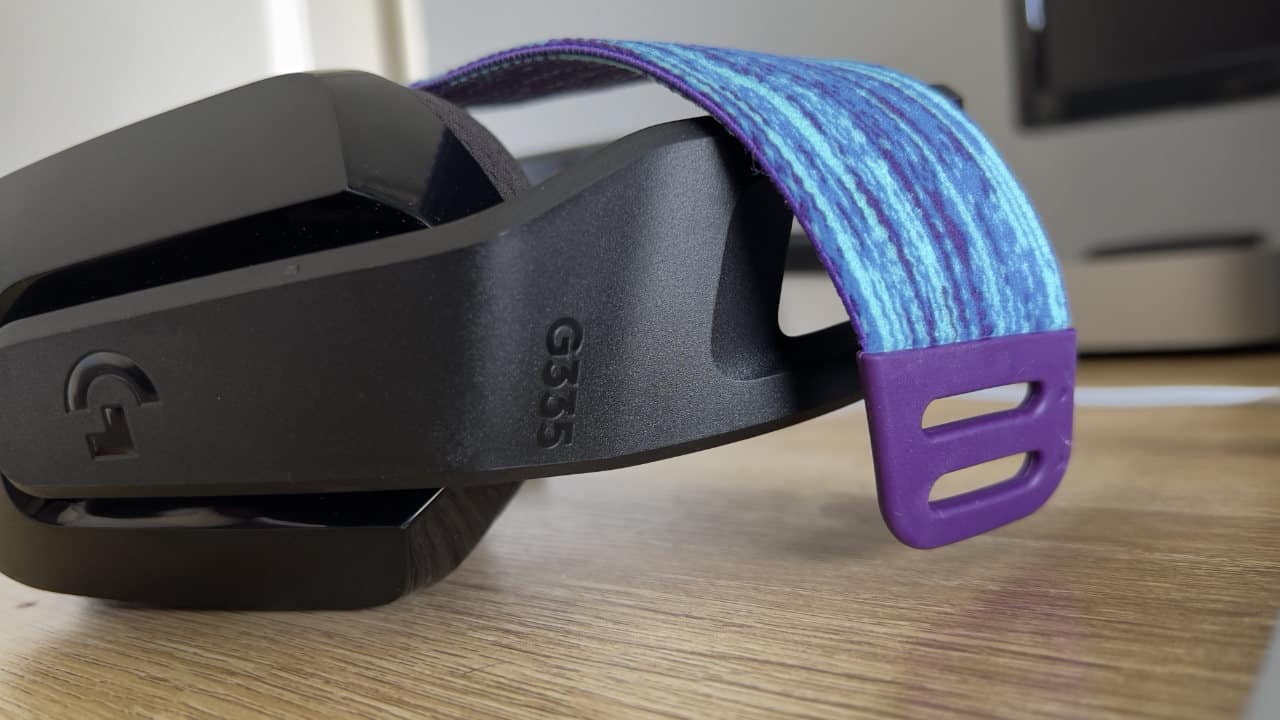 Overall, the Logitech G335 sound quality is decent. I wasn't blown away but the standard output from the 40mm neodymium drivers produced some great sound. This is especially heard in gaming as the low frequencies come through the speakers clear and precise. The mids were okay with high mids especially being delivered as intended.
The only issue was bass. The Logitech G335 doesn't handle bass well at times. There are multiple factors involved in this issue. Firstly, the headset doesn't seal properly onto your head due to its design. The earcups also don't fit properly so you're not getting any noise isolation here. Bass then fails to reach the level of thump I needed to feel the explosion on my ears.
Thankfully, this low bass situation isn't a major issue. The headset still delivers some great sound across the board. Be it gaming or music, I was impressed. Due to the lack of a seal, it also means that a lot of noise comes out of the earcups when you are gaming or listening to music. People around you will hear your stuff so be aware of this.
As for the microphone, it too has some decent performance. It handles background noise incredibly well while also isolating your voice. So much so that you should be able to use this microphone in extremely loud environments with no issue at all. The Logitech G335 is also compatible with most devices that have an earphone jack. In the box, there's also a splitter for PC.
Logitech G335 Review
The Logitech G335 is a decent wired headset. It doesn't break new ground at all but the versatility of the device should help users across the board. I wasn't a fan of the build and the earcups were way too small. There are better headsets out there that offer customization options, equaliser support and more. Even if you need to pay an extra R500 to get more features. The Logitech G335 was just too basic for me.

This Logitech G335 review is based on a unit sent to us on loan by Logitech. The headset retails in SA from R1,199.