It has been around nine years since the last Marvel Ultimate Alliance. The original two games were praised for their great roster of character, fantastic co-op gameplay and an overall decent representation of the Marvel universe. They were also criticised for their shoddy visuals and overall shallow gameplay of which Marvel Ultimate Alliance 3 fixes one of those issues.
RELATED: South African Developed GORN Slashes its Way Out of Steam Early Access
The game has a layered and pretty decent progression system but visually, it is hard to look at during some intense moments. Overall, Marvel Ultimate Alliance 3: The Black Order is a good game with an even better experience when played with friends. Sure, it is a bit shallow when it comes to its level design and character depth, but if you wanted a game with almost every possible Marvel hero in it, this could be the one.
At the end of Ultimate Alliance 3, you will have 36 characters to choose from but the process of getting there is where the fun is to be had. The game plays out like reading a well-written comic book. While the voice acting is often atrocious, the story holds up throughout the game.
The Black Order plans to collect all the six Infinity Stones to wipe out half the universe and you need to gather all the Marvel superheroes to stop them. Of course, the entire linear experience is tied together with boss fights, waves of goons to kill and a variety of levels based on some iconic Marvel locations.
The game bares a cel-shaded art style which gives it the "comic book" appeal and it works for the most part. Cinematics are pre-rendered and feature different characters to give you that feeling as if the entire Marvel cast is fighting this threat. We then have the gameplay that looks okay for the most part. There is not a lot going on here as edges are grainy and the frames drop quite often during some intense fights.
The Switch is just not powerful enough to bring this ambitious game to life. It is either that or just some poor optimization on Team Ninja's part. Still, once you have gotten over the shoddy visuals, the game holds up quite well. On the handheld mode, it is hard to look at but when docked, the experience is a little better.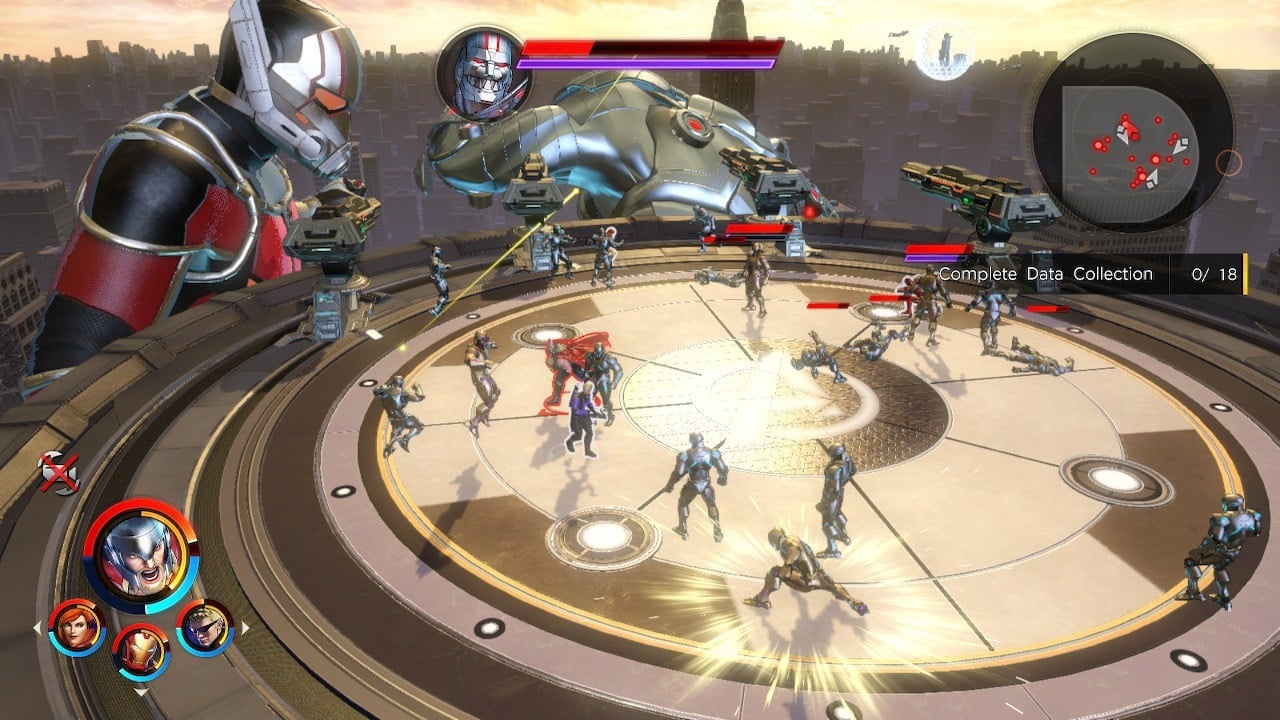 When it comes to the overall gameplay, Marvel Ultimate Alliance 3: The Black Order is fun. The game is a beat-em-up at its core that relies on you chaining together combos to beat the life out of your enemies. You can have four characters with you at any time and depending on who you use will depend on your bonus buffs.
Use all female Marvel characters and you will get a "Women of Marvel" attack boost. Use X-Men and the same sort of buff will be granted. These help in battles especially when the combat gets intense. The roster of characters is a true love letter to Marvel fans and it has everyone.
Venom, Spider-Man, Wolverine, Daredevil and dozens more. Every character feels different and has some unique traits. Thor can fly which makes some parts of the game easier, Wolverine can double-jump and other characters can use their abilities to destroy walls and get into secret areas.
Every character also has a series of abilities which unlock as you level up by earning XP and using XP Cores you find during the game. These levels take a while to achieve especially when you are sticking to your favourites and neglecting the others as the characters not being used don't earn XP.
I often wanted to change to a character to mix up the game but realized they were on level six and I was close to level twenty. It makes going back to play with these underdeveloped heroes hard and not worth the effort.
When you do find that handful of characters that resonate with you, it makes the game enjoyable. Their abilities are fun to pull off like Scarlet Witch's red orbs that just destroy everything or Venom's attack that sees him dissolve into black liquid and jump through it like a shark.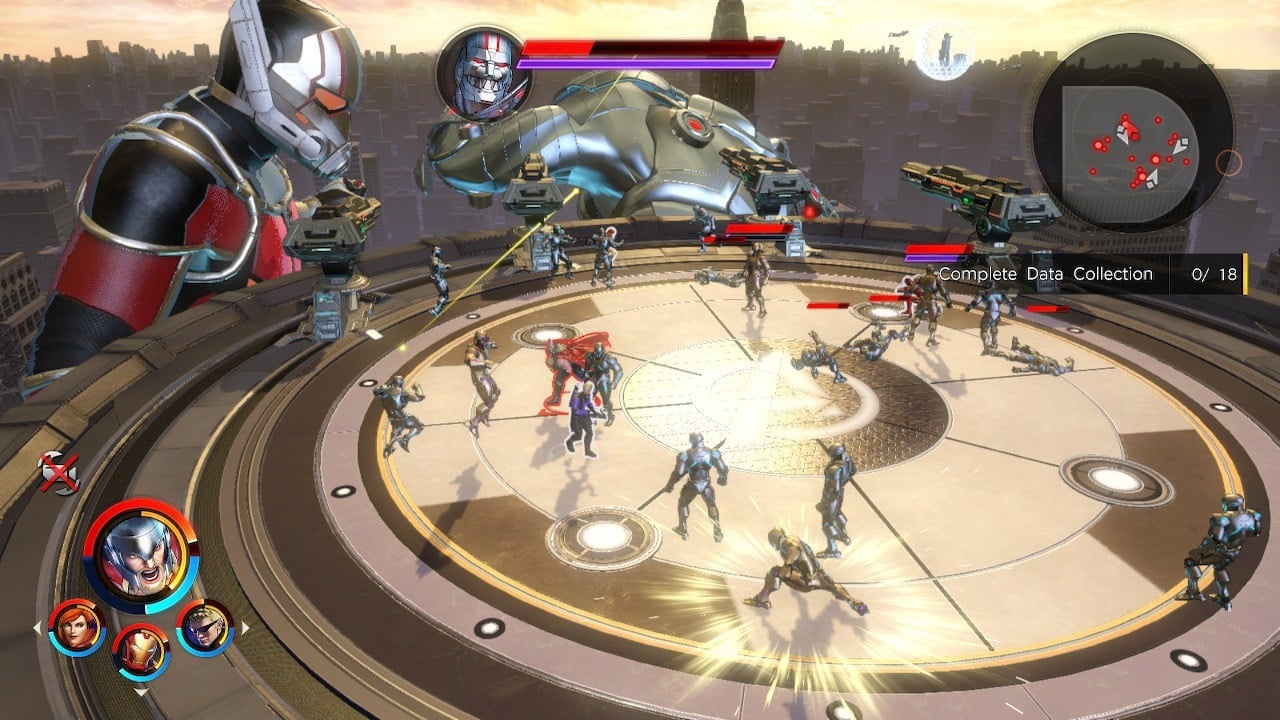 Some abilities can also be combined with another hero you have in your team. This then pulls off a more powerful attack but also costs ability points, as all attacks too. Each character then has a "super" ultimate attack that can be used after gaining enough energy. This can also be chained together with other heroes' super attacks so waiting for all of them to fill up to blast all four at a boss was extremely satisfying.
Boss fights feature some decent mechanics that manage to set them apart from all the other mindless combat you go through. Some of them saw me tossing pumpkin bombs back at the Green Goblin and others dealing with Doctor Octopus' arms one by one in order for me to stun him.
These fights are also extremely hard at times and often frustrating. The overall difficulty curve in the game is not one to joke around with and there were moments where I was stuck for a good few hours before being able to move on. This is then coupled with the lack of XP earned on unused characters so even trying a different approach when you get stuck is impossible.
Sure, you can test your wit at Infinity Rifts that offer specific challenges for you to complete but these are also very hard. I would understand if the game required more skill to beat but this is more a case of you just dying because you cannot dodge an attack and it deals massive damage. It also doesn't help that the AI you play alongside with are completely useless and just walking into attacks and ask to be killed.
It's these moments that brought down the entire overall experience. It became a chore to die to Mysterios' green smoke that I always got stuck in and kept taking damage as my player glitched out and tried to jump out of it. These frustrating moments just felt unpolished more than anything else.
The issues that made the first two games so mediocre are the same issues in Ultimate Alliance 3. It is as if they did not learn anything and it is concerning.
Still, the overall experience of Marvel Ultimate Alliance 3: The Black Order is good. It delivers a fantastic arcade beat em' up that is a lot more fun with a friend that can actually do something. The roster of character makes it a dream Marvel game and the entire buffet of characters, even the supporting ones and villains, makes it a great adventure of discovery. I had no idea some of these people existed and that was the joy of it all.
This review was based on a copy sent to us by Nintendo
Available On: Switch | Release Date: 19 July 2019 | Price: R935