The upcoming Square Enix and Crystal Dynamics superhero game, Marvel's Avengers will be coming in various editions including a Collector's Edition, and Deluxe Edition both boasting a range of pre-order bonuses. Square Enix, and Crystal Dynamics revealed the new details on the PlayStation Blog where they spoke about the multiple editions available and pre-order bonuses.
RELATED: Sony Struggling With PS5 Price Due to Costly Parts in Short Supply
Being a PS4 owner already grants you access to the Marvel's Avengers closed beta first before anyone else. However, there are some great editions to pre-order to get that access too. Keep your eyes peeled on local retailers for when these versions of the game go live for pre-order. We don't have confirmation whether or not they will all be available yet.
Marvel Avenger's Pre-Order Bonus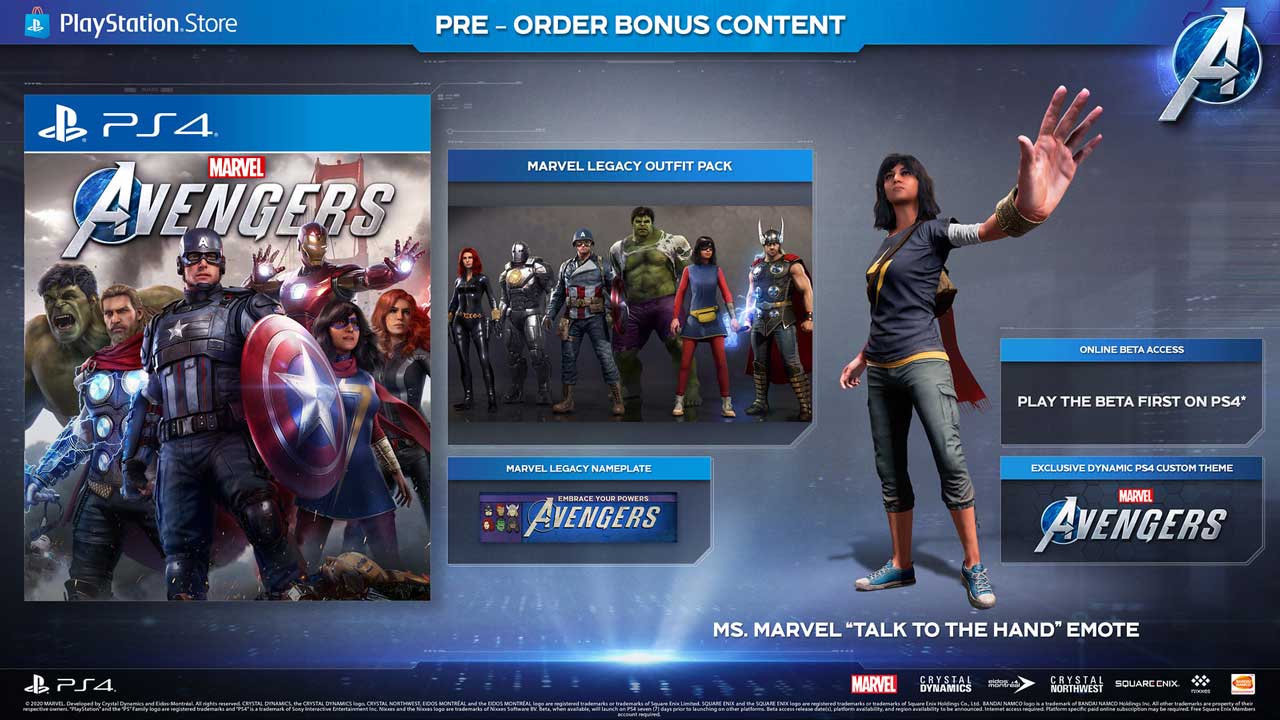 First off, Marvel Avenger's pre-order bonus for all editions of the game includes an exclusive Dynamic PS4 Theme, Marvel Legacy Outfit Pack, Ms. Marvel "Talk to the Hand" emote, and a Legacy Nameplate. The Legacy Outfit Pack includes costumes from each heroes' origin.
[perfectpullquote align="full" bordertop="false" cite="" link="" color="#1DD2FA" class="" size="21″]Captain America's bravery shines in this Front Line Outfit from his time enlisted in the military during World War II. Iron Man was able to deceive his captors by building armour that looked liked this Iron Will Outfit to escape. The first time Black Widow's iconic black suit appeared in the comics, it looked like this Classic Stealth Outfit – complete with the Widow's Bite.
Thor's winged helmet, chest installations, and red cape were his trademark from the very beginning of his origins, reflected in the Asgard's Might Outfit. Before Ms. Marvel went on one of her first missions, she made a makeshift costume that looked like this Greater Good Outfit. Finally, when the Hulk first emerged, his massive body tore through Bruce Banner's clothing to resemble an experiment gone wrong, much like this Breakthrough Outfit.[/perfectpullquote]
Marvel's Avengers Deluxe Digital Edition
The Deluxe Digital Edition also comes with a unique costume pack and 72-hour early access. The Obsidian Outfit Pack sees the heroes fashioned in a metallic version of their Iconic Outfits.
Pre-order incentives
Copy of the game
72-hour early access
Obsidian Outfit Pack
Obsidian Nameplate Pack
Physical editions include 1-month free subscription to Marvel Unlimited and access to over 25,000 comics
Marvel's Avengers Collector's Edition
Lastly, there is the mammoth edition of the game which acts as the Collector's Edition. It includes a load of collectable items and a Captain America statue. It even comes with a Hulk bobby head.
Deluxe Edition copy of the game
Pre-order incentives
72-hours early access
Avengers A Icon SteelBook case
12-inch Captain America Statue
Hulk Bobblehead
Mjolnir Keychain
Black Widow Belt Buckle
Iron Man's Prototype Armour Blueprint
Kamala Kahn's Avengers Pin
Commemorative group photo
Marvel's Avengers launches for PS4, Xbox One and PC on Catch up on 4 September 2020. the last gameplay trailer for the game;