Microsoft revealed the Flight Simulator PC hardware system requirements for its upcoming ambitious aeroplane game. The game is the first entry in the series since the 2006 release of Flight Simulator X. Microsoft broke down the system requirements into three categories with the most "ideal" hardware requirements quite high.
Read: The Cheap iPhone SE Has a More Powerful Processor Than The Most Expensive Android Phone
Microsoft Flight Simulator PC Hardware System Requirements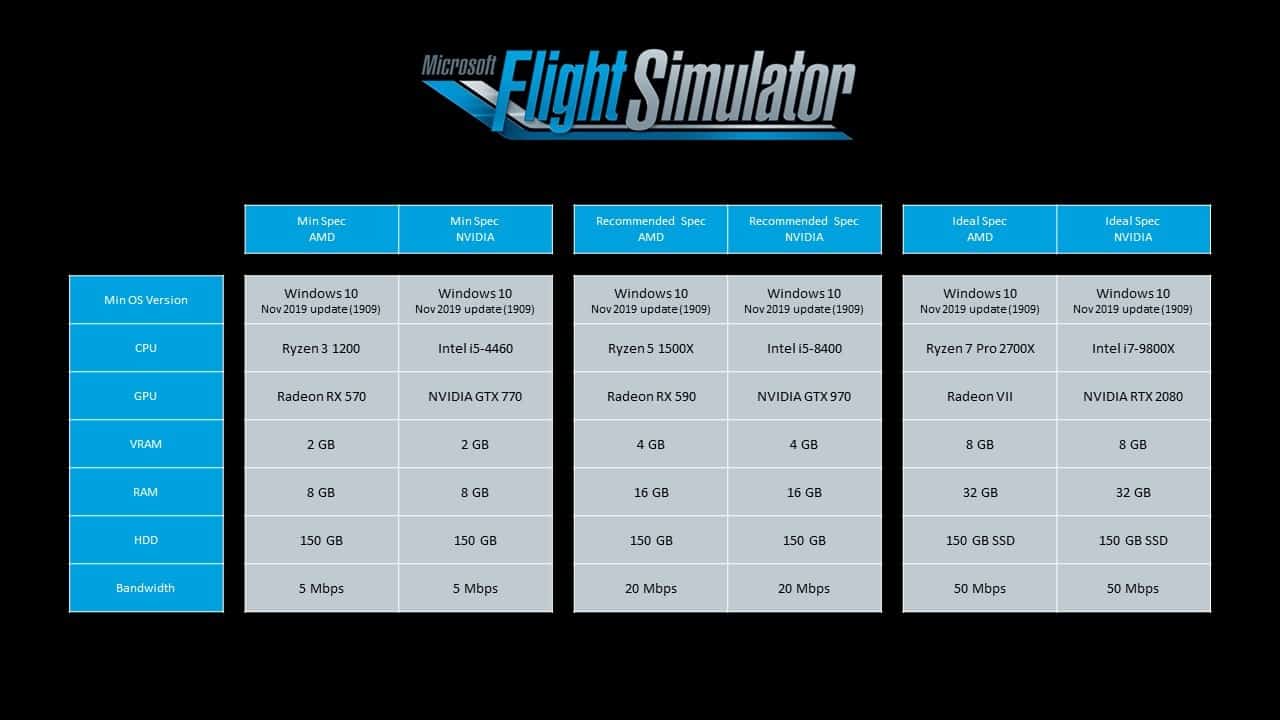 Minimum:
OS: Windows 10 (Nov 2019 update)
CPU: Ryzen 3 1200/Intel i5-4460

GPU: Radeon RX 570/NVIDIA GTX 770

VRAM: 2GB

RAM: 8GB

HDD: 150GB

Bandwidth: 5Mbps
Recommended:
OS: Windows 10 (Nov 2019 update)
CPU: Ryzen 5 1500X/Intel i5-8400
GPU: Radeon RX 590/NVIDIA GTX 970
VRAM: 4GB
RAM: 16GB
HDD: 150GB
Bandwidth: 20Mbps
Ideal:
OS: Windows 10 (Nov 2019 update)
CPU: Ryzen 7 Pro 2700X/ Intel i7-9800X
GPU: Radeon VII/NVIDIA RTX 2080
VRAM: 8GB
RAM: 32GB
SSD: 150GB
Bandwidth: 50Mbps
Microsoft recommends an SSD of at least 150GB and an RTX 2080 in order to run the game at its best performance. The game is no doubt a next-gen experience as it stands and it will be interesting to see how the Xbox One X holds up running this title.
The game is currently without a release date but it should launch sometime in 2020 for PC and Xbox One X. The PC system requirements give us a hint that we may get a release date for the game soon.
For the time being, take a look at some gameplay down below courtesy of Game Offline;
https://www.youtube.com/watch?v=Ag1C5mPec-k