Mortal Kombat 11 is one of the best fighting games on the market. While I skipped out on playing it at launch, I managed to get into it when the Joker DLC released earlier this year. However, I stayed away from the story and have spent the past few weeks messing around with daily challenges, some of the online modes and unlocking customizations for my favourite fighters. The latest Mortal Kombat 11: Aftermath expansion came at a great time. I had the ability to jump into the story from the start and experience one of the most action-packed blockbuster cinematic fighting mashups in video game history. After which, I could immediately experience this "Aftermath" chapter which continues the story from the original game's ending.
Mortal Kombat 11 Aftermath picks up directly where the last chapter ended. It marks the first time the series has received a dedicate story experience in the form of DLC. Usually, Warner Bros milks players dry with fighter packs and cosmetics. Aftermath is a breath of fresh air in the paid DLC compartment. However, it is far from perfect. The story is short. It offers some exciting new scenes to watch and intense fights to compete in but for its asking price, it may be a tough sell. Aftermath follows Shang Tsung after the events of the main game. He manages to destroy the Crown of Kronika without destroying the universe and everyone along with it.
The story then picks up as players are introduced to a new chapter in the series that follows some new characters that were locked behind previous DLC. This included Shao Kahn, Sindel, Shang Tsung, and Nightwolf. The Aftermath expansion includes five new story chapters, down from the original twelve in the main game. While shorter in length, the story does not fail to live up to the past cinematic experience. Wonderfully-crafted action scenes, well-voiced dialogue and explosive battles kept me engrossed throughout the campaign. It is all delivered in gorgeous HDR with animations and environments being better than ever.
The story holds up quite well and without spoiling anything, expect some laughs and shocker moments throughout the campaign. There's no budget experience here by any means and the same level of polish from the main game has been carried over to this DLC. Sure, you can complete this story in one sitting if you wanted to, but the experience carries more weight through its great storytelling, fights and character moments that you will remember it for months to come. Better yet is the addition of returning fighters namely Fujin and Sheeva. They not only make an appearance in the story but you can play as them from now on in the game. They both deliver some exciting combat styles that I picked up quite fast in the DLC and took with me to the offline and online matches.
Sheeva has some insane grabbing range that follows up with some heavy-hitting combos. She hits like a truck but is also brought down by her speed. Fujin, on the other hand, is the faster fighter of the two. He can move about the stage and use the wind to fight his enemies. I have always preferred faster fighters in Mortal Kombat so he gelled well with me. Regardless, they both make great additions to the game and come with a collection of cosmetics and abilities to customize at your will.
The third playable fighter is RoboCop. While he does not appear in the Aftermath story campaign, he has arrived with his flamethrower and heavy attacks. RoboCop is fun to play. He sort of reminded me of Joker but less facepaint and more metal slams and punches. His inventory is vast with an Auto-9 pistol and other weapons adding variety to the fight.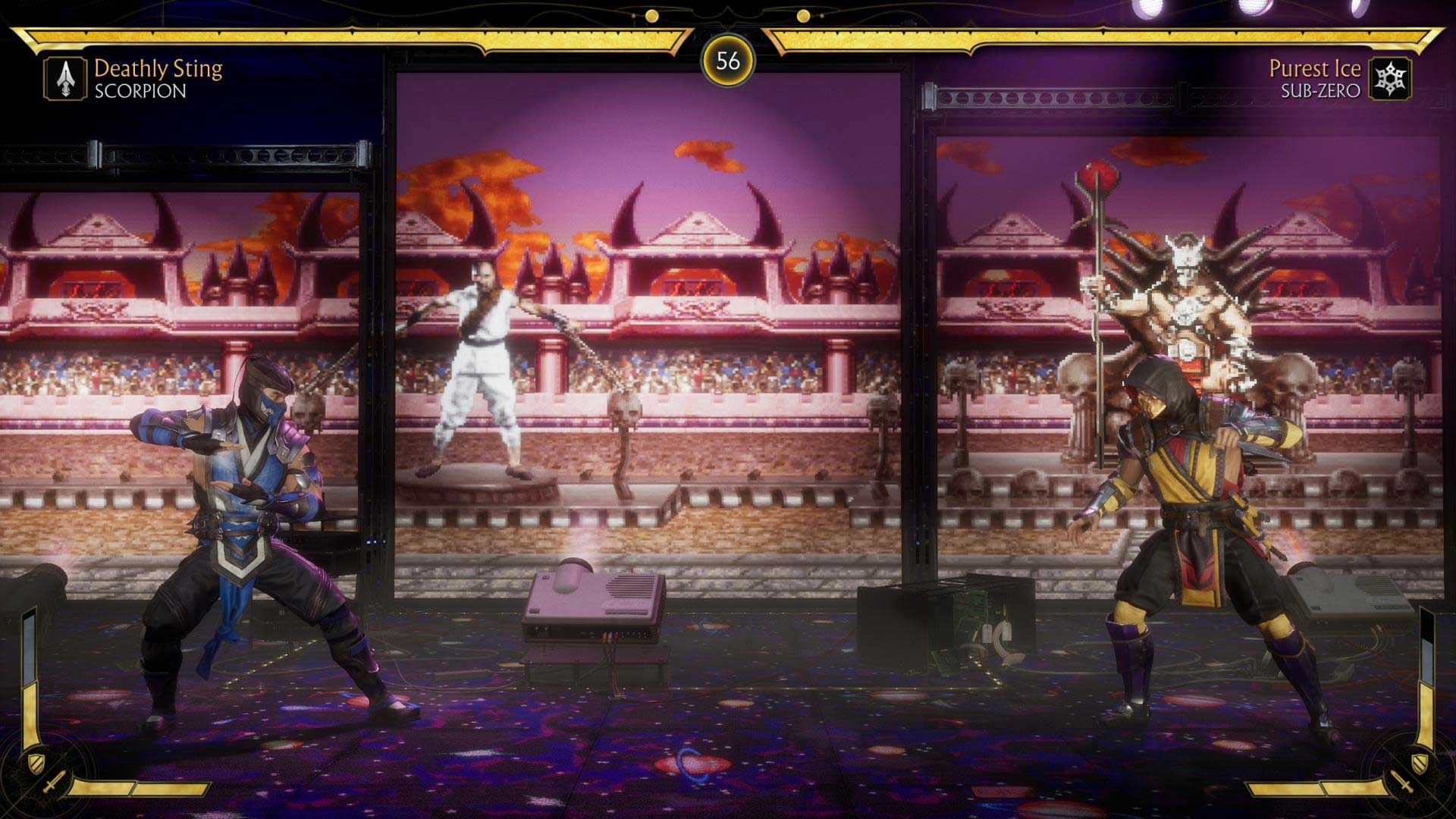 Mortal Kombat 11: Aftermath also comes with free content for existing players too. This includes the return of "Friendships". These are some extremely over-the-top finishing moves that give players a reason to laugh. Think of the complete opposite way you could kill your opponent in comparison to a finisher. That is this new "Friendships". Every one of them was fun to watch and while they lack gore, they give fighters a fun new way to express their personality. From Frost skating through the stage to Johnny Cage dancing with a cane. I kind of got excited to see all of these as much as I wanted to check out all the fatalities back in the day.
The game has also been updated with new maps. One of these is the Retrocade that features the 90s arcade-style stage with changing wallpapers and soundtrack. Along the edges, you will find some retro arcade machines and even a Primal Carnage cabinet. It is a great throwback stage.
So while the game is packed full of content, Mortal Kombat 11 Aftermath may be a tough sell for those who already own the game. If you have never played it, this is the best way to experience it. Forking out expansion and Kombat Pack will unlock all six past fighters, the new story content and Sheeva, RoboCop, and Fujin. However, this will cost you R799. You can also just buy the Aftermath story for R629 but then you don't get the fighters. Or, if you don't own anything, the main game bundle including every fighter and story will cost you R929. It is not a bad asking price for the whole experience. However, purchasing the Aftermath story is a bit pricey at R629 or R799 for the Kombat Pack.
While the story is great, it is short. This makes the package pretty pointless if you don't buy the Kombat Pack too. You will have to really love the game to spend the money on three fighters because, after the story, that's what you get. However, gamers that don't own any Mortal Kombat 11 content are in for a treat as the entire package feels like Christmas. You get a load of skins, all the fighters and two story chapters to play through. It is an enjoyable chunk fo content that will keep you busy for hours on end.
Verdict
While the story is over too soon, Mortal Kombat 11 Aftermath delivers some exciting new moments to experience in an action-packed new campaign. Players who already own the main game may find little value here. However, new players will get to experience one of the best fighting games of this generation.

This Mortal Kombat 11: Aftermath review was based on a Kollection code send to us by Warner Bros. Games.
Available On: PS4, Xbox One, PC | Reviewed On: PS4 Pro | Release Date: 26 May 2020 | Price: from R629