You don't often come across cool-looking game-themed notebooks these days. In fact, I haven't seen one in a while so the new MSI Crosshair 15 Rainbow Six Extraction edition immediately caught my eye. If you don't know by now, this RTX 306o gaming notebook is designed after Ubisoft's popular Rainbow Six Extraction game which was released last year. While the game is struggling to keep its relevance today, the notebook should make for a great addition to your gaming set-up.
For those wondering, the MSI Crosshair 15 comes in two different models. You can get yourself the RTX 3060 and RTX 3070 versions. They also come in either Core i9 or Core i7 models. If you want the best, you'll need to look at the B12UGZ model. This is the RTX 3070 model but it also packs a 90W battery in comparison to the 54W battery found in the RTX 3060 model.
Watch the MSI Crosshair 15 Rainbow Six Extraction Edition review below
Other than the battery, CPU and GPU configurations, the Crosshair 15 is identical in the display, chassis and design. You can find other models that come with 32GB of RAM and a 3070 Ti but you have to look for them.
Speaking of the display, the notebook packs a 15.6 QHD 165Hz panel which is pretty impressive. While the GPU in the RTX 3060 model might struggle to hit 165Hz on certain games at 1440p, the panel is definitely one of the best around for competitive gaming. That's if you plan on playing Siege instead of Extraction and you're into other competitive PVP games.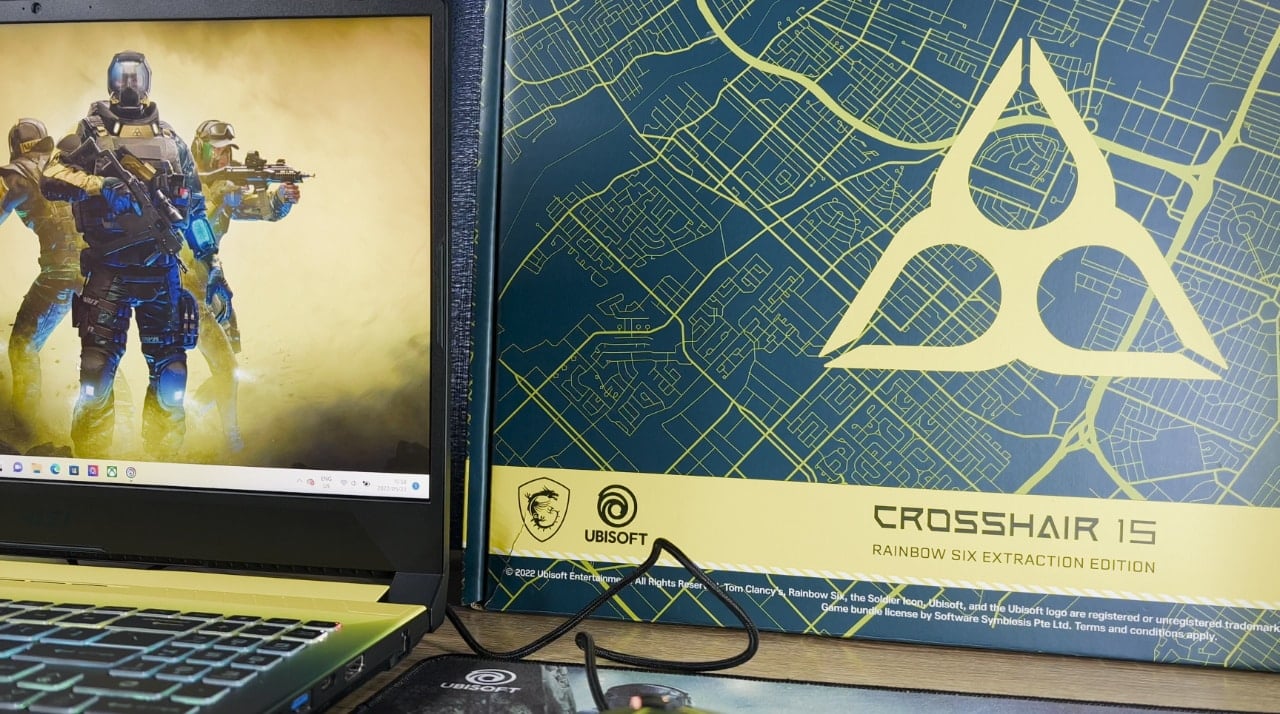 These models do come with a price tag but I have to say that they are priced quite competitively. The 3060 model will set you back R34,000 and here in SA, you can grab an RTX 30070 Ti model with 32GB of RAM for R52,000. While the R52k one is a bit insane, the RTX 3060 model for R34,000 is actually quite a bargain considering its specs.
MSI Crosshair 15 Specs
Display – 15.6 inches, 2560 x 1440, 165Hz
CPU – Intel i7-12700H
Storage – 1TB
RAM – 16GB
GPU – NVIDIA GeForce RTX 3060
Keyboard – Zone-Lit RGB
Network

Wi-Fi 6 (802.11ax)
Bluetooth 5.2 1
Gigabit Ethernet Port

Ports

1x Type-C USB3.2 Gen1
2x Type-A USB3.2 Gen1
1x Type-A USB2.0
1x RJ45
1x (4K @ 60Hz) HDMI

Speaker – 2 x 2W
Battery – 54W
Dimensions

359 x 259 x 26.9 mm, 2.3KGs
The MSI Crosshair 15 screams Rainbow Six Extraction right from the start. It is packed in a cool-looking quarantine box that features the game's iconic yellow and green art style. Opening it up, you get an Extraction mousepad that features a handful of in-game Operators. The box also contains a cool-looking MSI M99 wired gaming mouse that is also Extraction themed with a yellow shell. The notebook is, of course, the big item here and it is pretty cool to look at. From the outside, you would never tell this was actually an MSI Crosshair 15 notebook due to the lack of MSI branding on the outer shell.
Instead of the MSI logo, this notebook boasts the Extraction symbol slapped into the middle of the lid. The logo illuminates the shell. It is so cool.
There are a few decals that run across the lid the hinge connects it all with a bright yellow accent. This hinge then leads downwards to the inner of the notebook where the keyboard and trackpad is found. This entire surface area is also Extraction themed. From the giant "REACT" text on the trackpad to the yellow into green colour shift across the shell.
There are also four unique keys on the keyboard that look awesome. The WASD keys boast a translucent yellow plastic shell in comparison to the rest of the deep black keys. These keys look drastically different from the rest of the layout and really give the notebook some extra personality.
The notebook weighs 2.4Kgs and its 15-inch size makes it ideal for carrying around wherever you're going. While MSI has been putting 16:10 displays in most of its new notebooks, the company didn't go with that display size for this one. The usual 16:9 display works well here and the panel is bright and responsive at 2.5ms.
The keyboard is decent here too. There's no SteelSeries tech behind these keys but the 1.7mm travel time and inclusion of a number pad make this keyboard a dream. The RGB Spectrum Lighting also works well and it let me customize the layout of the keyboard lighting across certain areas. As for the trackpad, it was okay. It does boast some cool Extraction decals on it and the size is big enough to perform all sorts of gestures on it. I did feel like the clicks were quite heavy and daily moving about and clicking felt chunky but over time, this is something you would get used to.
When it comes to ports, the MSI Crosshair 15 packs the majority of the needed ports. On the right, you'll find a USB 3.2 Type-A port with an HDMI 2.0. This means this HDMI port is restricted to 4K60Hz output only.
Even if you purchase the RTX 3070Ti model, you won't be able to output 4K120Hz due to the limited HDMI port. This is the second notebook I have reviewed this year from MSI that has dropped the ball when it comes to display-out ports. On the left, there's a USB 2.0 Type-A and one Type-C 3.2 port. There's also a DC charging port. That's it here.
Performance
When it comes to the performance in this notebook. you get what you pay for. The RTX 3060 isn't a bad GPU by any means and the results show that you can get away with some decent 1440p gaming on this notebook. Sure, I had to cut down some visual features to max these games out at 1440p but the GPU mustn't be underestimated.
There's no way you are going to play any recent games at 1440p 165Hz but the display does give you the freedom to tweak your settings in favour of resolution or frame rate. This model does come with a copy of Rainbow Six Extraction and while it was already redeemed by whoever reviewed the notebook before me, I did own a copy of the game so I tested that out too.
If you're buying the notebook for the game, Extraction runs smoothly at around 80FPS maxed out at 1440p. But I did test other games and benchmarks and they came out with the following scores:
All tests ran at maxed-out settings at 1440p
Far Cry 6
Forza Horizon 5
Halo Infinite
Watch Dogs: Legion
Cyberpunk 2077
God of War
You can see from the results that this notebook performs pretty well. Some games will hit 60FPS just fine at 1440p while others you may have to tweak here and there to get them closer to that resolution. There's no game you can't play. Even the most demanding games I tested like Dying Light 2 managed to hit close to 45FPS during tests at 1440p maxed out. Is the 165Hz display overkill? It might be the case. You'll have to play some older or PvP driven games to really feel the kick from this higher refresh rate.
During my tests, the notebook did get loud and a bit hot. The notebook packs 6 heat pipes with two fans and MSI has done a great job keeping things cool. The notebook packs the coolerboster 5 tech. With that being said, the fans did hit 5900RPM which is quite fast and they are loud enough to overtake the notebook's speakers. But I didn't notice any throttling of any kind.
As for the speakers and the battery, the notebook battery is pretty mediocre. This 54W/h battery gets around 3 hours of max use before needing a charge. You can extend this to 4 or 5 hours by sacrificing some display brightness but this is definitely not a notebook for an all-day sitting. Of course, if you're gaming you will need to plug it in. Speaker-wise, they are generally good too. While they lack any real punch, they will provide enough volume for media and some gaming. You might want to opt for a headset while you're doing some heavy gaming just to fight through the fan's noise.
In the end, I did enjoy the MSI Crosshair 15. This Rainbow Six Extraction shell is awesome and it really stands out amongst other notebooks on the market. It is also a fairly decent asking price and most likely one of the better gaming notebooks you can get for under R35,000.
And that's my thoughts on the MSI Crosshair 15. Are you looking to pick this up? let us know in the comments below. As always thanks for watching and please do give this video a thumbs up and subscribe for more gaming content. Until next time farewell.
MSI Crosshair 15 Rainbow Six Extraction Edition
Cooling -

8/10

Performance -

8.5/10

Design -

9/10

Value -

8.5/10
Summary
The MSI Crosshair 15 Rainbow Six Extraction Edition gaming notebook is one of the best and most affordable gaming devices you can get with an RTX 3060 and a QHD display.
Pros
Great display
Decent performance
Nice themed design
Cons
Loud fans
Limited HDMI ouput
Horrible battery