MSI's new RTX gaming notebook range comes in a few variants. They start from the basic RTX 2060 and go all the way up to the RTX 2080 models. This particular one is pretty versatile too, coming with a Core-i9 variant as well as this model, the MSI GE75 Raider 9SG with a Core-i7 9750H.
Watch our full video review of this device down below;
[su_youtube url="https://youtu.be/A3H2oLBlCts"]
The big selling point here is the combination of the RTX 2080 and the newer and improved 9750H CPU. The two deliver some exceptional gaming for a device so light and thin. There's also the fact the device does not have a Max-Q GPU which helps the price and pumps a little more performance into its graphics.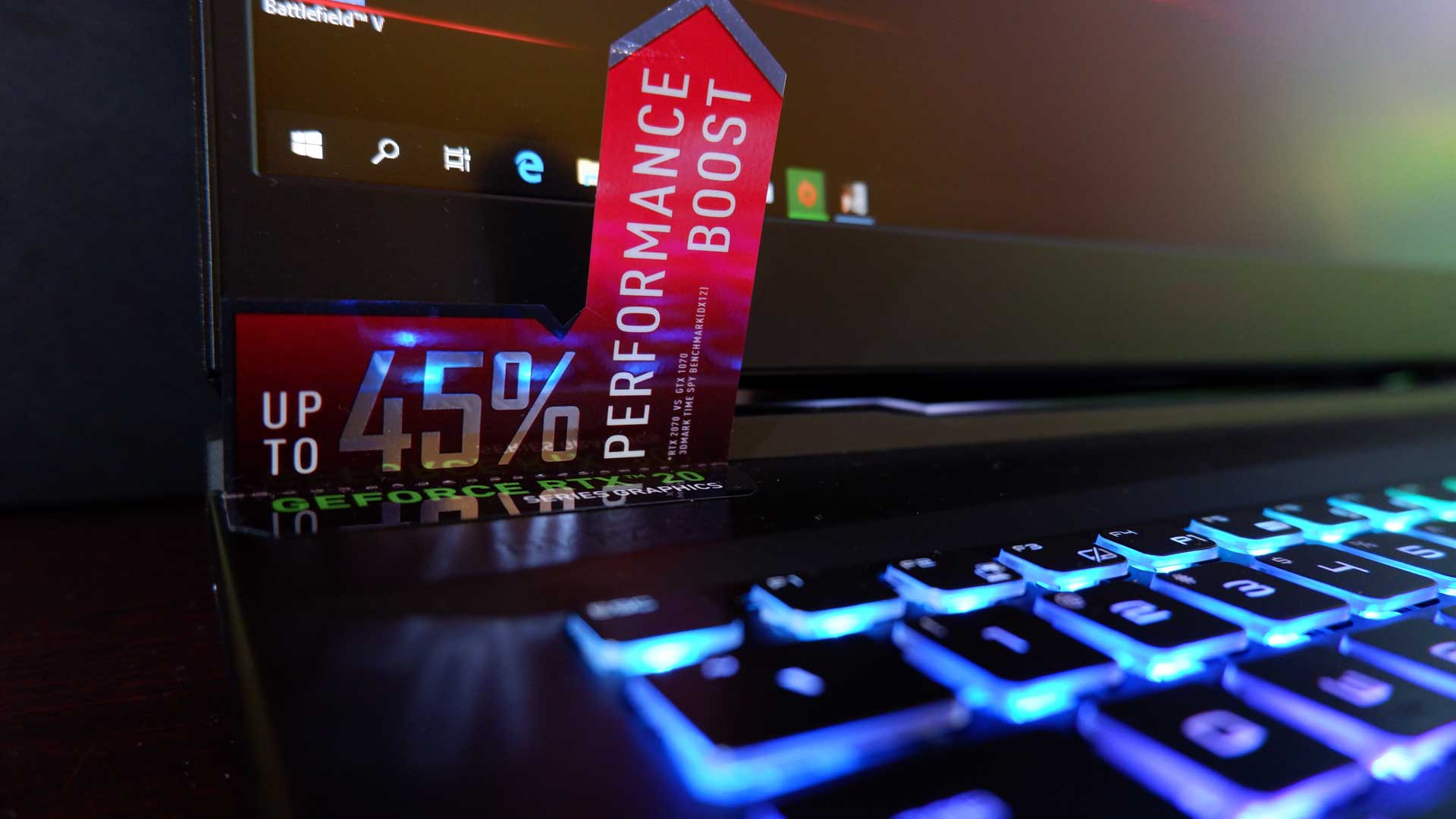 MSI GE75 Raider 9SG Tech Specs
Display: 17.3 FHD (1920×1080) Anti-Glare FHD IPS-Level
GPU: NVIDIA RTX 2080 8GB
CPU: Intel Core-i7 9750H
HDD: 1TB 7200RPM + 1024GB SSD
RAM: 32GB DDR4
Keyboard: SteelSeries Per-Key RGB (16.7 million colours)
Slots: 2 USB 3.0 / 3.1 Gen1, 2 USB 3.1 Gen2, 1 HDMI, 1 DisplayPort, 3.5 mm headphones, 3.5 mm microphone, Card Reader: SD/SDHC/SDXC
Upgrades: 2x M.2 Slots (1 used for the 1TB SSD already)
Materials: Plastic, Polycarbonate, Aluminium
Price: R43,999
Design
MSI's gaming notebooks have followed a trend for some time now and after the striking MSI GS65 Stealth (with that great gold trimming design) the GE75 kind of feels like a step backwards. The exterior shell is now a matte-finish aluminium with a simple red finish popping up every now and then.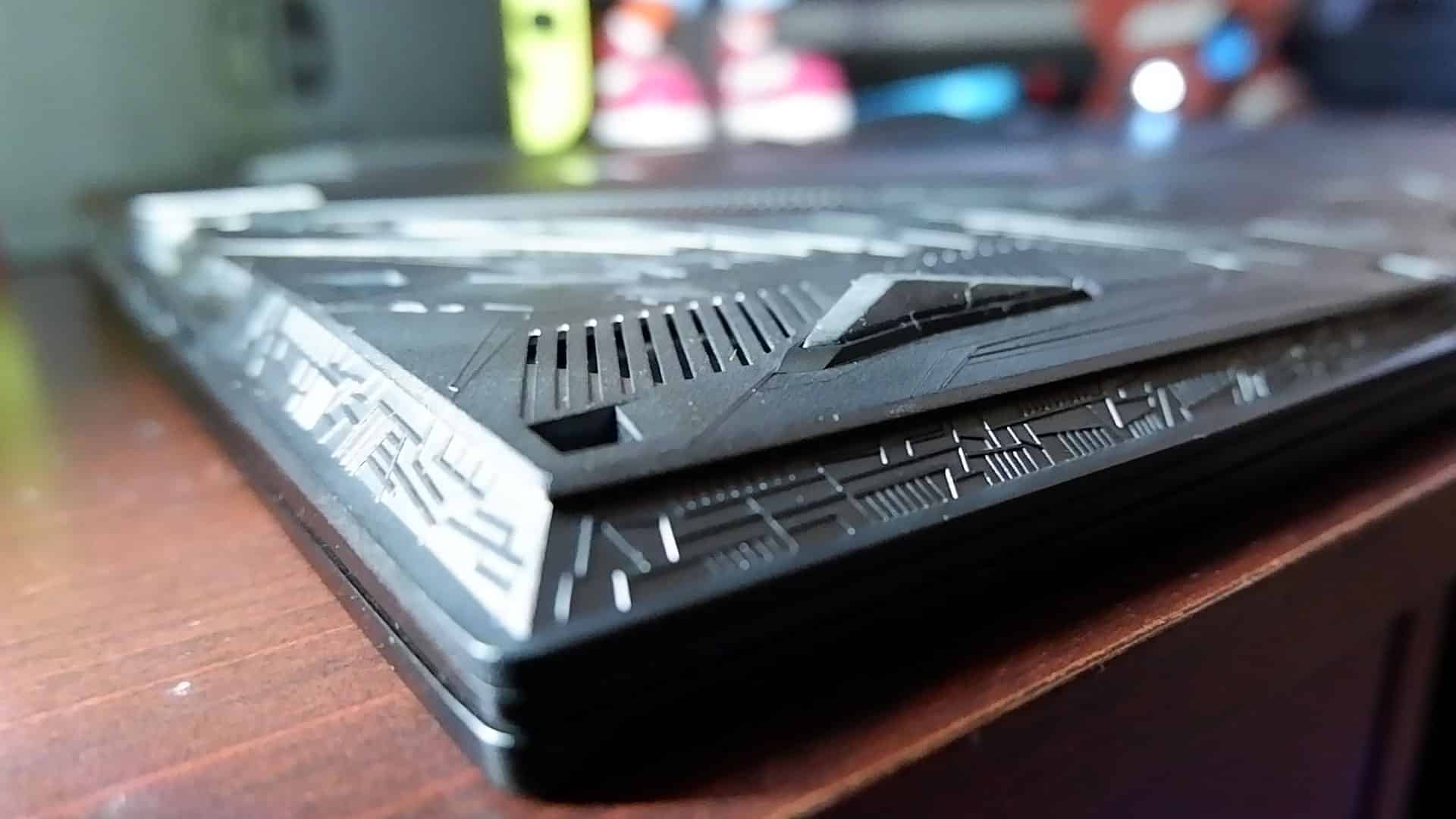 On the top we have the MSI logo with lines of red, on the bottom, there's a plastic shell with some pretty cool-looking vents. The bottom also has some great embossed artwork which runs up the device and gives it this sort of "alien ship-like" finish. I thought it was probably the best part of the whole device in terms of the design.  As for the inside, the keyboard is sort of dented into the shell and the design is pretty cool. It looks as if they chiselled a chunk out of the middle and slapped the keyboard into the hole and it is awesome.
The keyboard is a SteelSeries backlit per-key RGB keyboard. No, it is not mechanical but has some great feedback and key travel. It is a quiet keyboard and gaming on the device was as you would expect it, great.
As for typing, well it had its moments of frustration. The arrow keys are way too close to the shift and enter keys and the number pad keys are tiny and hard to adjust to. There is also no left windows key which, for a laptop is a major issue. It just does not work and should be there. Luckily the SteelSeries software can reassign keys and I was able to change the function key to a windows key.
The touchpad was a dream but only thanks to its left and right click. The actual buttons give you much more control over what you are clicking on and I prefer this style over the slate-like pads where you have to click at the bottom to issue your commands.
Then again, the touchpad was a bit small considering MSI made a big deal about their larger (and pretty great) touchpads on the MSI PS63 and the GS65 Stealth. Again, so many great design features from past models have been completely left out of this pretty expensive device with just a question why?
The MSI GE75 Raider 9SG has some cool features but its USB ports are just awesome. They light up in a bright red and for some reason, just look super cool. If you told me a few years ago that USB ports would light up one day I would tell you that they would be ugly but MSI makes this feature work and work pretty well.
Display
Whatever MSI was thinking with the GE75 Raider 9SG, it had me puzzled. The device features a fantastic 17.3-inch IPS display which checks all the boxes of everything you need in a gaming device. A 144Hz refresh rate, 92% sRGB, around 340 nits of great brightness, and excellent contrast ratio. What is wrong with it you may ask? Well, it has no NVIDIA G-Sync. Why in the burning hells, would you have a 144Hz display without the feature?
It is really a stunning display and it is made even better with the super-narrow bezels that trim the sides of the device. Everything it did so well, was brought down by the voice in my head that kept telling me this R44k device had no G-Sync.
Performance
The MSI GE75 Raider 9SG comes in various modes with different configurations. You get one with a smaller SSD and the GE75 Raider range comes with a GTX 2060 configuration too. MSI has made sure that no matter what budget you have, you can find something with a new GPU in it.
The model I received was the high-end 32GB of RAM, GeForce RTX 2080 with a 1TB SSD and a 1TB HDD. Basically almost maxed out. There is a model with a 2TB hard drive too. As for the processor, it has a pretty standard 9750H which is found in most gaming laptops from 2019.
I ran a few game tests while reviewing this device. Far Cry 5, Final Fantasy XV Windows Benchmark, Rise of the Tomb Raider and of course, Battlefield V.
The MSI GE75 Raider 9SG did extremely well in some regards and average in others. Far Cry 5, for example, pumped out an average of 95 fps on normal and 89 on ultra which is a lot lower than say, the ASUS Zephyrus S GX701 that delivers well over 100fps on the same test.
Battlefield V was as you would expect it, great to look at until it rears its nasty textures. The RTX however, was remarkable and to have this being delivered on a laptop is fantastic.
The Final Fantasy XV Windows Benchmark delivered some high results at 9231 putting the device under a GTX 1080 Ti. It Seems MSI's RTX 2080 still cannot beat the 1080 TI.
Rise of the Tomb Raider on the "medium" preset was fantastic and delivered well above 140 fps at the most intense times. Even on "very high" it was a dream with over 155 fps being the average ballpark figure.
We then ran the Superposition Benchmark test and it was smooth sailing for this RTX 2080. The test running on the highest settings gave me a score 8197 with an average of 61 fps.
When comparing this device to my most recently reviewed Acer Predator Triton 900, I could not help but feel this non-Max Q GPU is a little underpowered. We know Max-Q versions are a little weaker than non-Max Q GPUs which has me questioning why the results were on par and sometimes even worse than a Max-Q device.
Even the Asus ROG Zephyrus GZX531 (which has a Max-Q GPU) had higher frames on Battlefield V and better results on the Final Fantasy benchmark. Still, the device is a beast, don't get me wrong but its non-Max-Q GPU design seems a bit off here.
We then have heating which nowadays is a no-brainer. The device heated up quite a lot during tests but never to the point of concern. Vents and fans at the bottom do a great job at keeping things under control but they are loud and you will hear them and anyone sitting close to you will hear them too.
As for the battery life, well it is one of the worst I have ever used outputting under two hours of video time on half the screen brightness. It is truly horrific and you will get under an hour using this device on the Wi-Fi with a bright display. I have never experienced a battery this short before that it cannot last through a full movie.
Verdict
The MSI GE75 Raider 9SG is an expensive device coming in at R44,000. That is a lot of money for a laptop but it does have an RTX 2080 in it so the price is a given.
It is concerning that the device's GPU was not as powerful as I thought it would be but it is still a monster and you won't know the difference in any modern game.
There is a lot of cons here like the lack of G-Sync, the loud fans and the underperforming RTX 2080 when comparing it to other devices. However, the MSI GE75 Raider is still a killer device that looks great and has some killer internals. You will just need to compare the little details with other devices on the market as there is no real big selling factor on this year's device.