NBA 2K19 now being a dominant force in the sporting game category naturally brings about a great expectation; an expectation which in my opinion has been met. Though there is room for slight improvements, I believe sports fanatics everywhere will be pleased with the result of this game. 
Surprisingly, the gameplay experience was smooth and easy to get used to, as opposed to previous renditions where the difference in gameplay left some time to adapt to the new mechanics, i.e shot timing, dribbling and handling stick etc. However, 2k19 feels effortless in the way the players move on and off the ball, placing you at the centre of the action on the court taking control of your favourite players (past and present)!
Star players stand out dramatically and eager basketball fans will be pleased with how each player's abilities are accurately translated during gameplay. The dribbling is fantastic and offers a variety of skills to embarrass your friends and other players! (Especially during Blacktop mode where more appropriate 'streetball' skills are incorporated which cause ooh's and aah's from the spectators)
Silky smooth handling of the ball accompanied by easy and lifelike transitioning into a shot or pass allows for an enjoyable experience. The shooting bar has not differed greatly from previous renditions sticking to the more recent shooting bar which is easy to understand and execute long-range daggers!
With the improvements of offensive moves, playing defence can get tricky. A discrepancy of speed between opposing players can leave your player getting blown by quite easily. Having said this, 2K19 has finally been able to balance the ease with which steals and blocks are made- whereas in previous renditions one would always stand out as being unrealistically easier from the other.
In between the action, players will enjoy interviews of the NBA's finest giving insight to the finer details of playing on the big stage- a subtle but entertaining touch. Shaq, Ernie and Kenny reprise their roles in the game as analysts and hosts which furthermore makes it feel like you're watching an actual match-up on ESPN!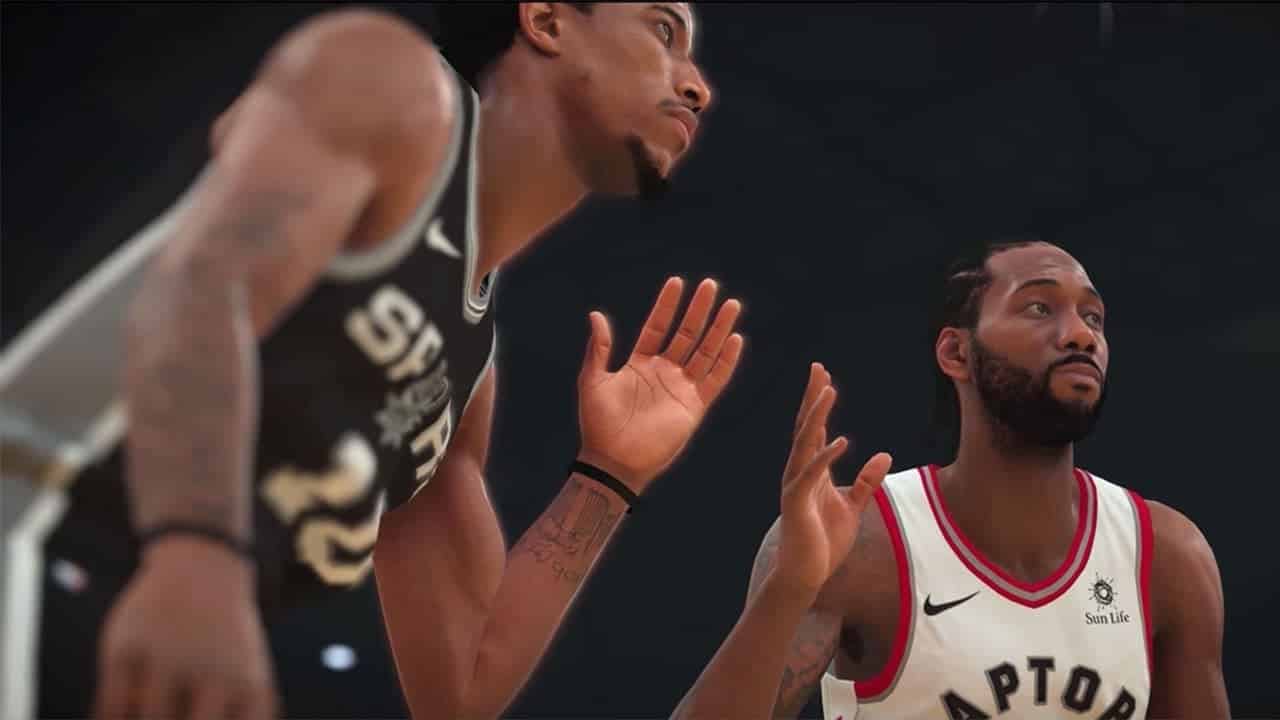 MyCareer and MyLeague
This year's MyCareer mode is heavily story orientated and boasts a celebrity cast ranging from Michael Rappaport to Anthony Mackie. An original take on the story of getting into the NBA, watching it all play out can feel like a movie at times- However, the slow process of earning VC for pretty much everything in the game is frustrating. If one does not wish to use their own money in microtransactions, the road to being great and kitting out your player in the most fly gear and accessories is a long and tedious one. Especially for those who have had to do this year after year with each release of 2k.
The MyTeam mode suffers from the same VC issue and requires a lot of investment to built teams and create the perfect roster. MyTeam in NBA 2K19 is very much the same as last year's model bar a few additional players here and there and a new game mode that lets you play matches and try and keep a winning streak. The higher you streak, the better your prize at the end of it all. There is also a 3v3 mode where you can take the best three players you have and take on online sets of players or play against the AI. While all these modes are cool, the initial outlay of the VC required to create a half-decent team is going to keep you grinding for hours on end. This is unless you splurged on a higher version of the game.
We then have MyLeague which is also one of the best in the game. This complex game mode lets you manage and build up an entire NBA franchise. You can customize everything in the mode and it feels like a true management system. There was a deep satisfaction seeing the league and teams you built from the ground up come to life.
Blacktop
This gamemode has not changed a lot. Aside from the addition of that streetball feel to the actual play, the court crowd and kits have remained the same from previous years. Still, this is a fun pass time to enjoy in local play because it allows players to create their dream team from NBA's plethora of greats!
NBA 2K19 Suffers from major VC issues whereas it locks you into one game mode where you need to invest everything you earn into growing your team for that experience. For those of you who love the series and can see yourself spending months in it then it works but for those who don't, then you are going to be put off by the heavy grind.

This review was outsourced and written by Briarly Klaasen. 
This review is based off a review code sent to us by 2K Games.
Available On: PS4, Xbox One, PC | Reviewed On: PS4 | Release Date: 11 September 2018 | Pricing: R999