It is that time of the year again where Dota 2 Battle Pass owners need to make their The International bracket predictions and this year, it is more difficult than ever judging by how the group stage went down. There is so much to take into consideration, then there's fan bias that will creep into your picks (including mine) and the simple fact that on the main stage, anything can happen. With that in mind, I am here to share my The International 2019 bracket predictions with our readers.
RELATED: The International 2019 Main Event – What You Need to Know
Let's get one thing straight from the start, getting all the predictions correct is extremely unlikely and I really want to call it impossible. Last year, there was one person who managed to get all the predictions right before the final day and Valve gave him a free trip to TI8 and a VIP pass. With that being said, Battle Pass owners can at least get some more points by making correct predictions, with rewards as follows:
1-2 correct predictions – 100 points
3-4 correct predictions – 500 points
5-8 correct predictions – 2,000 points
9-11 correct predictions – 5,000 points
12-14 correct predictions – 10,000 points
15 correct predictions – 20,000 points
As you can see, you can earn a lot of points if your crystal ball is on point. With the rewards out of the way, I want to ask you a question and provide you with my answer before we get to my The International 2019 bracket predictions.
What are the chances of OG becoming the first two-time champions in TI history? The answer: Judging by how they played in the group stage, much better than last year when they went all the way from the open qualifiers to claim the Aegis of Champions, as one of the lowest-rated teams coming into the tournament.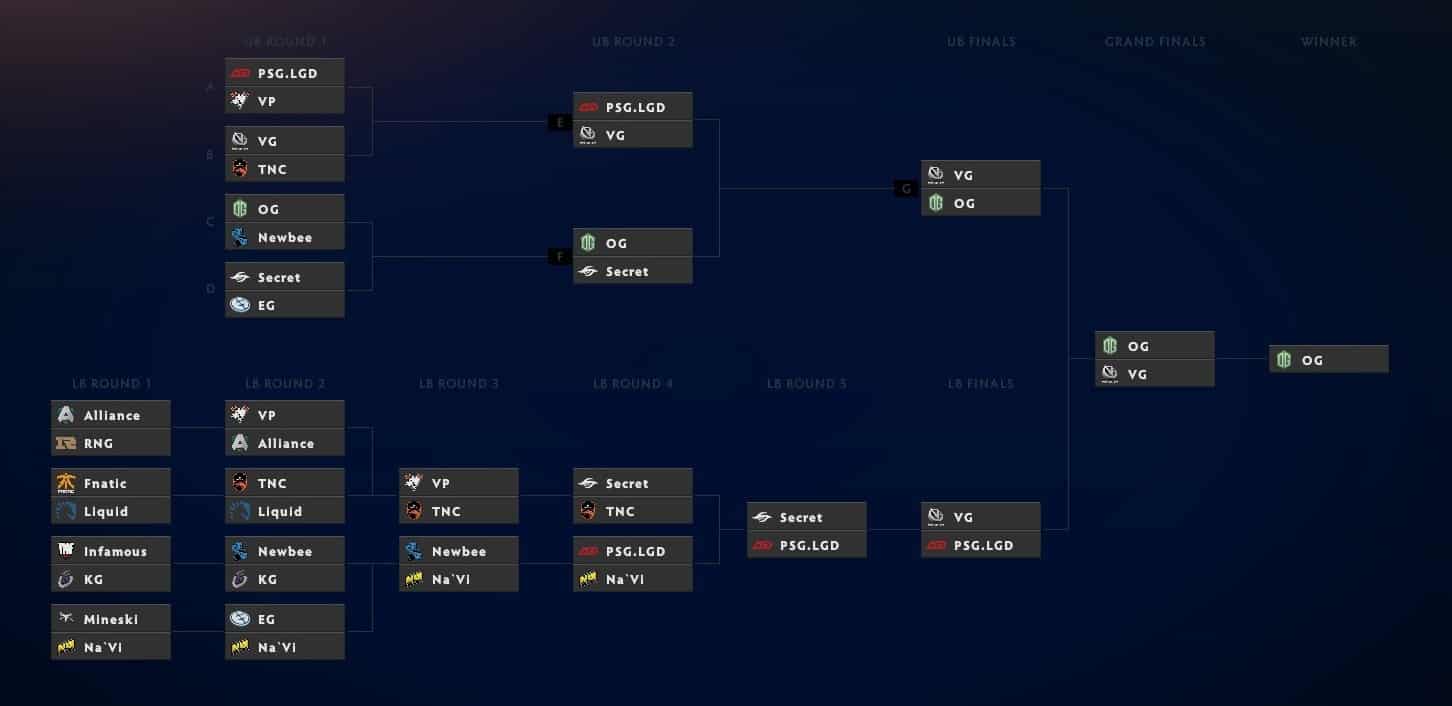 As you can see, I went with OG defending their title and becoming the two-time champions. Keep in mind that lower-bracket matches for the first round is BO1, while almost everything else is BO3 with the grand finals being BO5.
While I am pretty confident in The International 2019 bracket predictions for the first round, as the tournament progresses we really have no idea what could happen. A friend pointed out that he thinks TNC could make it all the way to the finals and honestly, I couldn't think of a valid reason as to why not.
Dota 2 Battle Pass owners have until 03:00 SA time on 20 August 2019 to get those predictions in.
RELATED: Apex Legends Developer Calls its Fanbase "Asshats and Freeloaders" After Users Complain About Lootboxes
What does your The International 2019 bracket predictions look like and do you think there is a chance that we could see the first two-time champions? Let us know in the comment section below and stay tuned for our Fantasy Challenge roster picks coming up later today.